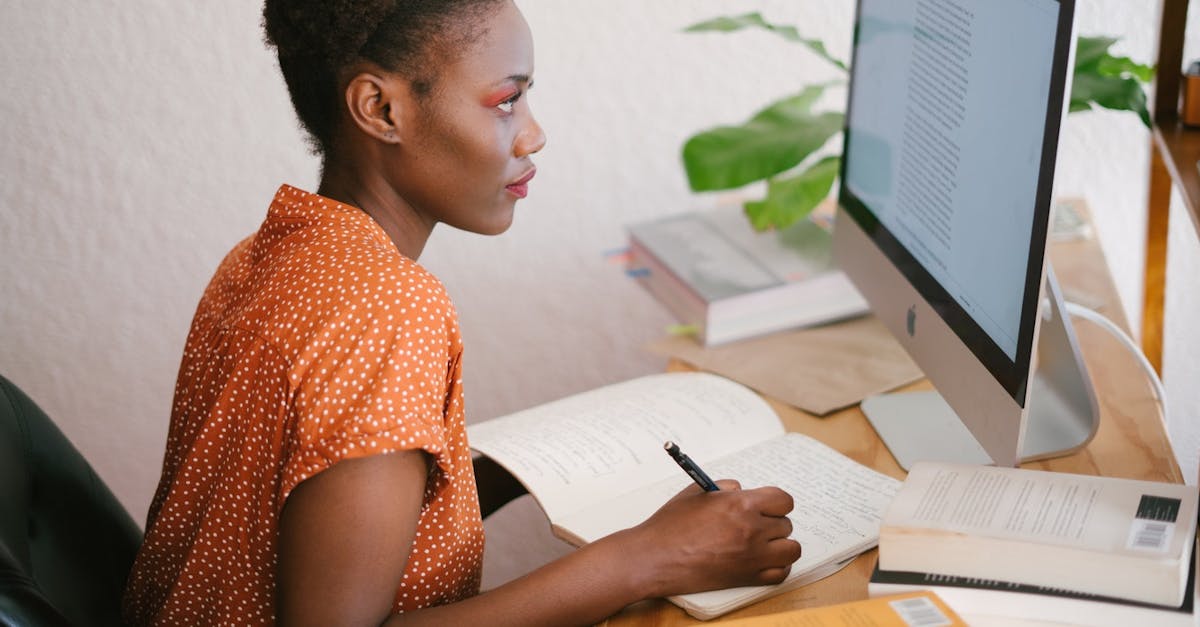 Distance learning serves as the best training solution for training managers who need to reach and train remote teams across different locations and time zones. However, with the existing distance and lack of physical interaction from coaches or colleagues, keeping their learners engaged can be challenging. By investing in distance learning tools, you can leverage features that are designed to increase engagement and productivity in distance learning. 
To guide you in your search, we've compiled a list of 10 distance learning tools that will allow you to efficiently deliver training programs for remote teams. These learning solutions will also equally ensure that the learning materials are easily accessible and interactive for your learners. Keep reading to discover the best tool for your employee training needs.
1. EdApp
EdApp is an award-winning distance learning software that ensures a flexible and effective distance learning experience for each individual learner. It encourages social learning through its Discussions and Assignment features, which support instant coaching and mentoring. The Discussions feature is designed to provide a dynamic and interactive learning experience through forum-like discussions. Coaches can even step in to provide insight into key responses. Meanwhile, the Assignments feature allows learners to submit responses that can be easily reviewed and graded. By fostering an engaging and collaborative learning environment on distance learning, you're able to create an interactive learning experience among teams and peers even without physical interaction.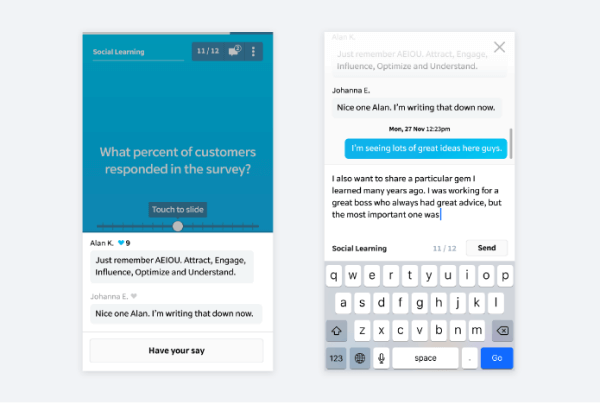 As remote teams have different locations and time zones, you can also create a self-paced learning experience through EdApp's microlearning courses. This feature transforms overwhelming training information into bite-sized modules that focus only on key elements of a topic, allowing your learners to complete digital learning courses in just a couple of minutes. As an eLearning mobile app, this LMS software makes your microlessons not only effective but also engaging. To combat the lack of motivation and boredom associated with learning work-related information, it also uses a gamification feature that makes training fun and exciting instead of additional mundane work tasks. This strategy is proven to result in 90% (or higher) completion rates vs. typical eLearning courses.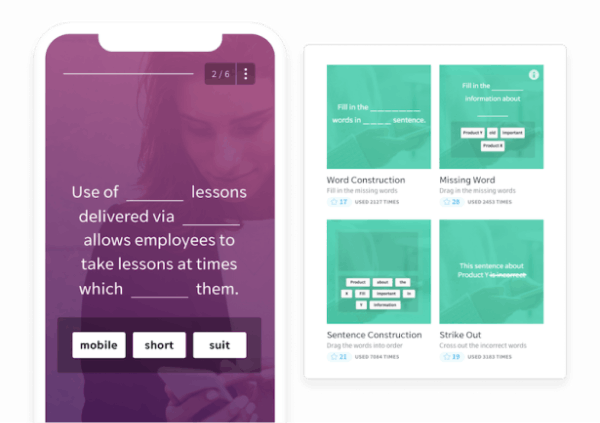 Even with little to no experience in creating and designing microlessons, building them from scratch is made easier with EdApp's scorm compliant authoring tool, which gives you access to a library of 80+ interactive and engaging templates. If needed, you can just also import and deploy readily available courses from EdApp's free customizable library that are curated by thought leaders and industry experts. These courses, which include everything from communication skills training to HAZMAT training courses, can easily be accessed anytime and anywhere.
Highlights:
Discussions and Assignment features

Mobile learning

Microlearning 

Built-in authoring tool

Template library that includes 80+ intuitively designed interactive templates, such as multiple-choice, in-app gamification, conceptual formats, surveys, etc.

Free editable course library curated by thought leaders and industry experts

Gamification features
Cost: Free
2. WizIQ
WizIQ is a distance education software for teachers that provides a virtual classroom and learning management systems, all in one place. Through its virtual classroom, learners can attend live classes and collaborate on the go through the WizIQ app available on iOS and Android, making it very convenient for remote teams. Aside from that, you can deliver various training materials, may it be compliance training, language lessons, or refreshers, through a multimodal learning strategy where you have the option to use real-time audio, video, and textual communication for your training. It also provides engagement features, such as polls, quizzes, and interactive whiteboards. This LMS platform makes it easy to deploy training as all you have to do is set up your customizable learning portal and upload your training material using any format. 
Highlights:
Virtual classroom

Mobile app for m-learning

Customizable learning portal
Cost: Price starts at 5 (monthly)
3. Qstream
Qstream is a microlearning platform dedicated to delivering distance learning programs that combat the forgetting curve and improve knowledge retention through virtual learning among remote employees. This distance learning tool for teachers reinforces knowledge, develops skills, and enhances productivity through a mobile-first approach. Its Content Hub feature also enables training managers to create blended learning content and tutorials with its template library and set of guide questions found on its online training website. It can also facilitate real-time practice through videos submitted by your learners and track learning progress through an analytics dashboard and proficiency heatmaps.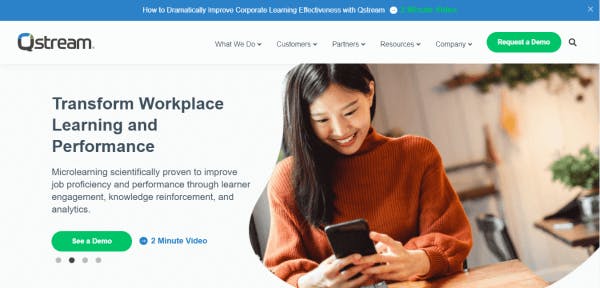 Highlights:
Microlearning

Content hub

Analytics dashboard
Cost: Price available through a quote request
4. Apty
Apty is a training software that aims to provide high-impact, remote employee training. It allows you to build and maintain training materials with ease through its code-free course editor and course management features. As a distance learning tool for teachers, it helps team leaders provide on-demand, on-screen guidance, which is effective in enhancing the remote training experience. It also enables you to present training material to your learners in a step-by-step manner, as if they are guided closely by a trainer who is sitting next to them.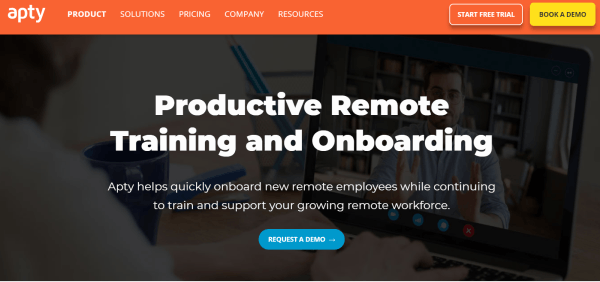 Highlights:
On-screen guidance

Course management

Course authoring
Cost: Free
5. Arist
Arist is an innovative distance learning tool for teachers that uses text-based learning to deploy training. Creating and sending a text course in Arist is as simple as composing a text message as you normally would. Text message courses are usually made up of an image, a 1,200-character explanation of a key concept, and an interactive assessment that is sent out daily for several weeks.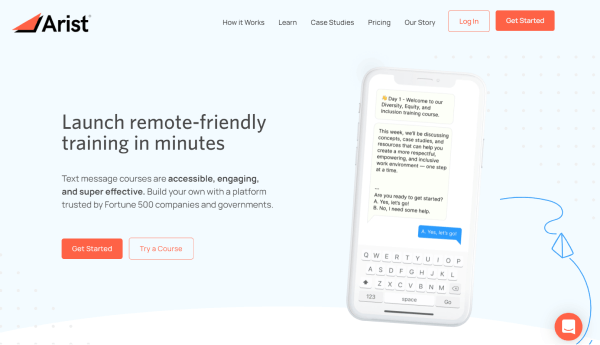 While this is a great idea to combat learning barriers, especially for those who don't have stable access to the internet, it can be quite limiting as it only has a maximum allowable number of characters per text message. Plus, it lacks formatting options to deliver visually aesthetic and engaging content.
Highlights:
Cost: Free and paid plans
6. Yarno
Yarno is a mobile-first remote training software designed to effectively train your employees, wherever they're located. It provides a learning library where your training teams and learners can store all your training content for easy access. It also has a feature called Embed campaigns wherein quick quizzes can be rolled out and completed daily.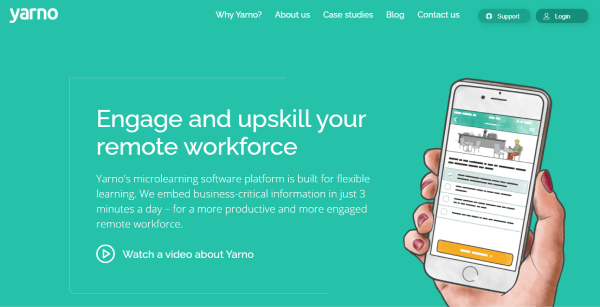 This distance learning tool for teachers can also deliver training through a question-explanation format. In this approach, learners are challenged to answer questions to help strengthen the recall of information. Answers correspond with explanations to discuss key topics. If still unfamiliar with the platform, the team at Yarno can also assist you in creating custom-made videos to level up your training.
Highlights:
Cost: Price available upon quote request
7. LearnWorlds
LearnWorlds is built to make distance learning more engaging and interactive for your learners, instead of providing them with typical modules created in a PDF file or PowerPoint presentation. With this distance learning product, you can easily create your training content and use the platform's eye-catching themes and styles to turn it into a visually engaging online course that your learners will surely enjoy. You can also combine your lessons with self-improvement quizzes, formal tests, and assignments to drive their confidence and boost learning retention. If needed, you can create a beautiful course player and schedule the delivery of these training materials with ease. To improve their scanning and reading, this platform also allows casual reading with note taking and highlighting.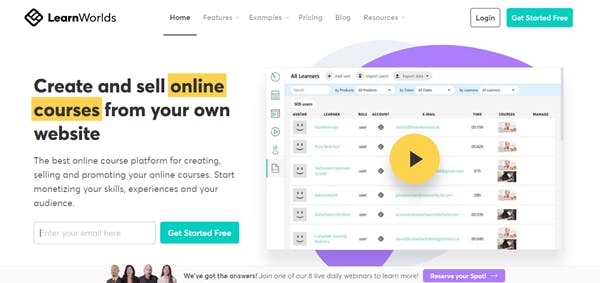 Highlights:
Course building with eye-catching templates

Quizzes, tests, assignments

Beautiful course player with note taking and highlighting features
Cost: Price starts at 4 USD (monthly)
8. Raptivity
Raptivity is a cloud-based employee training software that delivers distance learning through visually stimulating content. It incorporates gamification in the workplace by including games in the training material, such as bowling and dart game quizzes. It also has an interactive template library suited for different learning styles that you can customize with various themes and colors. In this distance learning tool for teachers, courses can run on different devices, including mobile. This helps you focus more on your content as you're sure that it will seamlessly display your training materials regardless of the device used. 
Highlights:
Cost: 14-day free trial, Paid plans
9. Connecteam
Connecteam is a go-to employee training software that focuses on effectively training your dispersed workforce. This distance learning tool for teachers offers a user-friendly mobile app that houses a knowledge hub for all training resources, where employees can also track the courses they have to take and their progress. Through the app, employees can easily pick up from where they left off anytime and need not worry about missing out on their training.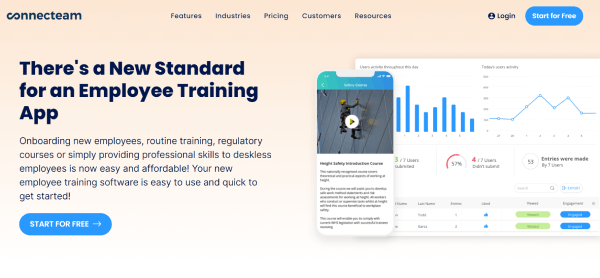 With Connecteam, you can build courses from scratch or use your existing training materials, such as PDF files and other media. You can even include content from your company website or external web sources like YouTube, Dropbox, and Google Drive.
Highlights:
Mobile-friendly

Knowledge hub

Course builder
Cost: Price starts at 9 for the first 50 users (monthly)
10. Degreed
Another versatile distance learning tool for teachers is Degreed, a platform designed to provide a fluid skill-development experience for small and large-scale organizations. It integrates all learning materials that your workforce needs to grow and upskill – online courses, videos, podcasts, news, and blog articles. And by using its real-time data on each employee's unique strengths and interests, these resources will automatically find the right team who needs them the most. This way, you can rest at ease knowing that their knowledge and skills are also in sync with your company's vision and objectives.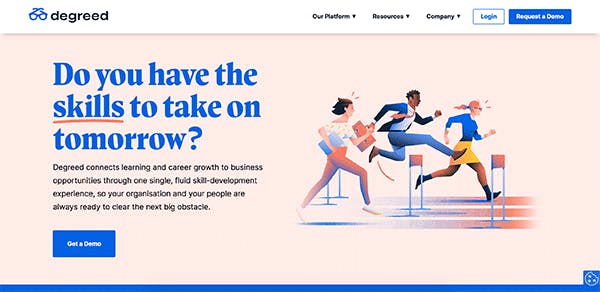 Highlights:
Cost: Price available upon quote request