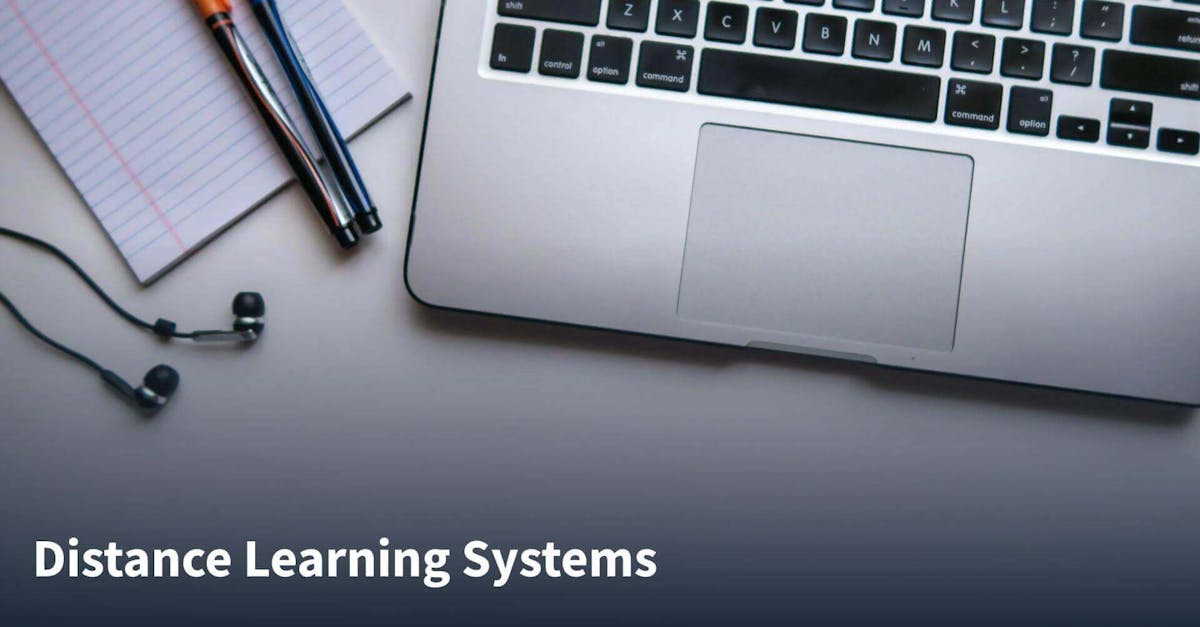 Distance learning systems are seeing more use as more organizations adopt remote training and elearning. You too can easily create and distribute virtual training activities and courses at scale to strengthen the skills and talents of your employees. Learn more about how you can be involved in your employees' learning journeys from afar with this list of 10 distance learning systems.   
1. EdApp
EdApp is an award-winning distance learning system that promotes easy content creation and asynchronous, blended, and social learning. Authoring courseware is made simple with EdApp's slide template library. From text to media slides, you have many options to encourage interactivity and engagement throughout your course. You even have an option to not make courses from scratch. EdApp supports PowerPoint presentation conversion and hosts over 800 editable courses in its course library for you to use in any way you want.
cultural intelligence training courses
Courses on EdApp can also be taken by learners at their own pace. With cross-platform compatibility, courses adjust to your screen size, making it possible for learners to complete their courses on their phone or computer. While distance learning can be done individually, EdApp supports forum-like discussion boards and virtual classrooms, allowing you to have group-based, social learning with your teams. Webinars can also be done through integrations with other video-conferencing tools like Zoom.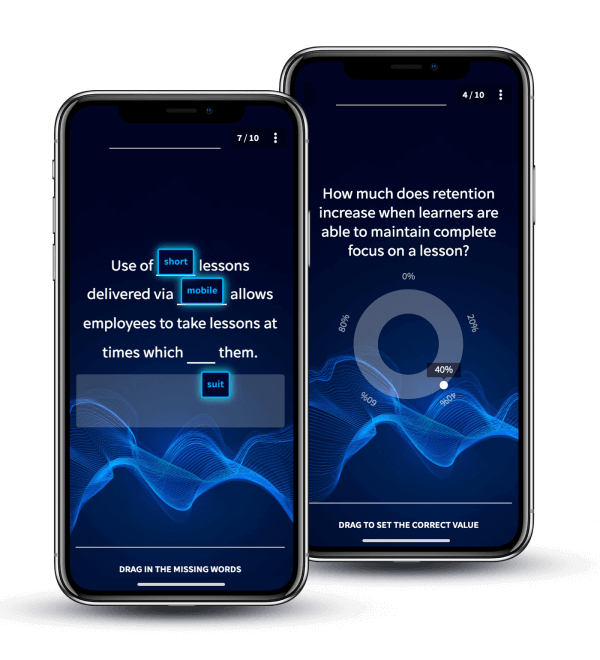 To further encourage engagement, EdApp uses gamification to make courses feel more like smartphone games rather than training programs. It also uses spaced repetition, an elearning strategy, to increase knowledge retention and further embed information into long-term memory. Brain Boost, EdApp's spaced repetition tool, can automatically generate personalized lessons that focus on topics that need to be repeated to address knowledge gaps. 
Cost: Free

Features: Authoring tool, slide template library, PowerPoint converter, course library, cross-platform, discussions, virtual classrooms, webinars, integrations, gamification, spaced repetition
Sign up for free and experience the best digital learning system today! 
2. Learningbank
Learningbank is a user-friendly customized elearning solution that puts a heavy focus on a learner's journey. With its Learning Lifecycle Platform, you can build and automate learning cycles for employees in different stages of their careers. Learningbank also features both an authoring tool and a learning store for you to create or access courses. With learning journeys, scheduled events, and interactive learning content, you can assist your learners at every step.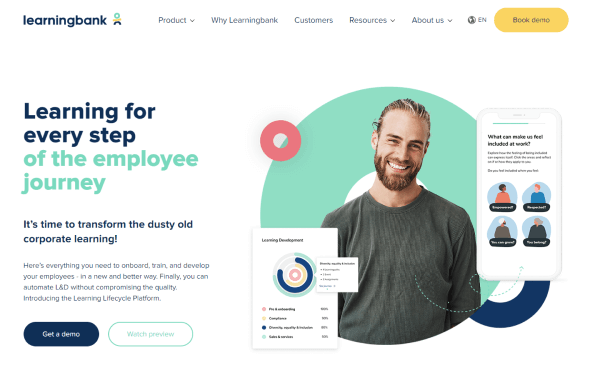 While Learningbank boasts to be easy to use for both admins and users, it lacks some features that can help make course creation easier like a PowerPoint converter. It also lacks a certificate feature and doesn't encourage repeated learning to increase knowledge retention.  
Cost: Request for a quote

Features: Learning lifecycle platform, automation, authoring tool, learning store, learning journeys, scheduled events, interactivity
3. Freestone
Freestone is an intuitive distance training system used to deliver live webinars, webcasts, and on-demand courses. It features a branded learning portal with a mobile-responsive viewing experience. Its presenter webcam boasts simple and intuitive host controls for presenters with multiple displays, control panel user flexibility, and interactivity tools used to monitor learner participation. Managing courses is also streamlined and centralized through a single hub that can be integrated with other interactive learning systems.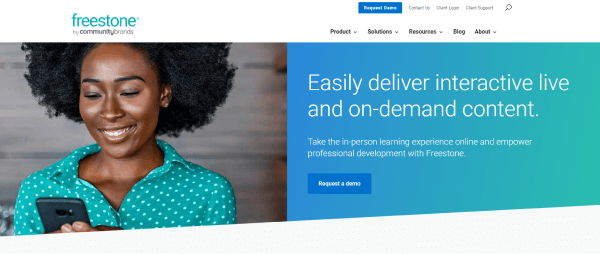 If you choose to use Freestone, however, you'd have to create your courses from scratch. It also doesn't have a course library for you to browse through. Course creation could end up taking more time and resources as compared to working with existing courses.
Cost: Request for a quote

Features: Branded learning portal, mobile-responsive, presenter webcam, intuitive controls, control panel user flexibility, interactivity tools, centralized hub, integrations
4. Sana
More than an LMS, Sana promotes personalized, collaborative, and engaging learning. Creating courses is a collaborative experience with its real-time, drag-and-drop editor, templates, and stackable blocks. You can also integrate and import other content from your other platforms onto Sana. With AI-assisted suggestions and content recommendations, you can craft more engaging sessions. Interactivity is encouraged through live sessions, adaptive paths, skill assessments, and breakout rooms.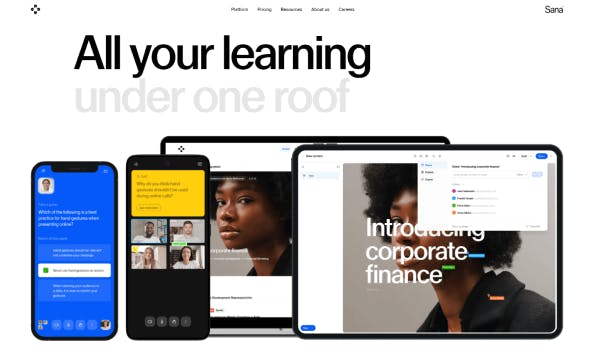 Since Sana possesses a lot of collaboration and interactivity features, it's marketed toward teams with at least 100 members. Its cheapest price plan starts at €6.00 per license per month, so if your organization is smaller than this, you might want to consider other options. 
Cost: Starts at €6.00 per license per month (100-299 license seats)

Features: Drag-and-drop editing, templates and blocks integrations and imports, AI-assisted suggestions, adaptive paths, skill assessments, breakout rooms  
5. Nearpod
If you prefer to use slides and videos for your online learning, then Nearpod could be the distance learning system for you. Creating interactive quizzes and activities is possible by uploading supporting documentation like PowerPoint presentations, Google Slides, PDFs, and videos. Nearpod also has a library full of different pre-made resources, making it easy to create learning materials suitable for any moment. Real-time insights can be gathered through nine different types of interactive assessments as well.  

While Nearpod can be used for free, you will be limited with both library storage and lesson space. Nearpod is also marketed toward teachers and educational facilities, so it lacks some of the features that are typically present in corporate training platforms. 
Cost: Free, US59 per year

Features: Uploads of supporting documentation, pre-made resource library, real-time insights, nine types of interactive assessments
6. TED
TED showcases thousands of video learning content on different topics from expert speakers and leading specialists. Learners have a wide range of TED programs to choose from. There are TED talks, TED Series, TED-Ed videos, and even a podcast library. Their learning content comes in different mediums too, from recorded talks to animated videos. Offline playback and subtitles in different languages are also available. The mobile app also includes profile sync, allowing learners to have access to their profile and video library on their mobile devices.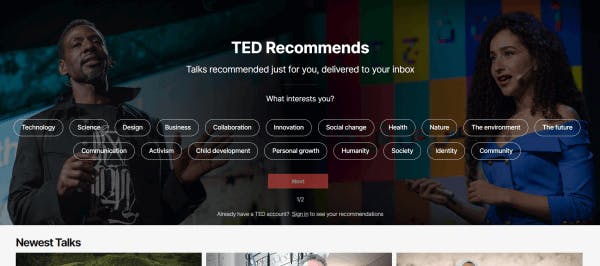 TED only offers videos and podcasts and doesn't allow content creation. It also doesn't have a typical course library for your learners to take and engage in. This can be something to consider if you want your learners to have a more typical online learning experience. 
Cost: Free, with in-app purchases

Features: Mobile accessibility, inspirational talks from expert speakers, a wide range of subjects, video and podcast library, multi-language subtitles, offline playback, mobile app
7. Trainual
With Trainual, you can have your employees learn from onboarding onwards. Building learning materials is easy with over 150 pre-built templates for courses and over 30 SOP templates for company policies and procedures. Additionally, you can organize your company's content in places where new and old employees can easily find them. From your company's founding story to your current products, there's a place for everything in the hybrid training tool. With their embed and integration features, you can attach different documents and media sources to enhance your learning content.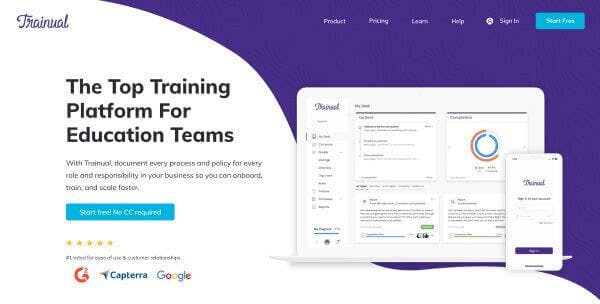 Unfortunately, Trainual does not support SCORM or other e-learning formats. The free trial lasts for only 7-days before you have to buy one of their paid plans. Starting price is US9 per month. 
Cost: Free trial, starts at US9 per month

Features: Course creation, over 150 pre-built templates, over 30 SOP templates, onboarding and training, embeds and integrations
8. Udacity
Udacity is a distance learning system that focuses on topics of digital technologies and business fields like artificial intelligence, data science, cybersecurity, executive leadership, and programming and development. Here, you can have your learners hone their skills and address talent gaps with workshops and projects. Learners also have access to mentor support and an online student community if they need further assistance. They will be able to receive personalized feedback, practical tips, and additional resources to help them improve in their chosen field.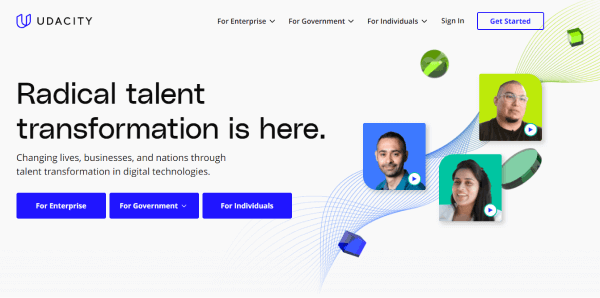 However, Udacity has a limited course library. If you want to take a course that's not related to digital technologies or careers, then it might be better to look elsewhere. There is also no mobile app, so all learning would have to be done on a computer. 
Cost: Paid programs, subscription plans

Features: Digital technologies courses, workshops and projects, mentor support, online community, personalized feedback, practical tips, additional resources
9. etrainu
When it comes to online learning and course development, consider using etrainu. This LMS offers a wide range of customization options that allow you to extend your branding across all your distance learning efforts. It has a course authoring tool and a pre-made course library as well. Additionally, it features a document library and event calendar to help you organize and schedule your courses. With custom quizzes and progress reports, you can easily track training metrics like attendance and completion rates.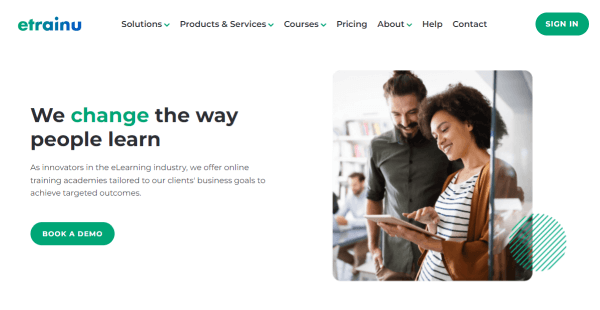 While etrainu supports cross-platform and integrated use, it doesn't have push notifications or apply gamification to their learning. This can make it difficult to remind learners to engage with and finish their courses. 
Cost: Request for a quote

Features: Customization options, course creation, course library, document library, event calendar, custom quizzes, progress reports, cross-platform, integrations
10. WizIQ
The last digital learning system on this list is WizIQ, an educational platform that gives your learners a virtual classroom experience. WizIQ comes with features like online course creation, tests and assessments, and analytics to help you deliver live classes and courses through your existing website or LMS. If you don't own LMS software yet, WizIQ offers its own. With it, you can even deliver self-paced learning. Learners have the option to take their courses anywhere on their phone through the mobile app as well.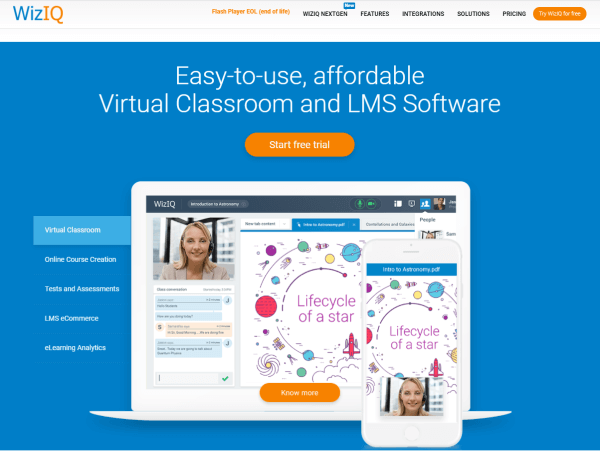 Although, a lot of WizIQ's features are locked behind monthly subscriptions. The mobile app especially is only available bundled with their branded LMS software. Their free trial lasts for 14 days, so you can still try out the platform before buying a monthly subscription worth US5. 
Cost: Free trial, starts at US5 per month

Features: Virtual classroom, online course creation, tests and assessments, analytics, LMS, mobile app