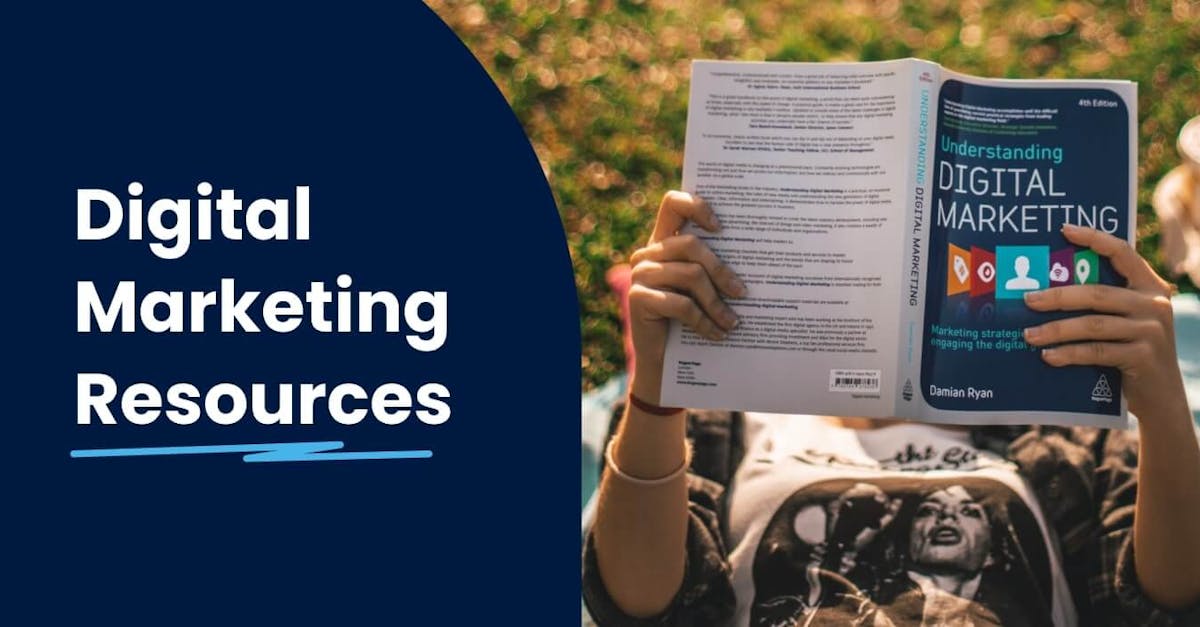 If you want to be the best marketer out there, you need to continuously learn and research new techniques and strategies. This is why having access to different digital marketing resources is beneficial, especially if you're doing self-paced learning. Discover how to grow your business and meet customer needs with this list of digital marketing resources that can help you with things like link building, paid search campaigns, on-page SEO, and more! 
1. Digital Marketing Course by EdApp
If you're a complete beginner in digital marketing and want to grow your business and expand your reach online, consider checking out this Digital Marketing course from EdApp. This digital marketing resource opens by defining what digital marketing is and how it compares to traditional marketing. It also shows the beginnings of digital marketing and how it has evolved.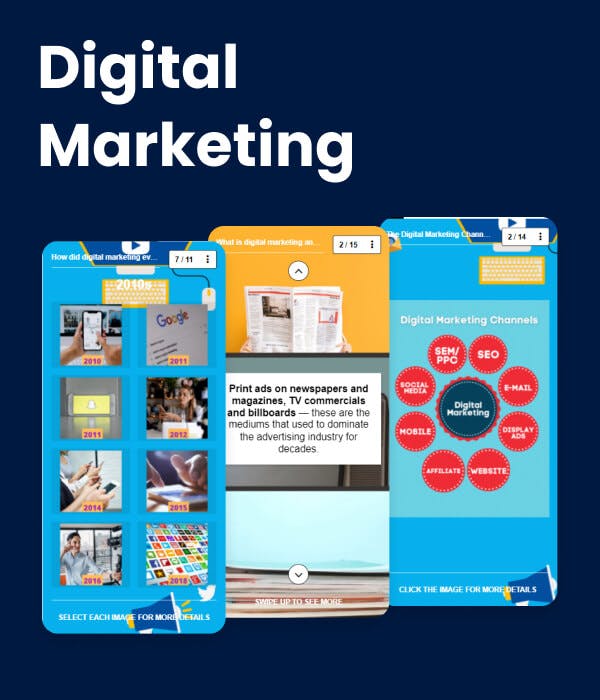 As you go through the four lessons, you'll learn about different marketing strategies that you can specialize and invest in like social media marketing, search engine optimization (SEO), search engine marketing (SEM), pay per click (PPC), and more. The course ends by providing you with essential digital marketing terminologies that everyone in the field should know about.
This interactive course can be finished in minutes, with each lesson taking around five minutes to complete. This shortens the time it would take to typically learn something new, increases information retention, and allows for better time management. It's also available for free across all devices including mobile phones, tablets, and desktops. 
Cost: Free

Resource Type: Mobile course

Key Topics: Social media marketing, SEO, SEM, PPC
Join for free and check out EdApp's Digital Marketing Course and more today!
2. The Ultimate Guide to Digital Marketing PDF by DigitalMarketer
For a more comprehensive digital marketing resource, DigitalMarketer has The Ultimate Guide to Digital Marketing. This PDF is made for digital marketers looking to learn new skills and hone existing ones.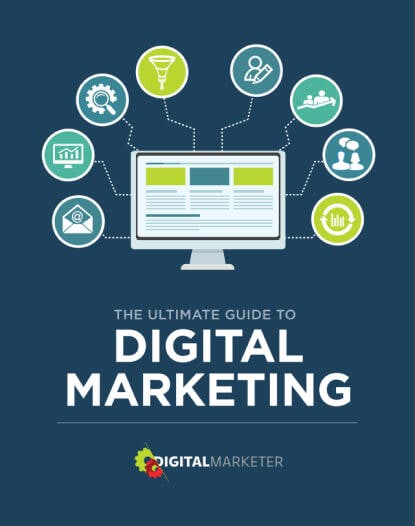 Divided into eight chapters, you will learn about the critical fundamentals and core disciplines of digital marketing that will help you grow your business. You will discover more about different marketing strategy templates and avenues like digital advertising, social media marketing, email marketing, and search marketing. And to end the guide, you will learn about analytics and how you can use them to optimize conversion rates and drive growth. 
While this course offers more information and detail, it's 262 pages long. Unless you have time to go through such a long document, your time might be better spent doing business and gaining on-hand experience rather than learning. PDF files also don't encourage interaction, so you might find yourself not fully retaining the information and materials. 
Cost: Free

Resource Type: PDF file

Key Topics:

Digital marketing strategy template,

content marketing

strategy, digital advertising, social media marketing, email marketing, search marketing, website analytics, conversion rate optimization
3. Digital Marketing Masterclass by IIDE
If you want to make a career in digital marketing or just want to know what's the hype around digital marketing then, IIDE's Online Digital Marketing Masterclass is for you. The masterclass begins with a discussion on the rise of digital marketing and why it's important for companies. It also covers topics such as SEO, SEM, Google Ads, and much more. Similarly, the course explains different digital marketing strategies along with how to manage your ad budget for maximum return on investment (ROI) based on your digital marketing goals. In the end, you will be asked to attempt a quiz to test your knowledge of what you learned through the masterclass and will be provided a certificate of completion.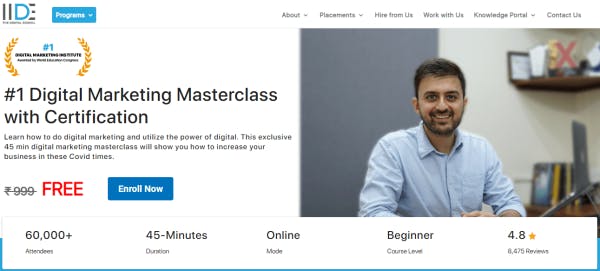 If you're interested in learning more about digital marketing concepts, then IIDE  Advanced Digital Marketing Course allows you to do so for US$ 1,360. With practical case studies, an array of projects, and 1-on-1 mentoring sessions, this course provides an in-depth understanding of digital marketing.
Cost: Free, paid courses starting from US$ 99

Resource Type: Online Course

Key Topics: Basics of Digital Marketing, SEO, SEM, Facebook & Instagram Ads, SMS Marketing & More
4. Email Campaigns and Strategies Course by EdApp
If you've gained an interest in email marketing after coming across the strategy before and would want to learn more, EdApp has a four-lesson course specifically on Email Campaigns and Strategies. The course begins with a discussion on the importance of emails and why it's still an effective marketing strategy. It also guides you through writing effective marketing emails. Similarly, the course explains different email marketing strategies and techniques like the KISS method, A/B testing, message personalization, and mobile optimization. In the end, you will learn how to manage email lists and how to attract customers to sign up for email subscriptions.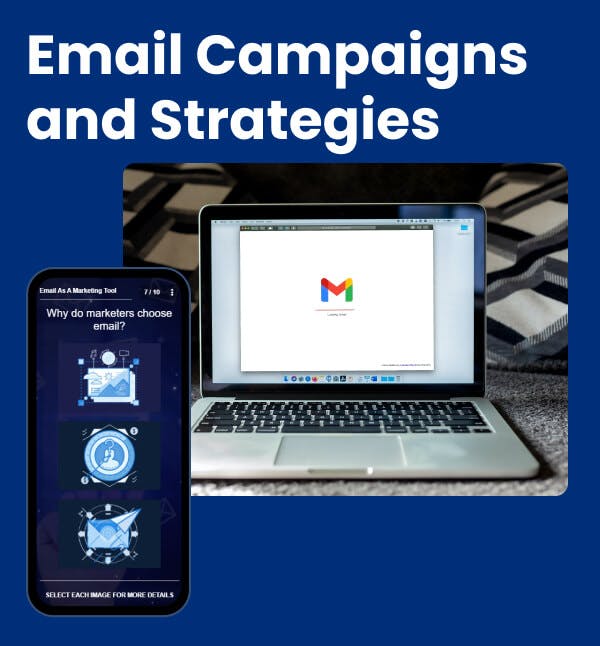 If you want to check out and explore more learning options, there are many email marketing courses available online. Experiment around and find out what strategy works best for you and your organization. 
Cost: Free

Resource Type: Mobile course

Key Topics: Email as a marketing tool, email marketing strategies and techniques, managing email lists, email personalization
5. Marketing Hub by HubSpot
HubSpot is a customer relationship management (CRM) software that has its own marketing software. Marketing Hub is an all-in-one, easy-to-use platform for all your marketing needs. From tools to data, you'll have all the context you need at your fingertips to provide a personalized experience that draws in attention, converts visitors into leads, and generates reports. With Marketing Hub, you can create and publish content, manage and track advertisements, automate workflows, send emails, build forms, and more.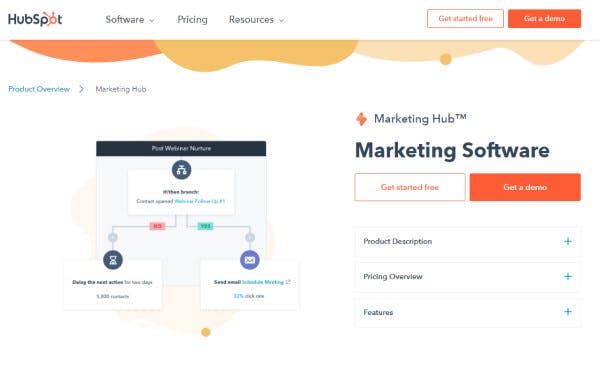 You can get started with HubSpot for free with limited features. If you want to consider getting more out of this platform, their Starter plan starts at US5 per month. 
Cost: Free, paid plans start at US5 per month

Resource Type: Customer relationship management software

Key Topics: Blog, SEO, ad tracking and management, social media management, video
6. Search Engine Optimization (SEO) Course by EdApp
Nowadays, the purchasing process for customers begins with a search engine entry. Whether it's searching for a specific product or asking a general question, customers are making more informed decisions than before. Having your business on the first page of a search engine results page can make a huge difference in your number of sales. This can happen through search engine optimization (SEO). Learning more about SEO can start with EdApp's SEO course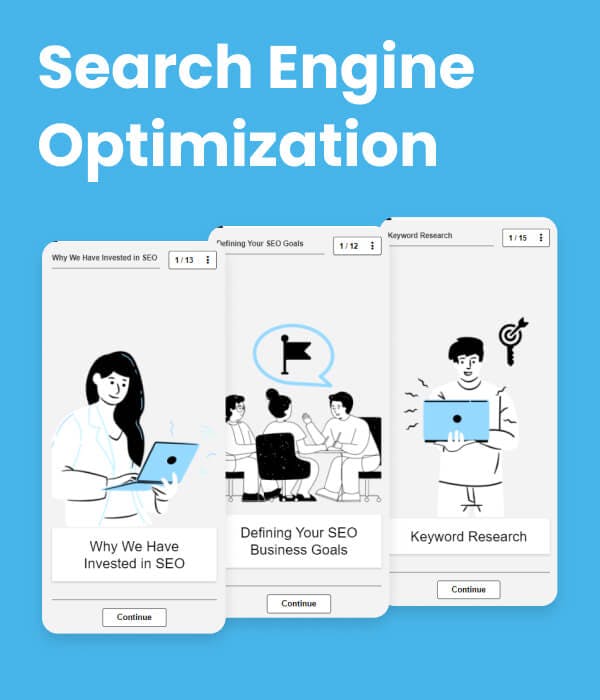 In this six-lesson digital marketing resource course, you will be equipped with a brief on the benefits of SEO and a five-point SEO action play that you can use as a guide when creating your strategy. You will also learn how to define your SEO goals, do keyword research, plan SEO-optimized content, and build links on your posts. 
7. Moz
If you've looked into SEO and its tools, you might have already heard of Moz. From their blogs and resources to their tools, Moz has been valuable to SEO marketing and its shared community. On their website, you can find that their SEO Learning Center offers guides, blogs, webinars, and videos dedicated to teaching marketing employees at all levels something about SEO.  Also, you can have access to free SEO tools to conduct keyword research, analyze domains, find backlinks, and more.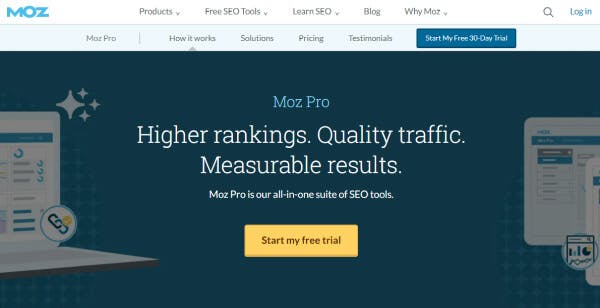 If you want an all-in-one suite of SEO tools, Moz offers Moz Pro at a starting price of US9 per month for their Standard plan. They also offer a 30-day free trial of their Medium plan which includes full access to their keyword research tools. Moz offers other paid products too, such as Moz Local, for businesses with physical locations, and STAT, for businesses in need of high-capacity keyword tracking.
Cost: Free, paid plans start at US9 per month

Resource Type: SEO platform

Key Topics: SEO resources and tools
8. Google Analytics
Google Analytics allows businesses to look at data across all devices and platforms, free of charge. Google Analytics also works seamlessly with other Google solutions like Google Ads and Google Search Console to help you better understand your customers and improve marketing ROI. In the Google Analytics suite, you'll have access to customer-centric analytics, actionable insights, and reporting features.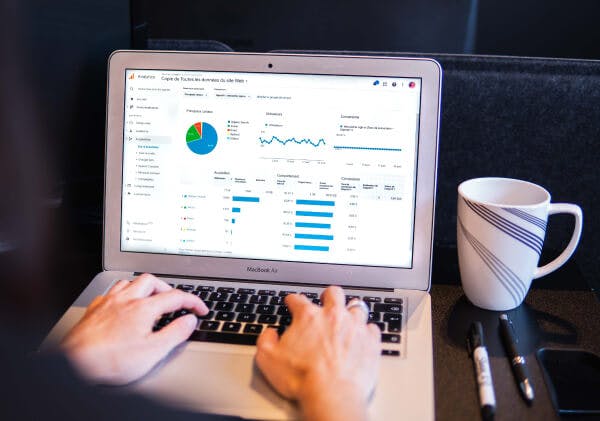 If you want to learn more about this platform, Google also offers Google Analytics Academy courses for free. Here, you can discover how Google Analytics can improve and grow your business and take these courses at your own time and pace. 
Cost: Free, paid options

Resource Type: Analytics platform

Key Topics: Customer-centric analytics, seamless integration with other Google solutions, analytics courses
9. Social Media and Electronic Communication Course by EdApp
From the Skillshare alternative, EdApp, comes another free online course. Social Media and Electronic Communication will guide you on how to navigate social media – specifically, social media in retail. Here, you will be taught more about different platforms used in social media marketing like Facebook, Twitter, and Instagram.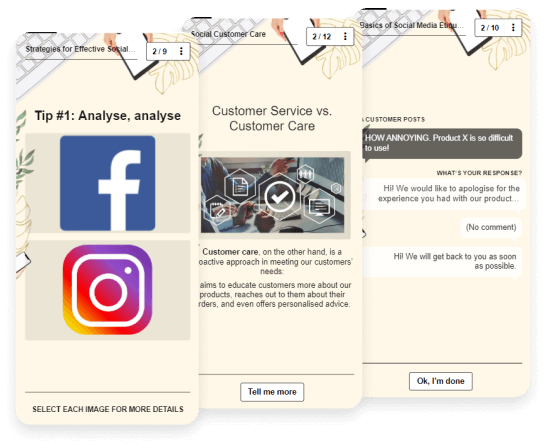 Although this digital marketing resource is targeted toward those working in retail, doesn't mean that you can't learn a thing or two. This course also offers lessons on social media engagement tactics and strategies, social customer care, and social media etiquette. These lessons offer tips and tricks that you can immediately use in your social media marketing strategy to keep customers engaged with your business. 
Cost: Free

Resource Type: Mobile course

Key Topics: Social media in retail, strategies for effective social media management, social customer care, basics of social media etiquette
10. Social Media Examiner
Now that you know how to navigate social media a little bit better, you're going to need more resources to kickstart your social media marketing efforts. Social Media Examiner is one of the best when it comes to helping businesses dominate Facebook, Twitter, and more with their resources.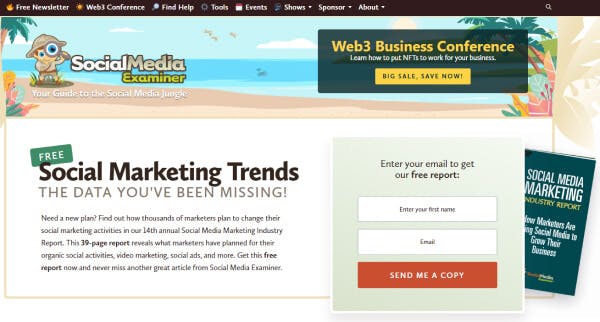 They track what's new and exciting with social media and also provide insightful analyses and tutorials to those in need of them. They also offer free annual social media marketing industry reports where you can find out how other marketers plan to tackle their social marketing activities. From Facebook 101 tips to strategies on how to start a podcast, you can find helpful articles related to all things social media on Social Media Examiner.
11. EdApp's Authoring Tool
Digital marketing is more than just creating blog articles, sending emails, and paying for ads. You have to create content as well and that can include graphics and digital brochures. All of the previously mentioned EdApp digital marketing resources on this list were created on EdApp's built-in authoring tool. While EdApp is mainly used as a training software, it doesn't mean that you can't use its features for general content creation or feedback collection. Used like this, EdApp can be useful to digital marketing agencies with multiple clients.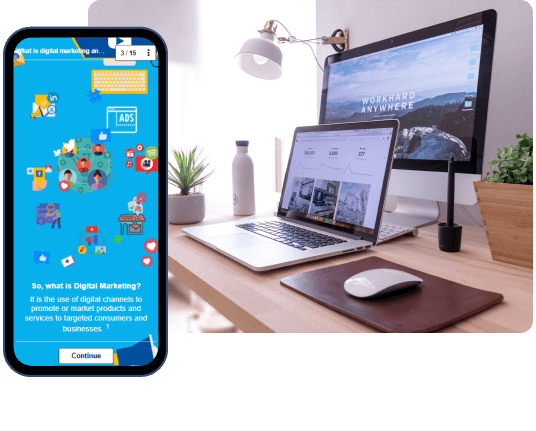 Creating content is easy with no coding or graphic design experience needed. With Canva integration and a template library, you can make creative graphics and even include images and videos related to your business. When your product or service is presented this way, as an interactive digital brochure, customers would be engaging with your digital marketing efforts. You can take this further by including survey slides at the end of your content slides. This can help you gain immediate feedback and opinions from your customers. 
Cost: Free

Resource Type: Content creation and survey tool

Key Topics: Simple and easy content creation, Canva integration, template library, surveys
Check out EdApp's free authoring tool and start creating creative content!
12. Clever Ads
Clever Ads is the ultimate, free online advertising suite of tools to launch and improve your digital marketing strategy. With it you can create, optimize and manage your online ads campaigns fast and easily. Gain more customers and grow your business, not your workload.

Among the free features you will find: Ads Creator, Ads Audit, Ads Promo Codes, Integrations with Slack and MS Teams, Keyword Planner, Ads Manager App, Banner Generator… and some more!
With Clever Ads free tools, you can benefit from having fully optimized campaigns that meet the requirements of each online search engine, getting customized banner packs, and developing the best keyword research for your paid campaigns and your SEO, to integrating your reports with your favorite communication channels (Slack, MS Teams…). There are many options! Check out all our tools. The benefits are numerous. Have you downloaded our app yet?
Cost: Totally free!

Resource Type: Online campaigns creator

Key Topics: Online advertisising, online marketing, microsoft ads, google ads, social ads, keyword planner, banner creator, suite of tools.