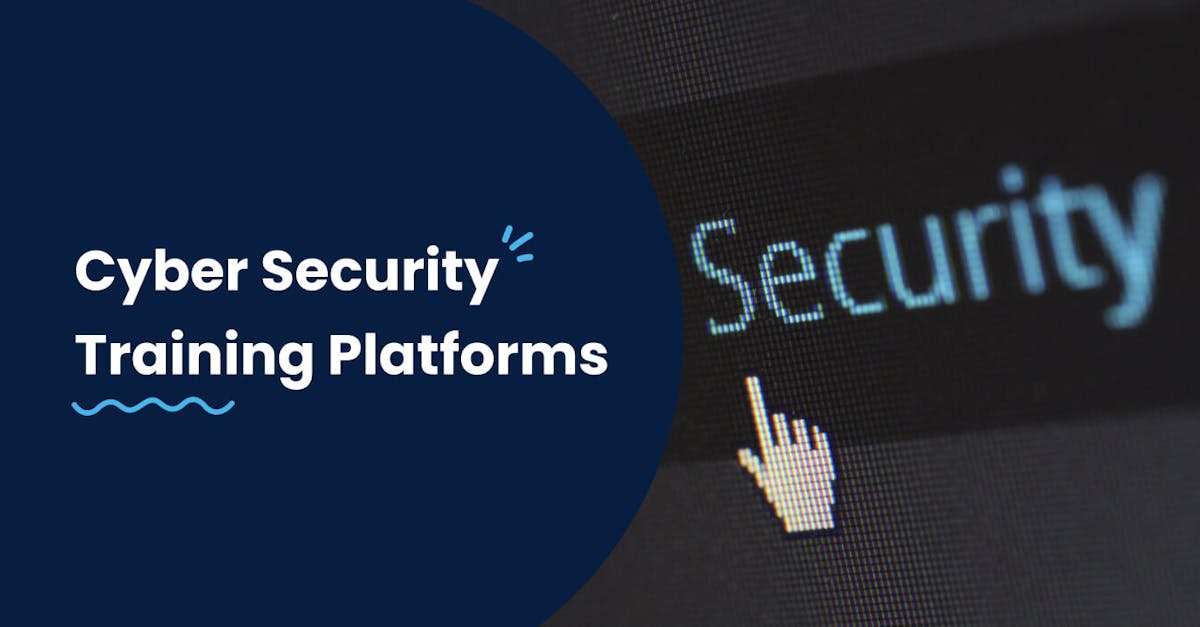 In today's digital age, cyber security is more important than ever. With the increasing reliance on technology and the internet, it's crucial for employees and companies as a whole to have the knowledge and skills to protect themselves from cyber threats, by using VPN or other useful tools. That's where this list of cyber security training platforms comes in. 
1. EdApp
As one of the most recommended cyber security training platforms on this list, EdApp can help you streamline your cyber security training programs for free. Through its editable course library, you can quickly import and customize online cybersecurity training courses like Cyber Security, Cybersecurity & Internal Threats, and Cyber Security Awareness and share them with your team.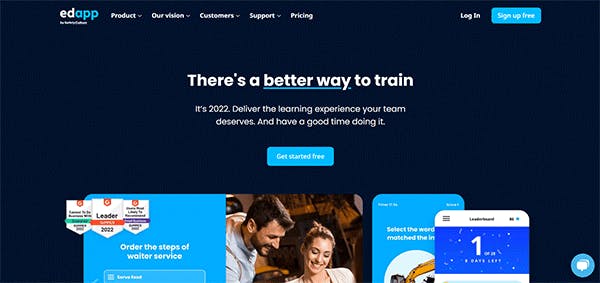 These microlearning programs will give your team a better understanding of topics like information security, cyber attacks, and tips for safe internet usage. They can easily complete the bite-sized lessons in just five to ten minutes and there's even a quick assessment at the end to help them retain their cybersecurity knowledge. 
Apart from the course library, EdApp also offers other notable features such as the creator tool, reporting and analytics, and achievements. With the cloud-based creator tool, you can build your own online cyber security training course by choosing from a library of elearning templates, dragging and dropping your content, and customizing the design.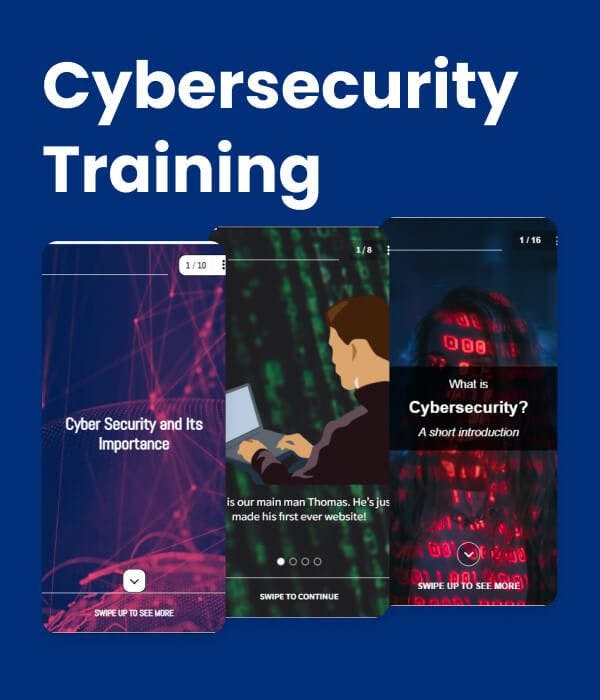 View and export engagement and performance insights, address elearning challenges, and keep track of your team's cybersecurity compliance with EdApp's built-in reporting and analytics dashboards. 
There's also the Achievements feature, which lets you celebrate your employees' different training milestones through custom badges and awards. With this tool, you can sit back and watch your company's overall training completion rates soar. 
Cost: Free
Key features:
Join EdApp for free and start using one of the best cyber security training platforms on the market!
2. Infosec
Level up your team's cyber security skills with the help of Infosec. This online cyber security training platform offers on-demand access to over 1,400 courses, giving your learners a wide range of cyber security resources to choose from.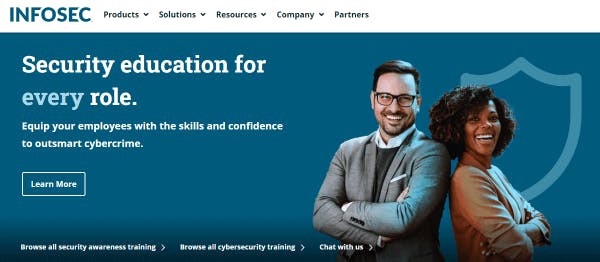 You can also opt to give them internet security classes through live, instructor-led training sessions and training scenarios to prepare them for real-world cyber threats. This includes learning how to write secure code and protecting cloud-based applications. Infosec's API even allows you to integrate your team's data with other learning management systems. 
Cost: Starts at 299 USD per year
Key features:
3. Coursera
Coursera is a highly-flexible elearning solution that can also be used as a cyber security training platform. It offers online cyber security courses developed and taught by experts from reputable companies and educational institutions such as IBM, Google, Stanford University, and The Wharton School. 
The majority of the courses on this platform are offered via online video lectures, which learners can access anytime and anywhere, as long as they have an internet connection. Some even include interactive projects and self-paced quizzes to encourage more engagement. Upon course completion, learners can download a certificate, although there may be additional charges.
Cost: Free and paid plans
Key features:
4. FutureLearn
FutureLearn's cyber security courses are created by renowned academic institutions and industry experts from around the world. Presented in different formats, some of these courses include The Open University's Introduction to Cyber Security and Coventry University's Digital Security Training.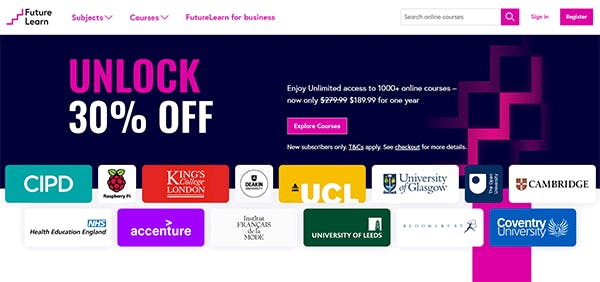 Because FutureLearn allows asynchronous or self-paced learning, learners can finish their cybersecurity courses at their own pace. Additionally, they can discuss topics with other learners, join conversations, and promote peer-to-peer learning and collaboration by liking or responding to their comments on the platform.
Cost: Free
Key features:
5. SafeTitan
With SafeTitan, you won't need to look any further for an all-in-one cyber security training platform. Here, any construction supervisor or trainer can easily share cyber security training programs in just a few clicks without the high costs of in-person training. This is possible through the platform's large content library of courses, quizzes, videos, and fully automated simulated phishing attacks. These learning materials are short, effective, and designed to be fun and interactive.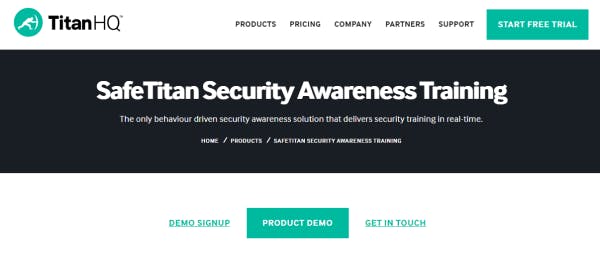 SafeTitan also offers a bonus security feature that protects you and your team from advanced security threats like phishing, unauthorized access, malware attacks, and spoofing.
Cost: Available upon request
Key features:
Content library

Automated simulated phishing attacks

Built-in protection from cyberattacks
6. Hook Security
Hook Security is another top-notch cyber security training platform for your team's cyber security compliance needs. It offers a complete package of features that give your team a more personalized training experience. The built-in phishing simulator can help you defend against fraudulent activities and vulnerabilities and safeguard your personal information.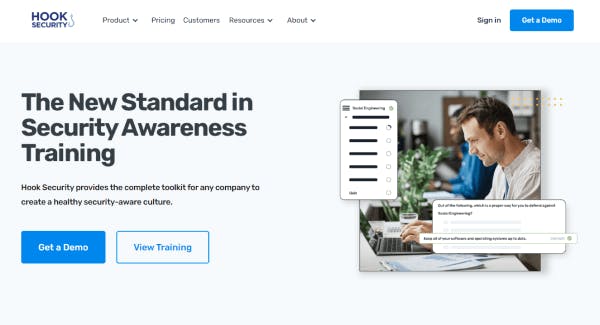 Compared to other cybersecurity training tools, you can use the platform to send out simulated emails to your staff members, give them direct feedback if they click on them, and monitor their training development over time. You can enroll employees in cyber security training programs on the spot if they fail their phishing tests. You'll also have access to a complete catalog of training videos and courses, which you can distribute to any learner at any time.
Cost: Paid plans
Key features:
7. KnowBe4
Known as the largest integrated security awareness training solution in the world, KnowBe4 offers an extensive library of training content that can help your team hone their cyber security knowledge and skills. The platform also provides AI-recommended training, giving you recommendations for customized approaches for your employees based on their training results from simulated phishing attacks.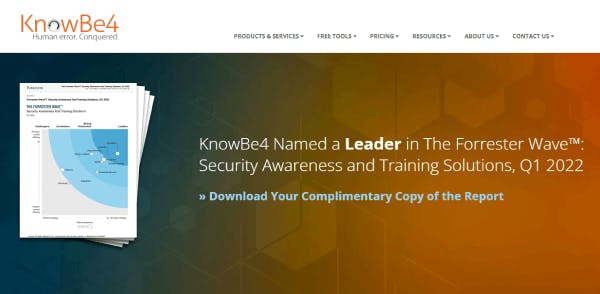 Additionally, KnowBe4's automated enrollment feature does the work for you by automating enrollment and follow-up emails. This way, you won't have to worry about your team's compliance rates.
Cost: Available upon request
Key features:
8. Phished
With Phished, you can take full control of your organization's cybersecurity training. This elearning platform comes with nifty features like pre-set learning paths and automated phishing simulations that help boost cyber security awareness among teams. The platform also features a comprehensive content database with interactive courses that can be customized according to your organization's branding guidelines. Additionally, you can use built-in reporting tools to evaluate and monitor your team's training progress and take appropriate action.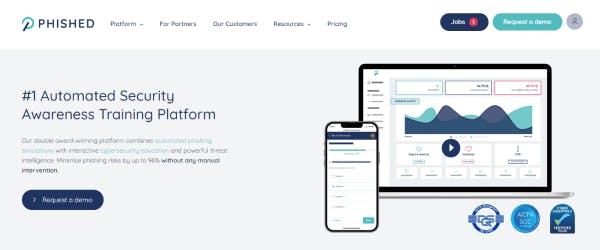 Cost: Available upon request
Key features:
9. ESET
As a cyber security training platform, ESET offers both free and paid cybersecurity awareness training courses to help you safeguard your company data and give them proper guidance on how to spot attacks, breaches, and other dangers. 
Your employees will learn more about email safety, social engineering, password security, and other topics, including what dangers to watch out for, what to avoid, and what to do in an event of a breach. A phishing simulator, progress dashboards, email reminders, and interactive elements are all available in this cybersecurity training platform.
Cost: Free and paid plans
Key features:
10. Tovuti LMS
Tovuti LMS is a cyber security training platform that can help you make your training content creation and overall cybersecurity compliance process more efficient.  Its course authoring suite has everything you need to create, schedule, and manage training courses in just minutes. Gamification elements like badges, certificates, and leaderboards can also be added to courses so that learners are encouraged to complete their training.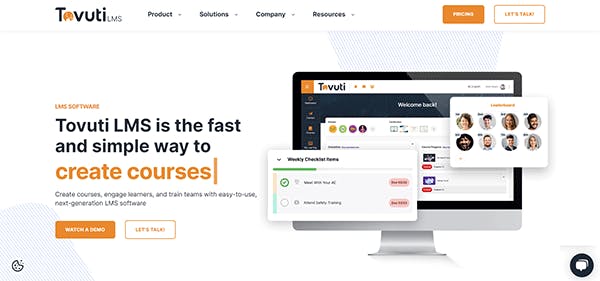 A personalized portal that displays each employee's badges, certificates, leaderboard rankings, assigned courses, and forthcoming training sessions is also readily available. Tovuti LMS's live virtual classroom lets you virtually meet with your team members and discuss course materials through online video platforms like Zoom and GoToMeeting. 
Cost: Available upon request
Key features: