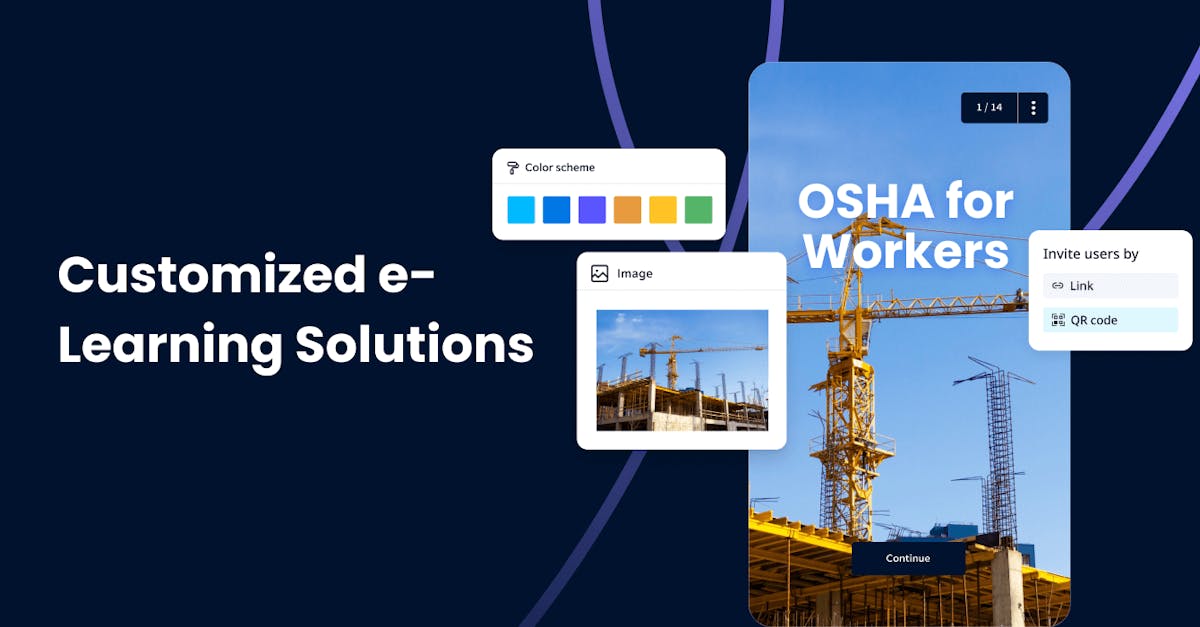 Customized e-Learning solutions offer organizations tailored ways to fill training gaps and educate staff on how to resolve issues. It's a personalized and tailored online learning program designed to meet the specific training needs of an organization or individual learners.
Custom elearning development can include designing content, modules, assessments, and interactive elements that align with the organization's culture, industry, and specific training requirements.
The customizability of this type of training means that specific needs and performance issues can be addressed for a more effective outcome. In this article, we'll explore the different types of custom elearning solutions to watch out for.
How to create a customized elearning solution
Creating a customized e-learning solution involves several steps to guarantee that the content and delivery methods align with the specific needs and goals of the target audience. Here's a step-by-step guide to help you create a customized e-learning solution:
Needs Analysis: Conduct a thorough needs analysis to identify the specific learning objectives, performance gaps, and training requirements of the target audience. Engage stakeholders, subject matter experts, and learners to gather insights.
Define Learning Outcomes: Clearly define the learning outcomes you want to achieve with the e-learning solution. Establish measurable goals that align with the organization's overall objectives.
Content Development: Create a custom elearning design that directly addresses the identified learning objectives. This can include videos, interactive modules, assessments, case studies, and simulations.
Learning Delivery: Choose the appropriate e-learning delivery method(s) based on the target audience and the content's complexity. This could include web-based courses, virtual classrooms, mobile learning, or a blended approach.
Personalization: Tailor the content to suit the learners' roles, backgrounds, and preferences. Incorporate scenarios and examples relevant to their work environment to enhance engagement.
Interactive Elements: Integrate interactive elements, such as quizzes, exercises, and gamification, to enhance learner engagement and reinforce key concepts.
User-Friendly Interface: Design an intuitive and user-friendly interface that allows learners to navigate the content easily. Verify compatibility with different devices and browsers.
Visual Design: Create visually appealing e-learning materials that are consistent with the organization's branding and incorporate multimedia elements to make the learning experience more engaging.
Feedback and Assessments: Incorporate opportunities for learners to receive feedback on their progress and provide assessments to measure their understanding of the content.
Pilot Testing: Before full implementation, conduct pilot testing with a small group of learners to gather feedback and identify any necessary improvements or adjustments.
Continuous Improvement: Regularly evaluate the effectiveness of the customized e-learning solution through feedback, learner performance, and analytics. Use this data to make necessary improvements and updates.
Implementation and Support: Roll out the customized e-learning solution to the target audience. Offer ongoing support and assistance to learners throughout the training process.
Tracking and Reporting: Use learning management system (LMS) or tracking tools to monitor learners' progress and generate reports to assess the success of the e-learning program.
Feedback and Iteration: Encourage learners to deliver feedback on the e-learning solution and use their input to make iterative improvements to the content and delivery.
By following these steps, you can create a customized e-learning solution that addresses the unique needs of your learners, enhances their engagement and knowledge retention, and supports their professional development and growth.
1. EdApp
Customized e-learning solutions work best when custom elearning development is truly customizable, accessible, and editable. EdApp LMS offers these solutions effortlessly. This cloud-based platform has a vast course library, but it's not just a one size fits all offering. The course library is completely editable to fit the needs of any organization and to sweeten the pot, the courses were collaborated on by some of the world's most reputable brands.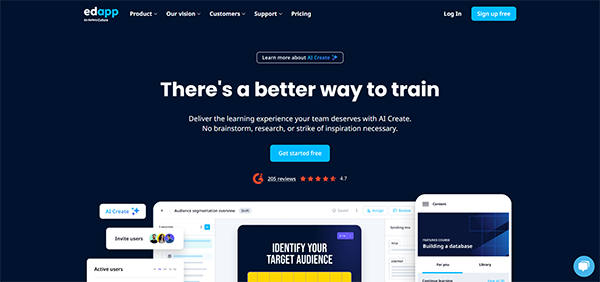 The platform also boasts an amazing Canva media library that allows users to power up their lessons with Canva. This means you can foster better competency and enhance learner retention. Another positive customizable e-learning feature from EdApp is its micro learning template library, which is full of customizable quizzes and content templates.
Managers can use these templates to address specific course needs to fill the learning gaps on your team. With its easy-to-use PPT to SCORM feature, you can convert your old PPT training content into SCORM compliant online learning material. Given that EdApp is a complete LMS, you don't need any other platform to manage your elearning development program. As a mobile platform, your learners also don't need to worry about accessibility.
Price: Free
Features: Authoring tool, editable content library, Canva media library, microlearning & gamification template, PPT to SCORM, mobile learning
Get started on your custom training experience by signing up for EdApp today!
2. CommLab India
CommLab India is an e-learning solution that has been in the business for over 20 years, offering customized learning options for Fortune 500 companies. These solutions help to improve employee performances through high-impact learning scenarios. This software has the ability to convert traditional classroom learning material to custom elearning content and online courses and can also be used in virtual instructor-led training programs. The platform offers high-quality instructional design, an LMS software that features authoring tools and incorporates robust processes to get results.

In addition to the course management tool, CommLab India's LMS also includes microlearning, job aids, blended learning, and M Learning features. Every customized e-learning solution needs a way to effectively test for their students' understanding, this is one feature that this platform lacks, unfortunately.
Price: Contact for pricing
Features: Classroom to e-learning, flash to HTML5, e-learning translations
3. SweetRush
SweetRush is a custom e learning development solution that fosters innovation, creativity, experience, employee collaboration, and an impactful learning environment. This custom e-learning content provider is known for a culture of commitment and respect because it focuses on the needs of each stakeholder, the objectives of your organization, and making sure that your project management is done as smoothly as possible. This service offers a broad tool kit that will make sure you have an effective e-learning solution to solve the ideal needs of your organization. This tool kit includes remote multi-learner VR experiences.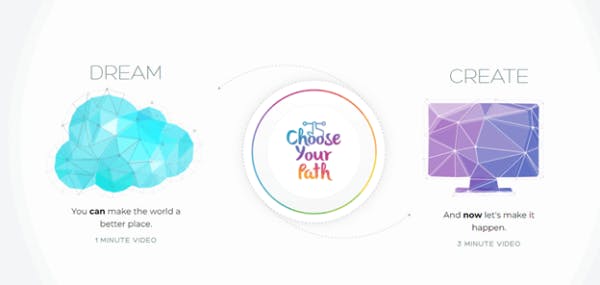 Price: Contact for quotation
Features: e-learning, mobile learning, adaptive learning, ILT & VILT, games & simulations, video, audio, animation, performance support, branding & communications, large-scale projects
4. EI Design
As far as customized e-learning solutions schools go, EI Design is pretty good. It's a multi-award-winning design company that works with its clients to ensure that their digital transformation is done effectively. This company has a lot of experience and expertise in designing and executing learner experiences that translate to high customer success.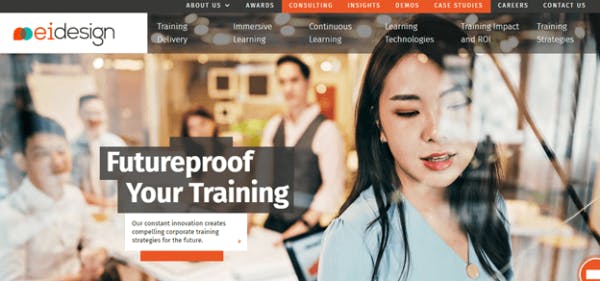 In addition to customizing learning content development, the company provides learning and performance consultancy services and also has insights on corporate training strategies. With EI Design, you will get highly customized approaches for the development of immersive learning experiences for remote or virtual training. Unfortunately, the company does not offer a full suite of features to complement the courseware it provides as a standalone LCMS would.
Price: Contact for quotation
Features: Mobile learning, microlearning, virtual training, mobile apps, personalized learning, localization, LXP expertise, learning portals, VR framework, interactive video framework, rapid learning, flash toHTMLl5 migration, and authoring tools expertise
5. Allen Interactions
Allen Interactions uses its customized e-learning solutions to empower organizations and their employees to adapt, perform, and improve. The mission of this company is to create meaningful, motivational, and memorable corporate learning solutions that can produce measurable outcomes. The platform uses models and methods that are backed by science and focus on performance.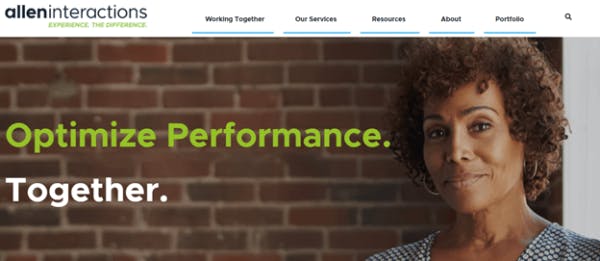 The solutions provided are carefully curated to continuously optimize themselves so your company will not be left behind. Because of this company's roots in behavioral science and educational psychology, they have developed unique methods of instructional design and development that businesses use to fuel their growth through performance optimization. The cost of this service can be viewed as a hindering factor.
Price: Contact for pricing
Features: Custom learning, software engineering, strategic consulting, government, staff augmentation
6. Learning Pool
Learning Pool gives somewhat of a unique approach to their customized e-learning solutions. Their employee training content tends to bring high satisfaction rates mainly because of the large and flexible catalog of content that it has as it is one of the largest in the industry. The toolkit that it offers clients includes features such as customization, personalized learning, performance support, and gamification techniques.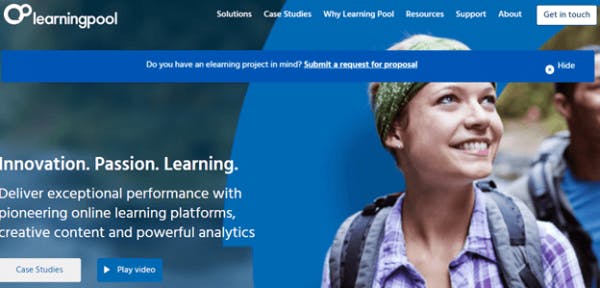 It also has an LXP platform that can be used to deliver high-quality digital learning at scale that will enhance the daily workflow of your employees. Learning Pool has a lot of amazing features but lacks the integration capabilities that the top players in the industry have.
Price: Contact for pricing
Features: Learning experience platform, learning management system, learning locker data cloud, content authoring tool, ready-made eLearning libraries, custom content, industry recognition, platform security, customer care, product roadmaps
7. Inno-Versity
Inno-Versity is a platform that provides customized e-learning solutions backed by a dedicated team of instructional and creative designers. This team specializes in several sectors which allows them to cater to multiple organizations in different fields. Inno-Versity offers a wonderful combination of learning theory and exceptional creative design that impacts a businesses' outcome in a major way.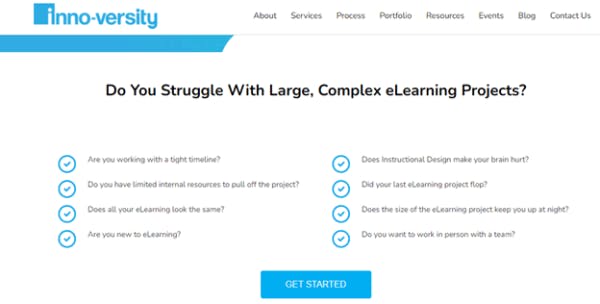 Impactful business outcomes are a top priority for them. This elearning software is largely experience-focused, so it is no surprise that they have features such as gamification, e-learning, scenario-based learning, and blended learning. It also specializes in ER, VR, mobile learning, and animations.
Price: Contact for quotation
Features: Strategic planning, communication, project management, design
8. eWyse
eWyse is a leading course development company in Europe. This company offers customized e-learning solutions done by their creative team that is filled with experience and skill. They focus on bespoke and engaging learning content and LMS solutions. The company uses a unique 3C development process to make its content. This process includes creative control, process control, and financial control.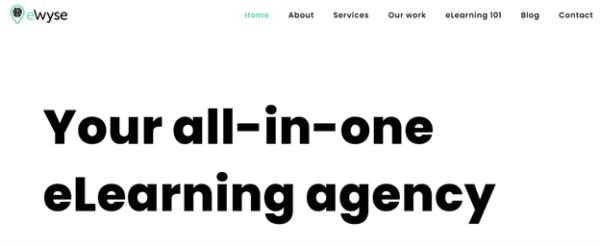 The creative control aspect is a structured feedback system that utilizes creative input from all parties that is then incorporated into all stages of the course's development. Process control asks for and implements stakeholder collaboration and feedback. Financial control gives you complete transparency of the cost and time it took to develop your course. Speaking of cost, eWyse may not be the best option for startups that have a limited budget.
Price: Contact for pricing
Features: Microlearning, rapid course delivery, optimal mobile experience, higher course uptake, explainer videos, design-led marketing, simplify complex messages, highly authoritative, audience engagement, 360 experience, learning through exploration, technical training, CX location training, blended learning
9. Kineo
Kineo has always been a learning-centric company. Whether it's a resource, animation, game, course, blend, new technology solution, or platform, underlining any of those are learning methodologies and engagement principles. This service creates customized e-learning solutions that really engage students, and to do this the company acts as a partner with its clients to create content that truly addresses the issues being faced by their organizations.

The content created is accessible via multiple devices and includes innovative features such as social interaction and gamification. Kineo uses customer feedback to build customer relationships that produce returning customers. Unfortunately, the platform is not a standalone LMS solution so additional software will be needed to manage the content created.
Price: Contact for pricing
Features: Social learning, learning needs analysis, training impact evaluation, blended learning design, learning campaigns, learning platform strategy, personalized learning, video, animation & interactive video, games and scenarios, microlearning, performance support, campaign-based learning, ILT/VILT content, translations
10. eLearning Brothers
eLearning Brothers provides full-service customized e-learning solutions. Because of its customizable content, you can build training suited for your specific organizational needs. The platform provides customizable templates and other assets from which trainers and content creators can create elaborate online training programs that are mobile friendly and includes games (the service has a training arcade and a library filled with casual games) and other features.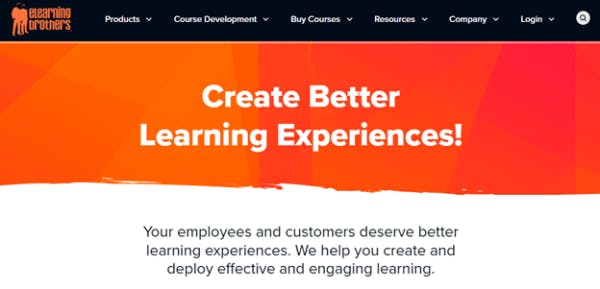 The games help to reinforce the educational material you will have in your course and also provide a way to assess knowledge retention and measure the overall effectiveness of the course. The platform has robust authoring tools and a very extensive library of assets.
Price: Contact for quote
Features: Case studies, ebooks & infographics, eLearning rockstar community, knowledge base/support, newsletter signup forms, podcast, product showcase, product training, webinars & events, webinar presenter application, games & simulations, virtual reality, mobile learning, video & animation, instructor-led & virtual instructor-led training, accessible learning content
Conclusion
If you are looking to get a truly customizable e-learning solution that won't take a lot of time from conception to production, won't cost a lot of money regardless of the size of your project, and allow you to have full creative control while easily accessing and manipulating world-class tools, EdApp is the best option to go with.