Nowadays, customers are becoming more interested in the companies that they get their products and services from. To educate customers, companies use tools like a customer training LMS, to share everything they need and want to know. Leveraging these is beneficial as it makes creating, deploying, and completing learning material a breeze. To help keep your customers up to speed, here are 10 customer training LMS to train your clientele.
Customer Training LMS #1 – EdApp
EdApp is an award-winning, mobile-first customer training LMS that's ideal to train your customers about your company profile, vision, products, and services. With its drag-and-drop authoring tool, content creation is now made easy for your customer relations team. Not only that, it has over 80 microlearning templates that incorporate gamification features, making it more engaging for your learners. This will increase the completion rate of your customers' training as key information is presented in bite-sized chunks. In-app branding is also available to tailor your courses and make them your own.
EdApp's instructional designers have created hundreds of interesting courses for businesses like yours. Innovative learning and development strategies were used in designing these courses.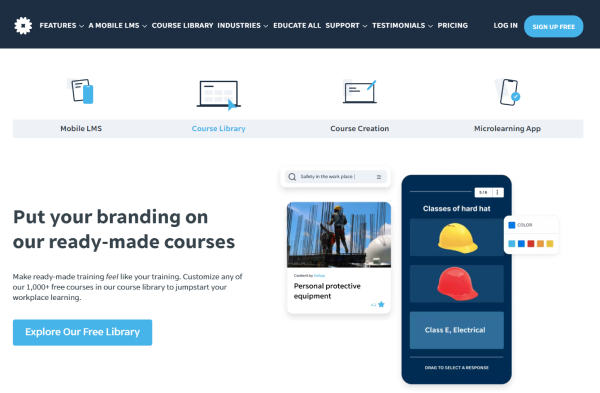 To ensure that the customers learned from the training, you can test their knowledge retention with EdApp's online quiz maker called Rapid Refresh. Here, all you have to do is fill out an easy-to-complete spreadsheet and have the quiz automatically created, deployed, and graded. The quizzes can be scheduled according to your preference. Lastly, the analytics feature is available for you to track the progress of your customers.
Cost: Free
Key features: Authoring tool, microlearning templates, gamification, quiz maker, mobile learning, analytics
Customer Training LMS #2 – Learnbook
Learnbook touts itself as the world's friendliest customer training LMS platform. It has an advanced dashboard designed to easily help manage various tasks such as enrolling learners in a course, sending them notifications, and checking their progress. Connecting with your customers from anywhere in the world has been made easier with Learnbook's webinar software. You can run, record, and even publish webinars as courses. It also has its own messaging feature so that all communication can happen in one place instead of using external applications.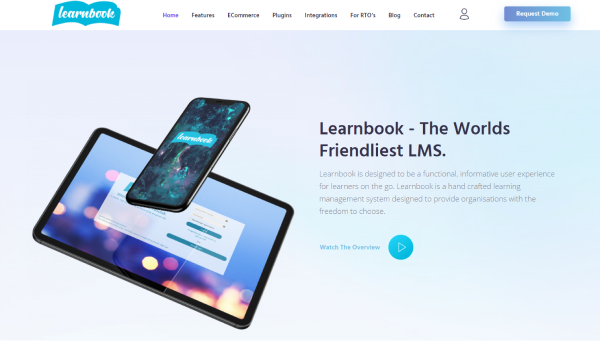 Cost: Available upon request
Key features: Easy to use administration dashboard, course library, webinar sessions
Customer Training LMS #3 – GoToTraining
GoToTraining has features for creating and managing online training sessions and courses that your clients will benefit from. This customer training LMS is great to help you get to know your audience before the training session through custom registrations. With the additional information you gather about the participants, you can better plan your training courses to suit the learners. There are in-session activities and breakouts to boost engagement and knowledge retention. After the session, detailed reporting on attendance, test results, and evaluations are available to see how successful your training was.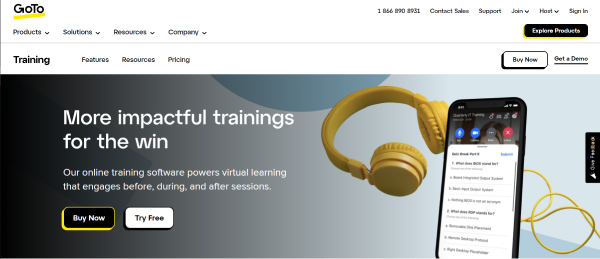 Cost: Starts at US $109/month
Key features: Content library, breakout sessions, reporting
Customer Training LMS #4 – Tovuti
Tovuti LMS is another customer training LMS that you can use to streamline your customer training process. With its built-in course authoring suite, you can create, schedule, and deploy interactive courses in just a few easy steps. You can also include gamification and leaderboard features to encourage them to complete their assigned learning tasks. If you want to integrate synchronous learning sessions into your training, Tovuti LMS's live virtual classroom allows you to meet with your customers in real-time and discuss learning content through third-party online video conference platforms like Zoom and GoToMeeting.
Cost: Contact Tovuti LMS for pricing
Key features: Course authoring, analytics tool, virtual classroom, personalized learner portal
Customer Training LMS #5 – Raven360
Raven360 is a customer training platform dedicated to building flexible learning paths for users with content that's more relevant to their development. While it focuses on sales, it can also be used for any kind of customer training. It works with any browser or device, making it highly accessible to your customers. Raven360 supports different learning methods such as instructor-led training, virtual instructor-led training, and on-demand learning for a holistic experience. It also provides analytics to check the learners' performance.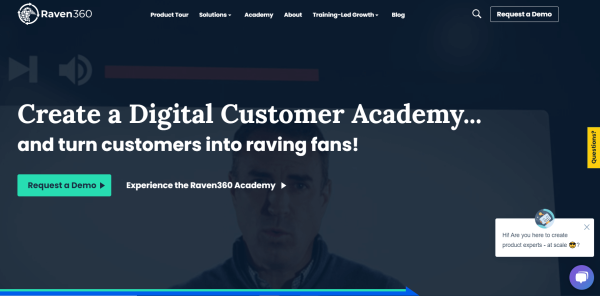 Cost: Available upon request
Key features: Flexible training methods, learning paths, analytics
Customer Training LMS #6 – Knowbly
Knowbly is known for its rapid customer training tools designed to help trainers deliver effective learning solutions at scale. Here, you'll enjoy their easy-to-use templates, which support rich media like interactive video, audio recordings, image editing, and flashcards. You can even import games, infographics, simulations, and scenarios to bring life to an otherwise dull learning experience. All learning materials developed in this learning platform work seamlessly on mobile and in any learning environment. Meaning, learners are free to decide where to access their courseware, whether through their office desktop, tablet, or personal mobile devices.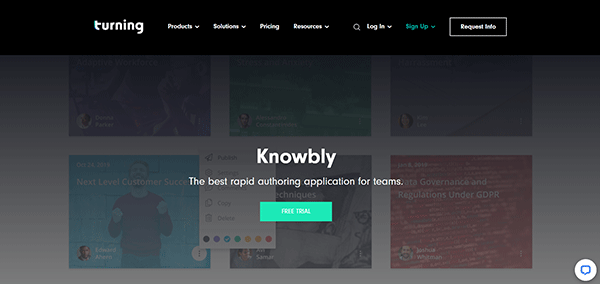 Cost: Starts at US $395/year
Key features: Rapid authoring application, easy-to-use templates, games, infographics, simulation and scenarios, mobile accessibility
Customer Training LMS #7 – Arist
Arist is a unique customer training LMS that uses text messaging to deliver training. While it may seem like an odd choice, Arist claims that it can increase learner engagement and completion rates. Text courses can be created quickly with its easy-to-use course builder where you can insert images, interactive questions, GIFs, and emojis. You'll also have access to user data, such as completion rates and learner progress. Right now, you're only limited to sending courses via SMS and WhatsApp, but they're looking to have it available through other popular messaging platforms like Slack and Facebook Messenger.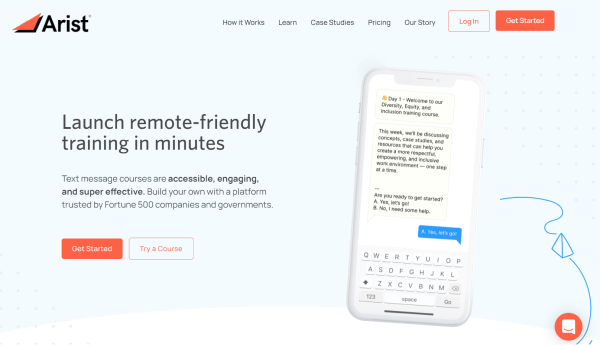 Cost: Free and paid plans
Key features: Course builder, text courses, comprehensive analytics
Customer Training LMS #8 – isEazy
Another customer training LMS you should check out is isEazy, which is tapped by many customer relations managers due to its cloud-based authoring tool. Here, you don't need technical design skills to create professional-looking online course materials. Just choose from their interactive slide templates and layout system to get started, and simply click, drag, and type to edit your courses. You can also make your training content more dynamic by adding personalized images, audio, and videos, even quizzes and flashcards. Backed by cloud technology, enjoy peace of mind that your work will never get lost in the process, ensuring maximum productivity.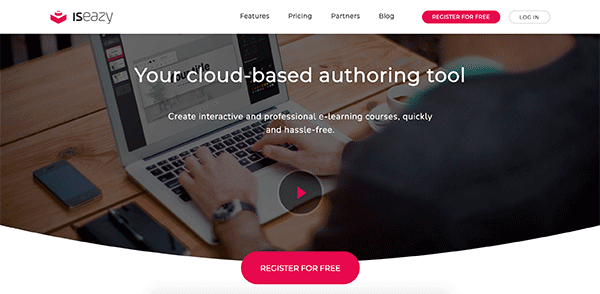 Cost: Free and paid plans
Key features: Content authoring tool, built-in test creation capability
Customer Training LMS #9 – Composica
Composica is also a recommended customer training LMS that can help you go above and beyond your traditional and monotonous online training. With authoring freedom as its hallmark, you'll have complete control over your course design and behavior. There's no need to worry about limited, form-based authoring or restrictive course templates—any content can be easily styled and modified to your heart's content. For higher engagement and interactivity, you can also use this platform to launch quizzes and fun games. All Composica-authored and published courses are also compatible with any modern platform and browser.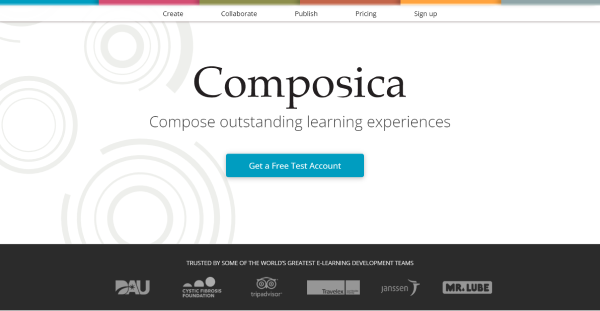 Cost: $99 USD/month
Key features: Flexible authoring, quizzes and games, collaboration capabilities, course compatibility with any modern platform and browser
Customer Training LMS #10 – Ruzuku
Ruzuku is a customer training LMS built with a powerful and user-friendly interface. It allows you to create and run great online courses even without design experience or technical expertise. You can even customize the designs to fit your brand and incorporate content suited to your students' learning objectives. If needed, you can also add PDFs, Word, PPT, and other files to your course content and make them downloadable for self-paced learning.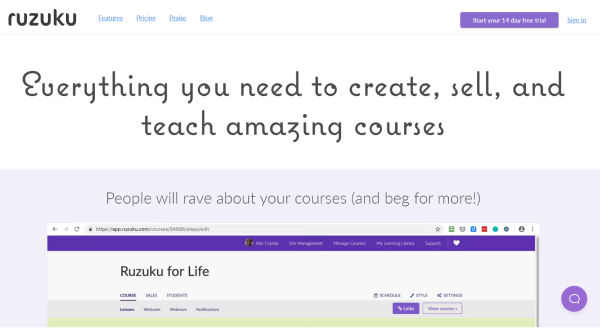 But it's not just limited to course creation and deployment. Ruzuku's course health feature also allows you to keep track of your customers' learning progress, including activity completion and any queries or comments they may have about their courses. Any updates made by participants will be sent to you automatically via email.
Cost: Starts at US  $74.75/month
Key features: Course authoring, self-paced content sharing, detailed reporting