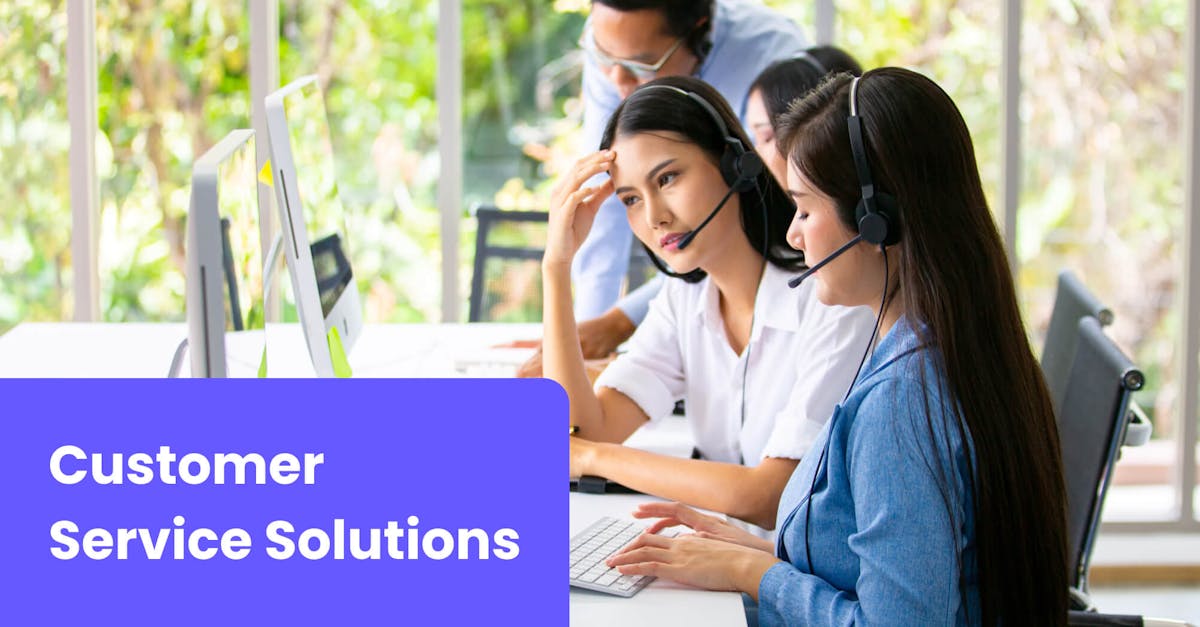 The type of service provided to customers can make the difference between whether a brand or organization succeeds or fails. The best customer service solutions train your employees to offer superstar services and allow you to measure their performances so you can do adjustments along the way. 
Customer Service Solution #1- EdApp
EdApps is a customer service solution that allows trainers and managers to create tailor-made training content or use existing ones in its course library to educate your team. The platform offers numerous customer service courses such as The Power of Empathy, Positive Scripting, and more. With this service, you get to oversee and adjust the entire training process from conception to completion.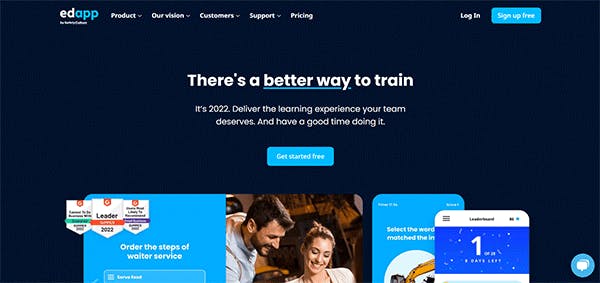 If you have training materials in PowerPoint, you can use EdApp's converter to transform them into highly engaging micro-lessons. In this technological age, it is sometimes best for customer service teams to be spread across the world, so you are better off with a platform that affords you the ability to effortlessly deliver quality customer service training to your global team. That's exactly what EdApp does. Your team can access all the materials they need, on any internet-compatible device
The customer service solutions from EdApp are not only engaging and easily accessible for students, but the intuitive platform is a godsend for trainers. Trainers and managers can keep up with the course progress of their employees and make the necessary adjustments.  
Price: Free
Features: 
Micro-lessons

Mobile friendly

PowerPoint Converter

Reports
Join EdApp for free and start using one of the best customer service solutions available today!
Customer Service Solution #2- Skillpath
Skillpath provides an active listening course that you can use to improve your customer service team's listening skills. Listening is an essential skill for professionals, regardless of profession or industry. Use this program to save time, and money as you train your team in active listening. 
It offers a course that teaches the fundamentals of listening and reviews the qualities that make someone a good listener. The second section assesses your communication skills and improves them. The third and final section of the course goes through the dos and don'ts of asking questions. Your employees will be exposed to the different types of questions and when to use each.
Price: Contact for quote
Features: 
Customer Service Solution #3- CompTIA A+
A variety of career-building training programs are available from CompTIA's elearning platform. Employees who participate in the CompTIA A+ course will learn the fundamental abilities required for careers in IT and customer service. Their course provides a description of the help desk resources they might use while performing support-related tasks. Additionally, CompTIA A+ includes a security lesson that trains your representatives on how to handle sensitive data appropriately.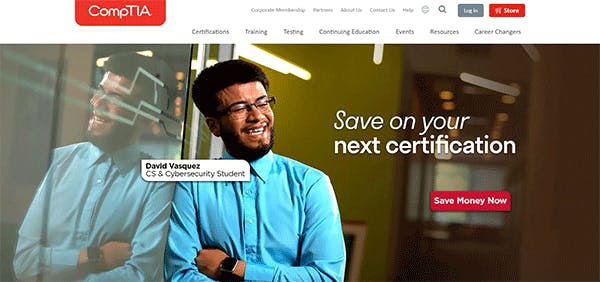 Learners will learn how to identify, utilize, and connect hardware components and devices in this course. They will also gain a wide understanding of the various devices that are now required to serve the remote workforce. Your employees will learn how to configure systems and install and support Windows OS, including command line and client support. 
Price: Contact for pricing
Features: 
Courses on software troubleshooting, 

Courses on hardware knowledge, 

Courses on operational procedures
Customer Service Solution #4- Hubspot
HubSpot Academy provides free, online training that enables you to become familiar with its customer care capabilities in addition to the company's free help desk. Each product in the ServiceHub suite is broken down in the "Understanding Help Desk" course, and it demonstrates how your agents can use each component to save time and automate tasks.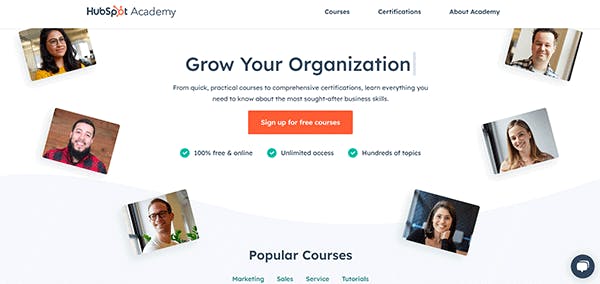 Through this tool, you'll be able to swiftly and effectively integrate your new help desk solution without contacting customer support if you have your reps finish this training. You can complete their academy training for general customer care abilities even if you aren't using HubSpot's technologies. For instance, participants in the program "Client Success and Account Health Checks" can learn how to use help desk technologies to keep an eye on and manage customer interactions. Any customer support team using help desk applications can benefit from the skills taught in these sessions.
Price: Free
Features: 
Free Help Desk

Online access

Free Academy lessons
Customer Service Solution #5- Axelos
The ITIL Foundation training program provided by Axelos instructs participants in the fundamentals of customer care and how to use help desk technologies. ITIL conveys the best practices adopted for offering customers IT services. The exercises in this course will assist service representatives to learn the ITIL methodology by delving into each recommended practice in detail.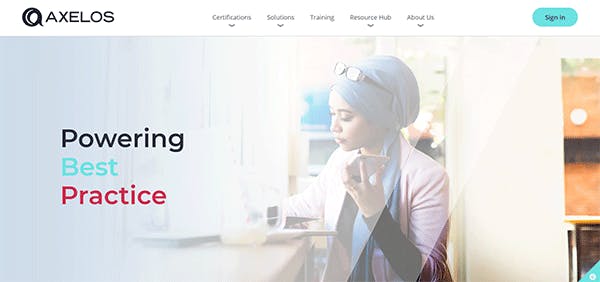 This course has the option for participants to go to a live training session with an ITIL specialist. A final test is given at the conclusion of these two-day courses. You can self-study for the final test using the ITIL Foundation book, which is available both online and in a physical copy if there isn't training nearby. Axelos offers a range of formats with accredited training providers for ITIL training courses.
Price: Contact for quote
Features: 
Live training

Accredited training

Help desk training
Customer Service Solution #6- Brentwood
Brentwood teaches your staff what it means to deliver genuinely exceptional customer service and the significance of this for contemporary businesses. As an instructor led training management software, it offers a free introductory course on customer service that examines the foundations of providing exceptional customer service from a contemporary corporate viewpoint. The content of their course is organized around six very important themes, including how to define good customer service, how to recognize a client's demands, and the importance of cultivating loyal clients. 

Additionally, candidates learn how to research customer reviews and do reputation management. There are no time constraints or deadlines to worry about, and Brentwood offers all the necessary study tools.
Price: Free
Features: 
Research processing 

No course deadlines
Customer Service Solution #7- Whatfix
Whatfix's digital adoption platform can be utilized to provide customer service. Whatfix overlays existing software and custom applications in an effort to help clients and end-users navigate onboarding, training, and support cycles which will eventually shorten time-to-value. Users are led step-by-step through the application while staff are offered contextualized help, intelligent learning materials, and in-app support.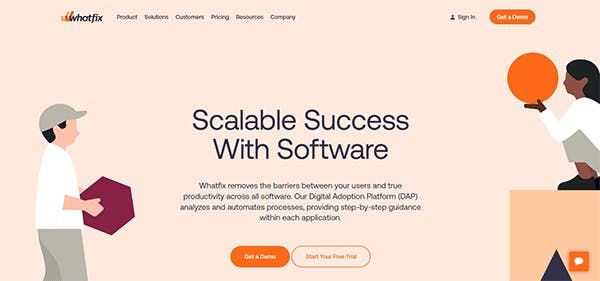 This platform also provides in-app customer survey tools to collect user feedback. It also captures and tracks user analytics, allowing customer-facing teams to proactively improve user flows, create better onboarding experiences, and build new help content. This solution is easy to use, eliminating the need for coding and allowing managers to curate and manage training efforts as needed.
Price: Contact for quote
Features: 
In-app support

Intuitive UI

Surveys
Customer Service Solution #8- Freshdesk
A number of customer service solutions are available from Freshdesk, such as Support Desk, Omnichannel Suite, Contact Center, and Customer Success. These solutions are focused on giving customer service representatives the resources they need to develop their skills.  For the best training, this computer learning software can be combined with other digital adoption platforms. It gives agents additional automation and context so they can anticipate customer demands and recommend the best course of action.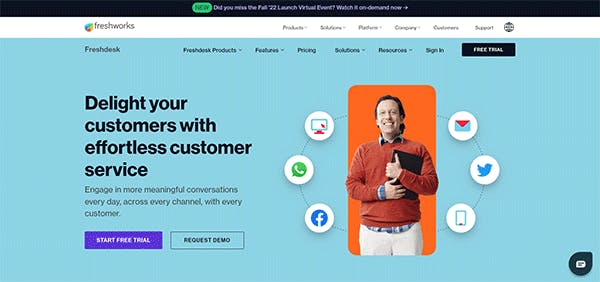 With Freshdesk's NEO platform, your agents will increase service productivity and innovate more quickly. Your team can also allocate, categorize, and prioritize tickets using this platform, ensuring that you never lose sight of them. Do note however that it's not training-centric so the tools offered by Freshdesk will take time to show complete results. 
Price: Free plans and paid plans ranging up to 79 USD
Features: 
Support desk

Ticketing system
Customer Service Solution #9- Brainshark
The goal of the content writing tool from Brainshark is to create compelling and accessible training materials. The platform offers customer service solutions that help teams to produce better content, as well as train and onboard more rapidly. Users can learn to use its simple course creation tools in about ten minutes, which is a short learning curve.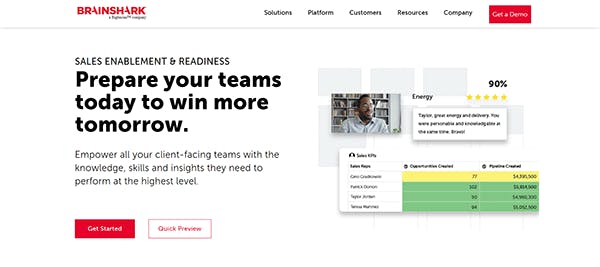 This customer service solution offers distinctive AI-powered coaching scenarios in the context of customer service training that let management understand how agents will implement their training in the real world. Brainshark also offers Readiness Scorecards which make it simple for managers to keep track of progress.
Price: Contact for cost
Features: 
AI-powered

Course creation

Scorecards
Customer Service Solution #10- ProProfs
A learning management system is one of the numerous features of ProProfs Training Maker, a cloud-based online training and assessment platform. There are two ways that businesses can use ProProfs for customer support training. ProProfs provides a customer service solution with simple-to-deliver customer service courses on regulations, compliance, and customer service abilities. Next, they have onboarding tools tailored to CS teams that educate new hires on company policies about customer service and general business processes.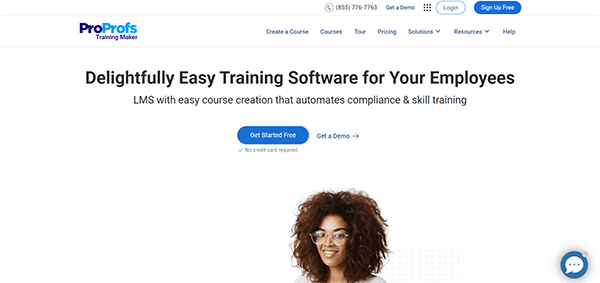 Users of ProProfs can also develop courses using old PowerPoint slides, custom templates, as well as feedback tools, flashcards, and basically, any learning resources made just for their teams. ProProfs are underestimating the power of gamification, more is needed here.  
Price: 1 to 1.97 USD per user per month
Features: 
PowerPoint conversion

Custom templates

Feedback tools