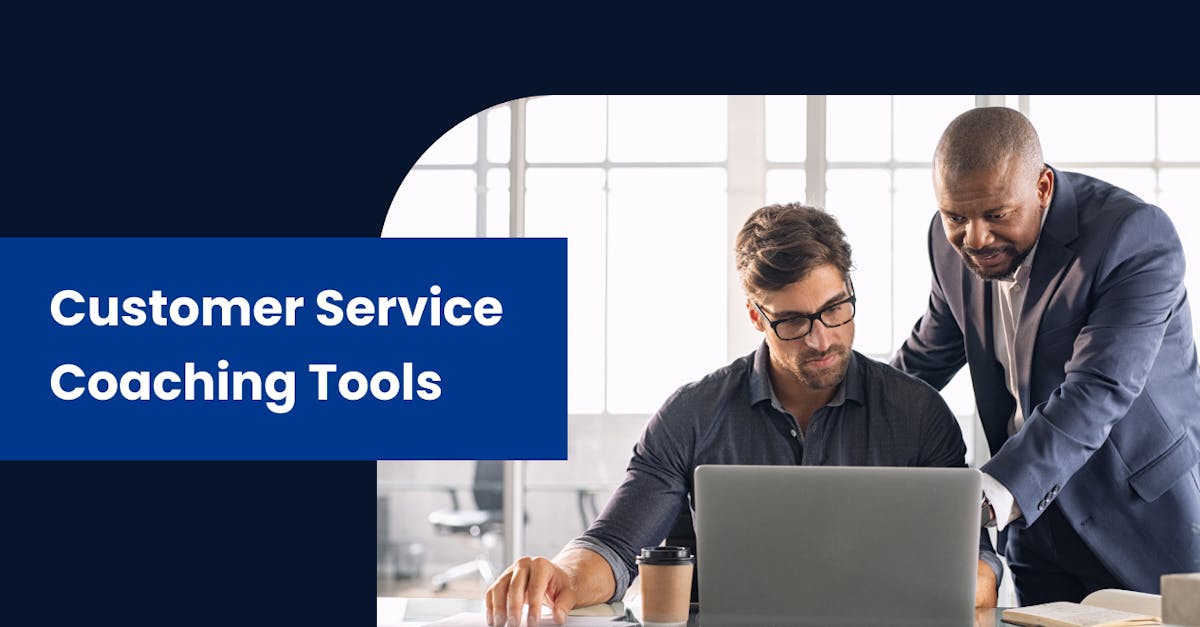 Working in customer service is no walk in the park. It requires constant training, which can be difficult to sustain without proper customer service coaching tools. Through such platforms, you can easily create and deliver training materials such as courses, quizzes, and dialogue simulations. These can all help your team master the knowledge and skills needed to handle customers effectively.
Customer Service Coaching Tool #1 – EdApp
EdApp is a top-notch customer service coaching tool that boasts an expansive course library, complete with various customer care training courses. With these courses, you can be sure that your employees are getting the best elearning experience possible through the platform's unique microlearning approach. From effective communication to call center customer service, their library has everything you might need to coach your customer-facing teams. These courses are compatible with all devices, giving your employees the ultimate training flexibility.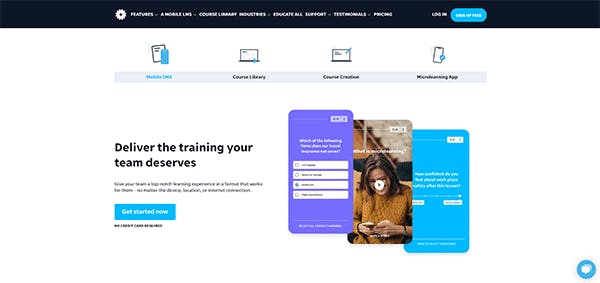 Another one of EdApp's best features is its SCORM-compliant authoring tool, which allows you to create courses even with no programming skills or design experience. To start building a course, you can simply choose from over 80 elearning and quiz templates, copy and paste your training content, and instantly send it to your employees' devices. If you want to build a dialogue-based lesson to emulate different customer service scenarios, then all you have to do is choose the Chat template and input your desired customer service simulation. 
Cost: Free
Key Features: 
Course library

Microlearning

SCORM-compliant authoring tool 

80+ eLearning and quiz templates 
Sign up at No Extra Cost and Start Using The Best Customer Service Coaching Tool!
Customer Service Coaching Tool #2 – 360Learning
360Learning is a widely known LMS solution that you can use to coach your customer service representatives. It features a user-friendly authoring suite, a content integration system, and an analytics dashboard – all of which require no technical skills to use. You can format text documents and add images and video clips to make your learning materials more fun and engaging. You can even enable feedback and include assessments to improve your team's overall knowledge retention.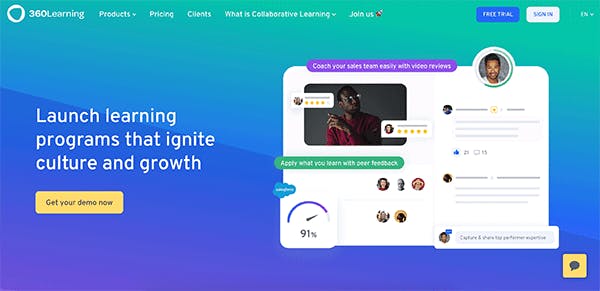 The platform also gives you access to more collaborative training features like discussion boards and group pages. These can encourage your employees to participate in group coaching sessions and interact directly with their managers and fellow team members.
Cost: Free trial, Paid plans start at 8 USD per month
Key Features: 
Authoring suite

Feedback and assessments

Discussion boards

Group pages
Customer Service Coaching Tool #3 – AcademyOcean
Looking for a quick and simple way to onboard and coach your customer service team? Look no further than AcademyOcean. 
This online platform can help you automate your entire training process from start to finish. One of its biggest features is its course tailoring tool, which you can use to build interactive training materials complete with videos, images, and quizzes. Your employees can even earn certificates at the end of a course as proof of completion. To roll out this feature, simply choose from AcademyOcean's built-in certification templates or create your own from scratch.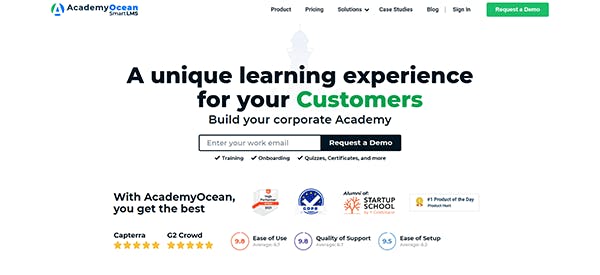 This customer service coaching tool also features a learner statistics dashboard, which allows you to check where each employee is in terms of training metrics. This makes it easier to determine which customer service topics need to be explained further and which team members require more coaching.
Cost: Starts at 300 USD per month
Key Features: 
Course tailoring

Tests and quizzes

Certification

Learner statistics
Customer Service Coaching Tool #4 – Zoho Showtime
With Zoho Showtime, coaching your customer service agents is as easy as 1-2-3. Through this customer service coaching tool, you can give your employees access to self-paced customer service courses and encourage peer interaction and social learning. As a manager, you can tap into the Admin Console to assign courses, track your team's training progress, and measure the effectiveness of your customer service coaching program.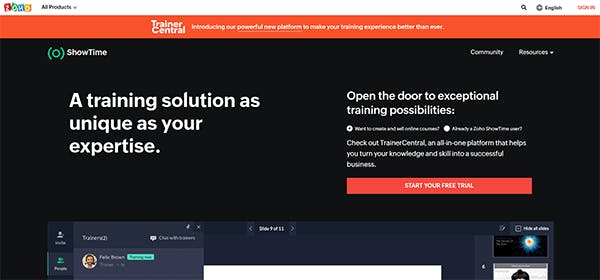 Also, you can upload additional training content like videos and audio recordings to make training more interactive and less static. Zoho Showtime also has easy-to-use social learning features like an in-app chat, surveys, and whiteboards. Your employees can maximize these tools to share customer service knowledge with one another.
Cost: Get a quote
Key Features: 
Self-paced courses

In-app chat

Surveys

Whiteboards
Customer Service Coaching Tool #5 – Looop
Looop is an all-in-one customer service coaching tool that gives you the power to create customer-service-focused elearning content with ease. Through their resource builder, you can design visually appealing customer service simulations in just a few clicks. You can even automate the delivery of your entire training program through communication channels like Microsoft Teams, Slack, and SMS.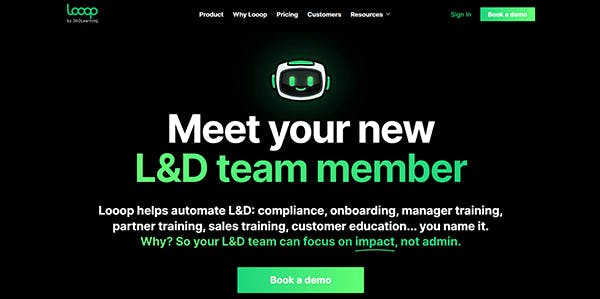 The platform also features helpful tools like user insights and analytics which show you each team member's overall training progress at a glance. These advanced reporting features allow you to gauge the effectiveness of your training content and address any learning gaps. 
Cost: Starts at 299 USD per month
Key Features: 
Resource builder

Integrations

User insights

Analytics dashboard
Customer Service Coaching Tool #6 – ProProfs
ProProfs is another powerful elearning platform that you can use to create beautiful customer service training-specific courseware. To create a course, simply choose from 100+ pre-built templates and add your own text, images, videos, and branding elements. Or, to make things even easier, you can import a ready-made course from their vast online library. Whether you're searching for courses on topics like safety compliance, sales, leadership, or customer service, they've got you covered.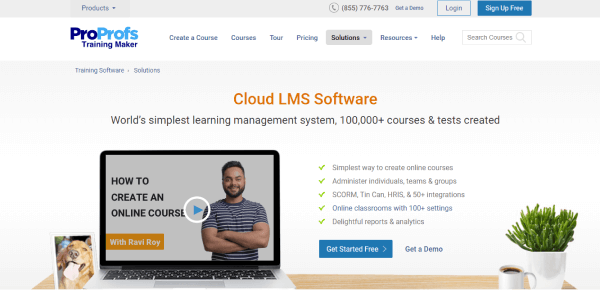 ProProfs also features gamification elements like brain games, learning paths, and quizzes, all of which help increase learner engagement. To foster interaction and collaboration, the platform also offers additional features like virtual classrooms and discussion forums. There's also a centralized knowledge base where you can upload customer service FAQs, how-tos, and other elearning materials.
Cost: Starts at 31 USD per month
Key Features: 
Customer Service Coaching Tool #7 – Tovuti LMS
Another customer service coaching tool to consider is Tovuti LMS. This highly adaptable platform comes with a built-in course authoring suite that you can use to create, schedule, and distribute customer service training courses in just a few clicks. Aside from its powerful course creation capabilities, this elearning tool also offers gamification features like certificates, badges, and leaderboards to encourage employees to complete their assigned learning tasks.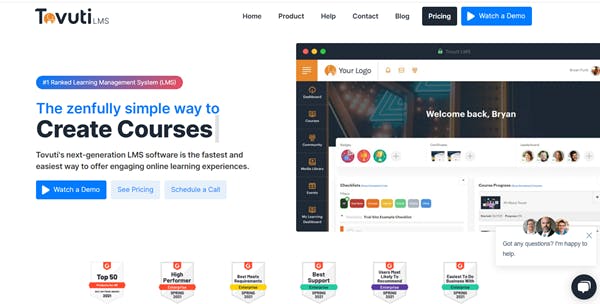 If you find it difficult to discuss some customer service topics through courseware alone, then you can add synchronous sessions into your training program through the platform's live virtual classroom feature. This way, you can meet your team members in real-time and discuss lessons through third-party video conferencing platforms like GoToMeeting and Zoom. 
Cost: Starts at 775 USD per month
Key Features: 
Course authoring suite

Gamification

Virtual classroom
Customer Service Coaching Tool #8 – WorkRamp
WorkRamp is a highly adaptable cloud-based elearning authoring software that can also be used as a customer service coaching tool. Through this platform, you can train your employees on proper communication, product knowledge, and customer engagement principles through a library of relevant online courses. It also allows you to design personalized learning pathways for your team members based on their roles and skill levels.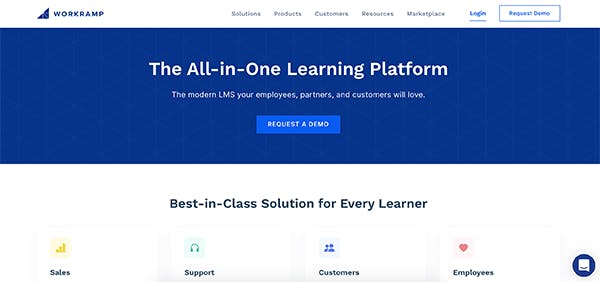 You can even track your team members' training progress through dashboard analytics. Combining both features, you can adjust different types of employee training content and address knowledge gaps. These adjustments are vital in helping your employees deliver desired customer service outcomes, improve customer relationships, and become well-rounded customer service representatives. 
Cost: Request a demo
Key Features: 
Customer Service Coaching Tool #9 – Auzmor Learn
Auzmor Learn is a customer service coaching tool that lets you build simple courses, distribute training materials, and keep track of team progress. Courses are created using a basic, easy-to-use course builder that provides numerous templates as well as an expansive lesson library. Here, you can choose from a variety of customer-service-specific training content and import your desired courses.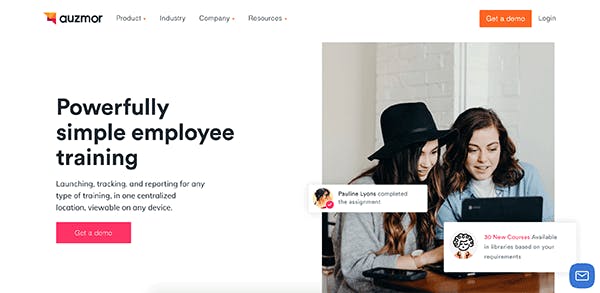 With this platform, you also don't have to worry about coding or programming lessons since you can create content through simple drag-and-drop. The platform also automatically adjusts courses for any screen size. This allows employees to complete their assigned learning materials from any device. 
Another huge advantage of using this online tool is its real-time reporting dashboard and customized analytics feature. This helps you monitor your employees' course completion rates and overall training performance.
Cost: Get a demo
Key Features: 
Course builder

Lesson library

Reporting dashboard

Customized analytics
Customer Service Coaching Tool #10 – WalkMe
If you're looking for a flexible customer service coaching tool, look no further, as WalkMe gives you everything you need to start training your team. Their no-code authoring tool simplifies the course creation process, allowing you to design engaging and highly personalized customer service training content in a matter of minutes.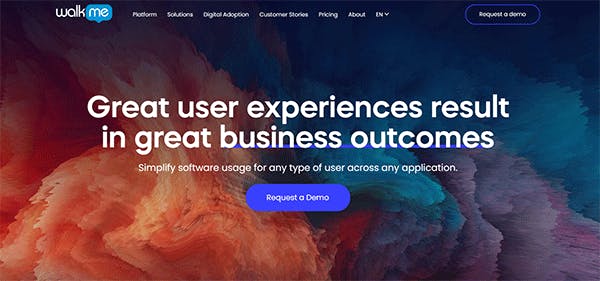 They also offer different Walk-Thru features in the form of tooltips, notifications, and pop-up messages. This encourages employees to go through lessons at their own pace with no unnecessary back and forth. 
Cost: Get a quote
Key Features: