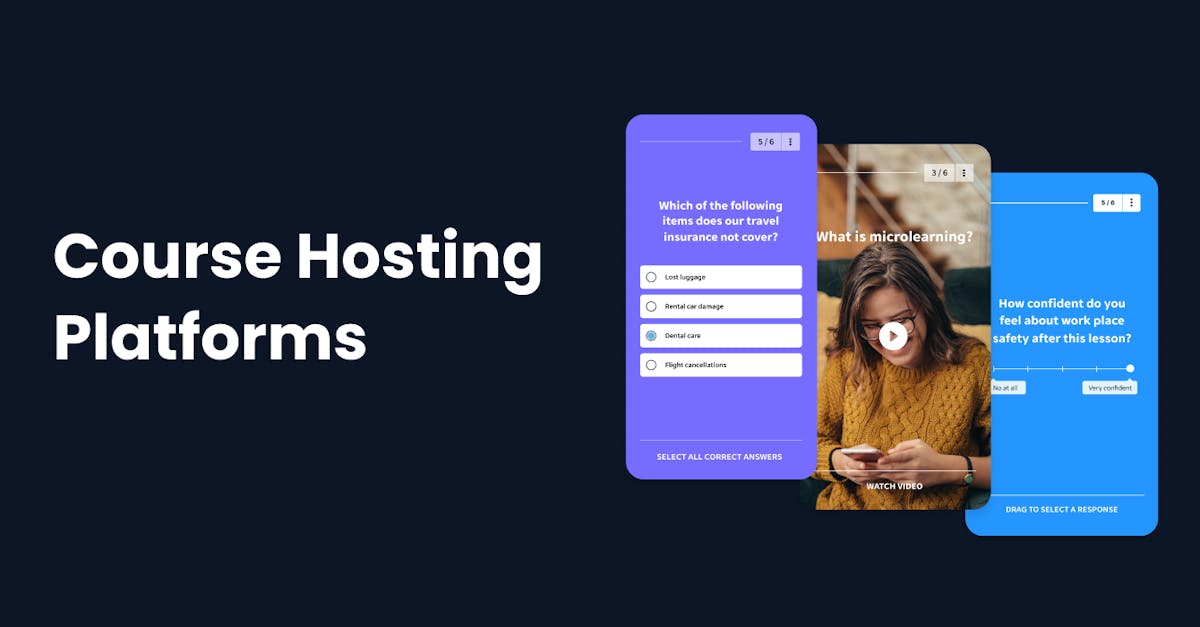 Whether you're looking to share free knowledge or sell your courses, we've got the top picks of online course hosting platforms for you. These online course hosting platforms are integrated with amazing features for building, managing, and even selling courses. Now let's explore them! 
1. EdApp
Do you have valuable knowledge, expertise, or even advocacy that you're willing to share with the world for free? Then EdApp is exactly the best course hosting platform for you! From course authoring to content management, this platform provides the user-friendly features you'll need to streamline those tasks.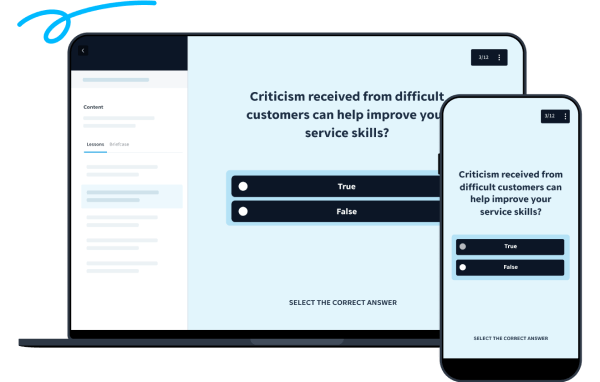 You don't necessarily have to design courses from scratch. In its course creation tool, you'll find a library of 80+ interactive templates designed for bite-sized lessons. Plus, on the same dashboard, you'll be able to instantly preview how your content looks, and edit it if necessary. Creating courses here is that easy.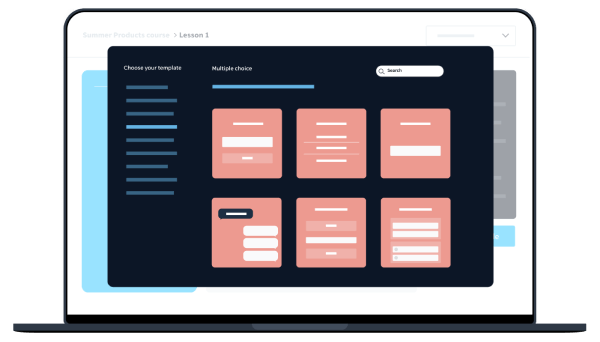 But there's more! If you wish to spice up your lessons, you can use Canva, which is already directly integrated into EdApp's creator tool. So, you won't have to do customization or design elements separately in a 3rd party design tool. 
When you already have an amazing course ready, the next thing to do is publish it in the course library. It's completely free for learners to access as part of EdApp's mission to #EducateAll. Pro tip: if you're not looking to train a team and simply want to provide an impactful education for other learners, then EdApp's Educate All plan is ideal for you.  You can create and publish courses of any topics, from sales training and email-marketing to HR management training courses.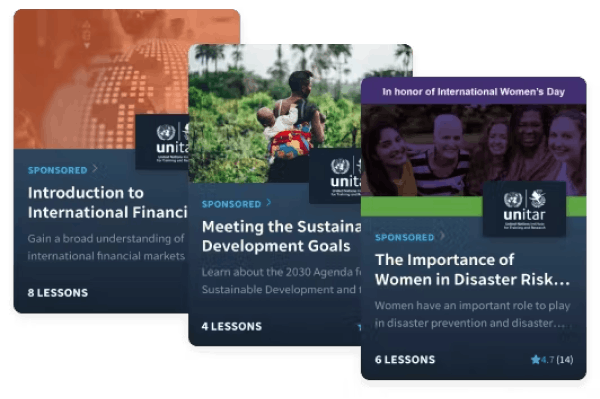 How this works is that you'll be able to enjoy EdApp's features all free of charge, but all your content will be automatically published in the public content library. You even have the option to promote your course for free. Plus, your own landing page is also made customizable to make it more enticing and increase conversions.
EdApp has been trusted by outstanding clients like the United Nations Institute for Training and Research (UNITAR), who initiated the #EducateAll mission with them. UNITAR has published a variety of courses to democratize learning in partnership with EdApp—including Introduction to Microfinance, Gender and the Sustainable Development Goals, The Importance of Women in Disaster Risk Reduction, and so much more. You can also take part in this mission along with other notable partners like Pernod Ricard, Aviva, and Marley Spoon. 
Key features:
Authoring tool

Microlearning

Canva integration

Free course library

Content management
Cost: Free
Empower learners across the globe with high-quality and impactful lessons. Join EdApp for free today!
2. Academy LMS
The Academy LMS by CreativeItem is the ideal course hosting platform for you if you're an instructor of any expertise who wishes to create and offer courses all in one place. In this learning management system, you'll be able to have your own course website where your students can buy courses.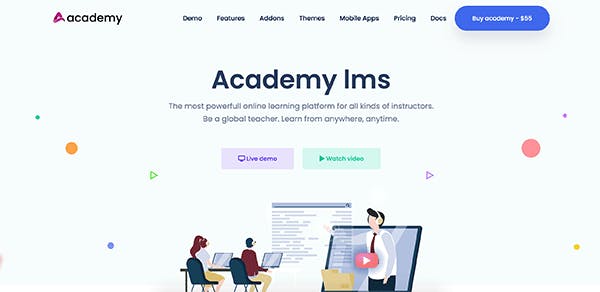 No need for programming skills to design courses, make ebooks, or even set up your own coupon coupons using its course manager. With its drag-and-drop feature, lessons and sections can be easily sorted and organized. This platform's reporting tool also allows you to monitor your course subscribers and your ROI.
Key features:
Course creation and management

Quizzes and assessments

Different content formats

Reporting tools
Cost: 5 USD
3. Thinkific
With Thinkific, it's easy to transform your expertise into valuable learning materials. Thanks to this online course hosting platform's drag-and-drop course builder, you'll have a variety of templates for setting up your own-paced course—it can be in the form of a mini course, library resource, webinar replay, and so much more.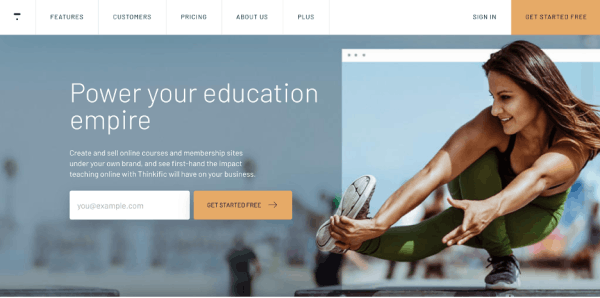 You can also choose to deliver live lessons so you can better engage with your learners. This platform also lets you automate marketing tasks, which their partner apps on the Thinkific App Store can help you with. Overall, this platform gives you the features you'll need for creating and marketing your products.
Key features:
Course builder

Self-paced courses

Live lessons

Thinkific App Store
Cost: 39 USD per month
4. Teachable
Teachable lets you build a thriving business by selling courses and coaching. It has a drag-and-drop course builder where you can create self-paced and group-paced courses, as well as set up live coaching sessions. 
When your courses are already set, you can customize your own checkout page with its built-in sales page builder. This way, you don't have to go back and forth to a 3rd party payment system. This course hosting platform also integrates with tools like MailChimp, Zapier, Google Analytics, and many more to help you further speed up your administrative tasks. 
Key features:
Course builder

Sales page builder

Integrations
Cost: 39 USD per month
5. Kajabi
Kajabi gives you full control of your teaching business, from course creation to marketing. Here, you can create a variety of learning products, including online courses, coaching programs, and podcasts, among many others.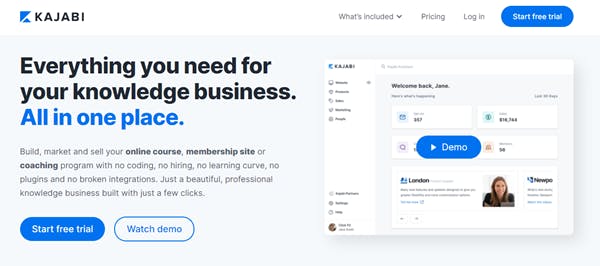 But what makes this course hosting platform unique is its Pipelines feature. It allows you to set up your own marketing campaigns, along with customizing your own landing pages, automated emails, and course checkout pages based on different touchpoints. It also has an analytics tool where you can track data like your subscriptions, revenue, sold offers, and more.
Key features:
Course builder

Pipelines

Makreting automations

Analytics tool
Cost: 149 USD per month
6. Mighty Networks
Might Networks is another course hosting platform where you can build your brand by offering courses and memberships. This platform gives you a native course builder where you can build online self-paced courses or facilitate live cohort-based courses.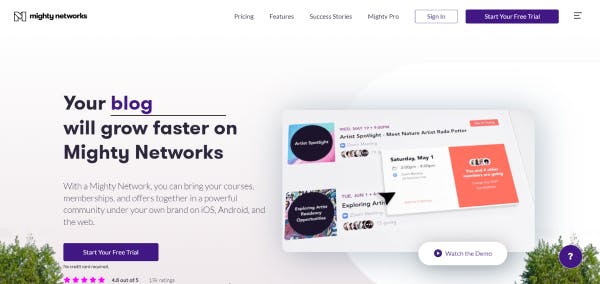 You'll have a variety of pricing options for how you want to sell your courses or memberships–whether that be one-time payments, subscriptions, or even offering bundles. Building communities for your own courses is also possible on this platform. This feature allows you to create connections with your learners/customers through activities like live streaming, live events, meetings, and many more. 
Key features:
Native course builder

Charging options

Community actvities
Cost: 99 USD/year
7. Ruzuku
Ruzuku also makes it on the list for its amazing functionalities, which allow you to create and manage your own courses even without technical expertise. With its cloud-based authoring tool, you can freely create and design courses, host and stream audio or video, and even offer other learning materials like PDFs, PPTs, and more.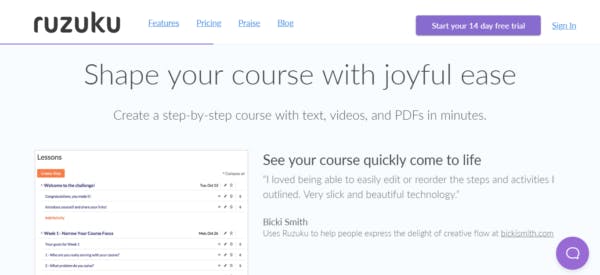 But it goes beyond simply designing and implementing courses. With its course health tool, you can monitor your team's learning progress. This includes activity completion data and course queries.
Key features:
Cost: 199 USD per month
8. WizIQ
WizIQ is your one-stop solution for creating and selling courses. Its course builder makes it simple for you to make, customize, and share your courses, as well as set up your live instructor-led classes. 
Just set up your learning portal, and then your courses are up for purchase. To make transactions smooth, this platform gives you an in-house and user-friendly payment portal. You'll even have the option to track and monitor transactions with its downloadable reports. 
Key features:
Cost: Available upon request
9. Xperiencify
Xperiencify is a course hosting platform that prides itself on its gamification features, allowing you to build more fun and profitable learning experiences. It's done through their unique approach called "experiencification," which is based on a blend of concepts and methods from the app and game industries.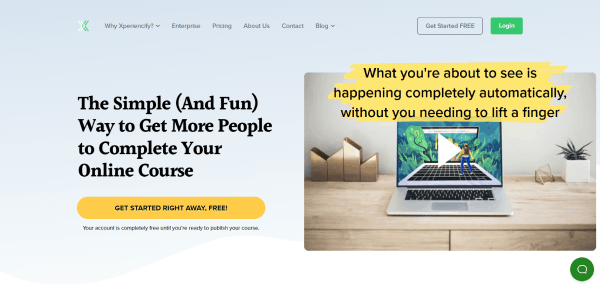 Through that, you can add points to your courses, create custom countdowns to create urgency, and set variable incentives, among many other things. You'll even have access to selling tools, so you can customize your own order forms. Using its page builder, you'll be able to customize your own course pages. 
Key features:
Cost: 49 USD per month
10. LearnWorlds
This course hosting platform list wouldn't be complete without LearnWorlds, which lets you create your own online school. You won't even need coding experience or technical expertise—this platform gives you readily available templates for building your own course website.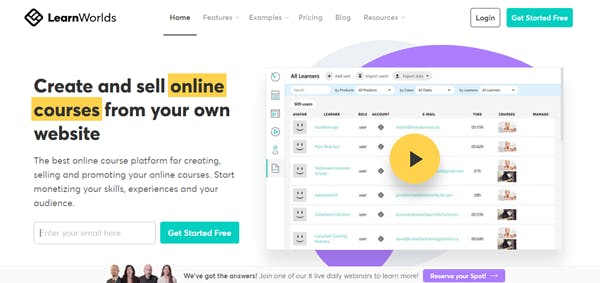 Here, you'll be able to sell all kinds of digital products, including online courses or bundles. And to help you with your sales, you can customize your own promotions, coupons, and payment plans. For a more seamless user experience, this platform integrates with tools like MailChimp, Hubspot, Zapier, and many more. 
Key features:
Website builder

Analytics

Ecommerce functionality

Integrations
Cost: 24 USD per month