Course Authoring Software is one of the most convenient course-making systems in the learning and development field today. Course authoring allows you to have full control over the type of lessons you create for your learners. It makes elearning lessons more customizable, responsive, and easier to build. If you've been itching to try out some course authoring tools for yourself, here are the best 10 platforms for you:
Course Authoring Software # 1 – EdApp
EdApp delivers the best of what course authoring software in 2022 can do for you:
80+ course template library with gamification built in

Interactive and responsive question and answer portions

LMS, LRS, and web-hook integrations (including Canva integration)

Lesson-locking

Powerpoint presentation conversion
With EdApp's low learning curve, you'll be creating beautiful and engaging lessons in minutes with our authoring tool. You can make your courses and quizzes as interactive and responsive as you want them to be. Some of the authoring tool features include intuitive UX, drag-and-drop edits, and data insights for how to best create your lessons.
If you don't have the time to create courses from scratch, EdApp has a vast template library you can choose from. The template library is constantly updated with the latest L&D trends so users retain more information from courses. All you have to do is edit the fields in the templates and you're good to go. This makes creating courses easier and faster so you can concentrate on what matters most: making a better learning experience.
Additionally, this elearning authoring platform includes ready-made courses for you and your learners. These courses are made by global experts in the field, dedicated to making the best lessons EdApp has to offer.
What's even better is that the course library is always getting bigger and bigger – which means that new lessons are added every week on themes ranging from food safety protocols to leadership training to cleaning training courses.
Cost: Free
Key features: ready-made template library, gamification features, lesson-locking, PowerPoint conversions
Sign up for this free course authoring software here.
Course Authoring Software # 2 – Composica
Composica enables you to have full authority over your team's course materials. A ton of options for interactivity are made available through its exam creator. Some of the available tools to create an interactive quiz include: hot spots questions, drag-and-drop questions, and smarter answer feedback.
You can add different users, assign tasks, and always have the most up-to-date version of your content at hand. It also has competitive pricing so it's a relatively affordable option for your business.
Cost: $99/month for 1 author
Key features: interactivity, hot spot questions, smarter answer feedback, task assignment
Course Authoring Software # 3 – CourseLab
CourseLab 2.4 is another course authoring software for creating eLearning courses that can be shared through the web or an LMS. Slide-based courses that include photos, movies, and quizzes are all possible. It does not feature a library of ready-made courseware.
CourseLab includes a range of eLearning templates, but learning how to utilize and personalize them may take some effort. The disadvantage of this authoring tool is that its design isn't as user-friendly as others and may feel dated. As a result, folks who are just getting started with authoring tools for eLearning may find it rather hard.
This tool is better suited to more experienced developers who have an idea of how LMS authoring tools work and are more comfortable navigating the platform.
Cost: $699 for 1 user with 1 year of maintenance
Key features: cloud-based lms, lms integrations, elearning templates
Course Authoring Software # 4 – Gyrus
Gyrus is a cloud-based learning management platform with AI-driven intuitive features that may help you deliver training and development goals to your team.
This LMS functions as a blended learning solution, allowing you to create training materials delivered in various digital formats – such as eLearning videos, webinars, documents, and virtual classrooms – that support traditional onboarding and training activities while also providing accessibility across any device.
Its smart learning features are designed for creating tailored eLearning programs for varied groups of employees, and training administrators will find it easier to streamline corporate compliance.
Despite Gyrus having advanced features, its authoring features are actually only available through its partnership with DominKnow. You may get a cheaper authoring plan by going directly to DominKnow instead.
Cost: Depending on user needs; request upon quote
Key features: cloud-based lms, AI integrations, blended learning features
Course Authoring Software # 5 – Raptivity
Raptivity is a corporate LMS that allows you to create visually attractive and engaging online learning sessions. The tool includes a growing collection of ready-to-use responsive interactions such as parallax displays, panning slides, and 360-degree interactions.
Anyone, regardless of design experience, may use the tool's user-friendly interface to create interactive quizzes, games, simulations, flashcards, and brainteasers.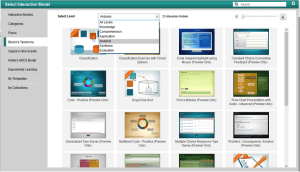 You may use the tool's various capabilities to keep your learners interested and motivated throughout their learning experience, whether you're a teacher or an instructional designer. However, it is crucial to remember that the program has some feature limits and that you may need to obtain additional tools to create a well-rounded eLearning course.
Cost: $30/month
Key features: responsive interactions, interactive quizzes, gamification
Course Authoring Software # 6 – Evolve
Evolve offers one of the easiest and fastest ways to create professional and responsive HTML5 eLearning content and simulations. This software has a feature called Course Builder where you can add your courses directly, while also easily customizing the content according to how it flows best or based on user feedback received.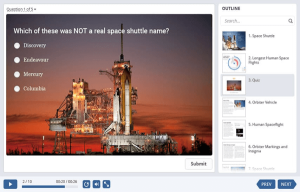 Additionally, you can also build new courses from scratch with many e-learning features available on the platform. Or, you can choose to edit and enhance the templates on Course Builder. Evolve allows you to publish directly offline or for the web.
Evolve makes it convenient to scale content development teams with its rapid iteration in a live-preview. This course authoring software enables enterprises to deliver smart and trackable learning content at a rapid pace and asynchronously across any time zone.
Its course builder tool, however, doesn't have as much customization available as other course authoring softwares do. Some features are locked in place and not editable. 
Cost: $480
Key features: course builder, template library, real-time course editing
Course Authoring Software # 7 – Lectora
Lectora allows you to design, publish, and deliver courses across different devices. With Lectora, you can experience optimal versatility and responsiveness in an elearning authoring software. It can convert any video-based or scenario-based courses on its platform. You can also write your own technical scripts or include self-made libraries, fonts, and CSS.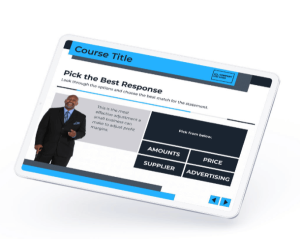 They also have a feature called eLearning Brothers Asset Library where you can access pre-built layouts and quiz templates for courses.
With Lectora Online, you have the option of collaborating with other team members to create lessons together. Their participatory authoring tool has automatic revisioning to keep up with edits real-time. Revisions are automatically tracked. You can also simultaneously create multiple courses at a time.
Cost: $899/yr for 1 author
Key features: mobile-friendly, video integration, CSS
Course Authoring Software # 8 – Knowbly
With this course authoring platform, Knowbly lets you create dynamic learning content using flexible templates and interactive quizzes and activities with eLearning gamification examples, and more.
Like Lectora, Knowbly also allows for real-time collaboration with your team members. You can simultaneously edit a certain course or lesson and comment and review certain items with your team.
Courses can be published in many formats including SCORM, HTML5, and xAPI. To share editable content, it has an asset manager where you can also find millions of royalty-free stock images that you can use for your lessons. 
Cost: $395
Key features: template library, interactive quizzes, gamification, SCORM integration
Course Authoring Software # 9 – DominKnow ONE
DominKnow One is a cloud-based system with integrated authoring tools and built-in simulation. With rapid authoring, DominKnow makes creating courses a lot faster than your average course authoring software.
Its library contains a vast amount of templates and stock assets to make lessons more customized to your organization. It also has a central library to share and reuse content across projects.
Real-time collaboration is now available on the platform to construct personalized lessons and review and edit with your learners.
However, with DominKnow's many features available, some performance issues can be expected when using this platform. The software can take too long to respond or not save changes depending on the file size of the course. It can also take a while to fully learn how to use the platform.
Cost: $997/yr for 1 author
Key features: cloud-based, template library, real-time collaboration
Course Authoring Software # 10 – SmartBuilder
Smart Builder focuses on bringing you a seamless authoring software experience. They zero in on having meaningful interactivity and reducing time consumed for creating courses for its users. 
This course authoring tool combines multiple triggers, conditions, and responses in order to decrease your clicks and increase your authoring speed. Action blocking is also available to create logic on your courses more intuitively. Lesser clicks taken, more time to craft quality lessons.
SmartBuilder also has support channels in case you run into trouble building your training plans.
A potential downside to getting SmartBuilder is its lack of user-friendliness. You'd need to have a good grasp of the technical know-hows and time on your hands in order to fully appreciate its value. It also lacks some multimedia features that are already available with other LMS.
Cost: $1,399/yr
Key features: action blocking, triggers & conditions, support channels
EdApp is a mobile learning management system designed for today's digital habits, delivering more engaging and effective micro-learning directly to learners anytime and anywhere.
Sign up for this course authoring software today.