2. Teachfloor
If you're looking to train employees on a large scale, Teachfloor is an ideal choice for a corporate training tool. It'll give you everything you need for a virtual school concept, including a curriculum builder, lesson scheduler, student report, and instructor review.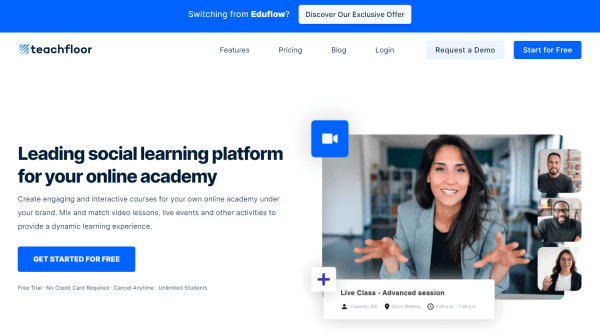 It'll also let you perform both synchronous and asynchronous training. You can conduct virtual live classes and sync live events with Zoom, or create courses and streamline them with automation tools. As a bonus, you can apply unique company branding to your courses with Teachfloor's white-label feature.
Cost: Free (within a 15-day trial); paid plans start at 69 USD monthly
Key Features:
Curriculum builder

Flexible learning

Zoom integration

Automation tools
3. Eduflow
Trusted by companies like Google, Avado, and Backbase, Eduflow has become a solid option when it comes to corporate training tools. It boards a set of useful features for course-making, social-based learning, and data tracking.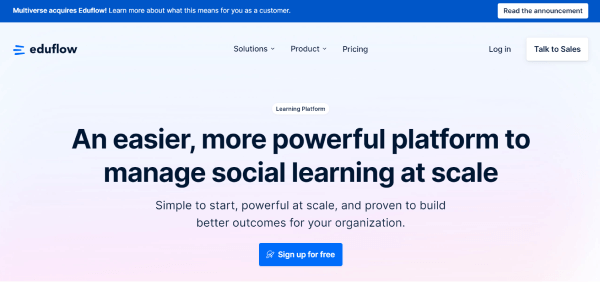 For one thing, Eduflow has a powerful rich-text editor that'll let you use integrations to import content from other software. Once courses are delivered, you can also leverage its collaborative features to implement group activities, peer reviews, and feedback. You can always keep track of how everything's going with the platform's data-driven insights.
Cost: Free; paid plans start at 49 USD monthly
Key Features:
Rich-text editor

Social learning

Peer reviews

Data dashboard
4. GoToTraining
GoToTraining is a corporate training tool with a user-friendly interface for customizing registration, organizing training materials, and sharing courses. It'll allow you to distribute training materials via email for self-paced learning or conduct live online sessions for real-time interaction with your team.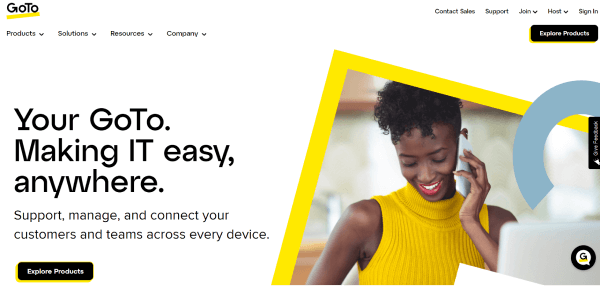 You can also enhance engagement and learning retention rates using exams, collaborations, and group exercises during live sessions. You'd be glad to know that all training courses and assessments are easily accessible, so your learners can revisit them at their convenience.
Cost: Contact GoToTraining
Key Features:
Custom registration

Online conferencing

Collaborative learning

Assessments
5. WorkRamp
Like most online learning tools, WorkRamp offers comprehensive solutions for an improved training experience. Its intuitive interface and data dashboards will make it easy for you to address various training needs in onboarding, skills development, and compliance training.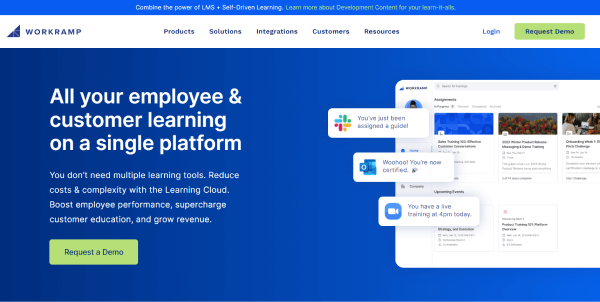 As for training content, you can take advantage of their advanced authoring features. It'll allow you to have instructor-led virtual training sessions and customized learning pathways.
Cost: Contact WorkRamp
Key Features:
Data dashboards

Advanced course builder

Instructor-led sessions

Customer learning cloud
6. FutureLearn
FutureLearn is another great corporate training tool designed to help employees develop their skills and advance their careers. It has thousands of expert-led programs on different topics in business, healthcare, history, coding, and the creative arts.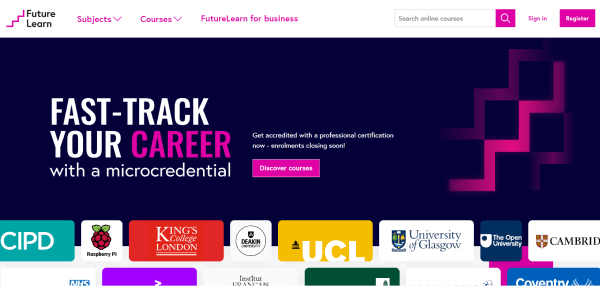 FutureLearn's self-paced courses are delivered online primarily through videos, exams, and discussions. Plus, one of the best things about it is that it's also a social community, so your teams can engage in meaningful conversations with other users through their enrolled courses.
Cost: Contact FutureLearn
Key Features:
Vast program library

Instructor-led courses

Social learning

Certificates available
7. Learner Mobile
If you want to keep your training materials simple but still have the necessary features, you might want to consider using Learner Mobile. Its user-friendly e-learning tools offer an interactive and engaging training experience that your teams will have no problem navigating.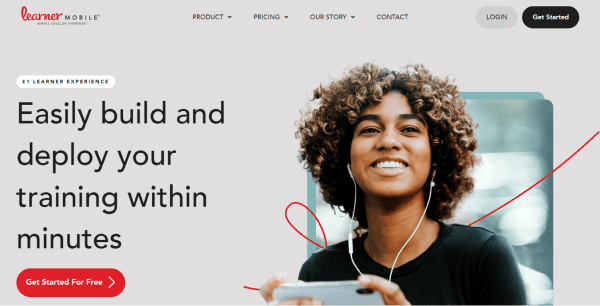 As a training manager, you can create and deploy personalized courses to your teams in just minutes. Its intuitive content creator tool will let you build content for compliance training, job aids, knowledge checks, and how-to videos. You can even implement badges, certifications, and integrations and access clear insights and reporting to monitor progress.
Cost: Free (within a 30-day trial); paid plans start at 2.95 USD monthly per user
Key Features:
8. Whatfix
Whatfix is a digital adoption platform with corporate training tools for employees' onboarding process, remote training, and performance support. Its advanced system will allow you to seamlessly build content, deliver training, and analyze results.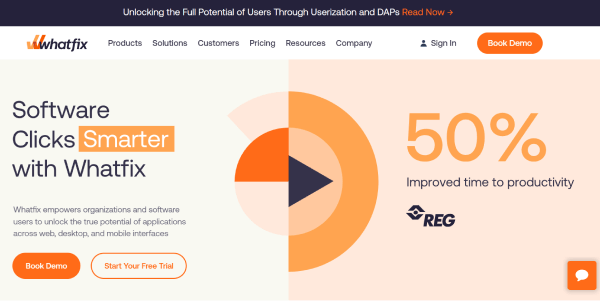 Using its authoring tool, you can build interactive training content even without any coding experience. It's also flexible enough to let you create personalized condition-based walkthroughs based on your learners' roles, competencies, and locations.
Cost: Contact Whatfix
Key Features:
9. eduMe
At eduMe, you'll discover plenty of training materials tailored specifically for frontline workers. They have an experienced in-house learning design team that makes sure courses are designed professionally to give learners an effective learning experience.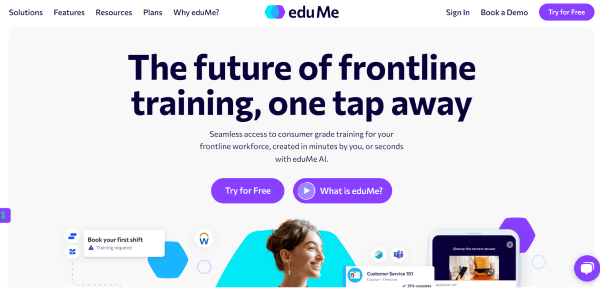 Although you can rely on their design team, it's not a strict and typical one-way training delivery. That means your employees can also use eduMe's content creation tools or their Tiktok for Training format to create lessons. That way, they can share their own best practices and knowledge with the rest of the workforce.
Cost: Contact eduMe
Key Features:
10. EducateMe
EducateMe is a multi-functional platform with an interface that's convenient both for administrators and learners. Aside from being an LMS for corporate training, it's also perfect for cohort-based courses, boot camps, and acceleration programs.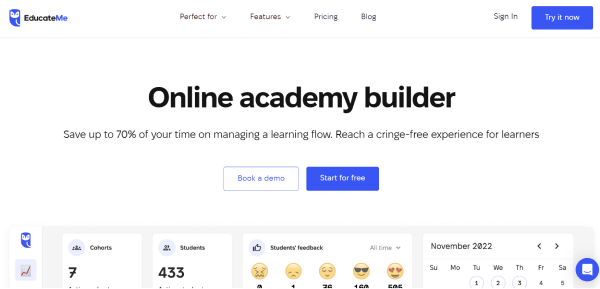 With this online training tool, you can develop programs with linked learning activities like interactive assignments and quizzes as a way to engage your teams. Plus, if you want to manage live sessions or classes, EducateMe streamlines it for you via automation tools powered by Zoom and Jitsi integrations.
Cost: Free (within a 14-day trial); paid plans start at 2.5 USD monthly per user
Key Features: