We've listed the best Cornerstone alternatives to help you train your employees without breaking the bank. These platforms offer the same or even better features to help you jumpstart training and provide the best learning experience to your workforce.
Cornerstone Alternative #1 – EdApp
EdApp is the best Cornerstone alternative, as to begin with, it's a free all-in-one learning solution. Why pay exorbitant fees when you can use an excellent training software at no cost? Even as a free platform, EdApp easily keeps up with the competition. It's chock full of powerful tools and features that you can leverage to make training efficient and engaging.
To start with, EdApp boasts of a content library with microlearning courses created by thought leaders and industry experts, so your training needs are covered no matter the nature of your work. There are negotiation skills training to help your team handle tough situations better. With a microlearning approach, key information is turned into bite-sized chunks of knowledge for better retention and understanding.
Courses are also fully editable and customizable using EdApp's state-of-the-art authoring tool where you simply have to drag and drop elements you want to include. You'll have access as well to over 80 microlearning and gamification templates that are intuitively designed to populate your learning content. With its Canva integration, you can create and import images and graphics to create beautiful lessons without any coding knowledge.
Need to test your learners? EdApp has its own exam creator called Rapid Refresh where all you have to do is fill out a spreadsheet with your questions and answers and it will be automatically transformed into a visually appealing quiz in seconds. You'll also have access to an analytics suite and dashboard to track results and progress in both quizzes and courses.
Cost: Free
Key features:
Course library

Drag-and-drop authoring tool

Template library

Rapid Refresh

Analytics suite
Sign up for Free and Start Using the Best Cornerstone Alternative Today!
Cornerstone Alternative #2 – Compono
Compono is another Cornerstone alternative that aims to simplify learning delivery. This corporate LMS comes with a library of learning courses both created by them and their partner networks. If you prefer to create your own, you can do so with their modular-based course builder and even have Compono build custom courses for you. With this platform, there's no more doing guesswork when it comes to your learners' progress. This software comes with comprehensive reporting which captures enrollments, user progress, and compliance in real-time or within specific time frames. If you're looking to provide immersive learning, you can also create real-life, simulated experiences on their platform and conduct virtual reality training.
Cost: Available upon request
Key features:
Course library

Modular-based course builder

VR training
Cornerstone Alternative #3 – Thrive
Thrive makes for an excellent Cornerstone alternative as it gives you the best of both worlds, an LMS and LXP all in one platform. Thrive supports single sign-on (SSO) and is SCORM compatible as expected from a modern-day LMS. To connect learners to meaningful opportunities, you can set up and manage custom goals and pathways. Its personalization and machine learning also recommend relevant learning content that they can explore outside of the goals you set. One downside of Thrive though is that you need to subscribe for a minimum of 3 years but you can book a demo first to see if it's the right choice for your organization.
Cost: Starts at US $19,500 for 3 years
Key features:
SSO

SCORM compatibility

Custom learning goals and pathways
Cornerstone Alternative #4 – Cloud Assess
Cloud Assess is a training and assessment software that could pass off as a Cornerstone alternative. Creating assessments is made easy with its drag and drop authoring tool, which you can customize with no limits. Cloud Assess also comes with an automation feature so you can just set and forget, which is helpful for automatically enrolling learners and populating live results of assessments. It's also SCORM compliant so you can just drop your SCORM content and get up and running in minutes. You can also import and include any kind of content, such as HTML, PDFs, videos, and documents. Learners will be able to access them in the built-in resource library.
Cost: Starts at US $0.89/user/month
Key features:
Drag and drop authoring tool

SCORM compatibility

Resource library
Cornerstone Alternative #5 – OttoLearn
OttoLearn is a gamified microlearning platform. It has a learning mode to introduce learners to their learning content and a training mode to reinforce what they've learned. Training is delivered in bite-sized modules containing different topics and activities. When it comes to gamification, OttoLearn has leaderboards, contests, point systems, and rewards to increase engagement and boost learning outcomes. OttoLearn can be accessed from any browser on any device, and also has apps available for download on both the Google Play Store and App Store.
Cost: Starts at US $250/month
Key features:
Microlearning

Gamification

Mobile compatibility
Cornerstone Alternative #6 – etrainu
etrainu is an LMS designed to meet all your training needs by providing training management features that you'll love to use. Course development with etrainu allows you to customize content to reflect your organization's branding. You can also include quizzes and dynamic content, which are fully responsive regardless of screen size. etrainu also has a course library that's accessible on mobile devices so learners don't have to be stuck at their desks just to complete their training. They can then download digital certificates and accreditations, which can be shared online. One thing to take note of is that while this platform comes with a course library, you'll have to pay for most courses.
Cost: Available upon request
Key features:
Course development

Responsive design

Course library

Digital certificates and accreditations
Cornerstone Alternative #7 – Gnowbe
Gnowbe enables you to create impactful interactive learning experiences with ease. With this platform, you can easily create interactive microlearning lessons through rapid authoring and SCORM uploads. Through its dedicated mobile app, you can be assured that learners are always updated with the information they need by taking their training on the go. What's great about this Cornerstone alternative is that you can invite an unlimited number of users to test the courses you create at no cost. You can also upload self-help elearning resources for your learners such as videos and documents so they have all the references they need without needing any back and forth with their trainers.
Cost: Free and paid plans
Key features:
Rapid authoring

SCORM uploads

Mobile compatibility

Self-help resource uploads
Cornerstone Alternative #8 – Mini Course Generator
Mini Course Generator, as the name suggests, helps you create mini courses without any distractions but with relevant content. This tool promises no learning curve and super fast course creation that can be done in minutes, even without experience in using the platform. You'll have access to different card types, which allows you to present knowledge, create quizzes, ask open-ended questions, build surveys, and add sign-up/payment gateways. You can also add images, videos, GIFs, iframe HTML codes, and more to enhance your lessons. Users don't need to sign up and can easily access your course through a link. You'll also get analytics for each course to see how learners are progressing.
Cost: Free and paid plans (starts at US $5/month)
Key features:
Card types

No sign-up required

Course analytics
Cornerstone Alternative #9 – Coorpacademy
Coorpacademy is a learning experience platform whose goal is to have employees learn freely from anywhere while having fun. It makes use of videos to present learning content and includes gamification features, such as quizzes and user battle challenges. This platform also has a content library filled with hundreds of courses ranging from a wide array of topics. To promote collaboration among learners, Coorpacademy has a peer coaching feature and discussion forum, which also makes it a top lms for peer learning since learners can easily exchange ideas and feedback. To make sure that learning content can be accessed anytime, it has a dedicated mobile app available on both Android and Apple devices.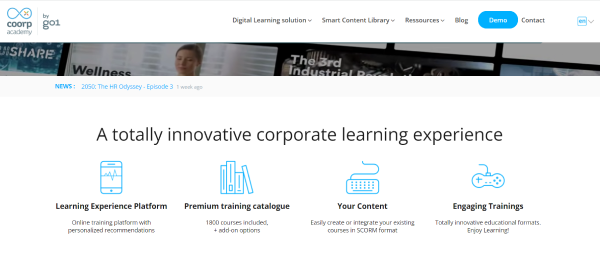 Cost: Available upon request
Key features:
Gamification elements

Content library

Mobile app

Peer coaching and discussion forums
Cornerstone Alternative #10 – Sana Labs 
Last but not least is Sana Labs, which is another Cornerstone alternative that you might want to consider. Its authoring tool allows you to create engaging self-paced learning experiences in just minutes, all thanks to its AI-assisted editor and collection of ready-made templates. To add interactivity, you can include polls, quizzes, and reflections, which also enables you to test for knowledge retention and understanding. You'll also get actionable learning analytics to track performance at a glance. Sana Labs is GDPR & ISO 27001 compliant so you'll be assured that your data is safe and secure.
Cost: Starts at €6.00 per license/month
Key features:
Template collection

Interactive elements

Learning analytics