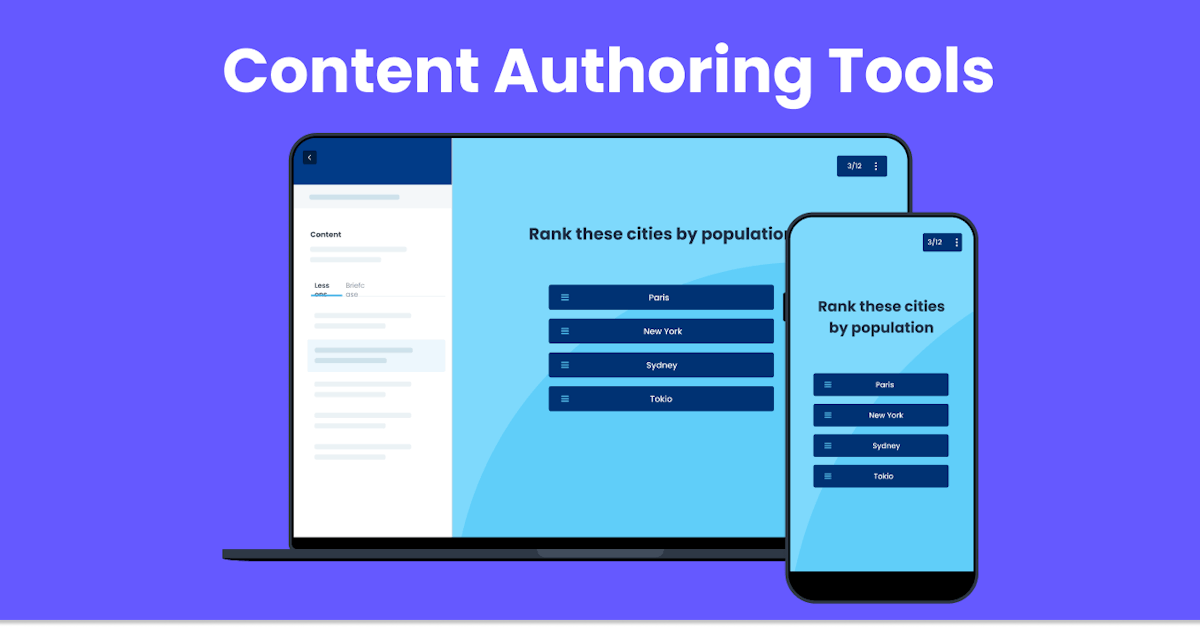 There are many content authoring tools out there that help speed up training delivery, and bridge knowledge gaps between your new and seasoned employees. In this list, you'll find different content authoring tools to help you create interactive learning content in many forms like courses, PDFs, videos, and even games. 
Content Authoring Tool #1 – EdApp
EdApp is built with a free content authoring tool that allows you to create interactive, microlearning courses in minutes. All you need to do is select a template, drag and drop your content, update it with your branding, and hit publish. It also supports Canva integration so that you can take your course content to its fullest potential.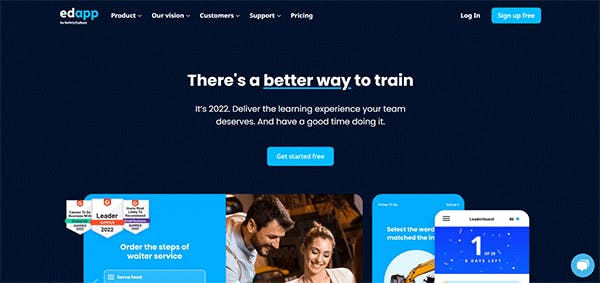 You don't even have to start from scratch. With its ready-made courses from different industries, you can edit most of them to better fit your needs or you can even use it as is. Here, you'll find courses like lean training courses, PR training courses, cyber security courses, and more. Courses hosted on EdApp adjust to any screen size as well, so they can be taken anytime and anywhere from any device.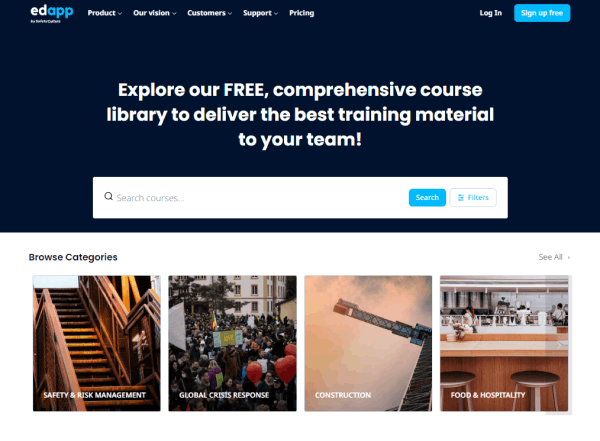 If you need help better understanding EdApp and all its features, you can reach out to the support team and they would be willing to help you make better use of the app. EdApp can help you generate training materials, too. In addition to offering you additional onboarding and account assistance, they also provide course creation services.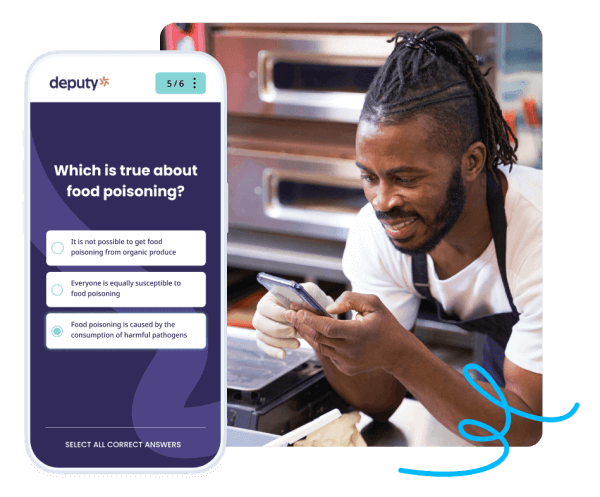 Other features include AI translation of up to over 100 languages, xAPI and SCORM compliance, customizable global branding, multimedia and link hosting, and learning paths. These are features that you can use to further improve your organization's learning experiences.
Cost: Free

Features: Course authoring tool, Canva integration, course library, mobile responsive layout, course creation services
Sign up for free and start using the best content authoring tool today!
Content Authoring Tool #2 – Camtasia
Camtasia is perfect for those that use videos and screen capture recordings in their training programs. With Camtasia's simple drag-and-drop editor, you can easily create videos with its template and theme library and package them with other presets to share them in a single file. It also comes with libraries for transitions, annotations, music, sound effects, visual effects, and pre-built assets. You can even import other media files or integrate your PowerPoint presentations to turn them into videos.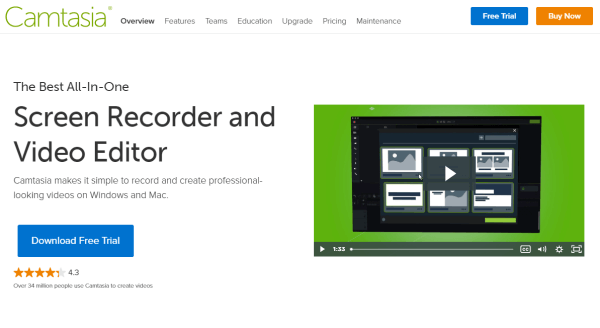 While Camtasia isn't like other traditional content authoring tools, you can still add interactivity and quizzes to your videos to measure learning and even make them SCORM compatible. 
Cost: Free trial, starts at US24.99 per user

Features: Screen recorder, drag-and-drop editor, templates, themes, audio and visual effects, pre-built assets, imports, PowerPoint integration, quizzes, SCORM compatible  
Content Authoring Tool #3 – dominKnow
If you're looking for an elearning authoring software, then dominKnow might be right for you. dominKnow comes with a course creator and a content management system, allowing for real-time updates between creator and learner. Its HTML5-based courses can be created through the use of templates, layouts, and pre-loaded digital assets and can be published to adapt to the size of any screen. Or, you can take existing free PowerPoint slides and convert them instead.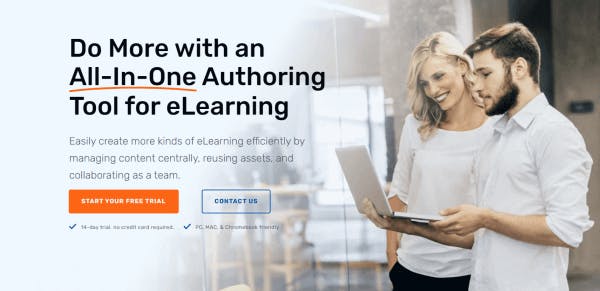 While dominKnow has a course creation feature, there is no pre-existing learning content for you to edit or use. This means that you'd have to create your courses and lessons from scratch, and this can take up time and effort. 
Cost: US97 per year for solo plan, US,497 per year for team plan

Features: Course creator, course management, HTML5-based, templates, layouts, pre-loaded digital assets, PowerPoint converter
Content Authoring Tool #4 – CenarioVR
CenarioVR is perfect if you use VR training in your organization. You can create immersive VR courses by uploading any 360º videos or equirectangular photographs and by adding animations, 3D objects, audio, and quizzes. The courses are SCORM, xAPI, cmi5, and HTML5 compatible and can be published and shared on websites, other authoring apps, and elearning management systems. Courses can be completed on desktops, mobile and tablet devices, or VR headsets and can track course data and scores through an analytics dashboard.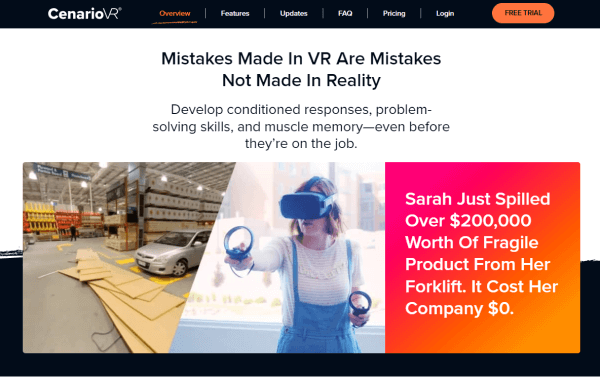 However, unless you do scenario-based VR training regularly, you won't be able to maximize the content authoring tool's features for your training programs. 
Cost: US,599 per year

Features: Video and equirectangular uploads, animations, 3D objects, audio, quizzes, SCORM, xAPI, cmi5, HMTL5 compatible, desktop and mobile platforms, analytics
Content Authoring Tool #5 – Adapt
You can create multi-device, responsive HTML5 elearning content with Adapt. It stands apart from most content authoring tools by being free and open-source and allowing for community-built plug-ins. Courses created with Adapt are also SCORM compliant, allowing you to host the courses built with the Adapt framework on SCORM-compliant software. It's also encouraged to reach out and communicate on their global elearning forum so that you are aware of the direction and development of the open-source tool.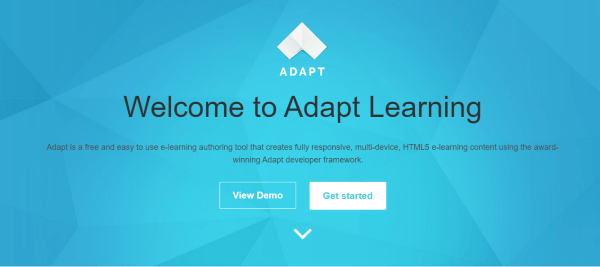 However, Adapt lacks a pre-existing course library, PowerPoint converter, and other common authoring tools and LMS integrations, making it harder to seamlessly insert this tool into an existing learning and training ecosystem. 
Cost: Free

Features: Multi-device compatible, HTML5, open-source, community-built plug-ins, SCORM compliant, global forums
Content Authoring Tool #6 – SmartBuilder
SmartBuilder enables simple content creation through unique action block authoring. You can create unique course interfaces and layouts for different screen sizes so your learning content can look great on any device. SmartBuilder also provides the power and time savings of programming logic, without the need for programming knowledge or external scripting. If you have existing PowerPoint content, you can also convert slides and import images. Courses can be taken on any modern browser and device and are SCORM, AICC, and xAPI compatible.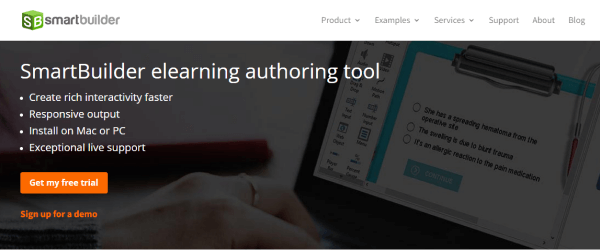 A major drawback of this platform however is the fact that it doesn't have an expansive template library. You only have limited choices, which can prevent quick content creation. 
Cost: Free trial, US39 per month

Features: Action block authoring, interfaces, layouts, multi-device compatible, programming logic, PowerPoint converter, imports, SCORM, AICC, xAPI compatible
Content Authoring Tool #7 – Composica
With Composica, you can create courses, quizzes, and games using only your browser. You can either convert PowerPoint presentations into editable courses or start from scratch. Your content can be published to different LMS systems and can be in different formats like PDF or HTML5. Courses created with Composica go beyond standard question types and interactions and allow real-time feedback. Additionally, you can author courses in any language or export course text to translate them using the XLIFF standard.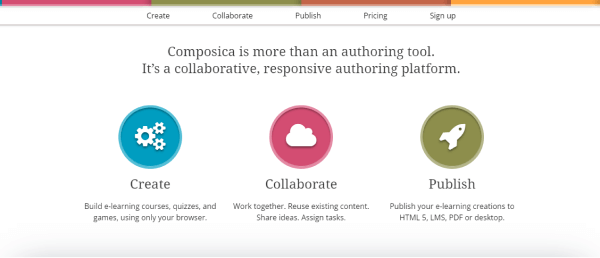 While Composica does make use of gamification, it doesn't encourage other online learning strategies like microlearning to increase course completion rates and knowledge retention. 
Cost: US9 per month

Features: PowerPoint converter, shareable, PDF and HTML5 formats, interactivity, real-time feedback, multiple language translations
Content Authoring Tool #8 – Raptivity
Raptivity is a content authoring tool that you can use to design engaging and visually stimulating online learning experiences. The tool features a growing library of pre-made responsive interactions that include parallax displays, panning slides, and 360 interactions. Even with no design expertise, anyone can rapidly customize interactive quizzes, games, simulations, flashcards, and brainteasers through the tool's user-friendly interface. Courses can also seamlessly work with most LMS software for SCORM and xAPI-compliant content. 

But, it's important to note that Raptivity has a few feature limitations, and you might need to gather additional tools to design a well-rounded and effective training program.
Cost: Free 14-day trial, US0 per month

Features: Library of pre-made assets and interactions, rapid customization, user-friendly interface, SCORM and xAPI-compliant
Content Authoring Tool #9 – Adeptly
Adeptly is a game builder that transforms scenarios into adaptive learning games. Simulate your narratives and build role-playing games to increase awareness of topics for employees during training or to market ideas and products to your customers. You can easily style and brand your games by mapping out decision trees, adding images and videos, and including conditional logic. After you publish and share your game, you can track player progress in real-time and measure behavior changes and learning outcomes.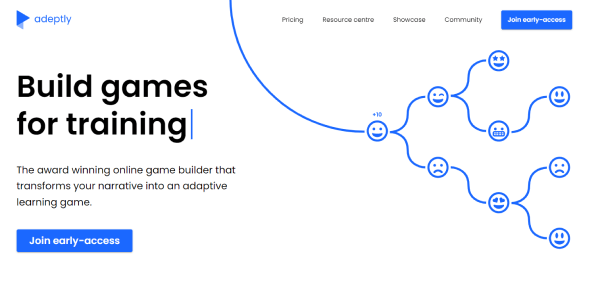 While it is a unique elearning authoring platform, it's still very non-traditional and has niche applications. It will mostly be used for scenario and simulation-based training or marketing, and creating a game requires more time and resources than most would expect.  
Cost: Free for 1 editor, £14 per editor per month

Features: Game builder, role-playing games, simulation and scenario-based, style and branding, decision trees, images and video, conditional logic, data tracking
Content Authoring Tool #10 – HowToo
The last content authoring tool on this list is HowToo. It's an intuitive, AI-enabled platform that allows you to create digital learning content for medium to large workplaces quickly and easily. The builder comes with interactive questions and elements, customization options, and a drag-and-drop storyboarding tool. HowToo's AI technology can also match learning sequences to your learners so that they can achieve their specific learning outcomes and customizable goals. You can even gain feedback for your courses by sending out review links.

A drawback to the platform however is that courses will have to be made from scratch and they can only be taken on web browsers. There's no mobile app to help facilitate mobile learning. 
Cost: Free, paid plans start at US0 per user per month

Features: AI-enabled platform, interactive questions and elements, customization options, drag-and-drop tool, learning sequences, customizable goals, review links