Proper training and compliance are an integral part of working in the construction industry. Having workers that are knowledgeable and highly skilled helps you make sure that construction projects can be tackled safely and effectively. In this article, we'll take a look at the most recommended construction training software that you can use to develop your training programs with ease. 
Construction Training Software #1 – EdApp
One of the best construction training software on the market is none other than EdApp. This platform is the complete package, coming with a wide range of features that help you manage your construction training programs without any hassle.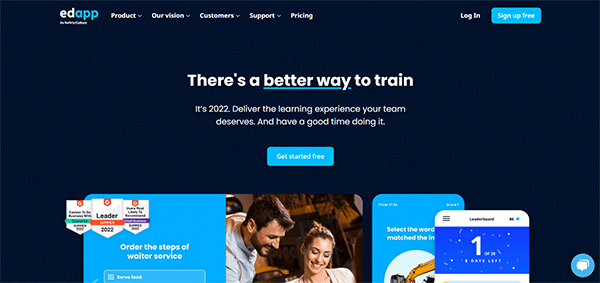 Among its standout features is its authoring tool, which helps you launch your construction training program in a matter of minutes rather than days or weeks. You won't have to worry about coding or programming when creating a course because of how simple it is to use. All you have to do is drag and drop your training content into your chosen template, add your branding, hit publish, and you're all set.
If building a course from scratch isn't possible for you, you can reach out to EdApp and try their Course Creation services. Through this service, you'll have the opportunity to work with a dedicated team of expert instructional designers who'll help you create engaging microlearning courses and meet your team's training needs.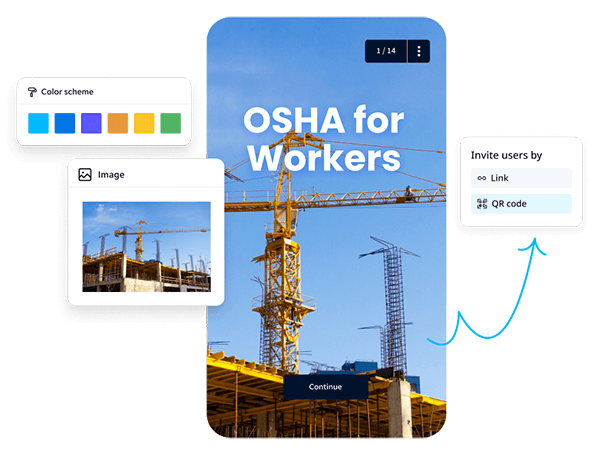 EdApp also offers a free course library that's packed with ready-made and customizable courses that you can immediately share with your team. Some of the best construction training courses in the library include the Scaffold Safety and Residential vs. Commercial Safety Standards courses. There's also a more specific course on Hand Safety for Construction, which aims to help your workers keep their hands safe when doing construction work.
Cost:

Free

Key features:

Authoring tool, course creation services, course library complete with construction training courses
Join EdApp for free and start using one of the top construction training software on the market!
Construction Training Software #2 – 360training
With 360training's user-friendly training platform, you can create any kind of construction training course and enhance the overall learning experience for your workers. Through the platform's powerful and flexible learning management system (LMS), you can streamline your team's training process with easy enrollment and performance tracking. You can also use its comprehensive library of regulatory-approved construction safety training programs to train your workers and make sure they're compliant with construction regulations.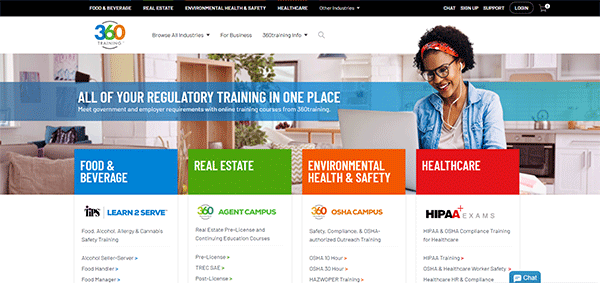 Additionally, this construction training software offers a dedicated support system through experienced account managers. They'll help you meet your training goals and fulfill any compliance requirements.
Cost:

Available upon request

Key features:

Expansive course library, learning management system, dedicated support
Construction Training Software #3 – BuildWitt
You can deliver engaging and high-quality construction training with BuildWitt. Here, you'll get full control over your team's training process. This includes access to user group management, course distribution, and training progress analysis.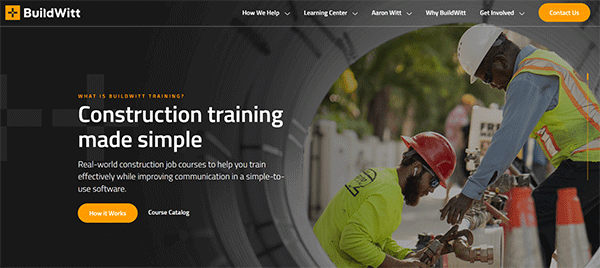 Through the construction safety software's app notifications feature, you can send safety announcements or compliance reminders for recurring training content straight to your employee's device with a simple button. It also makes it easier to deliver periodic refreshers and quizzes, helping you check the level of your employee's skills and knowledge. 
Cost:

3,000 USD annual base fee + 12 USD per user per month

Key features:

User group management, course distribution, training analytics, app notifications, periodic refreshers and quizzes
Construction Training Software #4 – SkillLake
Another recommended construction training software on this list is SkillLake. As an employee-centric training platform, it helps you create tailored learning experiences for your employees by curating content that's based on their current skills. This training platform also lets you create construction training courses following the constantly changing construction regulations. It also allows you to track your team's course completion rates in just a few clicks. If you want a blended learning approach, you can even add instructor-led training sessions.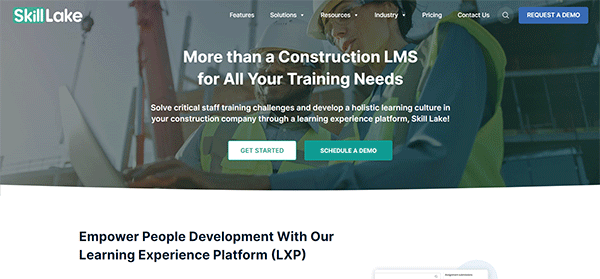 One of the biggest advantages of this elearning development software is that it gives your workers the flexibility to train any time, anywhere, and on any device they choose. And the best part? They'll have access to the best subject matter experts. 
Cost:

Available upon request

Key features:

Training content curation, course creation, instructor-led training, multiple device access
Construction Training Software #5 – iTacit
With iTacit, you won't need to look any further for an all-in-one construction training software. Here, any construction supervisor or trainer can easily create an online training program in a matter of minutes without having to deal with the high costs of in-person training. You can drag and drop your SCORM-compliant content, and add links, images, or video content to make it more interactive.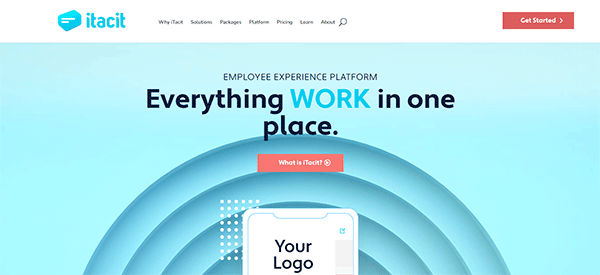 After finalizing the design, simply click publish and distribute the course to your team. You can even design a customized learning path for each construction worker and enroll them automatically in the training sessions they require the most.
Cost:

Pricing plans available upon request

Key features:

Course builder, SCORM-compliance, learning paths, automatic enrollment
Construction Training Software #6 – Kallidus
Kallidus is another leading elearning platform that can effectively be used as a construction training software for your team's construction training and compliance needs. It offers a course builder that allows you to develop and update compliance training courses. If you don't have time to create a course from scratch, you can also use a course from their off-the-shelf offerings, which include courses like Asbestos Awareness, Electrical Safety, and Personal Protective Equipment.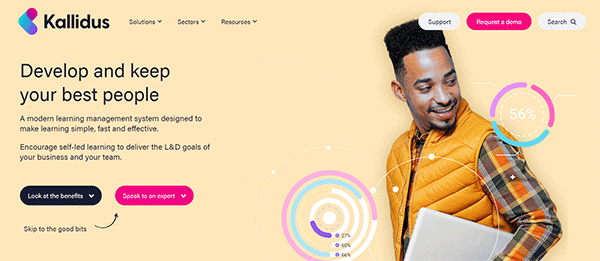 Through the LMS's dashboard reports, you can check who has completed their compliance and mandatory training with just two clicks. Anyone who has overdue courses can be directly notified via email or Teams. 
Cost:

Pricing plans available upon request

Key features:

Course builder, ready-to-use courses, dashboard reports, completion reminders
Construction Training Software #7 – High Speed Training
Another great construction training software that you should check out is High Speed Training. This elearning platform prides itself on its extensive library of over 180 accredited courses and its handy reporting and user management features.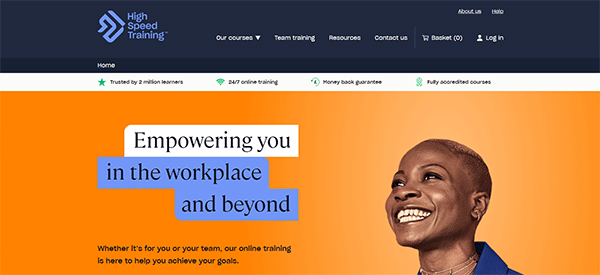 The platform's cloud-based LMS comes free with purchases of 10 or more courses. Here, you'll be able to track the training progress of your workers at any time and use the data to address any training gaps. You can even export the reports and tailor them to the size of your business, whether you're part of a small, medium, or large company.
Cost:

Paid plans

Key features:

Course library, cloud-based LMS, reporting and user management features
Construction Training Software #8 – BIS Safety Software
BIS Safety Software was developed as an all-in-one compliance solution that can be tailored for various types of compliance training, including those for construction, environmental health, and safety. Compared to other construction management software programs, it offers both learning management and training record management features that are designed to help you streamline your construction training.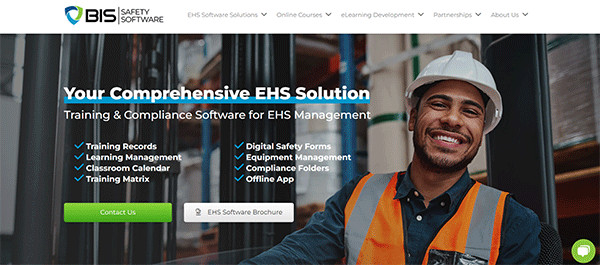 The training record management system is a centralized resource that makes it easy for employees and supervisors to send out required courses and check completion statuses and certifications. Also, its built-in automatic certification expiry alerts can help you make sure that your employees are always up to date with their training.
Cost:

Available upon request

Key features:

Learning management system, training records management system, automatic certification expiry alerts
Construction Training Software #9 – Vector Solutions
Vector Solutions is a construction training software that has combined its cutting-edge Convergence LMS with high-quality courses to give hassle-free training to both small and large organizations. Through the years, they've developed specialized training programs targeted at different industries, including architecture, engineering, manufacturing, and construction. Some of their construction courses focus on cranes and rigging, electrician training, masonry, basic carpentry, and residential safety. If you don't have time to develop your own course, you can simply use these courses to train your teams. 
What sets this platform apart from other competitors is its 3D animated training content, which helps make information easier to digest. Additionally, you can use Vector Solutions to plan when recurrent courses will be delivered and generate training reports and analytics.
Cost:

Available upon request

Key features:

Convergence LMS, ready-made 3D animation courses, scheduled course delivery, reports and analytics
Construction Training Software #10 – Fuse
Developing and improving your construction compliance courseware is easy with Fuse. It allows you to create training podcasts, short video content, and mobile-first training materials enhanced with professional-looking motion graphics. These innovative content creation features can supplement your traditional training programs and make the employee development process more engaging for your workers.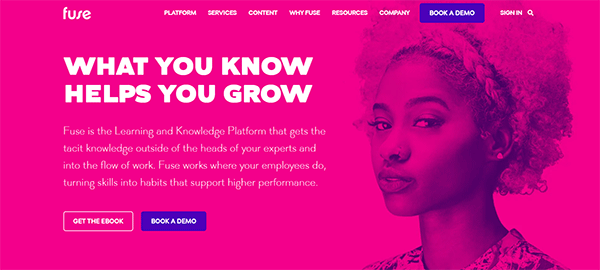 Fuse also gives companies access to a centralized database of training resources where managers can store all of their team's training materials. This is also accessible to workers and helps employees train more effectively at their own convenience. 
Cost:

Available upon request

Key features: Mobile-first training strategy, podcast and short video development, motion graphics, centralized database