One of the advantages of the internet is the wealth of global, social and digital media available in local locations. This advantage drives connected learning. According to a definition on the American Library Association website, connected learning is learning that is "highly social, interest-driven, and oriented toward educational, economic, or civic opportunity". Let's look at connected learning in-depth and then examine the implications it might have for your learning experience, workplace learning, and training programs.
What exactly is connected learning?
On the Teach Thought blog is an article by the Connected Learning Alliance entitled, "The Learning and Design Principles of Connected Learning". This article sets forward six connected learning principles:
Academically oriented

Interest-powered

Openly networked

Peer-supported

Production-centered

Shared purpose
From these principles, it is possible to understand the connected learning theory.
Connected learning theory
Connected learning is a learner-centric and experiential learning process. The learner or trainee drives the process by choosing the topic or skill they want to pursue. Peers, mentors, and other support persons provide guidance and content. Success is based on one-to-one evaluation rather than just standardized testing.
It can be said that "connected learning applies the best of the learning sciences to cutting-edge technologies in a networked world".
In other words, the idea of connected learning is not new. Teachers have been doing it for years via methodologies such as project-based learning (PBL), problem-solving tasks, social learning, and case studies. What IS new is the ease with which the resources needed are available via the internet and the networking scope made possible by a worldwide web.
The role of a learning management system in connected learning 
By their nature, learning management systems (LMS) already include the design elements used in connected learning and other learning technologies. Let's look back at the six connected learning principles we mentioned above and see how an LMS learning technology might offer support, bettering your employee training.
Academically oriented
An LMS includes a template library for rapid authoring of workplace training and education courses. The templates are based on sound, pedagogical research and principles. As a result, your material will be academically oriented rather than "fluff" thanks to the learning management software.
Interest-powered
The LMS global course library gives learners and trainees a wide range of topics to choose from in a variety of languages. Obviously, some of the training at your workplace will be standardized due to compliance issues. However, there is scope for employees to enrich their knowledge by learning about topics or training in areas that are of special interest to them on this learning platform.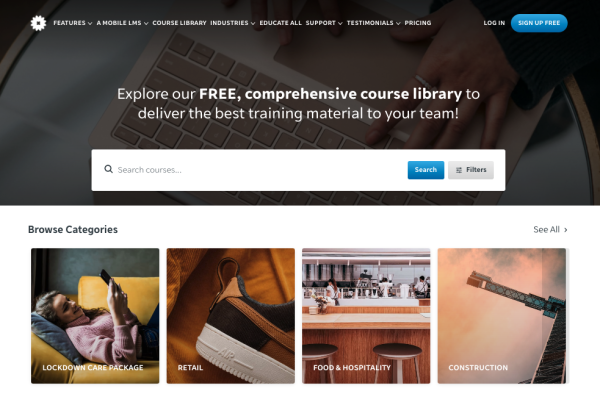 Openly networked
The cloud-based, mobile learning LMS platform offers "any time, any place" learning which is open to anyone with access. In addition, user groups can be formed to network learners and trainees as needed on a global basis without location causing restrictions.
Peer-supported
The LMS feature "peer authoring" supports connected learning and sharing of knowledge and skills. Peer authoring engages trainees and learning, encouraging peer-to-peer learning. Peers can upload video submissions; they can also comment on submissions by their peers.
Production-centered
While learning for the sake of learning is also a noble goal, in the workplace, we usually want to see learning that benefits our organization. In other words, we want the training to produce something tangible in the form of company-beneficial knowledge or skills. To that end, an LMS offers completion certificates. Completion certificates set a production-centered learning climate which motivates trainees to finish their courses.
Shared purpose
Connected learning is all about working together. LMS leaderboards use healthy competition to encourage cooperative group work and instructor-led training.
Implications for workplace training and learning programs
The tendency has been for the organization's education officer and instructional designer to develop workplace training on learning platforms. While this is often done with the help of others, it has traditionally been a set of "higher up" decisions rather than with input from the "factory floor". Yet, data shows this methodology may be outdated and not best suited for the times in which we live.
Rapidly changing corporate landscapes and high levels of future uncertainty are encouraging organizations to look for ways in which to be agile with low hierarchies. One of the options is building a training climate focused on employee autonomy and self-directedness.
Naturally, compliance directives will dictate some level of standardization in training programs and corporate training content. However, when examined with intent, many areas of flexibility will appear. There will be a variety of opportunities to allow self-directed, connected learning in a multidimensional training program.
Connected learning as a facilitator of organizational leaders
As I mentioned in a previous article, the internet fundamentally changed the relationship between people and knowledge. A recent article on connectivism [connected learning] and leadership put it the following way: "Connectivism assumes that information is abundant and that the learner's role is not to memorize or even understand everything, but to have the capacity to find and apply knowledge when and where it is needed". (source) Combined with the connected learning principles I discussed above, this shift is changing the nature of leadership.
Previously a top-down hierarchy, leadership is increasingly being seen as a collective, team-based collaboration. This stems from the belief that no one person has all the knowledge necessary to lead successfully. Rather, a group of networked individuals should lead via cooperation. Diversity of opinion is encouraged. Individual knowledge is not prioritized, rather the skills to find information from human and non-human sources and apply that information as needed.
Developing such future leaders requires them to acquire and practice the needed mindset—the perfect task for connected learning.
Bring your organization's training up to date with
an LMS
that supports connected learning.
Sources