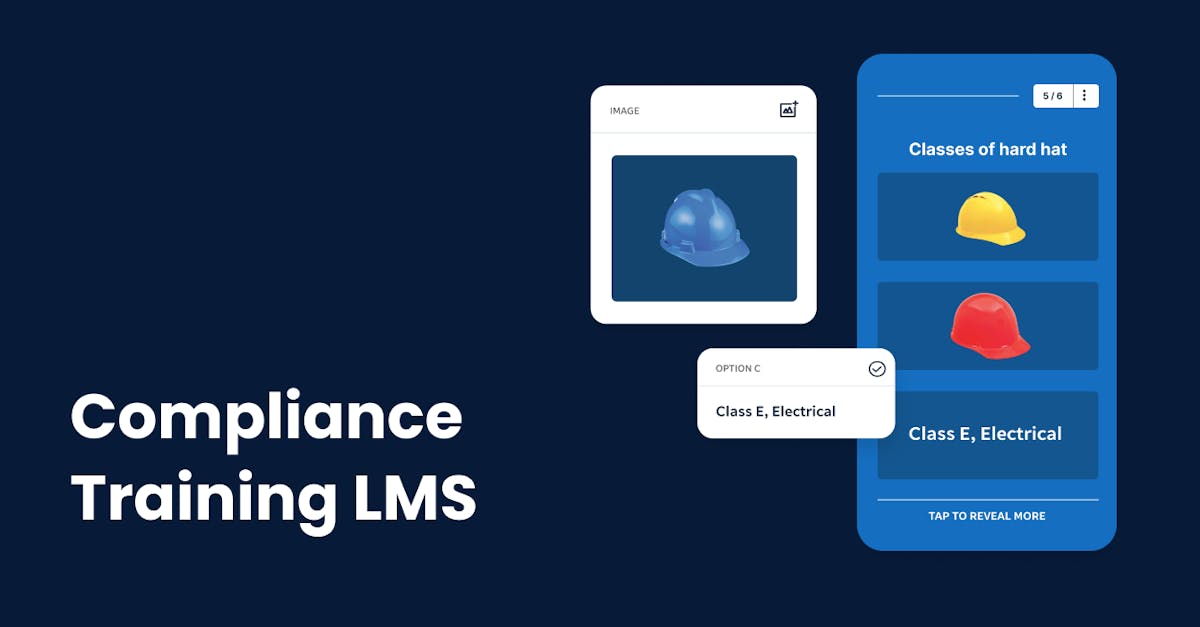 Capitalizing on compliance training LMS will allow your organization to build and manage mandated training programs without any hassle. Currently, you'll find numerous online platforms that offer compliance training features but it can be difficult to navigate through all the options. To help you find the most compatible platform for your business, we've scoured the web and compiled a list of 10 compliance training LMS for you to choose from. 
1. EdApp
EdApp is a multi-award-winning e-learning compliance training LMS recognized by different industry giants, including Asia Pacific Forum, Mizuno, Coca-Cola, and Deloitte. Loaded with multiple user-friendly features, this elearning platform gives you so much flexibility to build, customize, manage, and deploy training materials, all for free.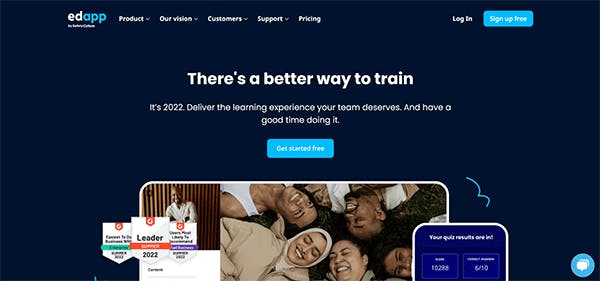 One of its standout features is its cloud-based authoring tool, which allows you to create courses even without coding or design expertise. Simply choose from over 80 elearning templates, drag and drop your compliance training content, customize the branding, and distribute the finished course. It's that easy. If you don't have the time or resources to create training content from scratch, you can also import and tweak a course from EdApp's course library. you can pick and choose from topics like warehouse safety training, healthcare compliance, human resource, and many more. Or, simply send your training content to EdApp's instructional design team, and they will turn it into dynamic and interesting courses.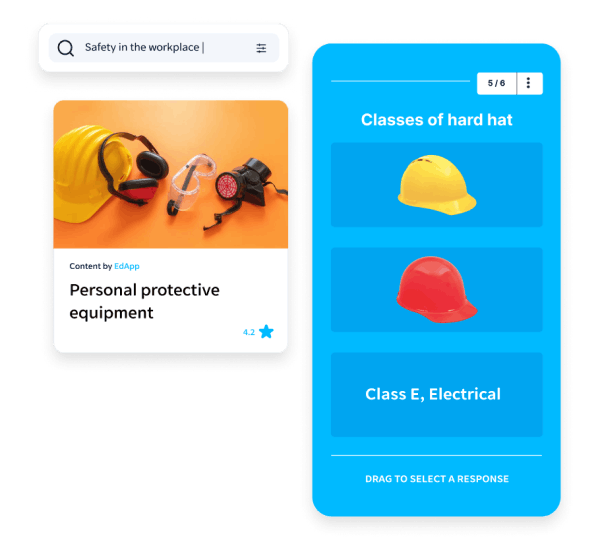 With compliance as your top priority, you can take advantage of the platform's actionable reports feature to keep track of your learners' course progress, completion rates, assessment scores, and overall knowledge retention. This data then enables you to identify difficult topics and further improve the overall learning experience. EdApp has also prepared a HIPAA compliance training course video to further help you strive for compliance. Give carefully crafted workplace learning that your staff will like..
Cost: Free

Key features: Cloud-based authoring tool, drag-and-drop templates, course library, actionable reports
Sign up for free and start using the best compliance training LMS!
2. Learning Bank
Another great compliance training LMS to consider is Learning Bank. It offers a dynamic learning lifecycle platform that allows you to design and automate different training materials for different stages of your workers' learning journeys. You can also save time and cut training costs in half by making the most of the platform's pre-built customizable content. All you have to do is import a course from their learning store, drag and drop your own content, and distribute the finalized training material to your employees. Apart from its pre-built content and learning store, you can also opt to use other features, including custom branding, employee insights, and a social learning wall. However, do take note that these additional features can increase the total price of your LMS plan.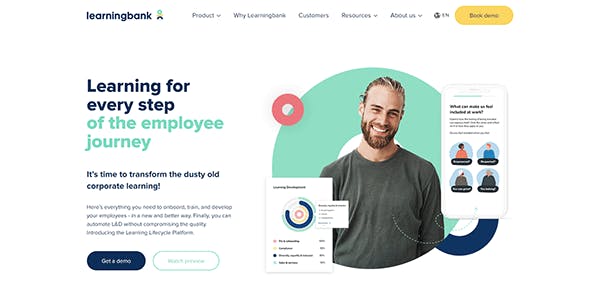 Key features: Learning lifecycle platform, customizable content, learning store, custom branding, employee insights, social learning wall
3. Edly
Built with powerful blended learning features like course authoring, e-commerce integrations, and learner analytics, Edly is the perfect compliance training LMS that can help you create a well-structured training program for your organization. Through their course authoring service, you can easily customize learning materials, assessments, and interactive exercises with your own branding. You can also opt to incorporate custom completion certificates, which your employees can gain once they complete their compliance training and pass all of their assessments. If you want an overview of each employees' test scores, completion rates, and overall knowledge trends, Edly also provides you with an easy-to-use learner analytics suite.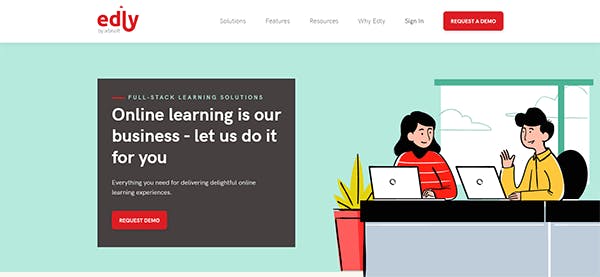 Key features: Course authoring software, e-commerce integration, custom certificate, learner analytics suite
4. WorkRamp
WorkRamp is a compliance training LMS that can be utilized for different types of employee training, notably for retail, sales, and support. It provides specialized onboarding and compliance training features like progress dashboards and analytics and instructor-led virtual training. Aside from helping your workers follow company standards and industry requirements, you can even use the tool to train your clients on product adoption and boost their engagement. The platform also allows you to build dynamic learning content and custom learning pathways based on your employees' roles, teams, skills, and seniority. Overall, WorkRamp's advanced features can help you level up your organization's compliance training programs and transform your teams' learning experience into something more fun and interactive.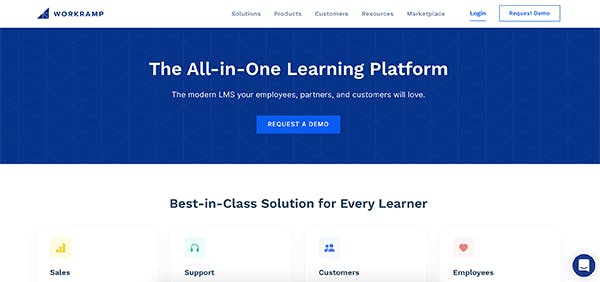 Key features: Onboarding, compliance training, customized learning pathways, dashboard analytics, content creation, instructor-led virtual training
5. MobieTrain
MobieTrain is chock-full of tools and features designed to boost your frontline employees' knowledge and skills as well as help them comply with company requirements and industry best practices. At its core, the platform uses microlearning and gamification strategies to increase learner engagement and knowledge retention. Because it's a mobile-first platform, this learning solution also gives your frontline team the ultimate flexibility to achieve their compliance training lessons at their own pace. If you want to monitor and track their performance, you can use MobieTrain's analytics dashboard. It will give you a quick summary of each team member's KPIs, course completion rates, assessment scores, and even their knowledge gaps. Once they've completed their training, you can also use the tool to provide them with certificates.
Cost: Starts at ,000 USD

Key features: Content authoring tool, mobile microlearning solution, gamification elements, employee monitoring, platform support
6. UpsideLMS
UpsideLMS is a compliance training LMS designed to help businesses upskill their workers, centralize learning resources, and ensure their employees comply with company standards. It has many powerful features, including content authoring, gamification, reporting, instructor-led training, and virtual training. The platform comes complete with a vast online library of more than 80,000 ready-made microlearning courses and videos, giving your learners quick access to high-quality online training resources. It also features multilingual support, which is perfect for organizations that have multiple offices across the globe. If you're on the go, you can easily download Upside LMS's mobile app through the App Store or Google Play.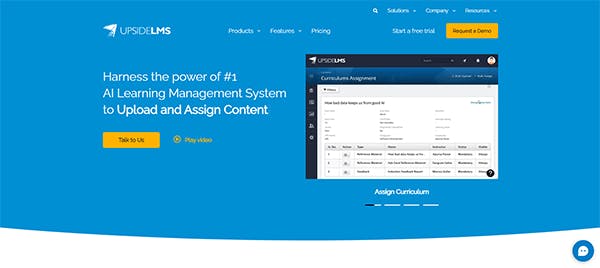 Key features: Content authoring, gamification, business intelligence reporting, instructor-led training, virtual classroom training, ready-to-use content, multi-lingual support
7. BrainCert
As a compliance training LMS, BrainCert offers numerous features that allow you to create courses and assessments, conduct live online classes, and manage your teams' entire compliance training process. Some of these features include a course creation wizard, testing platform, shareable tests, custom theme design, and a virtual classroom. The training tool even has SCORM functionality that gives you the capability to upload and edit SCORM content from other training dashboard tools. Compared to other compliance training LMSs, BrainCert has integrated social learning with e-commerce by allowing instructors to sell their online courses, tests, and live classes in the platform's very own global marketplace. There are a few paid plans that you can choose from but if you want to test out some of the features beforehand, they also offer a free version.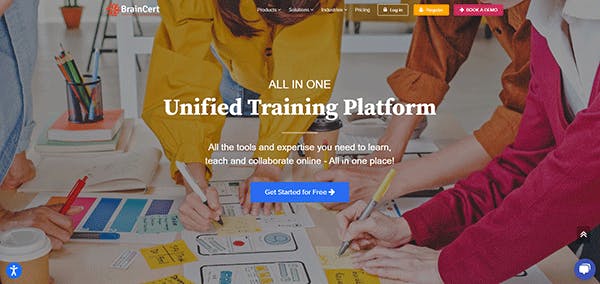 Cost: Free plan, Paid plans that start at 9 USD per month

Key features: Course creation wizard, testing platform, custom theme design, virtual classroom, social learning e-commerce
8. Abara LMS
Abara LMS is a renowned compliance training LMS that was developed to help you streamline your company knowledge resources and compliance training processes. It provides web and mobile-based features like customized content creation and distribution, knowledge management, SCORM compatibility, assessment and survey capabilities, internal messaging, and virtual classroom training. Aside from scheduling and deploying courses directly to your employees, you can also send out push notifications to remind them of important deadlines, quizzes, or training updates. The tool even features some gamification elements like leaderboards, points, badges, and certificates, all designed to help you create more fun and interactive learning experiences.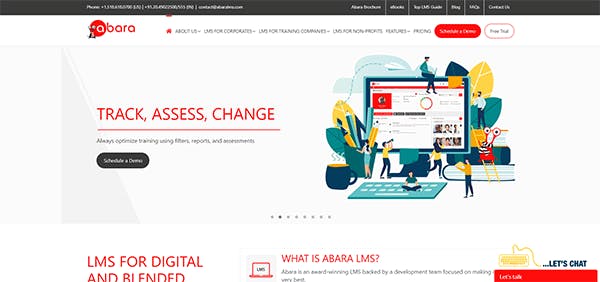 Cost: Free trial, Paid plans start at 20 per month

Key features: Course creation, knowledge management, virtual classroom training, assessments and surveys, internal messaging, push notifications, gamification elements
9. Learn Amp
Learn Amp is a powerful compliance training LMS and engagement platform dedicated to helping businesses deliver customized e learning solutions that their employees will enjoy. It offers a wide range of tools including social learning and peer-to-peer features like in-app messaging, discussion threads, event management, group assignments, and self-generated content. You'll also have quick access to your team's performance data through its built-in visual dashboards, which allow you to create learning pathways to boost employee growth. Because of the platform's user-friendly UI, you can quickly set up training programs without having to spend a lot of time and money. The best part is that all courses are fully SCORM compliant, making it easy to transfer your training materials to other learning platforms.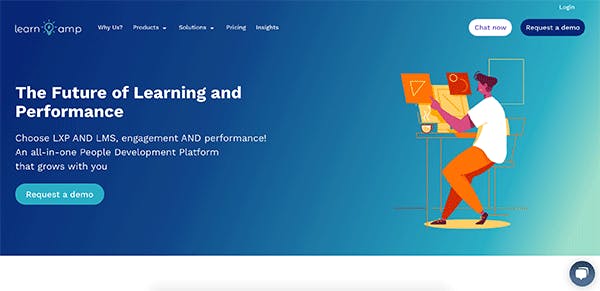 Key features: Social learning, in-app messaging, discussion threads, event management, group assignments, self-generated content, learning pathways, visual dashboards, SCORM compliant
10. Tovuti LMS
Simplify your entire compliance training and onboarding processes with Tovuti LMS. This compliance training software features a nifty course authoring suite that allows you to build, schedule, and deploy interactive training courses in just a few clicks. You can even take advantage of gamification features like certificates, leaderboards, checklists, and badges to motivate your employees to complete their assigned courses and assessments. The platform also provides a live virtual classroom that allows you to integrate synchronous sessions into your compliance training program and meet with your team members through third-party video conferencing tools like GoToMeeting and Zoom. If you want to gain insights into each employee's learning progress, Tovuti LMS has made it easier for you to access all the learner stats through their custom reports feature.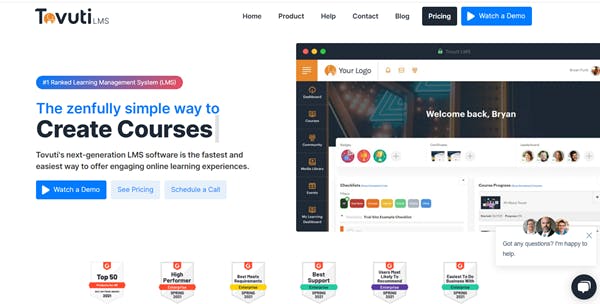 Key features: Course authoring suite, gamification, leaderboards, certificates, badges, virtual classroom, custom reports