You can create a database of job positions, needed competencies, and skill sets using competency management systems. A  full-featured and comprehensive competency management system can link competencies and skills to recommended learning, and also help you identify which employees need which skills to be highly productive.
Competency Management System #1 – EdApp
For a competency management system to be complete, it has to have a way for you to train your employees on the skills they are lacking to get them to full competency. That is the heart of a competency management program. EdApp provides the tools and features necessary for you to easily create microlessons that are automatically distributed to the staff who need them to fill skill gaps. These are non-restricted lessons as they can be delivered on any device in multiple foreign languages anywhere in the world. You can then have a global team in any industry that is fully skilled. Speaking of industry, EdApp has an editable library that has thousands of customizable lessons that fit any sector. This platform offers materials to upskill employees regardless of their profession. If you have PowerPoint training materials and need them to aid in filling skill gaps, don't be concerned. This software has a Powerpoint converter that will turn those presentations into mobile-friendly lessons in a few minutes. Did we mention the affordable price that all of these goodies will run you? Well, it's free. You read right, free!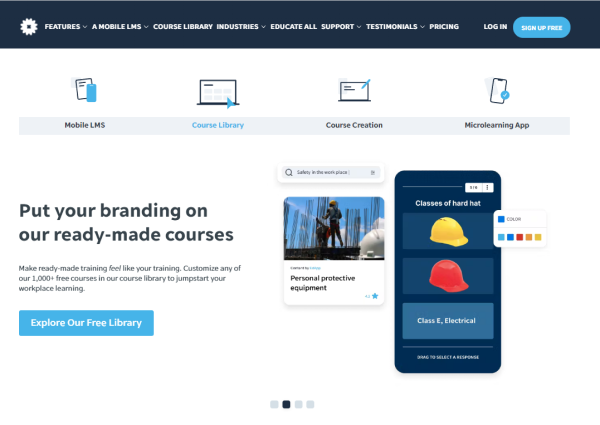 Price: Free
Features: Mobile learning, Editable Library, Multiple Languages
Competency Management System #2 – Avilar
Avilar's competency management system, as well as its eLearning solutions, can help you test, appraise, and maximize your workforce's potential. With this platform, it's simple to start a competency management project to better understand your staff. Avilar can get you there in a timely and cost-effective manner. The software aids you in creating a "competency model" by defining the work that needs to be done and the abilities that people require to execute those jobs. You then assess individuals' abilities to see how well their abilities meet the job's criteria. And finally, you make a training and development strategy to address the most pressing skill gaps.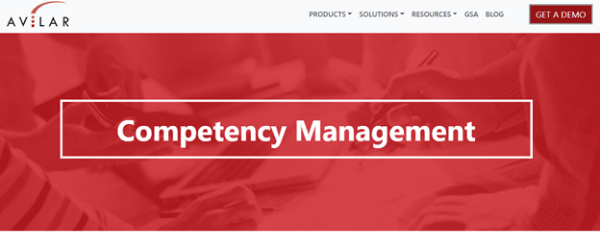 The platform has two tools that will get your team's competency where you want it.
WebMentor Skills –

aids firms in identifying, analyzing, and managing skills needs in their teams to improve productivity.
WebMentor LMS –

this full-featured learning management system and course delivery platform can handle anything from a single course to an entire online training program. However, not everyone may want to use two separate systems, even if they are from the same company.
Price: Contact for Quote
Features: LMS, employee development strategies
Competency Management System #3 – Polaris
The Polaris competency management system is built around a team that can work with employees from various departments of your company to understand their problems and gain their support. Polaris' staff, as you might guess, are at the heart of its learning spirit and attitude. The entire staff has the skills, expertise, and understanding necessary to assist you in finding the best answer the first time. Polaris' core principles are responsibility, client attention, commercial awareness, and great relationships and they are at the heart of what it does. Polaris promises to be honest and upfront with its clients, as well as to operate ethically and considerately. The objective is to establish long-term, mutually beneficial relationships, and collaborations. The company also vows to be transparent about its clients' needs so that it can create solutions that meet and surpass their objectives, both now and in the future. Polaris is responsible for its decisions and is aware of the financial implications for all parties involved. They will be proficient in their job, assisting their clients and partners in achieving their objectives.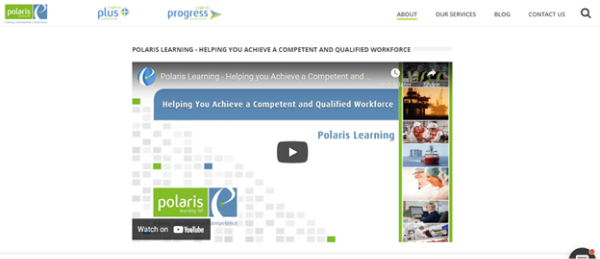 Price: Contact for pricing
Features: Collaboration with an expert team
Competency Management System #4 – Cognology
Profile your personnel, identify your top performers, and uncover talent shortages with Cognology. The competency management system from Cognology includes all of the elements you'll need to assess competencies, generate detailed reports, and enhance capabilities. This platform simplifies each step of the competency evaluation process to meet your needs. It eliminates the requirement for manual data entry and eliminates the necessity for spreadsheets. An online system is used to send assessment emails to participants. These assessments are then accessed through a link in the email and the evaluation is as easy as checking boxes.
Cognology was created with the user in mind. To give a smooth experience, the interface adapts to the device being used.  It's compatible with smartphones, tablets, laptops, and desktop computers. For personalization, add your company's logo, colors, and images to the system. Your workflow is automatically tracked by the Cognology Competency Management System. This allows you to ensure a high-quality process while also removing the time-consumption element.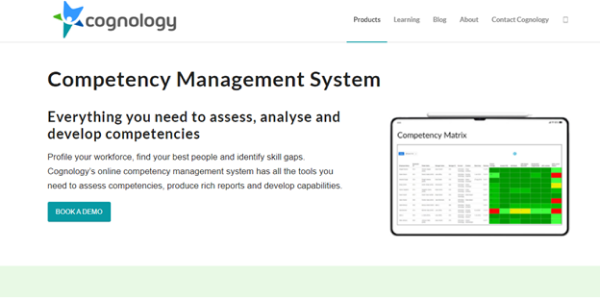 Price: Contact for quote
Features: mobile friendly, Auto data entry, emails
Competency Management System #5 – Mentor
This competency management system allows you to incorporate a competency-based approach into your whole HR process, including learning activities and training programs for employees. With the Mentor platform, you can do the following:
Manage competencies – It's simple to manage and update job groups, classifications, positions, and degrees, as well as connect each function to the required competencies, proficiencies, and indicators, thanks to the online integration of the framework.

Assess employees – Give your employees the ability to complete simple online self-evaluations while HR professionals review single and summary reports. Employee evaluations are aligned with the organization's structure and competency framework using the competency assessment instrument.
Competency frameworks can be shifted online and implemented in HR activities including recruitment, training, retention, and employee performance review using Mentor's competency management system. It makes it simple to identify each person's strengths and limitations, as well as the organization's overall flaws. This straightforward solution, built with strong HR management experience, may work independently or easily interact with your other talent career-development products.
With a course library or authoring tool, Mentor can make the next jump by giving users a way to build courses that will raise internal competency levels.
Price: Contact for pricing
Features: Employee Assessment, Competency Management
Competency Management System #6 – TalentGuard
The competency managementsystem from TalentGuard is a cloud-based technology that gives businesses access to thousands of specified work skills that tie together personnel behaviors, operational experiences, qualifications, and work-style preferences. Employees can use this program to display their talents, experiences, certificates, accomplishments, aspirations, and job history. You can see what talents or positions are in demand internally as a manager or talent specialist, and uncover professional improvement needs.
One of the platform's unique features is the ability to improve job profiles by crowdsourcing employee suggestions for new skills and ranking the importance of existing ones, as well as assisting employers in gaining insight into an employee's job match through social reviews and assessments.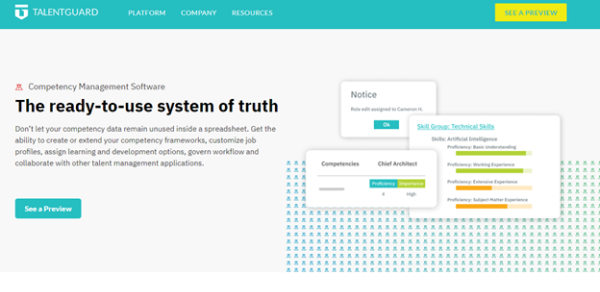 You may establish and manage competency libraries in TalentGuard, which include Abilities, Experiences, Credentials, and Preferences. You can also use the platform to see what talents or occupations are in demand inside your company and detect professional development plan gaps.
This platform needs the option to integrate it with others your office uses. This would make it fit in seamlessly with your other tools. Price: Contact for a quote
Features: competency library, crowdsourcing
Competency Management System #7 – HRSG
HRSG's CompetencyCore is an AI-powered competency management system designed to help you work smarter and solve your basic HR issues. Use AI to write better job descriptions in less time. Job descriptions are critical to the success of your company. HRSG's platform allows you to access large content libraries, create descriptions rapidly using AI ideas, and manage your feedback process all in one place. Traditionally, competency analysis has been a time-consuming exercise. CompetencyCore enables you to develop competencies more quickly than ever before, map them to your business using its proprietary Competency Suggestion Engine, and connect them seamlessly with your Initiatives. You can also give your employees the knowledge and skills they need to see their future in your company. With built-in exams and learning core competencies resources, the software's visual Career Path Navigation enables staff to map their own path for advancement and shows them exactly what they need to do to get to their dream job. Addressing your HR concerns doesn't have to be difficult with CompetencyCore. All CompetencyCore memberships include one-on-one time with a software specialist to ensure you get off to a good start.

Unfortunately, we found the interface to have a steep learning curve.
Price: Contact for a quote
Features: AI-powered, feedback, career path navigation
Competency Management System #8 – Lexonis
The Lexonis competency management system is user-friendly. You can rapidly locate and use competencies and job responsibilities that have been benchmarked by the industry. Because the program is customizable, you may change the competency and job role definitions to fit your company's needs. Technical and non-technical competencies, job descriptions, interview questions, and growth suggestions are all covered by this comprehensive platform. When you use the Lexonis software correctly, you can receive visibility into personnel career planning that corresponds with your business objectives, which will help you manage future careers. Employers can use this software to improve talent management where it matters most by carefully analyzing their greatest workforce competency gaps, and then leveraging their experts by identifying employees with specialist competencies for project assignments and mentoring. Finally, the program will assist you in developing an agile crew by recognizing job candidates based on their skills. The user interface needs to become a bit more user-friendly and that would give it a boost.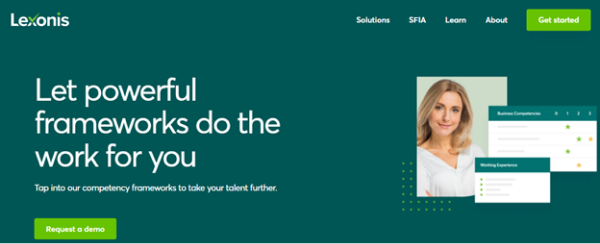 Price: Contact for price
Features: customizable
Competency Management System #9 – CABEM
CABEM's team researched the shifting learning and development landscape and built a competency management system to assist firms with their talent management demands as a result of their findings. The software is a competency management system that creates a framework for assessing individual capability. It allows businesses to create competency models, educate workers, track credentials, and mitigate risk. The software allows you to construct corporate learning and development programs, assign them to staff, and track the abilities and expertise they require based on their function, geography, and other factors. The software features a reporting plan that covers a skills gap analysis, engagement grid, risk reporting, and more, as well as the ability to store any required certificates and personalized credentials. CABEM's staff collaborates with you to determine your requirements and can adapt the program with modules or additional development if necessary, or it can be installed in the cloud and you can get started instantly.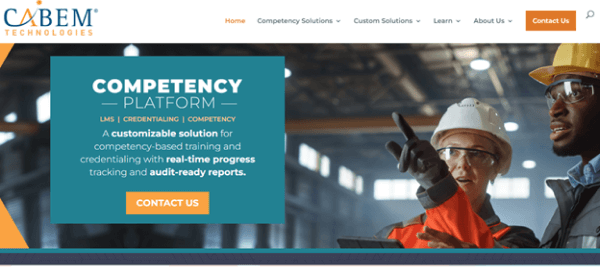 Price: Contact for quote
Features: program creation, collaboration
Competency Management System #10 – Mintra
Mintra specializes in certain sectors, such as safety-critical industries, where a lack of expertise can result in large-scale catastrophes with potentially catastrophic consequences. To guarantee that risks are minimized, employers must implement effective Competency Management Systems. Mintra collaborated with the industry to design and implement a system that effectively manages competence and reduces risk. Competency assurance is much more important in rotating workforces, as not every activity is completed on every cycle. Do people have the skills, even if they have the training? Employers may track on-the-job instructional activities and verify that all employees are competent and compliant by using a competency management system like Mintra.
Not only does Trainingportal offer learning management, but it also includes a Competency Management System (CMS) that allows companies to regularly monitor and evaluate their staff. It allows a company to identify all of the tasks that must be completed during the course of business, as well as the competencies and abilities that employees must possess to perform their jobs to the appropriate standard. To attain its greatest potential, the platform needs to be more mobile-friendly.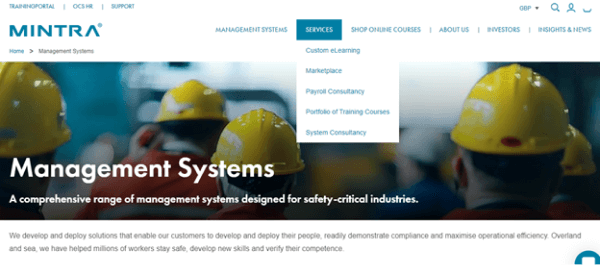 Price: Contact for price
Features: risk reduction, staff evaluation