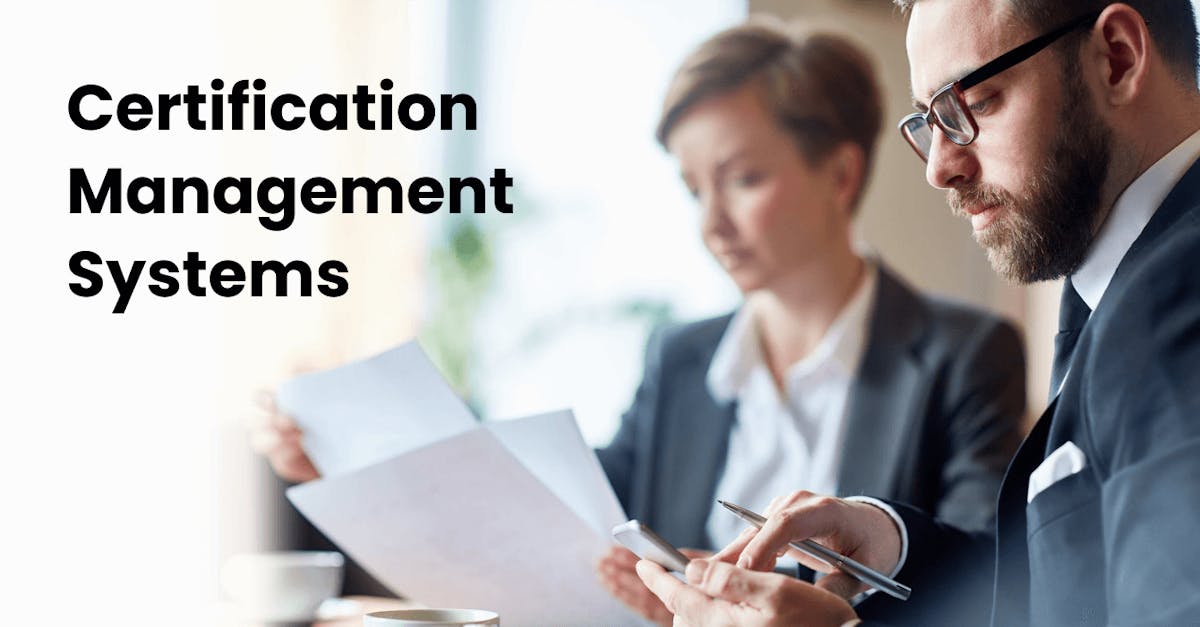 Tracking your certificates with a certification management system makes it easier to hold your learners accountable for their completed courses and learning outcomes and make sure that they're compliant. In this article, you'll find the most recommended certification management systems that can help you create, upload, track and manage your learners' certificates. 
Certification Management System #1 – EdApp
EdApp is a free cloud-based LMS software with a certification management system that's accessible to both learners and managers.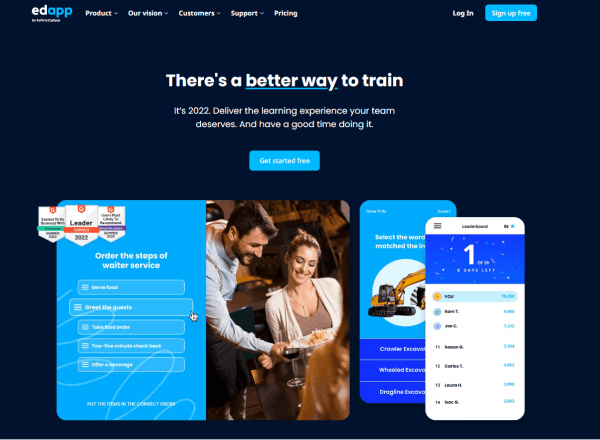 For learners, they can access their certificates in the app after successfully completing a course. For managers and admin users, you can sort, search, and access a list of awarded certificates to your learners in the certifications dashboard. 
As a manager, you can also import courses from their course library and give your learners a chance to get certificates of completion for important courses such as HIPAA training or HAZWOPER training courses. You can even have your certification courses built by EdApp's instructional designers if needed.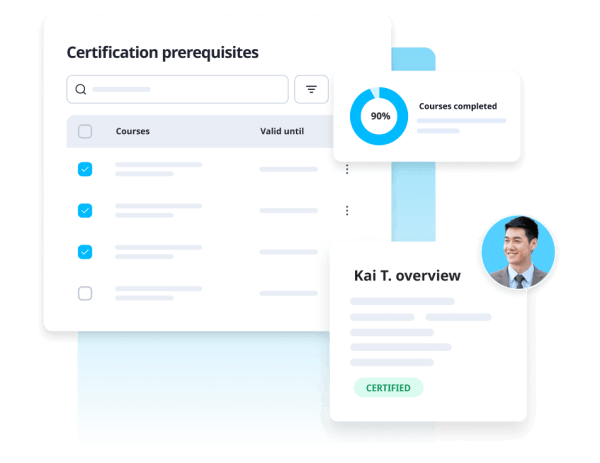 You can edit, customize, and download certificates if you avail of the Advanced Certificates as part of EdApp's Growth plan. By customizing and editing the content of course completion certificates, you can better match your company's look and brand. Downloading certificates in bulk also allows you to print these certificates and meet compliance requirements for training programs making them fully scalable.
This can all be done on either your mobile device or your computer. Thanks to EdApp's integrations and cross-platform functionality, you can manage your course certificates anywhere and anytime. 
Cost: Free, starts at US.95 per active user per month

Features: Learner access to certificates, sorting and searching of certificates, editing and customizing of certificates, downloading certificates in bulk, accessibility using any devices
Sign up for free and start using the top certification management system today!
Certification Management System #2 – LearnWorlds
LearnWorlds is an intuitive elearning development tool that allows for the personalization of digital certificates. Certificates can be designed, developed, and edited from the PDF templates provided. You'll have access to three different kinds of certificates: certificate of completion, certificate of knowledge, and course certificate. All certificates are visible in the app's reports center as well. 
While LearnWorlds is available for US4 per month, the certification feature is only available from their Pro Trainer plan, which starts at US4 per month instead. They at least offer a free trial if you want to test out all the features beforehand. 
Cost: Starts at US4 per month

Features: Personalization, PDF templates, three different kinds of certificates, reports center
Certification Management System #3 – Engagedly 
If you want your learners to be able to upload past certifications onto their profiles, then you might want to consider Engagedly. This software as a service (Saas) tool lets users upload past certificates to their talent cards so managers are updated as to how their skills are developing. You can also give out certificates to learners that completed any courses on Engagedly.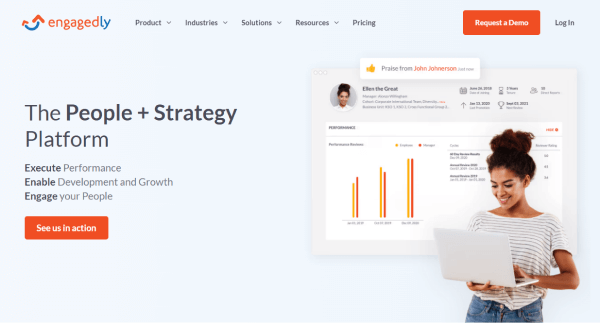 Unfortunately, the certificates on Engagedly are system generated and can't be customized. You also can't upload your own certificate templates, so certificates will only contain the name of the learner, course name, and course description. 
Cost: Request for a demo and quote

Features: Learner certificate uploads, talent cards, course completion certificates
Certification Management System #4 – Tovuti LMS
Tovuti LMS is a user-friendly integrated LMS solution that can help ensure a more efficient online training process for managers and a more effective learning experience for employees. It integrates an easy-to-use course management tool that enables you to build and deploy interactive courses, as well as track interactions with your course content. It also serves as a certification management system by providing you tools for designing, managing, and assigning certificates for learners. For your learners, they'll have access to a personalized portal that shows their badges, certificates, leaderboard rank, checklists, assigned courses, and upcoming training sessions.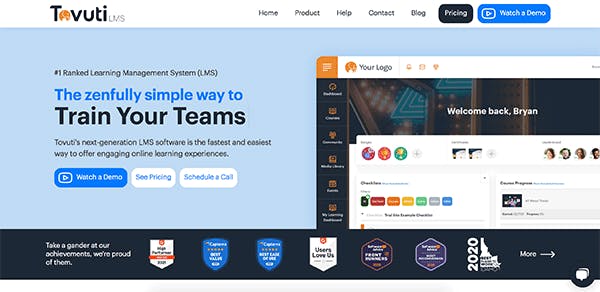 Cost: Request for a quote

Features: Designing, managing, and assigning certificates, learner-access to a personalized portal
Certification Management System #5 – Synap
Synap's learning management system supports custom template uploads and offers three default templates that are included in the software. You can also include verification QR codes to your certificates to allow your learners to securely share their certificates with their organizations. You can automate and include expiration dates to add an extra layer of security and validity to your certificates. They are also automatically emailed to learners once they've successfully completed their course.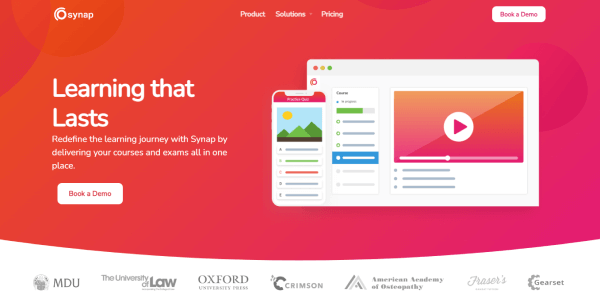 However, Synap doesn't support certificate design and customization on the app itself. You would need to prepare your certificate templates on a different platform first and that can take up time and resources. 
Cost: US69 per month

Features: Custom template uploads, default templates, verification QR codes, expiry dates, automated emails
Certification Management System #6 – uQualio
If you need a centralized digital learning platform, then uQualio could work for you. This all-in-one-software features course creation, course deployment, sales training toolbox, and certification management. With uQualio, you can give out certificates to learners that have successfully completed their courses. You can also track which and how many certificates have been distributed. With templates and expiration management, handling certificates becomes easy.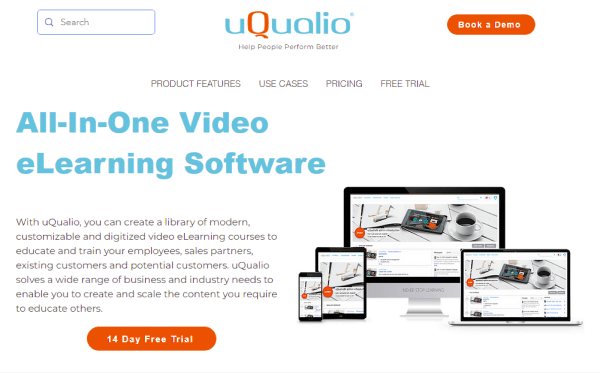 However, it's important to note that uQualio has no free service plan. Additionally, the resources supported on this learning tool are mainly videos, with pictures and documents only added to support the videos. 
Cost: Paid plans

Features: Certificate tracking, certificate distribution, certificate templates, expiration management
Certification Management System #7 – Arlo
Arlo's certificates feature enables you to generate automated certificates of attendance or achievement. Certificates can also be sent via email automatically or manually or downloaded and handed out physically. You can even include optional fields in their created or uploaded certificate templates to include more details and information about the course or the learner.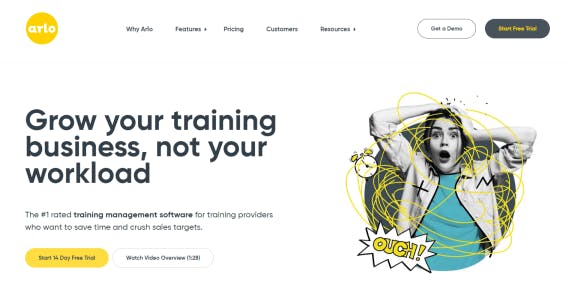 Still, Arlo is another platform on this list that is only completely available through a monthly paid plan. But, users are allowed to try all its key features for free for at least 14 days.
Cost: Free trial, starts at US9 per month

Features: Certificates of attendance or achievement, automatic or manual email distribution, downloads, optional fields, create and upload certificate templates
Certification Management System #8 – eloomi
The next system on this list is eloomi. With eloomi, you have access to simple, detailed, or custom certificate templates that you can further edit to better suit your needs. You can also upload and manage signatures easily so that you can attach signatures to certificates in just a click of a button. There's no limit to the number of certificate templates and signatures you can create and upload as well.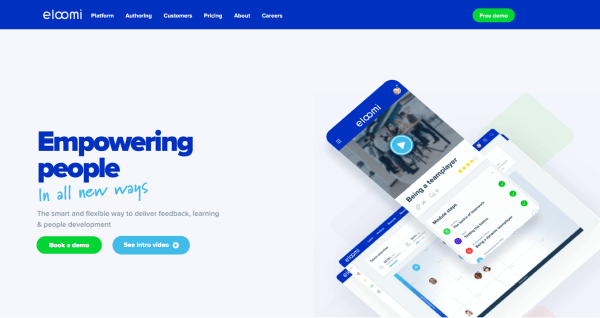 Some users, however, have given reviews and said that eloomi can sometimes be slow and some of its other features can still be improved on. Some have also found the user interface to be complicated to use and that their price plans can be expensive for small businesses. 
Cost: Request for a quote

Features: Certificate templates, uploading and editing certificates, signature manager
Certification Management System #9 – Trainual
Trainual supports course completion certificates and allows you to fill in fields for easy certificate creation. You just need to fill in the name of the course, name of the learner, and course description. Additionally, you can toggle other settings such as expiration dates and automation when it comes to awarding your certificates. Admins and managers can view certificates of their team members as well through a people dashboard.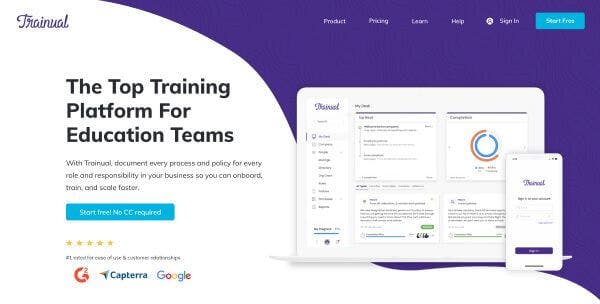 Unfortunately, Trainual does not support creating, uploading, or editing custom templates. You are only given the option to fill in designated information fields.
Cost: Free trial, starts at US9 per month

Features: Certificate creation, information fields, expiration dates, automated distribution, people and certificate dashboard 
Certification Management System #10 – 360Learning
The last certification management system on this list is 360Learning. You can also give out certificates if they've achieved a required minimum score. Additionally, you can give your certificates validity periods, backgrounds, and contact information. All types of users such as admins, managers, and learners can download certificates as well.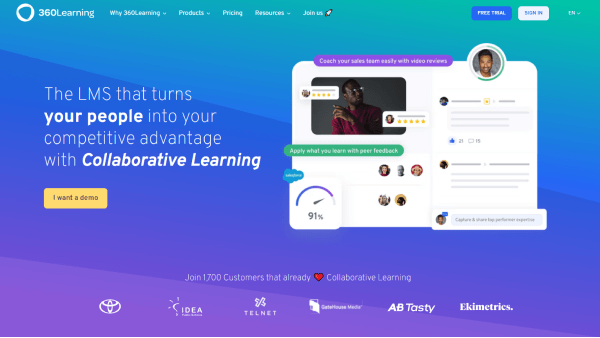 However, 360Learning isn't free and can be quite inflexible since you can't upload or create custom certificates. 
Cost: Starts at US per user per month

Features: Course completion certificates, certificate requirements, validity periods, backgrounds, downloadable certificates