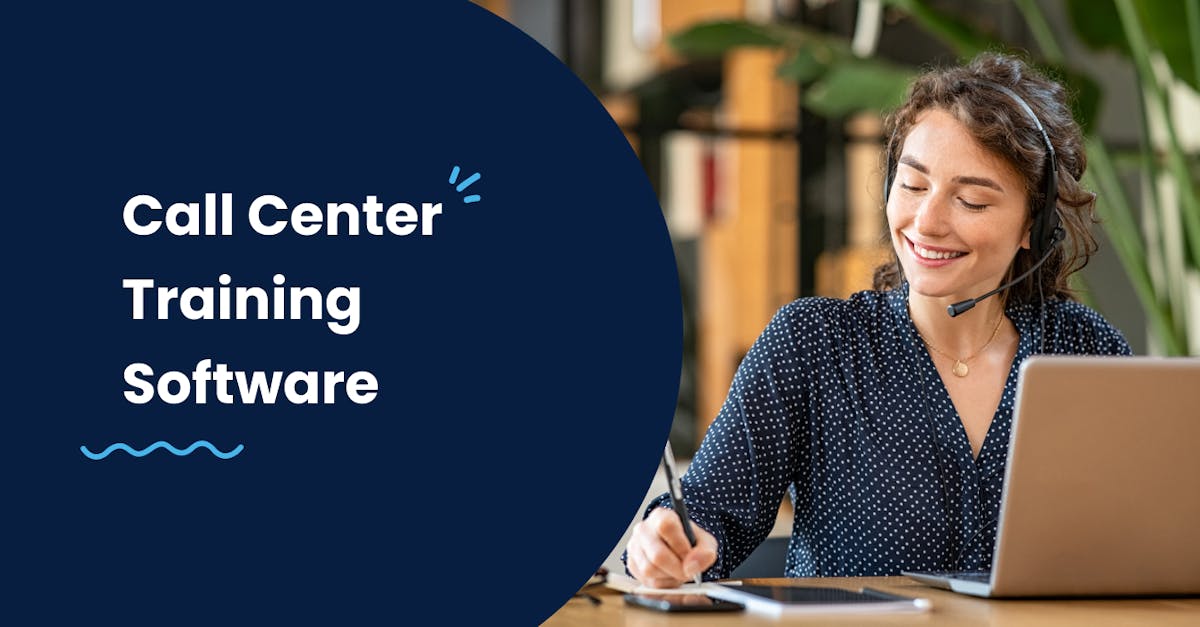 Call center training software are powerful tools that empower your customer service representatives to hone their communication, listening, and problem-solving skills. With these online platforms, you can also give them easy access to vital training materials like dialogue simulations and customer service training courses. In this list, we've rounded up the best call center training software to help you train your employees.
Call Center Training Software #1 – EdApp
EdApp is one of the best call center training software currently available on the market. It's free and jam-packed with a range of intuitive and highly customizable features that can adapt to your employees' training needs.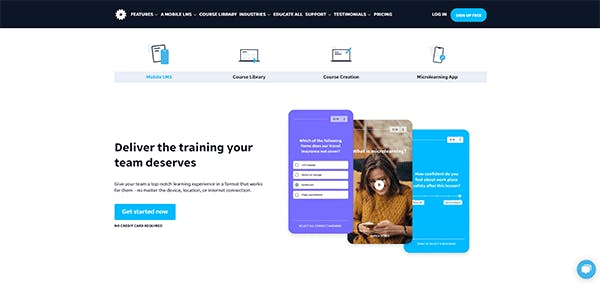 It offers a top-notch authoring tool, which allows you to build beautiful and interactive customer service training programs. Simply choose from over 80 pre-built quiz and elearning templates, add text and media, edit branding elements, and hit publish. More specifically, if you want to create a customer service training simulation, try out their Chat template and edit the text based on different scenarios that you want to prepare your employees for.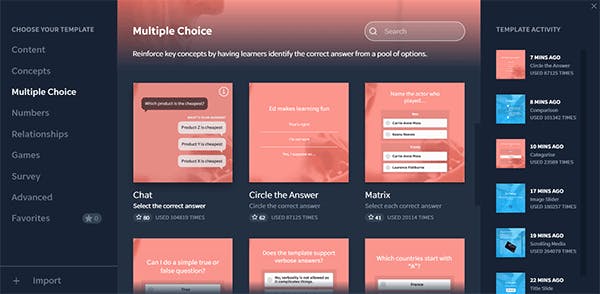 You can also easily incorporate gamification examples, such as real rewards and leaderboards to promote user engagement and foster friendly competition among your customer service agents.
There's no need to start from scratch as you can quickly import and customize ready-made courses from their editable content library. Some of the customer service training courses that can definitely help your call center agents include Active Listening, Planning a Sales Call, and Call Center Customer Service.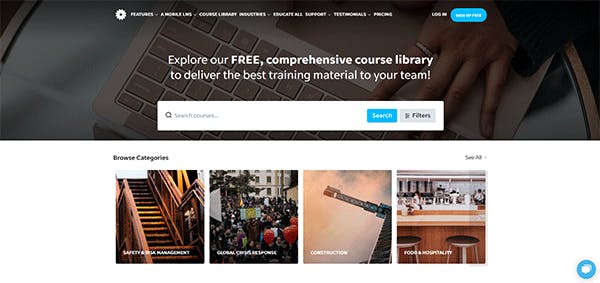 Additionally, EdApp has a built-in Virtual Classroom feature that uses conferencing platforms such as Zoom and Microsoft Teams. With this tool, you can conduct virtual training activities with your team, which is a big advantage especially if you're talking about more complex customer service training topics.
Cost: Free
Key Features: 
Sign up for Free and Start Using the Top Call Center Training Software!
Call Center Training Software #2 – BranchTrack
BranchTrack is a highly adaptable call center training software that specializes in scenario-driven storytelling. With this platform, you can design scenarios to address your employees' customer service training metrics. It's so simple to use too! All you have to do is open up their drag-and-drop editor, create a scenario tree, and connect scenes using built-in character and environment galleries.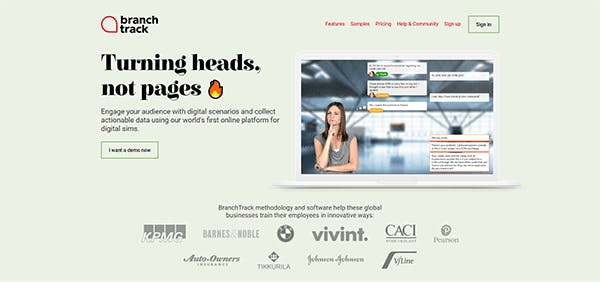 As a cloud-based platform, BranchTrack also makes it easier to create simulations online through a browser without the need to download any separate editing software. But a huge disadvantage of this tool is how pricey it is. At 999 USD per year, you can only design up to 10 scenarios, which is a pretty small number considering its cost.
Cost: Free plan, Paid plans start at 999 USD per year
Key Features: 
Call Center Training Software #3 – ITyStudio
ITyStudio is a go-to call center training software that allows you to build training simulations and gamified elearning materials with a simple drag-and-drop tool. It's also a great tool for creating critical conversation training courses. With its library of 2D and 3D environments and animated characters, you can create realistic simulations that will help your employees better engage with customers. These design elements help make the training simulation feel more immersive and realistic for your employees, giving them the capability to interact with characters and objects within a specific scenario.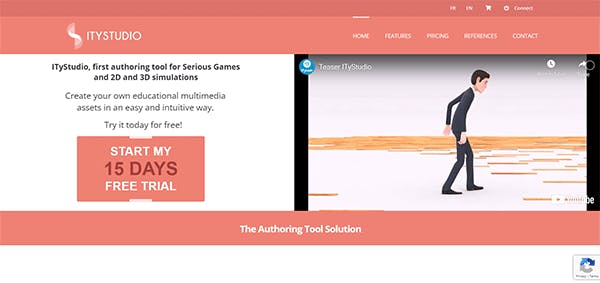 You can also take advantage of ITyStudio's flexible scoring system when training your customer service representatives. It's a simple feature that allows you to evaluate each team member's various skills, such as communication, listening, problem-solving, and engagement.
Cost: Starts at 35 USD per month
Key Features: 
Drag-and-drop simulation creator

Built-in library of 2D and 3D environments and animated characters

Flexible scoring system
Call Center Training Software #4 – Uptale
With Uptale, you can design highly immersive learning experiences using 360 VR simulations. These To create a VR simulation, all you need to do is upload media like 360 or 2D videos, photos, or audio, set up built-in interactions such as quizzes and decision-making tags, and publish it in either a SCORM or API format.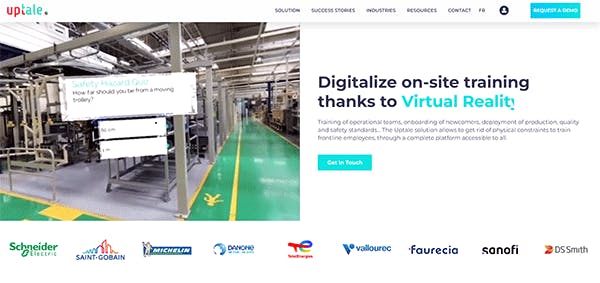 The best part about using Uptale is that you can create beautiful courseware in just minutes without any complicated code. And once you've distributed your training content to learners, you can easily track their completion scores through the platform's complete data tracking dashboard.
critical conversation training courses
Cost: Request a demo
Key Features: 
Call Center Training Software #5 – Camtasia
Camtasia is a video training tool that works well as a call center training software. You can use the platform's course-building tool to create call center-related videos and recordings, all in SCORM format. You can even record anything directly on your computer screen and add videos and audio straight from your webcam.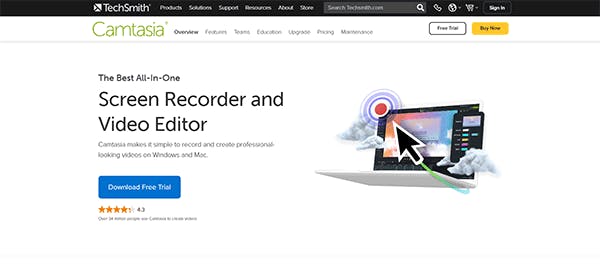 While it lacks a lot of features that you'd typically find in learning management systems, it makes up for them by giving you easy access to pre-built video templates, royalty-free assets, sound effects, and animations. With these helpful features, you won't have to spend too much time editing your call center training videos. 
Cost: Starts at € 4.90 per month
Key Features: 
Course building tool

Interactive elements

Pre-built templates
Call Center Training Software #6 – Skillshare
Another excellent call center training software that you can consider is Skillshare. Here, customer service representatives can learn a range of communication skills and sales techniques through either live or recorded video lessons. These lessons are usually hosted by leading industry experts and they can last anywhere from a couple of minutes to long hours. They are also available online, allowing workers to take lessons anytime and anywhere.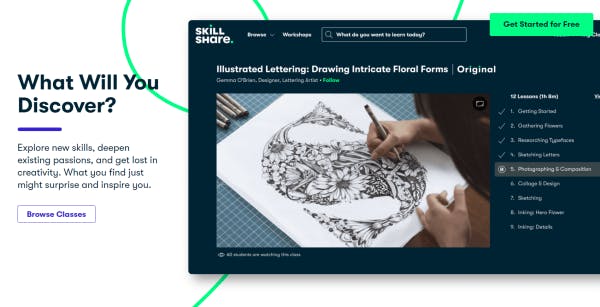 Some of the call center training classes they offer include "Winning Communication Skills for Telephone, Conference Calls", "Be Confident on the Telephone: Increase Your Phone Confidence Today!" and " Business Etiquette for Success: Business Phone Communication Etiquette." 
One of the biggest downsides of using this online platform is that learning resources are limited to only videos, which typically last 40 minutes. This isn't ideal for workers with short attention spans.
Cost: Starts at 159 USD per user per year
Key Features: 
Live and recorded online video courses

Video classes hosted by experts

Desktop and mobile accessibility
Call Center Training Software #7 – uQualio
uQualio is a cloud-based training platform that you can use to train your customer service agents on the best customer service practices. It works well as a call center training software, allowing you to develop learning materials, including free online management courses with certificates, compliance courses, call simulations, webinars, call center onboarding programs, and other customer service training resources.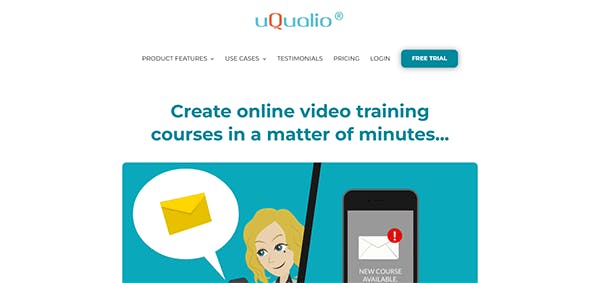 Through their course builder tool, you can quickly transform screen recordings into videos or insert Youtube or Vimeo links into your courses. The best part? You can get an overview of your team's training performance through the tool's built-in reports feature. This makes it easier for you to identify your team's pain points and help them improve their skills.
Cost: Starts at 89 USD per month
Key Features: 
Video-based course builder

Course progress and user activity reports

Youtube & Vimeo support
Call Center Training Software #8 – Thinkific
Thinkific is an online platform that gives you the power to customize training materials like courses and quizzes through its easy-to-use drag-and-drop editor. They also make it easy for you to schedule lessons and automate training content distribution.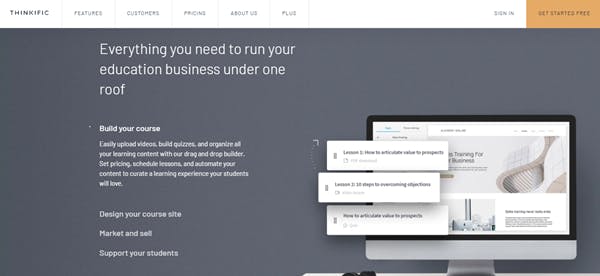 If you're looking for call center-specific training, worry not as they have a course library with over 100 million courses to choose from and these are available in more than 165 countries. One of its most unique features is its online learning communities, where learners can connect with one another, discuss specific topics, share concerns, and answer questions. 
Cost: Free plan, Paid plans start at 89 USD per month
Key Features: 
Call Center Training Software #9 – Brainshark
Another noteworthy call center training software on this list is Brainshark. Primarily, they offer an elearning library with courses that can help upskill client-facing employees like customer service representatives and sales agents.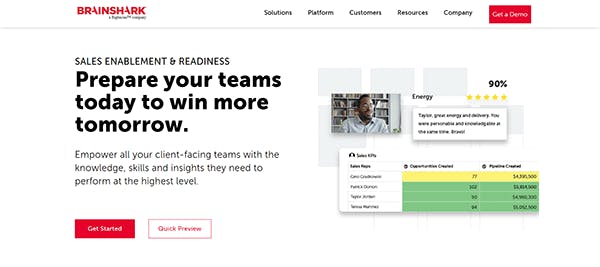 They also have tons of cool training features like a content creation tool that can help you design call center training materials. There's a readiness scorecard feature too, which is perfect for tracking your team members' progress. Their built-in virtual coaching tool allows you to communicate with your workers and roleplay call scenarios during instructor-led training, which can help develop their customer service skills. 
Cost: Request a demo
Key Features: 
eLearning library

Readiness scorecards

Content authoring

Virtual coaching tool
Call Center Training Software #10 – Trainual
If you've been scouring the web for the perfect training platform, then you might have already come across Trainual. It works well as a call center training software, allowing you to customize customer service elearning materials with the help of their free course templates for personalized learning. You'll even have the option of embedding videos, images, and multiple-choice questions into your courses but keep in mind that the platform doesn't support SCORM files.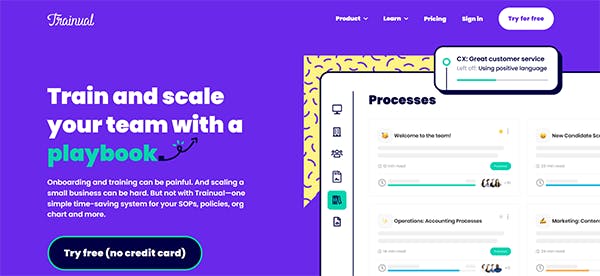 Trainual highlights the importance of documentation by giving you access to playbook templates, which can help make your call center training program more repeatable and scalable. This is highly important for customer service work, which requires standardized procedures to make sure clients are properly assisted.
Cost: Starts at 99 USD per month
Key Features: