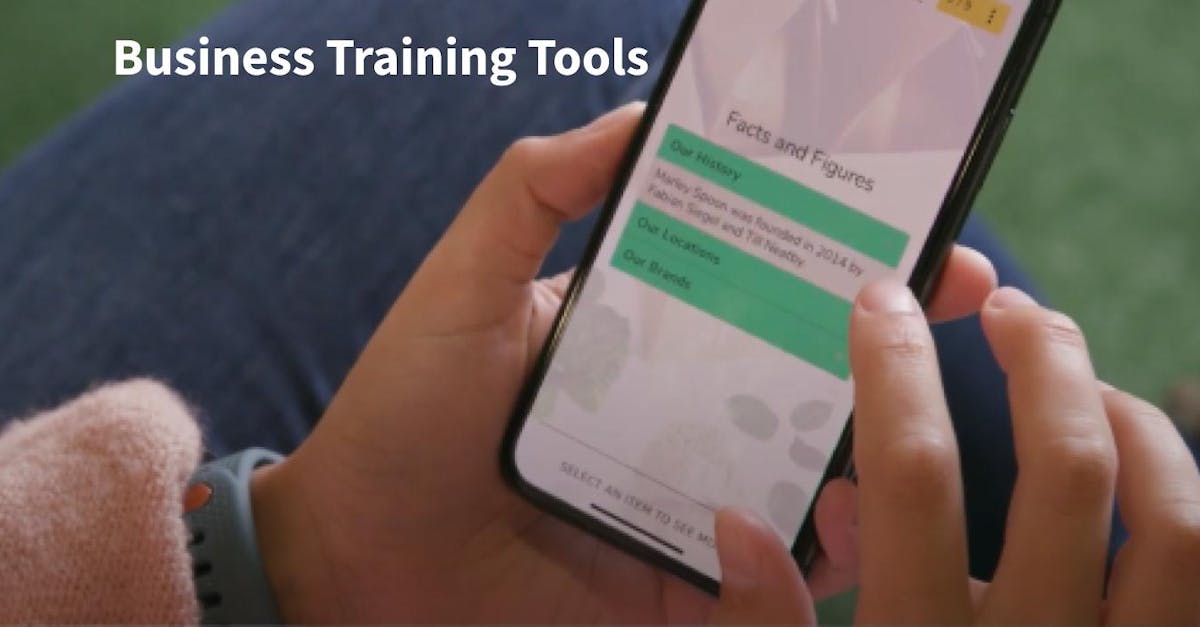 We've curated a list of business training tools that will help you streamline and simplify processes in honing the knowledge and skills of your employees. With features like authoring tools, engagement tools, analytics dashboards, and more, you can create high-impact learning that will result in improved performance in the workplace. 
1. EdApp
EdApp LMS is a SAAS business training tool with an adaptive and intuitive administration suite built for interactive online learning and easier learning management. To create corporate training materials, this platform offers a user-friendly SCORM authoring tool that contains interactive templates. It also includes Canva integration, allowing you to easily drag-and-drop graphic elements and create visually engaging courses. You can also access EdApp's free editable course library that allows you to customize learning courses or instantly deliver training to your learners.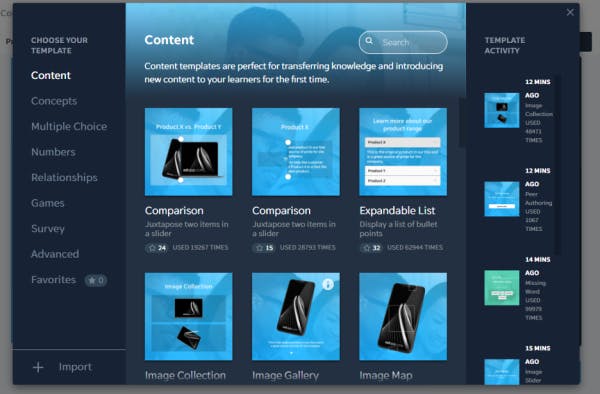 Aside from simplifying course creation, this learning management system also ensures that your courses are designed for increased engagement and retention. So, it adopted learning strategies like microlearning and gamification to improve the learning experience. With the microlearning approach, courses are presented in bite-sized modules that are focused only on key elements. This strategy is combined with gamification, which applies gaming elements to traditional eLearning. This means that learning with EdApp's microlessons feels like playing casual smartphone games, helping combat boredom and lack of motivation associated with a training program. When learning doesn't feel like another mundane task, gamified microlessons are proven to result in 90% (or higher) completion rates compared to typical eLearning courses.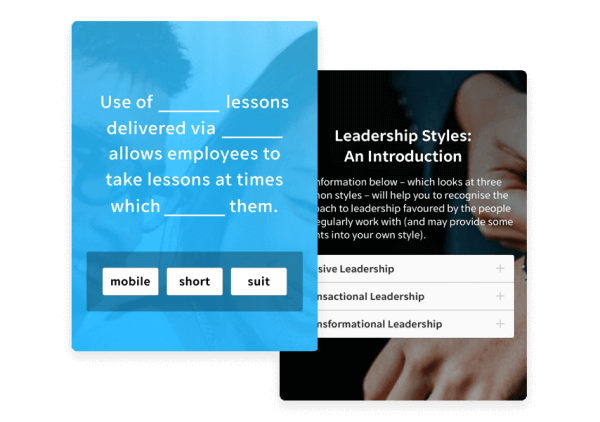 To further reinforce information from your business training, this learning platform also offers its Brain Boost feature. It's a system-automated quiz that automatically pulls questions from your lessons and creates personalized quizzes for each learner to check which information they've retained. You can also create standalone quizzes, whether as a pre-test or refresher quiz, with EdApp's quiz maker tool Rapid Refresh. And lastly, EdApp provides you with an analytics dashboard, actionable reports, and push notification features. These features enable you to have full control over user and course management, as well as have a comprehensive overview of the learning progress, 
Key features:
Authoring tool

Canva integration

Course library

Microlearning

Gamification

Brain Boost

Rapid Refresh

Content bundle

Analytics
Cost: Free
Sign Up for Free and use EdApp as your business training tool for free–forever!
2. Continu
Continu prides itself as a business training tool built for today's modern workforce. With its powerful course authoring tools and customer training tools, you can build courses and create compliance training and development tracks to suit each learner's needs. You can also tailor learning experiences through its Smart Segmentation feature, which allows you to filter by geography, department, or by using custom variables. This LMS also comes with custom reporting so you can fine-tune reports to gain insights on the performance of your employees. On the other hand, learners will have access to their unique dashboard so they can stay on top of their training and progress.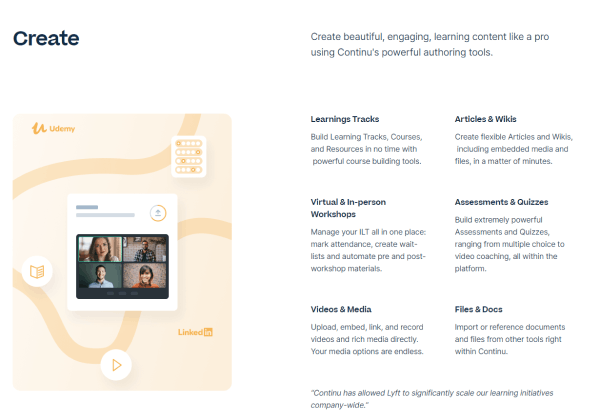 Key features:
Cost: Price available upon quote request
3. Accessplanit
Accessplanit is a one-stop business training tool that allows training providers to streamline and automate training processes while creating high-quality training materials and exceptional learning experiences for customers. With its course management feature, you can efficiently manage course and training events, may it be in-person learning sessions or eLearning, making it compatible with a blended learning strategy. As a platform designed to centralize all training operations, training providers are also given flexible training solutions in planning courses which include face-to-face sessions, webinars, virtual learning, and short courses for in-house training, public sessions, and employee sessions.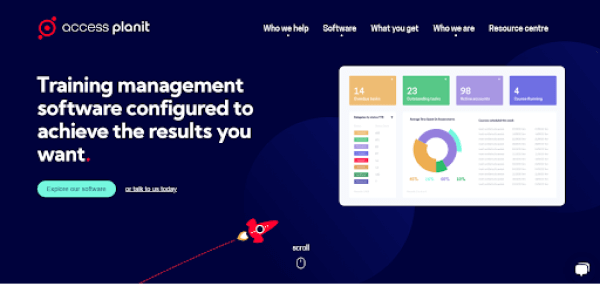 Key features:
Course management for the course and training events, such as face-to-face, web, eLearning, and blended learning 

Automation tools

Reports and analytics
Cost: Price available upon quote request
4. CoreAchieve
CoreAchieve is another enterprise training tool and that allows you to streamline content creation, compliance monitoring, as well as audio/video employee training. Developing professional training materials and managing online courses are two major purposes of this cloud-based LMS system. If you're looking for basic content, it can be easily tracked down by using filters, titles, categorization, tags, and descriptions. It also tries to make learning fun by awarding points and rewards to learners at the top of leaderboards. 
While this is an elearning software with fantastic features, it's not optimized for mobile learning, and the number of users is only limited per month.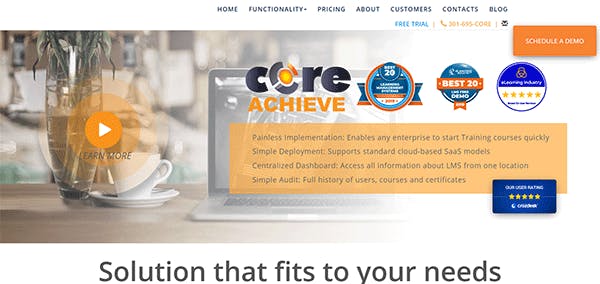 Key features:
Course management

Content creation

Rewards

Leaderboards
Cost: Starts at 99 USD per month
5. Edgagement
Edgagement is a training sotware that enables you to build gamified microlearning content, quizzes, and surveys through a simple drag and drop authoring tool. Even with little to no knowledge of graphic design, you can easily create interactive training materials with the help of over 15 game templates like Spin to Win, Fact or Fiction, Double Match, Connect the Dots, Jumble Pic, and many more. Edgagement also includes a data center that provides you with complete reports on game engagement, completion rates, and knowledge gains so that you can assess overall performance, address knowledge gaps, and optimize your training content for better results in the future.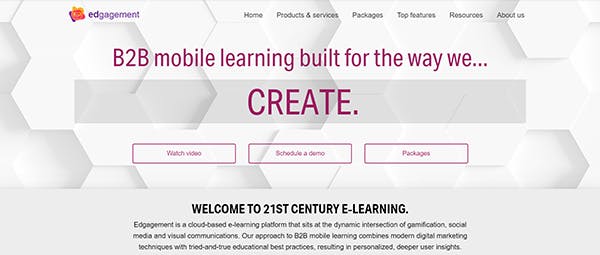 Key features: 
Cost: Price available upon quote request
6. 7taps
7taps is a browser-based training tool that enables you to deliver mobile-first microlearning experiences in just 7 taps. On this platform, you can simply create courses using templates. You can also add GIFs, soundbites and quizzes to improve engagement. Once done, you can share courses through a link, SMS, QR-code, or email. Learners don't even have to download any app or sign up to get started on their training. Even without these steps, you can still track and analyze the learning progress of your employees. You can also rest assured that its courses are optimized for mobile devices while also being adaptive to a desktop environment.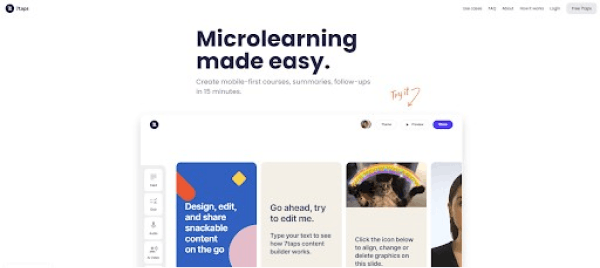 Key features: 
Cost: Free
7. Apty
Apty is a distance training software that aims to provide high-impact, remote employee training. It allows you to build and maintain training materials with ease through its code-free course editor and course management features. As a training platform, it helps team leaders provide on-demand, on-screen guidance, which is effective in enhancing the remote training experience. It also enables you to present training material to your learners in a step-by-step manner, as if they are guided closely by a trainer who is sitting next to them.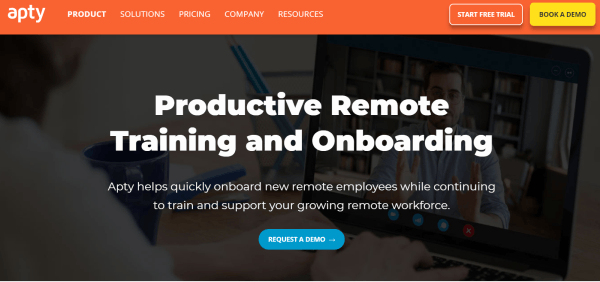 Key features:
On-screen guidance

Course management

Course authoring
Cost: Free
8. Kahoot!
Kahoot! is an online quiz maker that uses visually appealing gamification elements to maximize engagement and ensure higher completion rates among learners. This software delivers interactive games and quizzes for learners, which are uniquely called "Kahoots". These Kahoots are also accessible via a mobile app or a web browser. The best part is that they can be presented on a shared screen and answered by a group of "players" at the same time through any video conferencing platform. Alternatively, you can also set Kahoots as a self-paced challenge to be completed by each team member asynchronously. This platform also provides trainers with reporting and analytics so that knowledge gaps can be addressed and feedback can be provided.

Key features: 
Gamified quizzes

Live Kahoots

Asynchronous Kahoots

Multiple game templates
Cost: Free, Paid plans start at 7 USD (monthly)
9. Degreed
Degreed is a business training tool that's focused on upskilling or reskilling your employees – whether small or large-scale. It integrates skill analytics that gives you a holistic and measurable view of your employees' strengths and weaknesses. This platform also enables you to develop a strategy that aligns with the needs and career goals of your employees. Compared to other training tools for companies, its data-driven insights on skills and growth opportunities allow you to efficiently curate custom learning journeys for your employees delivered through courses, videos, books, articles, podcasts, and projects. Degreed not only goes beyond supporting you in developing training programs but also creates a dynamic opportunity marketplace that connects your workforce to projects, gigs, assignments, and jobs that equally matter for your teaching tools business.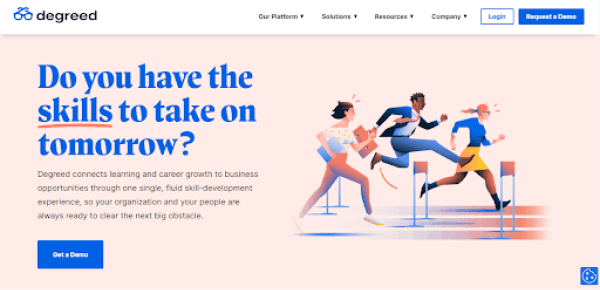 Key features:
Cost: Price available through a quote request
10. Arist
Arist is an innovative training platform that uses text-based learning to deploy training. Creating and sending a text course in Arist is as simple as composing a text message as you normally would. Text message courses are usually made up of an image, a 1,200-character explanation of a key concept, and an interactive assessment that is sent out daily for several weeks. 
While this is a great idea to combat learning barriers especially for those who don't have stable access to the internet, it can be quite limiting as it only has a maximum allowable number of characters per text message. Plus, unlike most business training tools, it lacks formatting options to deliver visually aesthetic and engaging content.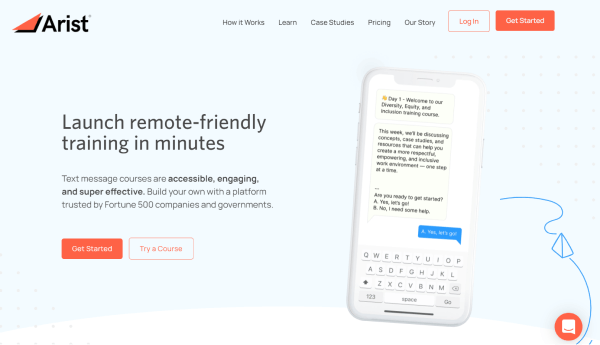 Key features:
Cost: Free and paid plans