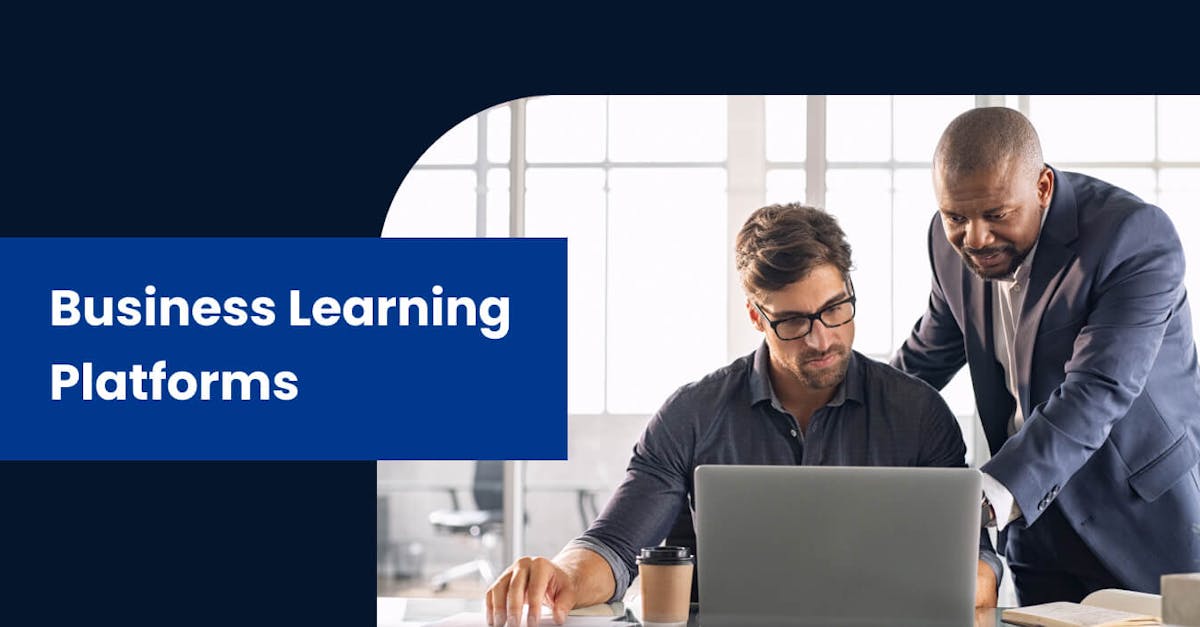 Training is essential for your business to thrive in today's competitive markets. That's why we've curated a list of the best business learning platforms and virtual learning platforms
to integrate into your learning and development programs. These online learning platforms for business contain features to help you create high-impact learning in your company.
1. EdApp
When it comes to business learning platforms, EdApp should be at the top of your list. It's an internationally-recognized corporate training platform that their customers stay loyal to for two reasons: it's free and delivers great training.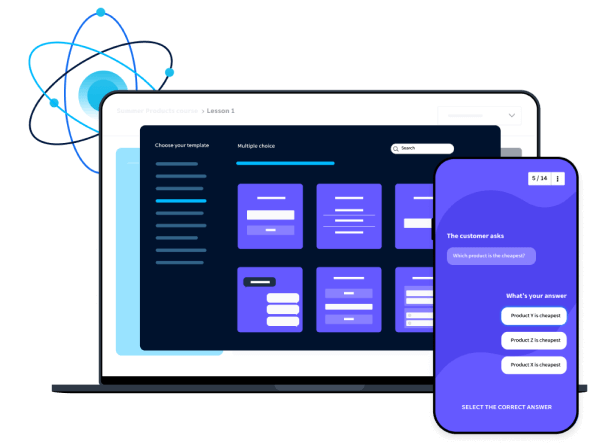 Their business learning courses found in the library are all customizable and ready to be shared with your teams. Some of the courses included are Communication in Project Management, Digital Marketing, and Client Value Creation. These courses cover topics such as why business plans are important and how to make your business stand out among the rest, among others.
If you can't find the training you're looking for in the library, you can also have training courses made just for you. Take advantage of EdApp's Course Creation services and work with an expert learning and development team to develop the best programs for your team. These custom-built courses are designed with the latest learning strategies in mind, which your team will absolutely love.
They also have plenty of cutting-edge learning and development features that you'd ordinarily only be able to access behind a paywall. These features include beginner-friendly authoring tools, multiple third-party integrations, and an easy-to-use LMS.
Cost: Free
Features:
Course library

Course Creation

Authoring tools

Third-party integrations

LMS
Create a better-performing business with EdApp today.
2. Continu
Continu takes pride in being a business learning platform designed for today's modern workforce. You can design courses and develop learning tracks to meet the needs of each learner using its strong course authoring tools and customer training features. You can also personalize their learning experiences with its Smart Segmentation tool, which allows you to select by region, department, or custom factors. This LMS also has custom reporting, allowing you to fine-tune reports to get insights into your employees' performance. Learners, on the other hand, would have access to their own dashboard where they could track their development.
Cost: Request a quote
Features:
3. Accessplanit
Accessplanit is a one-stop business learning platform that helps you optimize and automate training procedures while also producing high-quality training materials and providing great learning experiences to your learners. Its course administration feature lets you conveniently organize course and training activities, whether in-person or eLearning, making it fit great with a blended learning strategy.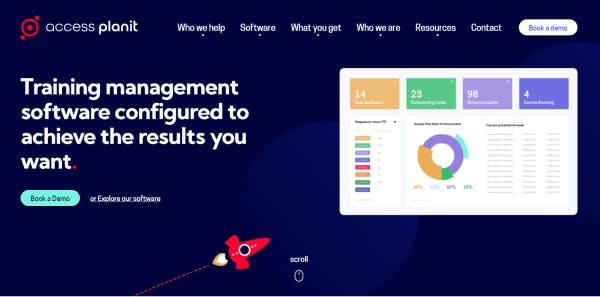 As a platform developed to consolidate all training operations, you're also equipped with flexible training alternatives in course preparation, such as face-to-face sessions, webinars, and mobile learning.
Cost: Request a quote
Features:
Course management

Automation tools

Reports and analytics
4. Edgagement
Edgagement is a business learning platform that lets you create gamified microlearning content using a simple drag-and-drop authoring tool. Even if you have little to no graphic design experience, you can simply develop interactive training materials using over 15 game templates such as Spin to Win, Fact or Fiction, Double Match, Jumble Pic, and many more.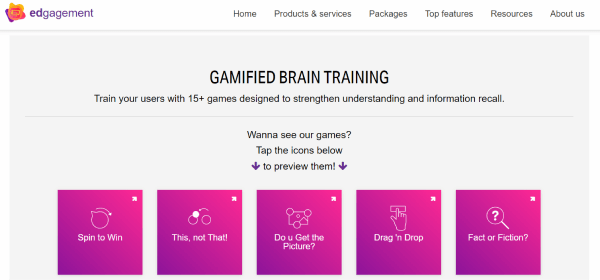 Edgagement also features a data center that gives comprehensive information on game engagement, completion rates, and knowledge gains, allowing you to monitor overall performance, rectify knowledge gaps, and improve your training content for improved future results.
Cost: Request a quote
Features:
5. Sharepoint
With SharePoint's business learning platform, anybody on your team can arrange and organize staff training programs like a pro. There are several templates to help you with everything from creating courses and organizing events to gathering employee feedback.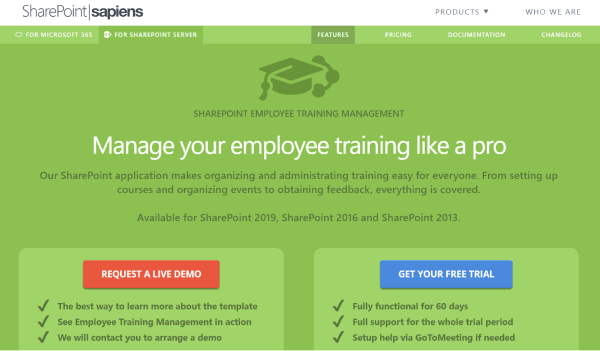 It also serves as an easy-to-use platform for creating training activities and keeping track of critical dates like course deadlines. Once done with the training, your learner's experience and new skill level are updated on the platform. This makes it easier for you to locate the ideal person for reorganization, like succession planning.
Cost: 4,799 USD
Features:
Training development and monitoring

Feedback collection and analysis

Accessible training history database
6. Kallidus
Kallidus' popularity has increased as a result of its cutting-edge learning platform and tools, which companies like yours will find useful and beneficial. For starters, they offer an intuitive course builder that helps you swiftly develop and update training content.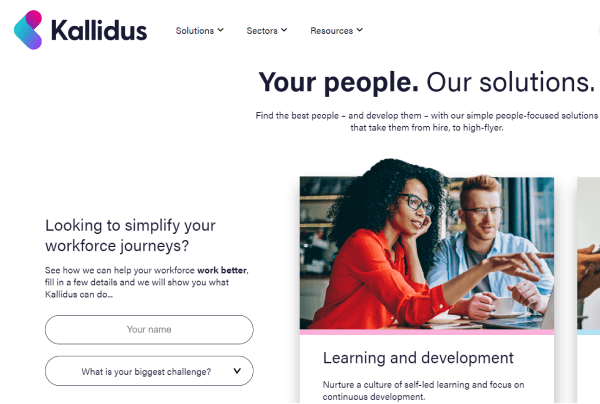 If your materials are already created, just upload them to the platform and transform them into an elearning course. This LMS can be customized to match your branding demands if you wish to add more customization to your training content.
Cost: Request a quote
Features:
Intuitive course builder

Customizable LMS
7. Whale
Whale is yet another business learning platform that was created for process documentation and employee training. It comes with an easy-to-use editor, customization options, and a number of templates to support you in creating a training playbook that can be quickly disseminated to your team.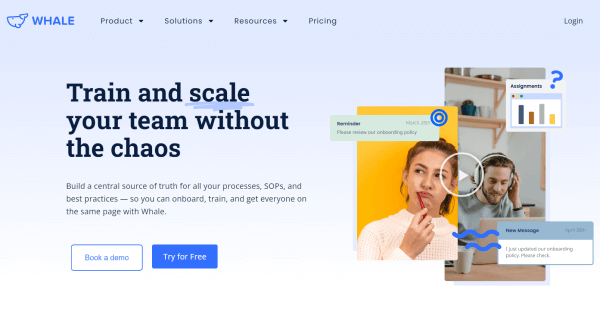 It offers learning through a plug-and-play browser extension that app users are already familiar with. They offer user skill profiles to identify employees who need extra training to achieve their goals or to learn certain skills in order to gather insight into employee performance.
Cost: 119 USD per month
Features:
Browser plugin

Knowledge insights

Custom integrations
8. V360E
V360E was initially designed for aviation instruction as a virtual-reality-based online training platform. Today, it's a highly interactive business learning platform for various physical and labor-intensive industries, such as healthcare, construction, and transportation.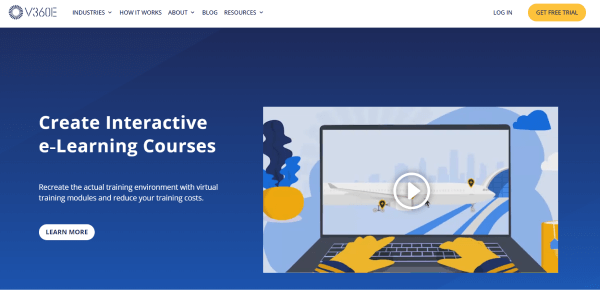 You can increase what they can learn by using a 360 panoramic photo or video, audio components, and supplementary text in a VR-based training session. Your learners can practice their expertise by using V360E's PC and elearning mobile apps to access online testing software. However, due to its restricted capabilities, you may need to discover alternative resources for more comprehensive instruction.
Cost: Request a quote
Features:
VR-based online training

Mobile access

Interactive test
9. Cloud Academy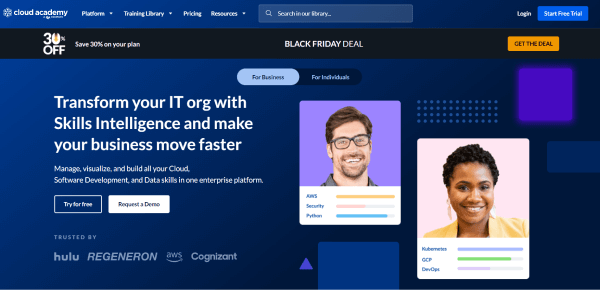 Cloud Academy is a business learning platform that produces more detailed and customized tech learning content for your team. You can use this web-based training platform by designing tests with pre-built questions and giving users access to a large content library on technological basics. This training tool also lets your learners access learning content even when they're offline. It also has a Cloud Roster feature that pushes users to master the most important skills required for their work duties.
Cost: Starts at 39 USD/user/month
Features:
Customizable exams

Training content library

Offline mode 
10. GoToTraining
GoToTraining is well-known for its innovative and engaging features, which can change your team's otherwise dull and demotivating training experience. It offers the most simple solutions guiding you before, during, and after learning sessions, from registration to information sharing, quizzes, and polls.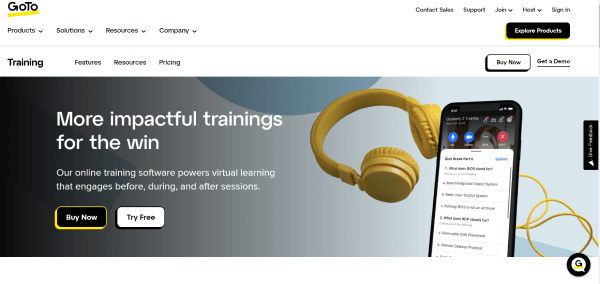 You can use this business learning platform to create bespoke registrations with customized questions before you begin building your course. The data can then be used to understand your learners' requirements and preferences, allowing you to pick and build the ideal training courses for them.
Cost: Starts at 109 USD/month
Features:
EdApp is a mobile learning management system designed for today's digital habits, delivering more engaging and effective micro-learning directly to learners anytime and anywhere.
Sign up for this business learning platform today.