When you have the right tools for training creation, you don't have to worry much about technical details or design issues, and can focus more on your content. To help you do the heavy lifting, we've listed the best tools to create in house training programmes for your internal training needs.
1. EdApp 
EdApp is an award-winning learning solution that's one of the best tools for creating in house training programmes. With its course creation tool, you'll have access to 80+ templates to enhance your learning with videos, images, quizzes, games, assessments, and more. No designer? No problem! Choose from hundreds of Canva templates and images to create graphics, video animation, and more without leaving EdApp.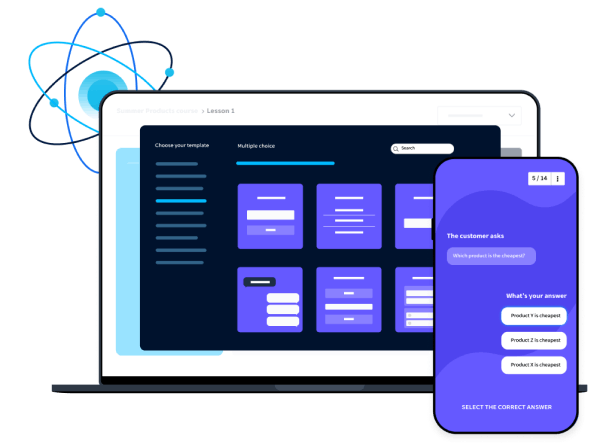 If you don't want to start from scratch or need a bit of inspiration, you can choose from the available courses in the content library and edit them as you wish. A PowerPoint converter is also available, allowing you to convert your existing PowerPoint decks to beautifully-designed microlessons. Since EdApp is SCORM-compatible, you can also import courses from other platforms, which is handy if you just need to update a few pieces of information in your current courses.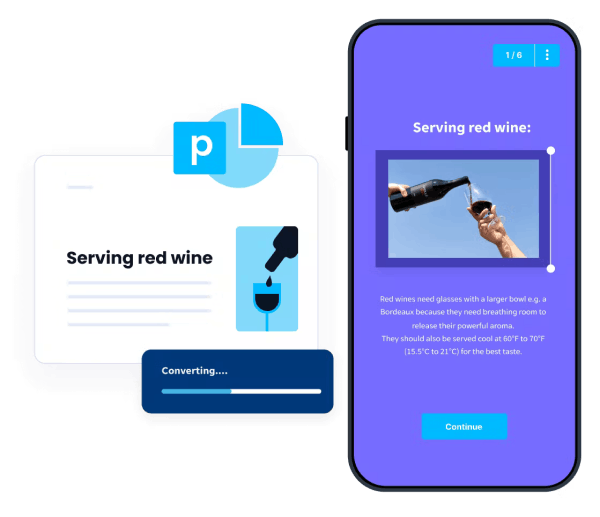 If you're really pressed for time though, EdApp's course creation services can come to the rescue. The power of a developer, designer, and training expert – all at your fingertips. You'll work with EdApp's customer success team and expert instructional designers to create impactful bite-sized courses.
Cost: Free
Key features:
Course creation tool

Canva integration

SCORM-compatible
Sign up for Free and Start Using the Best Tools to Create in House Training Programmes
2. AdaptiveU
Another great tool to create in house training is AdaptiveU. Here, creating lessons is a straightforward process, and lessons made can then be included in courses. Lessons and courses can be built with its simple, user-friendly editing tool where common media types can be added, including customized study material, videos, and audio podcasts. The home or start page can also be changed to be more tailored to your training.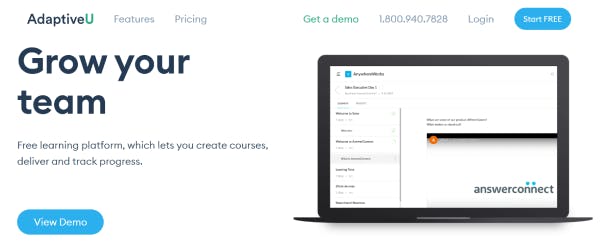 All your data is stored in the cloud so there's no need to worry about losing your files or needing access as long as you have an internet connection available.
Cost: Free, paid plans (starts at 25 USD/month)
Key features:
Editing tool

Multiple media types

Cloud storage
3. isEazy
With isEazy's robust cloud-based authoring tool, you can create high-quality courses, guides, and presentations. No technical design knowledge is needed because of its user-friendly interface and simple course development process. Translate courses, personalize your photos, and select from a variety of attractive slide designs and course layouts.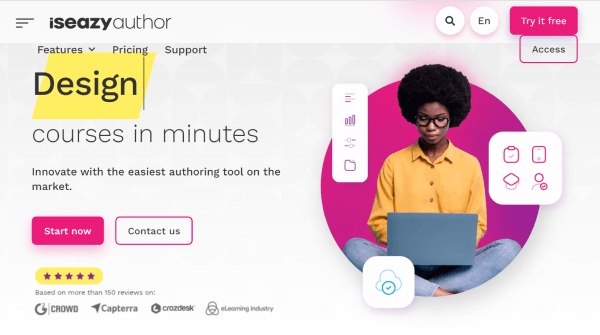 Additionally, you can include interactive components to your course, such as quizzes, catalogs, and timelines. However, courses produced with the free version contain an isEazy watermark. The collaboration tool is also a nifty feature that lets multiple users simultaneously edit a single course, making course deployment more quicker and efficient.
Cost: Free, paid plans (starts at 69€/month)
Key features:
Built-in authoring tool

Interactive elements

Collaboration
4. 7taps
7taps promises users that they'll be able to create meaningful mini-courses in just 15 minutes. You can enter text, and add videos, quizzes, questions, and more to the predesigned canvas with different themes to choose from. Its authoring tool is its strongest suite as there's practically no learning curve and is easy to use even for first-time users.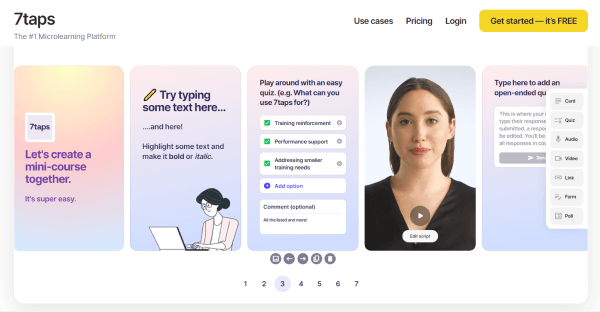 7taps also has a built-in framework to guide you on how to create a training program. As a microlearning LMS, this ensures that your courses are easy to digest.
Cost: Free, paid plans (starts at 84 USD/month)
Key features:
5. ArcLab
If you're looking to create on-demand, bite-sized mobile training programs, ArcLab might be a good option to consider. It has ready-made Nano Learning templates that you can use to easily create courses for your in house training. There's so much you can add and include when creating your modules.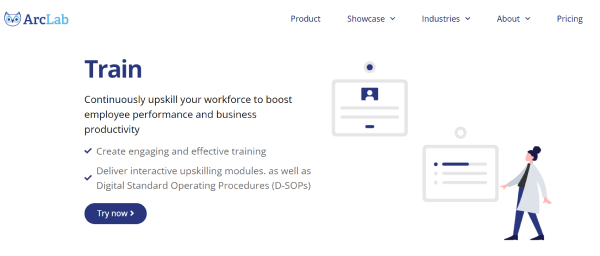 There are different types of screens, such as multiple choice, word unscramble, open-ended questions, and more. If you're feeling a bit creative, you can tweak the color, background, themes, and more. If you have a global workforce, ArcLab SmartTranslate will automatically translate the content in your modules into any language in just seconds.
Cost: Free, paid plans (starts at 4 USD/learner/month)
Key features:
Ready-made templates

Multiple screen types

SmartTranslate tool
6. CourseLab
Another free authoring tool for creating interactive courses is CourseLab. It can be used to create different types of training programs thanks to the many options it offers. Here, you can create slide-based courses with pictures, movies, intricate multi-object interactions, and quizzes. You can also take advantage of CourseLab's collection of eLearning templates. One downside though is that this tool can be quite difficult to use for those unfamiliar with the platform because it isn't as intuitive as others.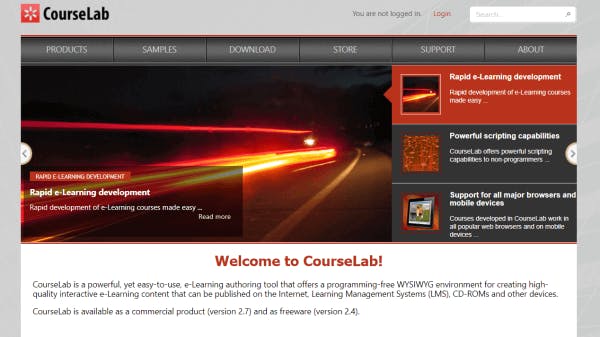 Cost: Free
Key features:
Built-in authoring tool

Rich media options

eLearning templates
7. Evolve
With Evolve, creating and managing inhouse training programmes is quick and simple. You can create content using Evolve interactions, which work like building blocks for your courses. These interactions allow you to combine different elements like flip cards, carousels, flow charts, sliders, responsive tables, and more. To make sure your courses are in line with your branding, you can edit colors, fonts, styles, and themes, or use additional design tools like Canva or Picsart to remove background, use predefined templates, etc.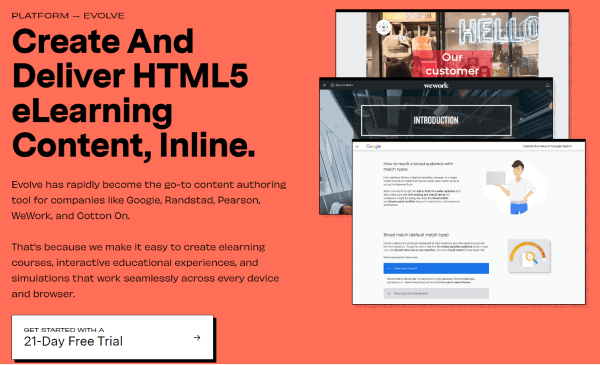 Another great feature of Evolve is that it has a resource hub with training videos and workshops to help both new and seasoned L&D professionals in their training creation journey.
Cost: Available upon request
Key features:
Evolve interactions

Resource hub

Whitelabelling
8. Coassemble
Coassemble is another one of the best tools to create in house training programmes thanks to its intuitive course builder. It simplifies creating lessons with its numerous screen templates that support different media types and interactive elements. It also lets you convert your existing presentations, PDFs, and documents into interactive and engaging online courses. Additionally, pop quizzes or activity-based challenges can be used to gauge how well your employees retain knowledge.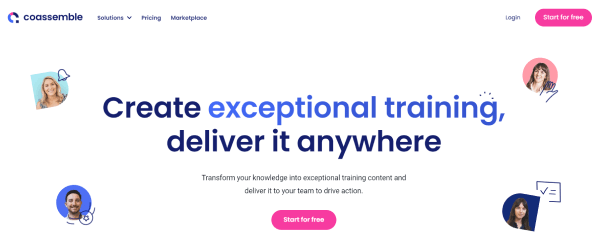 Cost: Starts at 50 USD/month
Key features:
Screen templates

Multiple media types

Course conversion
9. dominKnow
dominKnow is an all-in-one cloud-based training software with its own course designer. It allows real-time team collaboration during the creation of learning materials, which makes it an efficient process. Using a variety of templates and digital assets, you can create interactive content that's responsive on any device. Additionally, it has translation and localization features that let you select from over 50 languages to translate content for your employees from specific regions.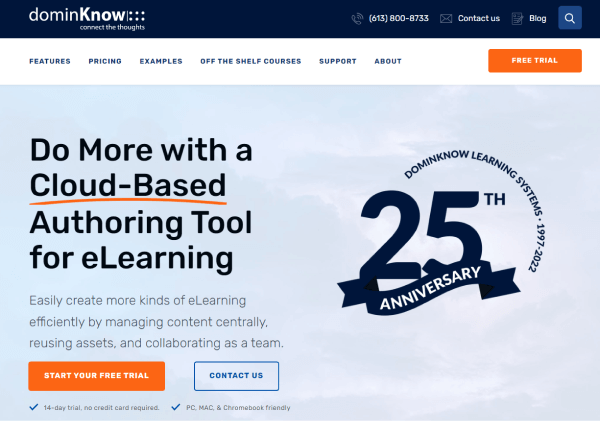 Cost: 97 USD/author/monthly
Key features:
10. Elucidat
Last but not least is Elucidat, which also makes our list of the best tools to create in house training programmes because of its ease of use. To create high-quality training, you can either start from scratch or take advantage of their 25+ pre-built templates. Their authoring tool will also make recommendations for instructional strategies, such as what template to use based on your goals and objectives.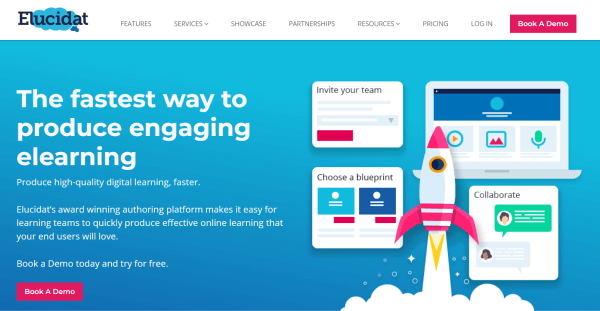 You can also edit colors, fonts, and logos and save them as Styles if you want to reuse them for other lessons or courses. Elucidat also lets you add different types of content, such as audio, video, flashcards, quizzes, and more. 
Cost: Available upon request
Key features: