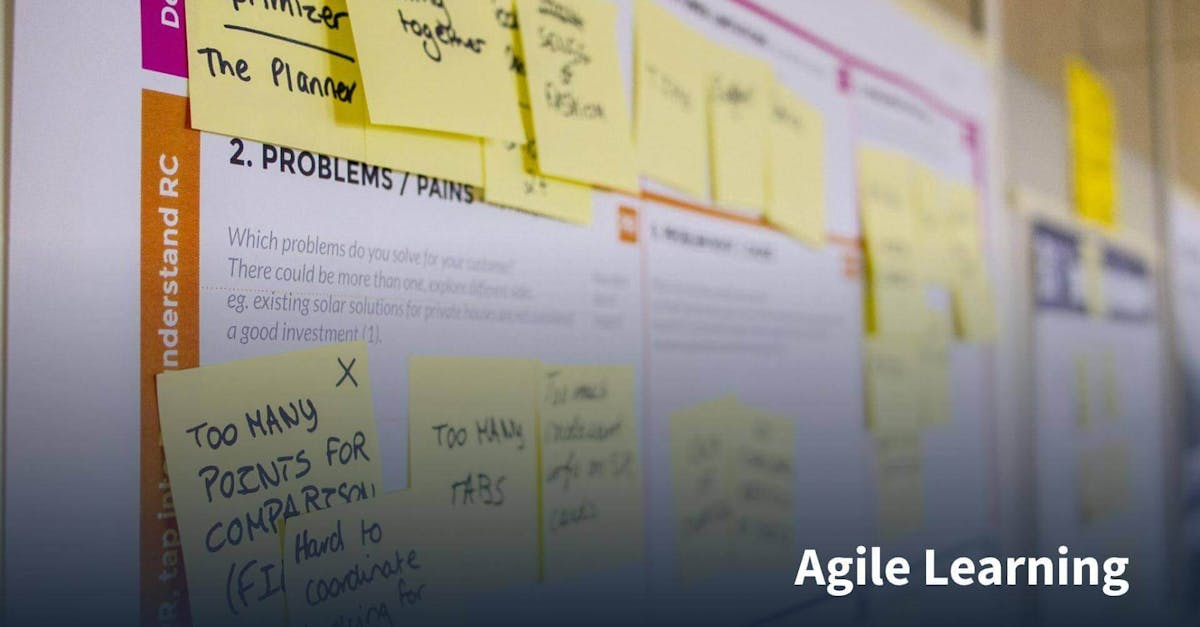 If your organization uses Agile methods in project management or software development, then you should consider applying the same values to employee training and pursue Agile learning. Implementing Agile to learning can benefit your company, leading to increased work productivity and client or stakeholder satisfaction. Uncover how Agile learning can improve your training processes and learning experiences below. 
What is Agile Learning?
Agile learning is the adoption of Agile principles for learning and training program development. Learning happens in incremental steps that alternate between phases of learning and doing work through an iterative design process. Continuous feedback is given and received throughout each completed iteration.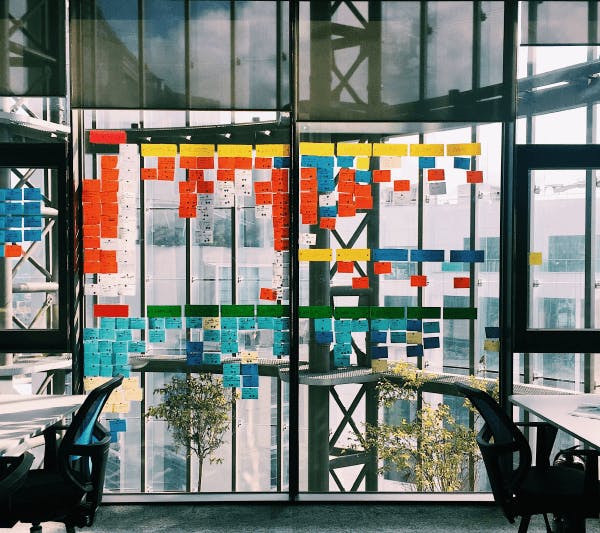 The Agile learning approach also focuses on improving speed, flexibility, and collaboration. Training programs such as lean training courses can be released faster and learners can get used to Agile environments and project management. 
Benefits of Agile Learning
Agile learning can bring a lot of advantages to your organization. The pace of today's corporate climate is very fast, so it's important that training programs are distributed and your workers apply their learning to their jobs quicker. Here are some of the most valuable benefits you can gain when you create training programs with Agile methods in mind. 
Responds flexibly to changes
When it comes to corporate projects, nothing is final or "set in stone". Even lessons and assessments in training programs can be updated to reflect changes in information and policies. Agile learning helps agile teams better accommodate changes through frequent iterations. Learning is continuous and after each application of learning, there will always be new areas to work on and focus on. 
Increases feedback opportunities
In Agile environments and project management, feedback is always given and received to further improve products, decrease product backlog, and satisfy customers. Similarly, feedback opportunities in learning can also be used to improve learning content and training programs. With the Agile manifesto, learners and trainers would receive feedback after each stage or lesson in the training process.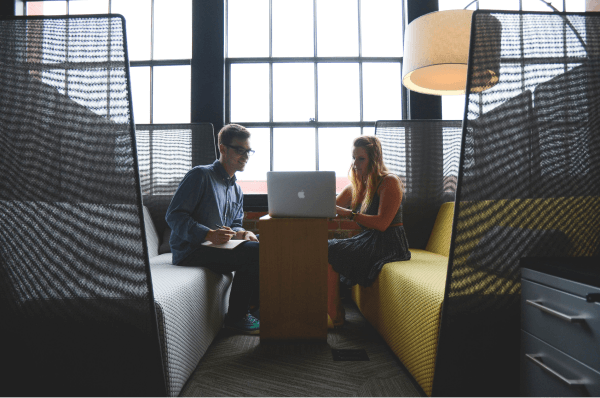 Reduces gaps and risks
The more feedback opportunities there are, the greater the visibility of weak points and knowledge gaps. Because of the continuous learning and progressive feedback of learners and trainers at each iteration, errors and misunderstandings can be caught and addressed in real-time. This can greatly help reduce the number of backlog piling up, mistakes happening, or the probability of risks occurring in lessons and projects.  
Supports rapid development
Agile project management has work being done in short bursts called "sprints". This can also be applied in training programs. By applying incremental learning, long-form lessons can be broken down into smaller, more digestible chunks of information. This gives learners a sense of instant gratification with each lesson they finish. With no lengthy learning cycles, you, as a manager or scrum master, can encourage higher interactivity and increased information retention with your training programs. 
Promotes collaboration and communication
Fundamentally, Agile is a collaborative process. It encourages the sharing of ideas, solutions, and Agile practices that can help create better ways of working. Increasing collaboration and communication among your workers can lead to fewer misunderstandings and greater team cohesion among members. It also makes reacting to changes easier, tying together all the benefits of Agile learning.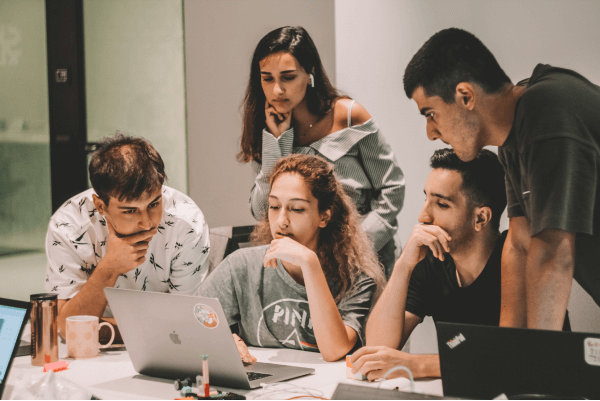 Agile Learning Process
There is no definitive step-by-step process or singularly defined approach to Agile learning. You can apply Agile in different ways when it comes to your learning design process. In this section, you will learn which approach works best for you when it comes to creating courseware and training programs.   
Successive Approximation Model (SAM)
The Successive Approximation Model, developed by Allen Interactions, is an Agile version of the traditional instructional design model, ADDIE. There are two versions of SAM: SAM1 and SAM2.
SAM1 is used in creating smaller and shorter courseware or quick course updates and starts with the three phases: evaluate, design, and develop. This method gives all team members the opportunity to share ideas, discuss assumptions, and conduct early prototype testing to get feedback and to get to the final product quicker.
However, SAM1 can be too simplistic for more significant training programs, that's why there's SAM2. With SAM2, there are eight steps across the preparation, iterative design, and iterative development phases. The steps retain the iterative nature of SAM1 while providing more structure for complicated situations. SAM2 helps you keep things organized while maintaining collaborative efforts, rapid design, and continuous refinement of the program.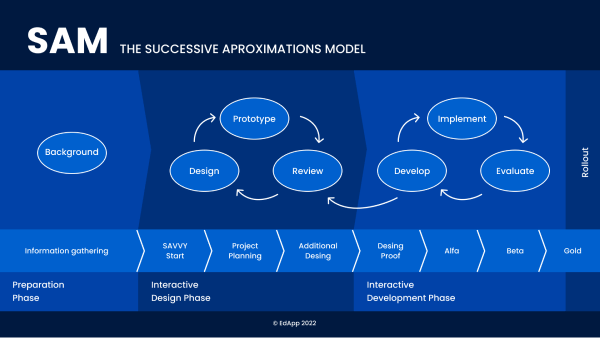 Rapid Content Development (RCD)
Also known as rapid elearning, RCD consists of a preparation phase, an iterative design, and the use of reusable templates and rapid authoring tools for quick execution of learning programs. Subject matter experts typically are the ones in charge of creating the learning content and the course design process can last from up to 2-3 weeks.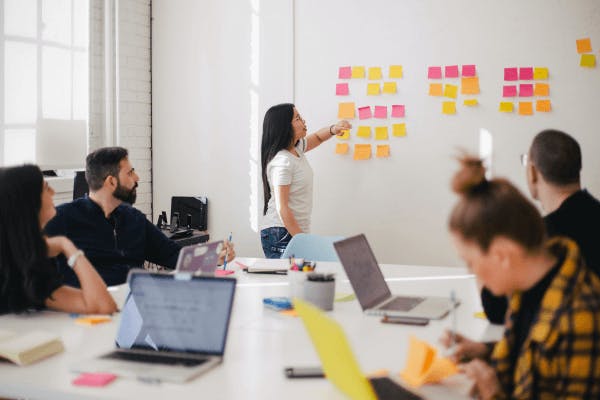 While this model is too simple for complex course design, it's typically used in creating standardized designed courses. This Agile process allows L&D teams to no longer rely heavily on SMEs to create the learning content for them. This means that learning is delivered before or as they are required.
AGILE 
AGILE is an acronym that stands for Align, Get Set, Iterate, Leverage, and Evaluate. Developed by Conrad Gottfredson, it further explains the values of the Agile methodology, user-stories, Kanban methodology, Scrum framework, and development methodology, and puts a spotlight on what makes Agile unique in learning and training development. 
Align – Defining objectives and goals

Get Set – Creating a plan for how the learning process should develop

Iterate – Implementing objectives and goals by following through with the plan

Leverage – Gathering feedback and data after each iteration

Evaluate – Analyzing data from the implementation and feeding that information back into the process to improve every new iteration
AGILE is one of the more complex models of Agile learning, but it's also one of the most developed and structured. Apply this model for more complex Agile processes and programs. If you want to learn more, take advantage of non-profit organizations like Agile Alliance, which are dedicated to helping organizations and individuals understand and apply the principles of the Agile methodology.
Lot Like Agile Management Approach (LLAMA)
This approach was developed by Megan Torrance in her learning solutions company, TorranceLearning. LLAMA focuses on quick iterations to increase speed to market and quality of the end product, which is your courseware or training program. LLAMA also has a core focus on Agile project management. It's not just about the course design process and Agile learning. It's also about other aspects like requirements gathering and collaboration with SMEs.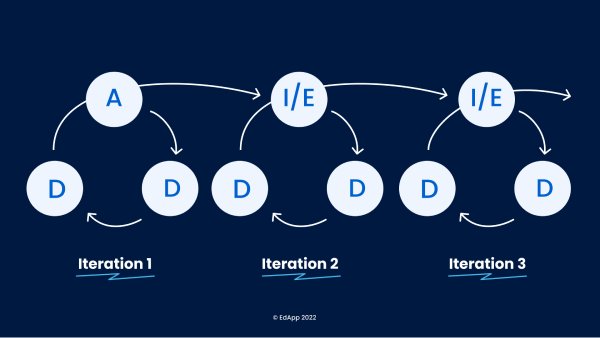 This iterative approach can lead to a workable program that's often released early and often. Similarly, there is constant learning and improvement based on real-world feedback and faster identification of errors in assumptions. It also allows for easier short-term program cost and timeline estimations. 
Building an Agile learning culture in the workplace
When it comes to building an Agile learning culture in your organization, the ability to rapidly develop and roll out large volumes of highly complex training is essential. The faster your learners can take and complete their courses, the faster they can apply their learning to their roles and reevaluate their training. In this section, your L&D team can learn how to leverage superior elearning authoring software to set a foundation for Agile learning by rapidly distributing high-quality training programs and materials at scale.
Use EdApp to develop your Agile learning content
EdApp is an award-winning learning management system (LMS) that can support your learning content creation with its built-in authoring tool, course library, and lesson slide templates. You can even convert existing PowerPoint slides and turn them into interactive, mobile courses. Take advantage of these features to further encourage Agile learning.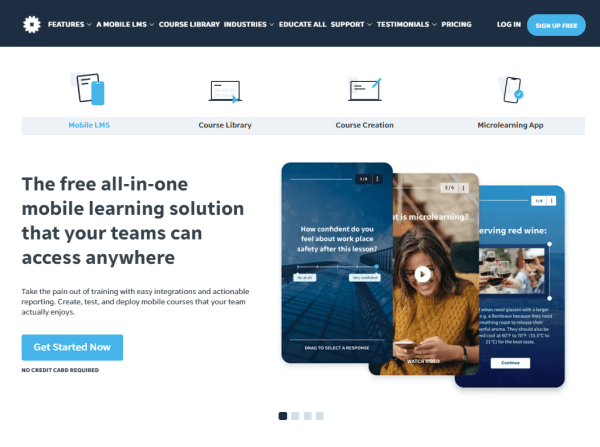 Microlearning App
Microlearning is a type of learning that breaks down long-form information into topical, bite-sized chunks. By taking lessons in bursts, courses become much easier to digest, and the likelihood of information retention increases. Microlearning supports Agile methodology because its fast, precise, flexible, and can be used to fill in knowledge gaps as needed. With EdApp's mobile-first microlearning courses, employees can take their training anytime and anywhere at their convenience. 
Spaced Repetition with Brain Boost
There are many spaced repetition websites out there but EdApp has its own spaced repetition tool with Brain Boost. It helps learners retain new information for longer with automatically generated, personalized follow-up quizzes. Not only does Brain Boost quiz them on things they got right in their lessons, but it will also quiz them on things they got wrong more frequently and in iterations. You can use this to help keep track of learner progress and monitor for learning gaps.
Survey and Discussion
EdApp allows for more feedback opportunities with its survey and discussion features, which is exactly what you want with Agile learning and lean training courses. You can include up to four different types of survey slides at the end of your lessons or course. With this, you can immediately receive feedback about the lesson and how your learners may have felt about the course in real-time. They can even share their thoughts with others through the discussion feature. This allows instant peer learning and communication, which is one of the benefits of online learning.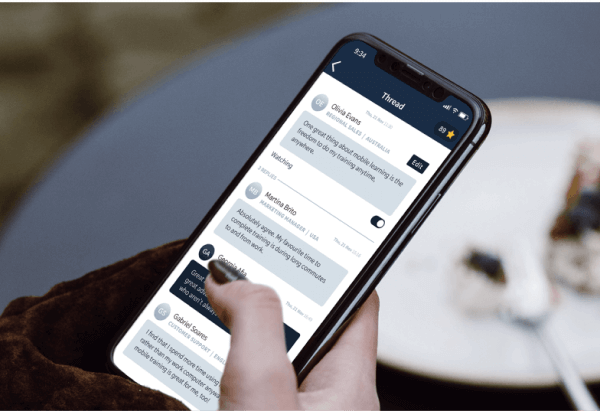 Sign up for free and experience even more benefits of Agile learning today!