A vocabulary quiz maker helps you in authoring and setting up interactive quizzes online to expand your learner's vocabulary. Vocabulary quiz makers are important to get your team completely knowledgeable on the jargon and terms necessary for smooth day-to-day work interactions. Here're the top 5 quiz creators we think you'll like best.
What is a vocabulary test?
A vocabulary test is a method for assessing someone's vocabulary and comprehension of words and their meanings. It usually entails giving the test-taker a list of terms and their definitions, then asking them to match each word with the appropriate definition.
1. EdApp
Certain jobs require people to learn job-specific jargon to make their day-to-day work interactions smoother. As their learning and development manager, it's your responsibility to make sure that they know what they need to know. To do that, you need software you can rely on to get you from creating instructional materials, creating the vocabulary quizzes, and delivering them asap to your learners.
The best free SCORM and vocabulary quiz maker on the market is EdApp. With this vocabulary quiz maker, you can improve your employee's learning experience with a two-pronged approach to make sure that they remember.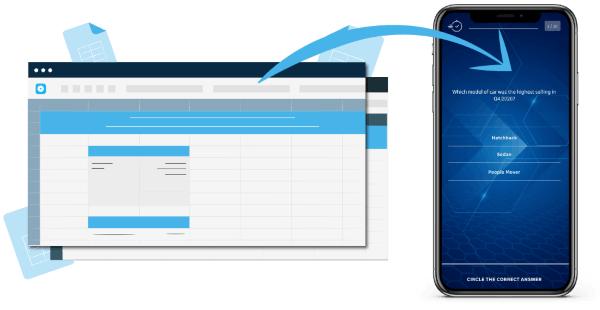 First, the Brain Boost feature takes advantage of spaced repetition. With spaced repetition, your learners take vocabulary quizzes at increasing difficulty levels to have better retention. With this feature, you can even randomize and personalize questions for each learner.
The second step is to create interactive quizzes with Rapid Refresh, EdApp's revolutionary quiz maker. With Rapid Refresh, you can convert your questions from the spreadsheet into engaging quizzes within minutes. The online vocabulary word test can be delivered at any time you set and choose. You can also use the test results to analyze whether the quizzes were effective or not. To spice up your online quizzes, you can also take advantage of EdApp's leaderboard feature to foster some friendly competition.
Price: Free
Features: Spaced repetition, Rapid Refresh quiz maker, user analytics, automated delivery, automatic grading, leaderboards
Sign up for Free and Start Using The Best Vocabulary Quiz Maker
2. Typeform
Typeform is a vocabulary quiz maker that allows users to use their customizable templates to create vocabulary quizzes for a variety of groups including workers, students, and more. The learning management system is good because it allows you to boost engagement by customizing branding, including backgrounds, Google fonts, colors, buttons, and more. You can add media content to your vocabulary quizzes such as videos, icons, and images or you can use your own. You should be able to create a free vocabulary quiz just the way you want them with zero coding knowledge. The drag and drop builder makes it super easy to create quizzes in minutes and in addition to that, the platform supports integration with Google Sheets, Salesforce, Slack, Google Analytics, Zapier, and Hubspot.  Typeform is great but you will need to run it alongside another platform that facilitates learning before you start testing knowledge.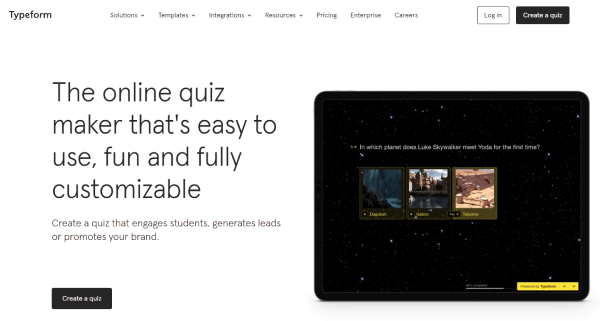 Price: 5-83/month
Features: Test maker, survey maker, form maker, customization, integration
3. Flexiquiz
Flexiquiz is one of the easiest-to-use online vocabulary quiz makers on the market. You can even try it out before signing up which is one of the unique features of this platform. Like most quiz makers, Flexiquiz allows you to create your vocabulary tests in a variety of formats. That includes multiple choice questions, fill-in-the-blank, dropdown, radio button, short-answer quiz questions, and more. After you have finished creating your quiz, you can disperse it to your team or make it available to the entire organization. The service also comes with a reports feature for you to analyze the results of the quiz in order to make adjustments where necessary. Flexiquiz allows you to schedule your tests, and create custom email invitations to specific team members. Your online exams can even be automatically graded to lessen your workload. The platform supports mobile devices so your team can access the test materials anywhere they are. Speaking of materials, you can also create your tests with videos and images.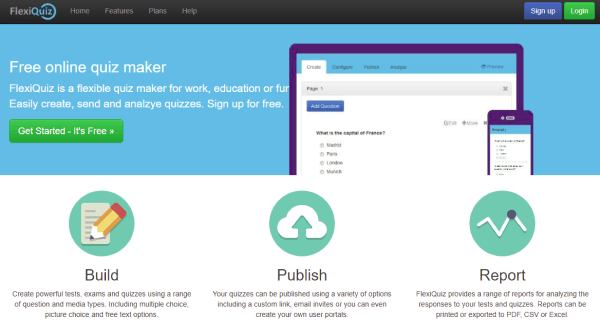 Price: 5-0/month
Features: Auto-grading, powerful reports, test scheduling, public and private tests, custom email invites, mobile-ready, multiple question types, SSL encryption, PDF reports, advanced configuration options, timed tests, respondent accounts
4. Opinion Stage
Opinion Stage is another easy-to-use quiz maker that will run on any of your devices. Trainers can make a variety of quizzes for their training program based on what they think will engage the workers most. One option is picture questions that use images to show objects or situations to go with a question. You can also opt to use Synonym Questions which prompt the learner to pick a word that is closest in meaning to the given word. Another option available when you make a quiz is Fill in the Blanks and Multiple Choice. Remember that vocabulary quizzes can also include questions or statements that need to be completed by understanding and choosing the correct word. The opposite of synonyms, antonyms, also works when teaching vocabulary. If your learners can understand a word and its antonym, they will become easier to remember. Opinion Stage has a lot of useful features for both educators and learners, but it also has significant drawbacks such as its limitation of only being available in English.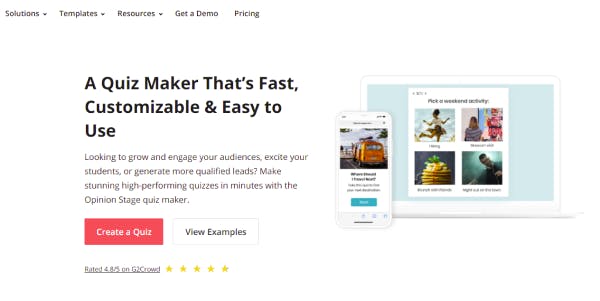 Price: /bin/sh-99/month
Features: Multiple quiz options, mobile compatible, customization
5. Aidaform
Aidaform is a platform with many quiz templates that you can utilize to build your vocabulary quiz. With Aidaform you will be able to create a dedicated vocabulary test collection for multiple use scenarios. The tests will have a reveal answers option at the end that will help facilitate learning for your team. It also comes with an automatic score calculation feature that calculates and automatically displays scores at the end of quizzes. The expert features of the platform can also be used as lead generators for your business. In addition to all of that, a nice touch from the platform is the option to say thank you and offer other courses, quizzes, or additional resources that your learners can go to after taking a quiz. Unfortunately, this learning environment platform isn't free and could cost a lot each year.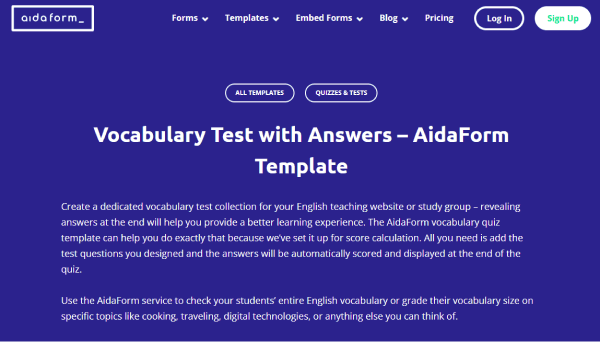 Price: -0/month
Features: E-signature, file upload, stripe & PayPal payments, subscription sales via Stripe, formulas, calculations, quiz scoring
6. Kahoot! 
Kahoot! is a popular game tool that you can also use to create gamified spelling and vocabulary tests that your learners can easily take using their hand-held devices. What sets this tool apart from its competitors is the Quiz+Audio feature where you can easily add audio to questions. All you need to do is type a short text, and then the text-to-speech bot will read aloud these texts to the players. This feature is particularly useful if you're teaching vocabulary. 

Kahoot! can recognize up to 37 languages apart from English, like Arabic, Bulgarian, Catalan, and Chinese. The only downside is that this vocabulary quiz feature isn't free. You can only gain access if you subscribe to their Kahoot! Premium, Premium+ and EDU plans. 
Price: Starts at 3 USD per teacher per month
Features: Quiz+Audio feature, text-to-speech service, gamified tests
7. Quizlet
Quizlet's signature flashcard feature can present your vocabulary test in the form of fun flashcards. There's a library of pre-made flashcards available, although you can always create your own from scratch. The best part? You can even add audio and visual content. This feature is particularly useful when teaching a group of visual learners who learn better when presented with images and graphics. 
If you want to step up your vocabulary test, there's a range of game-style tests that you can also use. There are timed guests, adaptive questions, and practice tests. Quizlet does have a free version, but quiz customization can only be accessed if you subscribe to their monthly plan. 
Price: Free; paid plans available
Features: Flashcard feature, pre-made flashcards, authoring tool, game-style tests