Sales enablement apps are used to help your sales team from the start of the sales process all the way through the end. These apps help you to train your sales force, gather potential customers and guide your team to close sales. Sales enablement apps are important as they will boost revenue and help to grow your business. We've listed 5 sales enablement apps that you and your teams can use to implement your sales strategy and achieve your sales goals.
Sales Enablement App #1 – EdApp
Not all customers, products, and marketplaces are the same so it is in your best interest to get a sales enablement app that allows you the ability to create flexible, tailor-made sales training material, so your sales team can continuously adapt. EdApp, a mobile-first app, utilizes gamification techniques that are sure to keep your sales team engaged throughout courses to ensure that they learn enough to execute their sales strategies properly. You even have an opportunity to keep your sales team sharp by having micro-learning lessons delivered to them in a timely manner and then test their understanding with quizzes that utilize spaced repetition. All of this is trackable through analytics and reports so you will never miss a beat. If your sales force is based internationally, you can deliver content in multiple languages with its intuitive AI translation tool.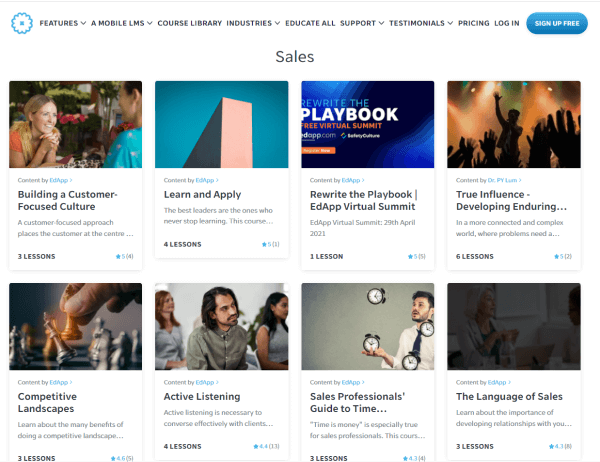 Price: Free
Features: LMS, Authoring Tool, Editable Content Library, Spaced Repetition, Mobile Learning, Microlearning, Rapid refresh, Elearning Gamification, Active Learning
Sales Enablement App #2 – Reply
Reply is a sales enablement app that is ideal for entrepreneurs who need help with organizing their sales strategy. The app is useful for identifying sales prospects and it's great for outreach, especially with its email search feature. The platform also has a browser extension feature that makes it easy to reach potential clients on sites like Linkedin by identifying them and then adding their contact details to your system. You have the option to create the sequence in which your potential clients are contacted such as manual emails or calls, but you can also automate the entire process. Keep in mind that the platform could get pricy when used for a large team.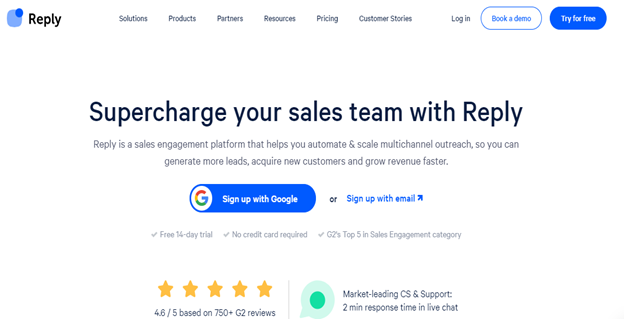 Price: $55-$90
Features: performance stats, checklists, Unlimited email searches via LinkedIn, built-in dialler, create workflows
Sales Enablement App #3 – Membrain
Membrain is a sales enablement app that has a CRM dedicated to sales. The platform is aimed at improving sales for companies involved in B2B sales and will guide your team through the entire sales process, so no problem even with complicated sales. You will have the option to store sales contacts directly to the Membrain CRM plus you get the option to create additional fields for more data such as email, website, or any other thing you want. The intuitive software helps you to identify your best customers and guides your sales team to improve relationships through better customer understanding and executing growth plans. However, you may have to use a separate software to provide additional training materials to your sales team.
Price: Upwards of $19/month
Features: Prospecting, Opportunities, Active Pipeline, CRM, Add-On Modules, Integrations, Android and iOS, Agenda Overview, Salesforce Integration, Opportunity Management, Bi-Directional Sync, Sales Analytics
Sales Enablement App #4 – Process Street
The Process Street app can be used to follow up with previously generated leads, send out valuable welcome packages to newly acquired clients, and schedule meetings, which are important things that can be used to grow sales. You can also get your team involved with this app by creating sales checklists from templates with the platform's drag and drop feature then assigning them to your team. You can keep track of completed tasks with the embedded progress bar and task-by-task notifications. Process Street is integrated with Zapier so you have connections to over 1000 platforms. The platform is great but we're sure you'd also like it if you could use such a wonderful platform to also train your sales staff.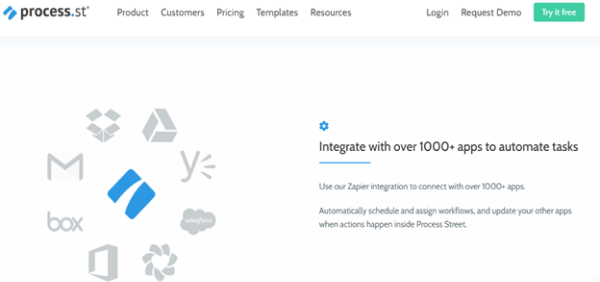 Price: $25-custom pricing
Features: Conditional logic, assignments, Zapier integration, approval system, checklists, track progress, collaborate with colleagues, Automation
Sales Enablement App #5 – LevelEleven
Sales require a lot from the people involved, as much as from the tools at their disposal. LevelEleven recognizes this and approaches sales enablement from the angle of improving your sales team as individuals. It uses three pillars to accomplish this—Motivate, Engage, and Coach. For the coaching aspect, you can develop your sales team with actionable feedback and customizable templates all in one location. Boost employee engagement and get them focused on customer experience and other behaviors that will drive sales. You can use the feedback feature of LevelEleven to course-correct and keep your team on the best growth path. The final pillar, Motivate, is often seen as the most important. Motivate your sales team by using the platform to create healthy sales contests. If you had the option to deliver micro-learning lessons with LevelEleven though, that would put it over the top.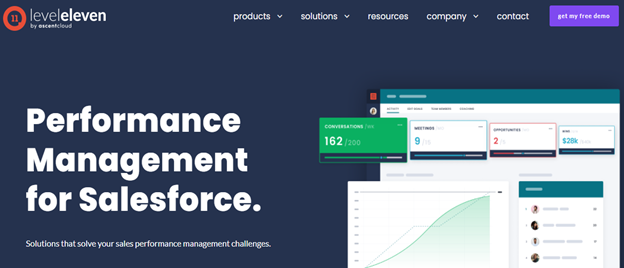 Price: Contact for details
Features: Gamification system, Detailed analytics, Coaching system, Progress tracking