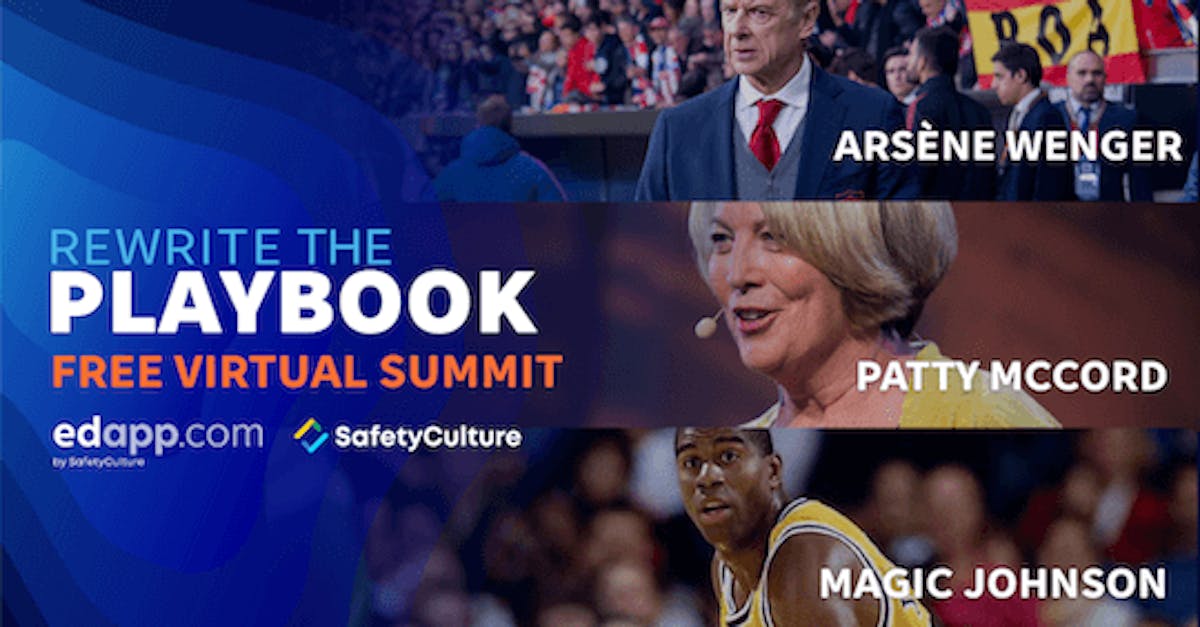 It's undeniable that the past year has brought about massive changes in the way we work. The pandemic has shifted the landscape, and standard training methods have become impractical in the wake of the "new normal." Overnight, many organizations were forced to think outside the box and lean towards a more flexible, digital approach for the collective workforce. This gave everyone an opportunity to reinvent their learning strategy and redefine the modern workplace.
As a learning and development solution, EdApp has always been passionate about enhancing the learning experience, and making it accessible to everyone. Rewrite The Playbook, EdApp's free virtual summit, brought together thought leaders and experts in the L&D space to share inspirational stories and practical insights to help reshape the future of learning. To relive this monumental event, we've gathered the best training quotes from the summit to serve as an inspiration and help transform the way you train your teams.
Training Quotes from Arsène Wenger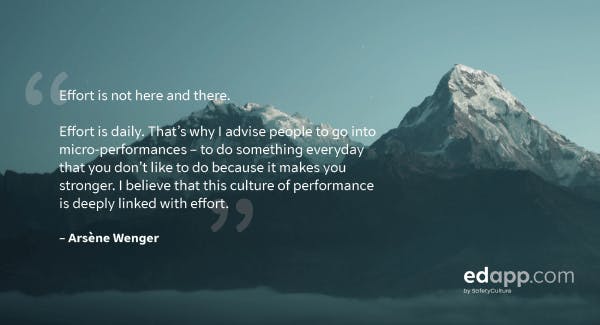 "Effort is not here and there. Effort is daily. That's why I advise people to go into micro-performances – to do something everyday that you don't like to do because it makes you stronger. I believe that this culture of performance is deeply linked with effort."
– Arsène Wenger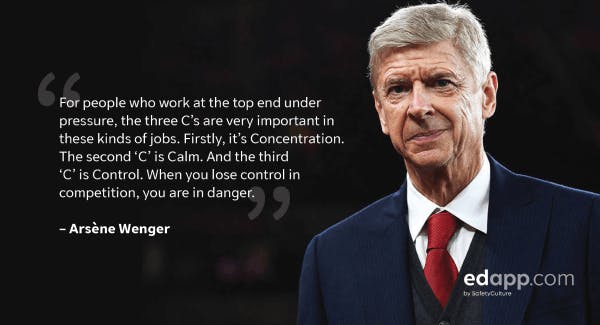 "For people who work at the top end under pressure, the three C's are very important in these kinds of jobs. Firstly, it's Concentration. The second 'C' is Calm. And the third 'C' is Control. When you lose control in competition, you are in danger."
– Arsène Wenger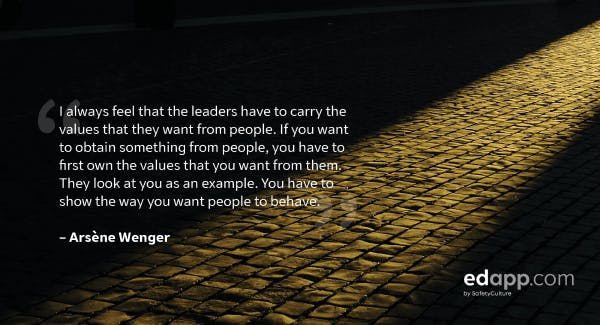 "I always feel that the leaders have to carry the values that they want from people. If you want to obtain something from people, you have to first own the values that you want from them. They look at you as an example. You have to show the way you want people to behave."
– Arsène Wenger
Training Quotes from Earvin "Magic" Johnson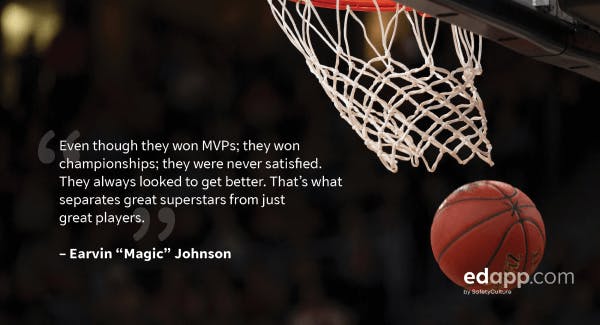 "Even though they won MVPs; they won championships; they were never satisfied. They always looked to get better. That's what separates great superstars from just great players."
– Earvin "Magic" Johnson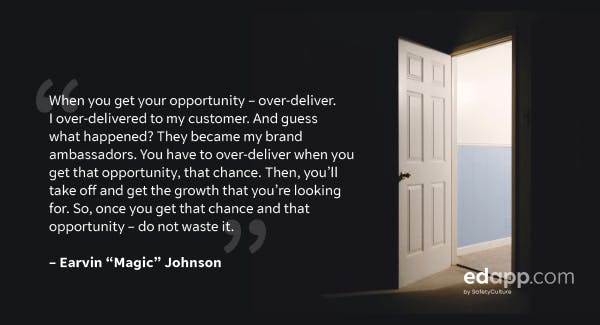 "When you get your opportunity – over-deliver. I over-delivered to my customer. And guess what happened? They became my brand ambassadors. You have to over-deliver when you get that opportunity, that chance. Then, you'll take off and get the growth that you're looking for. So, once you get that chance and that opportunity – do not waste it."
– Earvin "Magic" Johnson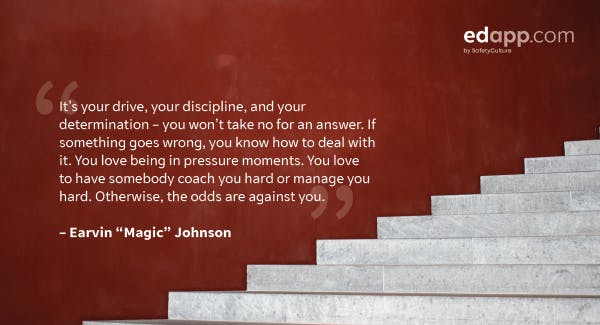 "It's your drive, your discipline, and your determination – you won't take no for an answer. If something goes wrong, you know how to deal with it. You love being in pressure moments. You love to have somebody coach you hard or manage you hard. Otherwise, the odds are against you."
– Earvin "Magic" Johnson
Training Quotes from Patty McCord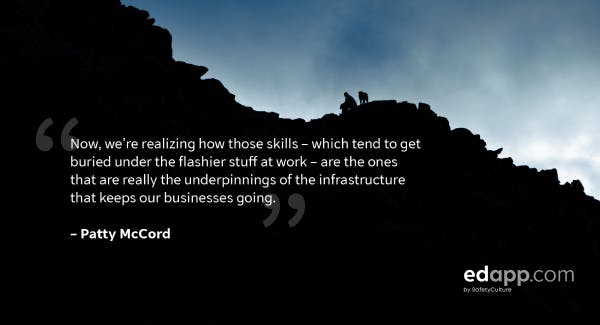 "If we start with results and go backward and say, 'Well, who's really delivering results?' then pay attention to how they're doing it – we might find that there's another entirely new skillset or a way of thinking about work that's more effective. Now, we're realizing how those skills – which tend to get buried under the flashier stuff at work – are the ones that are really the underpinnings of the infrastructure that keeps our businesses going."
– Patty McCord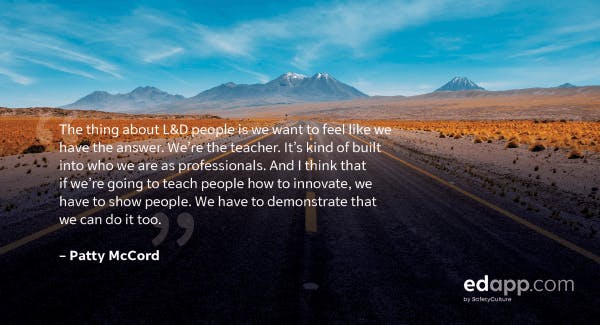 "The thing about L&D people is we want to feel like we have the answer. We're the teacher. It's kind of built into who we are as professionals. And I think that if we're going to teach people how to innovate, we have to show people. We have to demonstrate that we can do it too."
– Patty McCord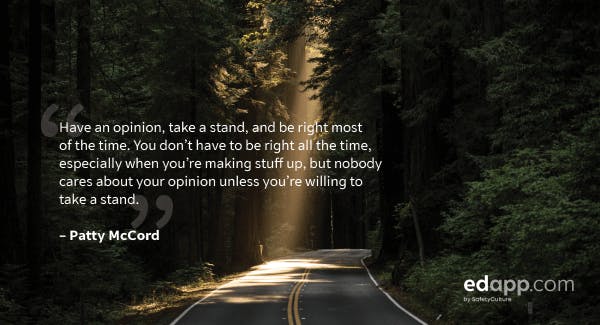 "Have an opinion, take a stand, and be right most of the time. You don't have to be right all the time, especially when you're making stuff up, but nobody cares about your opinion unless you're willing to take a stand."
– Patty McCord
Training Quotes from Darren Murp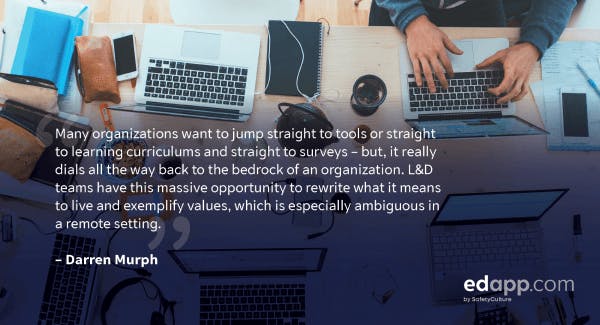 "L&D is at the heart of making sure that we make that transition. It actually starts with your values. Many organizations want to jump straight to tools or straight to learning curriculums and straight to surveys – but, it really dials all the way back to the bedrock of an organization. L&D teams have this massive opportunity to rewrite what it means to live and exemplify values, which is especially ambiguous in a remote setting."
– Darren Murph
We live in a fast-changing world and the way we learn will always evolve. By rewriting the playbook, we open up a whole new world of possibilities that allow us to challenge the status quo, and help us better respond to challenges. It's time that we start reflecting on how we do things and adopt new ways of delivering learning to make a difference in the workplace.
Keep an eye out for upcoming announcements that we have in store for you this year. Feel free to reach out to us at hello@edapp.com for any feedback, suggestions, and improvements you would love to see.
– The EdApp Team