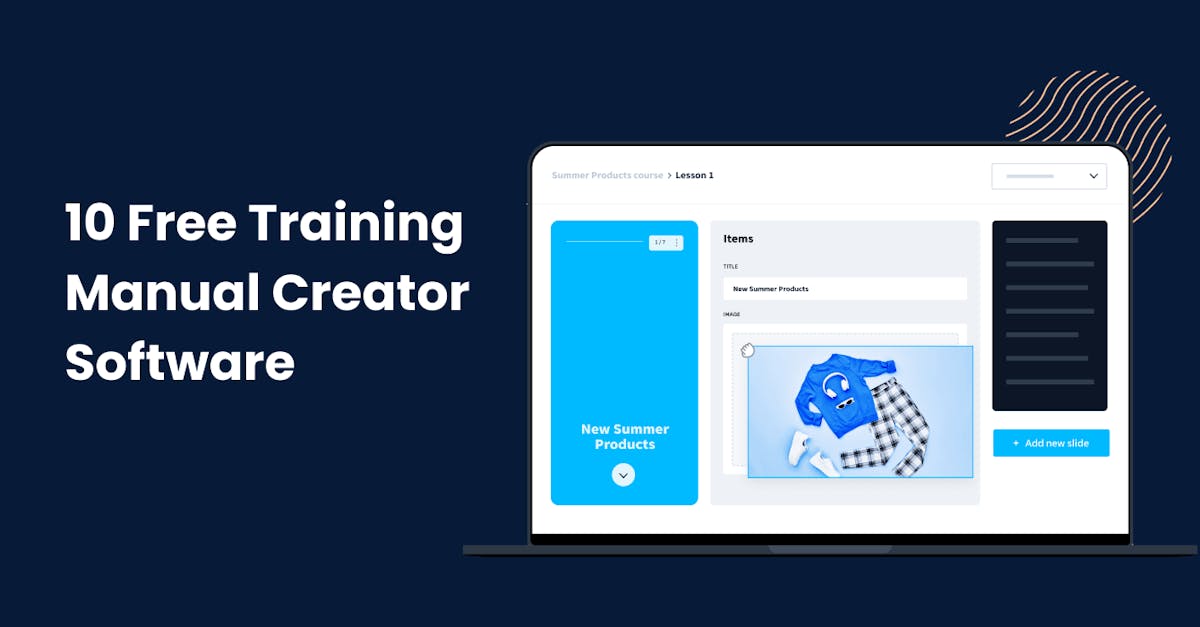 Building training manuals without handy authoring tools can make the learning process difficult and time-consuming. But with a training manual creator software, you can design learning and development manuals in no time. We've curated a list of the best manual creator software that solves your training problems and more.
1. EdApp
EdApp is a top-of-the-line microlearning platform built to create, personalize, and deploy high-quality learning content. Through a user-friendly training manual creator, you can transform overwhelming information into bite-sized microlessons that help your learners retain information better. This is our pick for THE training manual tool for all kinds of training purposes.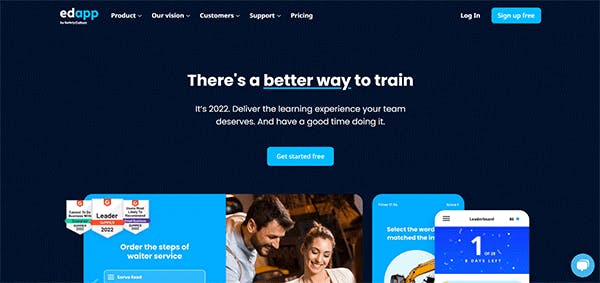 If you don't want to start from scratch, you can use EdApp's library of 80+ interactive and engaging templates to create microlearning courses. You can combine your microlessons with gamification elements and transform your eLearning content into smartphone-like games. With gamification built into your step-by-step training manuals, you can motivate your learners to complete their training courses while also making learning fun and engaging.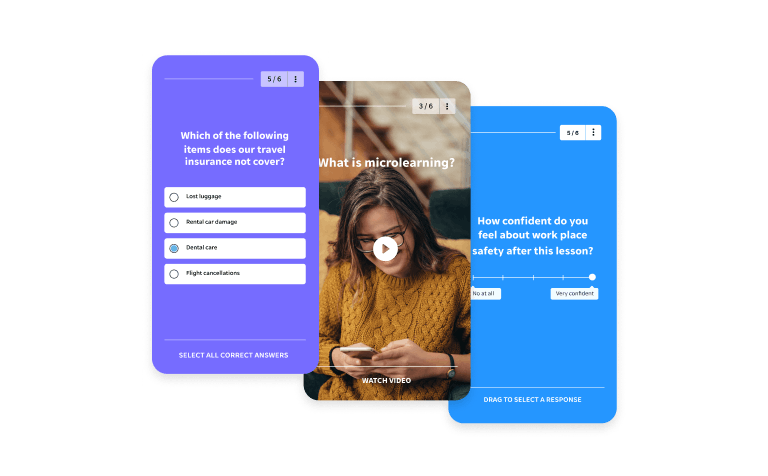 As a data-driven authoring tool, EdApp also provides insights on the most used templates, the most effective employee training manual template sequence for maximum retention, and the best placements of multiple-choice questions within a lesson. Through these insights, you'll have a better idea of how to structure your courses to improve learning outcomes.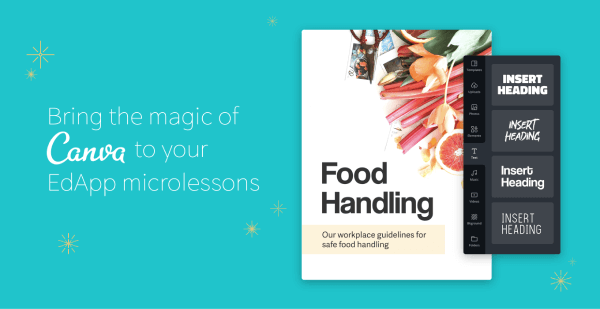 This training module creator software also integrates with Canva, a designing platform that can easily create any kind of visual content using a simple drag-and-drop tool. It provides free and paid stock photography, fonts, illustrations, and templates in just one platform. You'll be able to not only create courses in the nick of time, but also easily design visually engaging content – even with little to no knowledge or experience of graphic design. With well-designed and visually informative lessons, your learners can have a better grasp and retention of your training content. If you don't have enough time to set up your courses and onboard your teams, EdApp is ready to help you along the road.
Highlights:
Data-driven authoring tool 

Template library that includes 50+ intuitively designed interactive templates, such as multiple-choice, in-app gamification, conceptual formats, surveys, etc.

AI translation feature

Canva integration

Microlearning 

Mobile-first approach

Free editable course library curated by thought leaders and industry experts

Gamification & leaderboards

In-app branding

Completion certificates

User and course management system

Learning metrics dashboard & reporting
Cost: Free
2. Tovuti LMS
Tovuti LMS is another training manual creator software that you can use to streamline your employee training process. With Tovuti LMS, you can create, schedule, and deploy interactive courses in just a few easy steps. You can also include gamification and leaderboard features to encourage them to complete their assigned learning tasks. It integrates a course management tool that enables you to build and deploy interactive courses, as well as track interactions with your course content.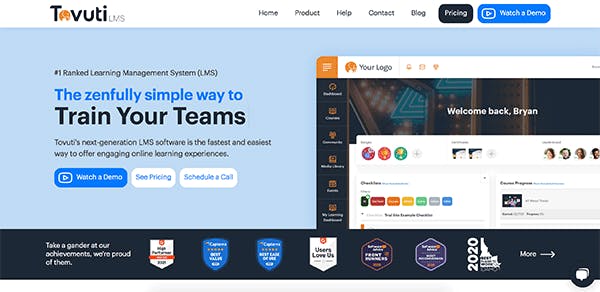 Highlights:
Course authoring

Notifications

Leaderboards
Cost: Price available through a quote request
3. Coassemble
As a training manual creator software, Coassemble can help you create and deploy interactive e-Learning courses that fit your team's training needs. With its authoring tool, you can choose from a total of 35 content templates, customize lessons, and publish your course, all within a few clicks. There are also a number of preloaded quiz templates that you can use to incorporate learning assessments at the end of each course. If you're a first-time user on the platform, you won't have to worry about customer service availability since Coassemble's support team is available around the clock.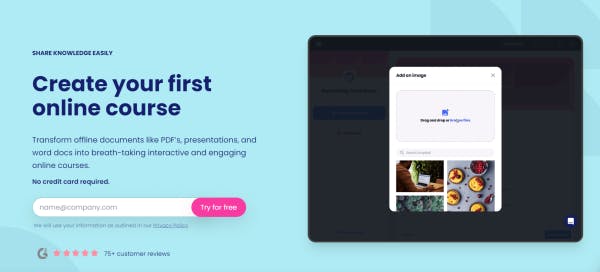 Highlights:
Cost: Paid subscription starts at 99 USD (monthly)
4. ProProfs
As a SaaS LMS platform, ProProfs is designed to help training managers ease up the process of creating training material. Its training manual creator allows you to create courses and quizzes with hundreds of available templates and media content. It provides a premium course library available with pre-made courses on topics such as compliance, customer service, and many more that you can easily deploy to your personnel. Through its training management system, you're able to efficiently streamline processes in developing training materials as well as track the progress of each employee.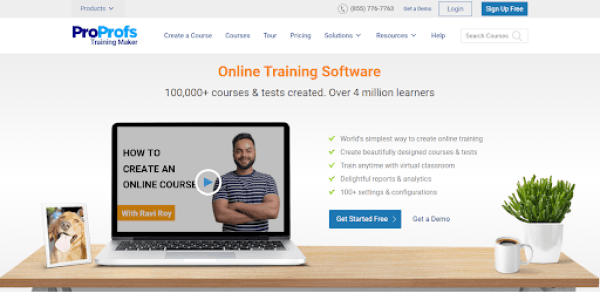 Highlights:
Authoring templates

Premium course library

Learning management
Cost: Free (within a 15-day trial), paid subscription starts at 4.96 (per feature monthly) 
5. VAIRKKO
VAIRKKO e-Learning Cloud is built to meet the demands of L&D leaders looking for an intelligent training manual creator to manage their courses. Perfect for businesses of all sizes, you can create and publish as many business training courses as you wish, automatically assign lessons, and also monitor their completion and success rate, all using this easy-to-use platform. Course lessons can be uploaded in PowerPoint, PDF, images, videos, and audio clips, and they can be taken from mobile devices, laptops, and desktop computers. 
Highlights:
Intelligent e-learning cloud

Unlimited courses

Smart assignments

Robust reporting and monitoring
Cost: Custom price available upon request
6. Raptivity
Raptivity is a training manual creator software that you can use to design engaging and visually stimulating online learning experiences. The tool features a growing library of pre-made responsive interactions that include parallax displays, panning slides, and 360 interactions. Even with no design expertise, anyone can customize interactive quizzes, games, simulations, flashcards, and brainteasers through the tool's user-friendly interface. Whether you're a teacher or an instructional designer, you can maximize the tool's many capabilities to keep your learners engaged and motivated throughout their learning journey. But, it's important to note that the tool has a few feature limitations and you might need to download additional tools to design a well-rounded eLearning course.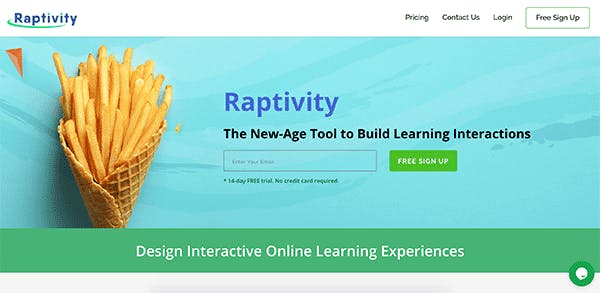 Highlights: 
Interactive displays

Quizzes

Games
Cost: 0 USD per user per month
7. 360 Learning
360Learning is an LMS and collaborative eLearning platform complete with a training manual creator, content integration system, and analytics dashboard. Their intuitive course authoring suite requires no technical skills to use and enables you to create courses in just a few minutes. You can also include learning resources like videos, images, blog articles, and research into your course to keep training content up-to-date and engaging.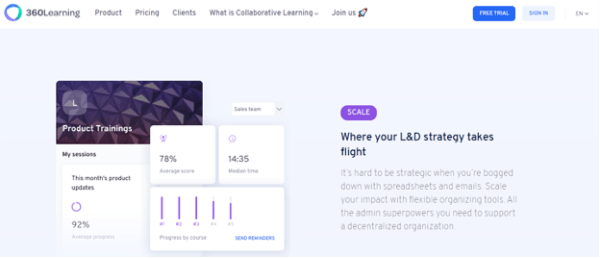 Highlights:
Authoring tool

Integrations

Dashboard
Cost: 14-day free trial, Price available through a quote request
8. isEazy
isEazy is another training manual creator software equipped with a powerful and high-quality authoring tool. It allows simple, intuitive, and dynamic course design – even without any technical expertise. With its cloud training technology tools, you'll never lose your work and you'll have full control of your courses such as options to edit, delete, and move courses in real-time, even duplicate and reuse projects whenever applicable. You can also customize your course by adding interactive elements like quizzes, catalogs, and timelines. However, courses created with the free version are published with an isEazy watermark.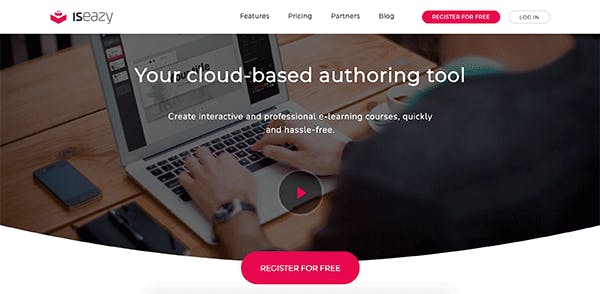 Highlights:
Powerful authoring tool

Cloud technology

Course management tool
Cost: Free
9. domiKnow
domiKnow is an all-in-one cloud-based eLearning LMS that comes complete with a training manual creator and a content management system. This tool allows you to design interactive content using a range of templates and digital assets, and deploy completed learning materials on any device. It also has translation and localization capabilities which allow you to choose from over 50 languages to translate learning content for learners from a specific region.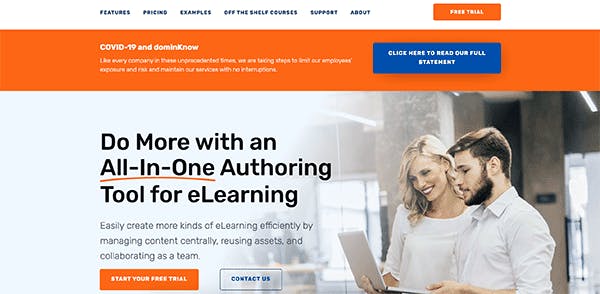 Highlights: 
Authoring tool

Translation, and localization 

Best used for: Employee training and collaboration
Cost: Starts at 97 USD/year (solo plan), and ,497 USD/year (team plan)
10. CourseLab
CourseLab version 2.4 is another free training manual creator software that enables you to build interactive eLearning courses that can be published on the web or an LMS. You can make slide-based courses with images, videos, complex multi-object interactions, and quizzes. CourseLab does come with a set of eLearning templates, though learning how to use and customize them may require quite a lot of time. The downside of this authoring tool is that the interface isn't as intuitive as others and may even feel a little outdated. This means it can feel quite complicated to those who are just beginning to work with authoring tools for eLearning. This tool is better suited to more experienced developers who have an idea of how LMS authoring tools work and are more comfortable navigating the platform.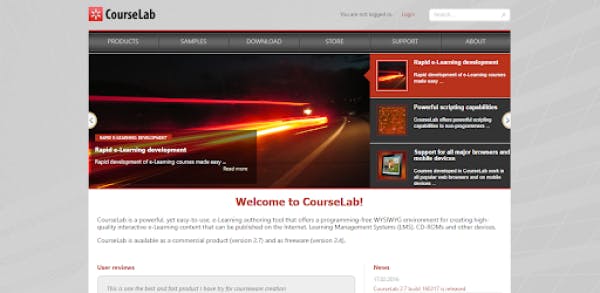 Highlights:
Price: License starts at 49 USD (annually)
Training Manual Creator Software Summary