Training evaluation tools gauge and visualize the performance of learners and check if they meet the determined learning objectives. In this article, we'll be looking at 10 training evaluation tools that you can use to assess training effectiveness and help improve your learning outcomes.
1. EdApp
EdApp is a frontline training solution with built-in training evaluation tools like surveys, forms, and analytics dashboards. The survey templates are customizable and come in four types: free text, slide, multiple-choice, and quadrant matrix. that you can include in your courses to gather feedback, suggestions, opinions, and ratings from your learners.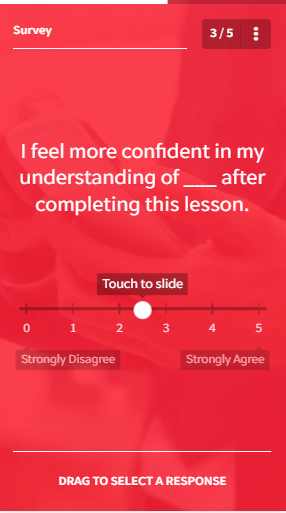 You can also check your team's knowledge and reinforce key concepts with Rapid Refresh, EdApp's quiz maker. Easily identify knowledge gaps and reinforce new information and deliver questions to learners after any learning intervention – from end-of-month meetings to a product update email.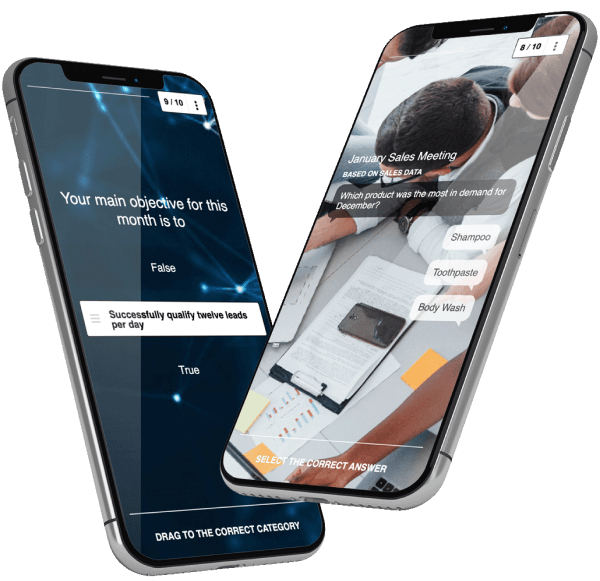 With the analytics dashboards, you can track every training interaction automatically to see how learners are progressing through courses, and get the data you need when you need it. You can also generate custom reports to easily give you access to key metrics – such as participation, registration, completion rates, engagement, feedback, and more. These reports can be exported to CSV or XLSX to share with key employees in your organization.
Key features:
Analytics Dashboard

– Drill down into user metrics for knowledge reports, assess your behavioral trends, and equip your team managers with progress boards

Rapid Refresh Quiz maker

–  Create quizzes with an easy-to-complete spreadsheet and have access to timely analytics

Customizable survey templates

– Get feedback from learners about your lessons, have them add ratings, or offer suggestions for future courses
Pros:
Create branded courses without any coding knowledge or design background using its drag-and-drop authoring tool and template library

Simple and easy-to-understand analytics dashboard

Create custom reports and export files to your preferred spreadsheet application

Quizzes are automatically delivered based on your preferred schedule and include customizable push notifications
Cost: Free
Sign up for Free and Use The Best Training Evaluation Tool
2. SurveyMonkey
SurveyMonkey is a popular SAAS survey tool that allows you to easily create surveys, quizzes, and polls. It offers a wide variety of templates, including those for training evaluation, that can be customized or used right out of the box. These can also be used to determine employee satisfaction and employee engagement and gather insights from their learning experience. It offers multiple options to send out your surveys, such as weblink, email, mobile chat, and social media.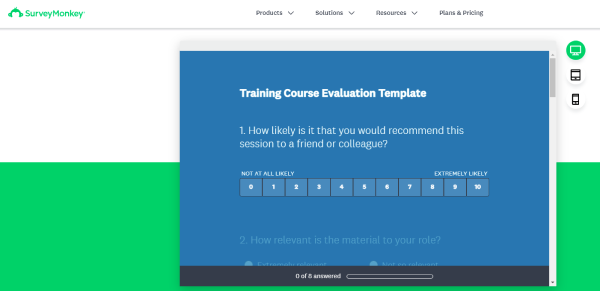 This tool also includes a powerful analysis feature with its multiple filters and crosstab reports, so you can drill down on your results. To see them at a glance, automatic charts and summaries are provided for a quick overview.
Key features:
Fast survey creation

– Get access to customizable survey templates and select from expert-written sample questions

Data Analysis

– Get access to powerful tools, such as Combined filters, Sentiment Analysis, and SurveyMonkey benchmarks

Sharing Made Easy

– Export your data in widely-used file formats such as CSV, XLS, PDF, PPT, and SPSS
Pros:
Has a free, basic plan and offers discounts for teams

Provides best practices for creating effective surveys

Get access to dozens of survey templates and themes 
Cost: Free and paid plans
3. Abara LMS
With Abara LMS, you can track the delivery of your training content, the performance of users on tests and assessments, and generate standard and custom reports. It also has an integrated assessment/survey creator that offers multiple question types, such as short answers, multiple-choice, open-ended, and more.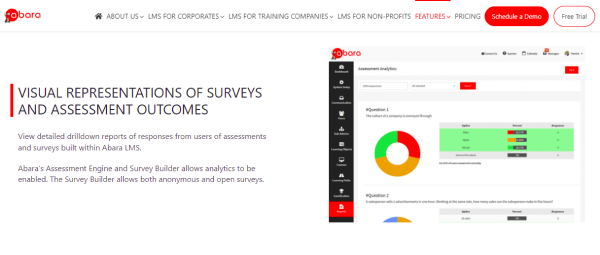 On top of that, you can schedule automated reports, which are sent via email, based on your preferred delivery frequency, so there's no need to log in and manually generate reports with this workforce management tool.
Key features:
Survey Builder

– Easily create surveys with its drag and drop feature and upload content from external sources

Advanced Reporting

– Provides up-to-date predefined reports 

Custom reports

– Track online learning progress as they happen with in-depth reports that can be exported to CSV or Excel files
Pros:
Offers a 30-day free trial for all plans

Can be accessed via their dedicated iOS and Android mobile app

Learners can pick up right from where they were left off on surveys in case of any network interruption or disconnection
Cost: Starts at $420 USD/month
4. Experquiz
Experquiz is a training evaluation tool that allows you to monitor learners' activities, build questionnaires, and access immediate performance results. Its questionnaire builder gives numerous options for different fields that you'd like to add to your surveys. Data can be viewed from a single user to a group perspective and can be exported to a spreadsheet format.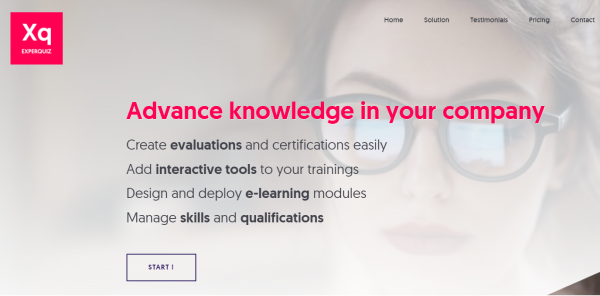 There's no need for any technical installation just to use Experquiz as it works on all desktops, tablets, and mobiles.
Key features:
Platform-independent

– Provides a responsive interface regardless of the device you're using

Questionnaire Builder

– Offers multiple customization features, such as static or dynamic questionnaire and a public or private access

User Management

– Easily monitor user activity, tests, and results and get an analysis of training activities
Pros:
It offers a 2-month free trial including full support from Experquiz

It offers Single-Sign-On (SSO) capability for the enterprise business

Leverage real-time data to closely monitor the performance of eLearning content and employee
Cost: Free and paid plans
5. Google Forms
If you've been around the digital world for a while now, then most likely you've already come across Google Forms to respond to RSVP forms, answer quizzes, and request time off. But apart from these basic uses, this tool is also great for creating surveys for training evaluation, which include options such as multiple-choice, checkbox, and dropdown. The summary report of the responses is instantly provided after each successful quiz completion, saving you an incredible amount of time for computation and assessment.
As compared to other tools, Google Forms tend to be static due to its limited customization options. The available templates are quite basic, so you'll most likely find yourself just creating your quizzes from scratch.
Key features:
Simple form builder

– Quickly create a form by choosing from a variety of question options, templates, and themes

Mobile friendly

– Create or answer forms on the go

Summary report

– Responses are automatically collected and can be viewed in charts or Sheets
Pros:
Simple and easy to use interface

Integrates with other G Suite applications

Add collaborators to let others build the survey with you
Cost: Free
6. Kitaboo Insight
Kitaboo Insight is a cloud-based training evaluation tool that allows you to track courseware utilization through its robust in-built analytics tool. It offers visual reports and centralized dashboards containing in-depth real-time analytics to help personalize and redesign your employee training material based on your learning outcomes. If you're already using another LMS, no need to worry as it supports integrations using LTI standards.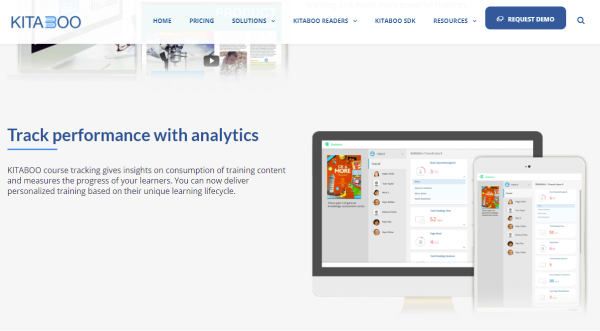 Since Kitaboo Insight is cloud-based, this means that it works from any mobile device, tablet, and desktop. No need to worry about device compatibility issues.
Key features:
LTI and xAPI compliant –

Track activities and publish content outside of Kitaboo Insight with a click of a button

Reporting dashboard

– Monitor learner progress and identify trends across teams

Mobile-friendly

– Learners can take lessons thanks to its responsive design that works on any screen size
Pros:
Can be seamlessly integrated with any LMS with its LTI support and xAPI compliance

Securely deliver content with DRM protection

See real-time results and insights through in-depth analytics
Cost: Available upon request
7. Kodo Survey
Kodo Survey's aim is for organizations to be able to measure the success of their training and reap back results from it. Kodo Survey's dashboards will give you a clear oversight of key metrics when evaluating training effectiveness and learning impact and you can see the results of your training as they come in. If you need to go deeper, this training evaluation tool also enables you to check results on an individual or on a learning objective level.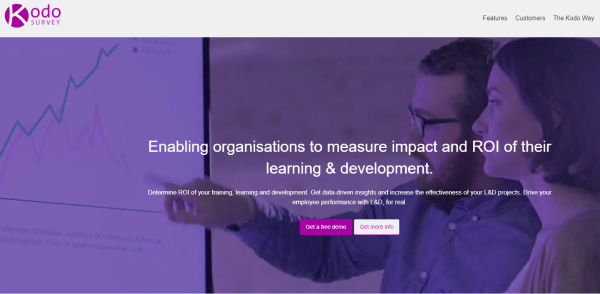 Kodo Survey also has a six-step training evaluation guide, called the Kodo Way, to help you follow the learning impact and transfer of learning to the workplace.
Key features:
Analytics Dashboard

– Make sense of a big volume of data related to your learning objectives

Actionable Insights

– Follow-up on any type of change or development in your training based on results

24/7 Support

 – Get help through FAQs, email, and phone
Pros:
Has a pay-per-usage plan

Automate time-consuming tasks such as sending out invitations and reminders

Use participants' pre-knowledge to analyze the training impact
Cost: Starts at €5/respondent
8. Qualtrics
Qualtrics is a popular training evaluation tool that leverages surveys to gauge the effectiveness of training. Here, you can deploy surveys and assessments using its prebuilt training feedback solution with just a click of a button. A training feedback report is then automatically generated with pre-built visualizations and analysis to ensure you get the most accurate insights.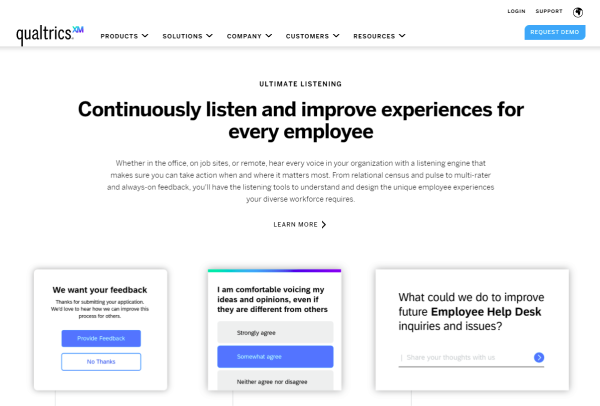 Creating surveys in Qualtrics is made simple with its drag-and-drop interface making sophisticated surveys easy to create, launch and analyze.
Key features:
Enterprise-level Data Security –

Secure your data with encryption, redundancy, continuous network monitoring, and Single Sign On (SSO)

Multiple sharing options

– Distribute your survey via email, web, social, mobile or your own communication system

Custom Programming

– Have more control over your surveys using common programming languages like Python, Java, and Node JS
Pros:
Get verbatim feedback to get a better sense of how learners feel about training

Learn from world-class content partners, such as Microsoft, EC-Council, and VMWare

Add labs and courses to other learning platforms
Cost: Available upon request
9. Questionpro
Questionpro's survey maker and quiz software enables you to add question types, logic, and personalized branding. You can also utilize their survey questionnaire samples to help you get started when creating your survey. To gain insight into your results, it includes real-time shareable dashboards and a role-based data portal available to all relevant stakeholders.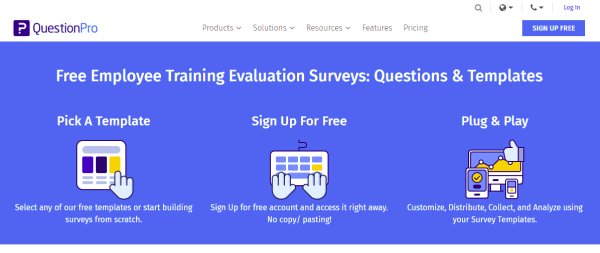 Questionpro does the heavy lifting for you and generates ready-made reports that you can filter accordingly, such as a real-time summary report, sentiment analysis, trend analysis, and many more.
Key features:
Analytics Dashboard –

Easy to understand dashboards to quickly identify trends and skill gaps

Robust Integration

– Integrate with systems that you already have 

Questionpro mobile app –

Offline application available on iOS and Android that lets respondents answer questions even without an internet connection
Pros:
Has a free plan with unlimited surveys and a maximum of 1000 responses

Offers professional services to assist with survey creation and logic scripting

24/7 live chat, phone, and email support
Cost: Free and paid plans
10. Gnosis Connect
Gnosis Connect creates products and services that make it possible to unlock your employees' performance. With over two decades of experience, it combines innovation with customization with its cloud-based technology and mobile-ready platform.

GnosisConnect is tailored to overcome four challenges associated with extended enterprise training: Content consumption, customization, administration, and reporting. To track learners' performance, you'll have access to pre-built reports that you can export to Excel or print out.
Key features:
Mobile-ready

– Accessible on mobile devices and tablets

Powerful reports and analytics

– Includes a role-based dashboard and prebuilt report generator

Media-rich courses –

create visually aesthetic courses using videos, audio tracks, and web sources
Pros:
Provides a 30-day free trial

They've partnered with AWS to ensure zero downtime through their cloud-based platform 

24/7 email support
Cost: Starts at $299 USD/month