A training program is a set or series of courses that are designed to boost your employee's performance, skills, knowledge, and productivity. Since you are reading this article, we are going to assume that you are looking for a training program for small businesses. We want you to understand that training programs for a small team are sometimes different from training designed for larger corporations.
For one, small businesses often operate in niche markets, so training materials need to be very specific and focused. This is just one of many things to keep in mind when selecting the right training program for your small business. Review this next list to find the best option for your team.
1. EdApp
One important feature that most small businesses pay attention to when looking for a training program is the cost. You are in luck, EdApp is completely free for your team to access course materials. Speaking of materials, EdApp has a world-class editable course library. This will be very useful for you and your team because you will find relevant information regardless of the industry your business operates in. For your team, this means they will have world-class training materials available to them at any time on any of their devices. Did we mention that it is free?
A great example of a small business training program that you can quickly customize and deploy to your team is EdApp's Embracing the Start Up Mentality Course. As a microlearning program, it highlights the importance of having a start up mindset, how to make decisions like a start up, and how to survive the hypergrowth phase.
2. Pluralsight
Unlike some of the other training programs on our list, Pluralsight does not cater to a wide range of industries but instead focuses on the technology sector's businesses. This platform provides leaders such as yourself with training systems to index technical skills across their organization, upskill their employees into modern technical roles, and aid in building fluid teams capable of meeting your company's objectives.
The Pluralsight platform will give you access to over 1500 sources that teach the latest technologies and processes. This is useful for teams that are trying to keep up with the latest tech in their sector.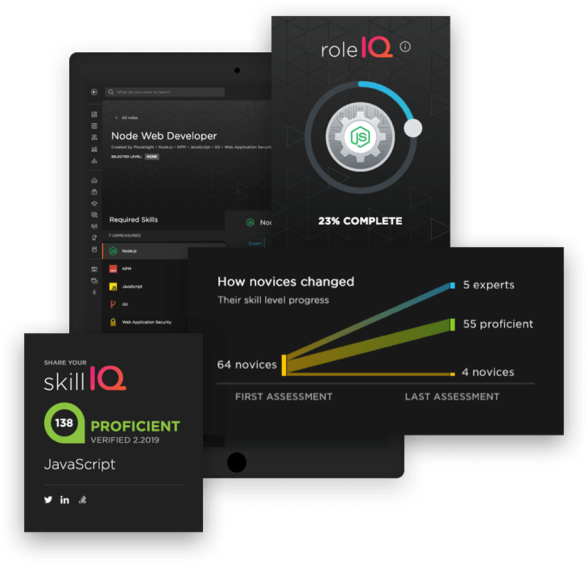 3. GoSkills
GoSkills is a fairly good platform for small businesses looking to train their teams for free. It is great that this training program was built with small businesses in mind, but this may become a problem for your teams if you decide to scale upwards in the future.
If you are excited about cloud-based software, GoSkills is right up your alley, but it isn't a complete LCMS, and its authoring tool could be better. Speaking of authoring, GoSkills has a course creator software that allows importing courses via SCORM, AICC, CMI5, or xAPI.
4. Coursera
Spaced repetition, microlearning courses, and more gamification could help this platform boost retention and learner engagement. Coursera delivers content from over 200 leading institutions and organizations to your staff in various languages.
One of the main things that Coursera users like is the speed at which trainees can access relevant training materials. The people in your organization who use this platform can work on degrees and other certificate programs.
5. A Cloud Guru
A Cloud Guru is a training program that focuses on companies in the IT industry, specifically the cloud sector. If this is not what you and your company are about, feel free to move on to the next item on our list.
A Cloud Guru trains engineers by integrating engaging content with hands-on-learning-by-doing so that employees will get real skills in real cloud environments. Employees that use this remote training software will see their skills continuously evolve through weekly updated content around AWS, Azure, GCP, and beyond.
6. Learning
Learning strives to drive engagement from students by offering a personalized and social learning experience. The platform has over 16000 courses combined from LinkedIn learning and lyndra.com. These courses are composed by industry experts and are recommended based on learner profiles.
Their personalized courses are easily accessible as they are available on any device. It is great that these courses are available to train your teams, but it would have been greater if you also had an opportunity to use industry-proven templates to create relevant courses on your own as well.
7. CBT Nuggets
CBT Nuggets takes a very personal approach to team training. This platform assigns a dedicated accountability coach to every team that trains with them. The coaches are responsible for working one-on-one with admins in your company on every aspect of the training. This approach may work really well for small teams, but you will have issues as your company grows. Another thing that we would subtract points for is that CBT Nuggets focuses solely on IT training.

8. Infosec
Infosec is in the business of cybersecurity. If you are looking for a training program to upscale and certify your workforce in cybersecurity, Infosec is one option for you to look into. This cybersecurity training platform provides unlimited access to hundreds of hands-on cybersecurity courses. In addition to these courses, your teams can also access instructor-lead training that Infosec says guarantees certification on their first attempt. If this is true, it sounds good.
9. HubSpot Academy
HubSpot Academy is one of the world leaders in free online training. HubSpot specializes in comprehensive certifications, bite-sized lessons for professionals that want to grow their careers, and singular topic courses. Here is the catch, HubSpot Academy only offers quality training for inbound marketing, customer service, and sales professionals. You will need to find another training program for employees from different departments, so, unfortunately, HubSpot Academy isn't as complete as we would want it to be.
10. Trainual
If you are training small teams, it is good to have one resource for every process, SOP, and policy in your business. This will enable you to onboard and train your workers faster. Trainual is a training program that offers this. This platform lacks a world-class editable library that could significantly reduce your course creation time.
Conclusion
Micro-learning courses that are available on mobile devices are very important when training small teams. These team members are sometimes very busy and need to access information in a nontraditional format. EddApp is the best option if you want to incorporate these features and more in your team's training.