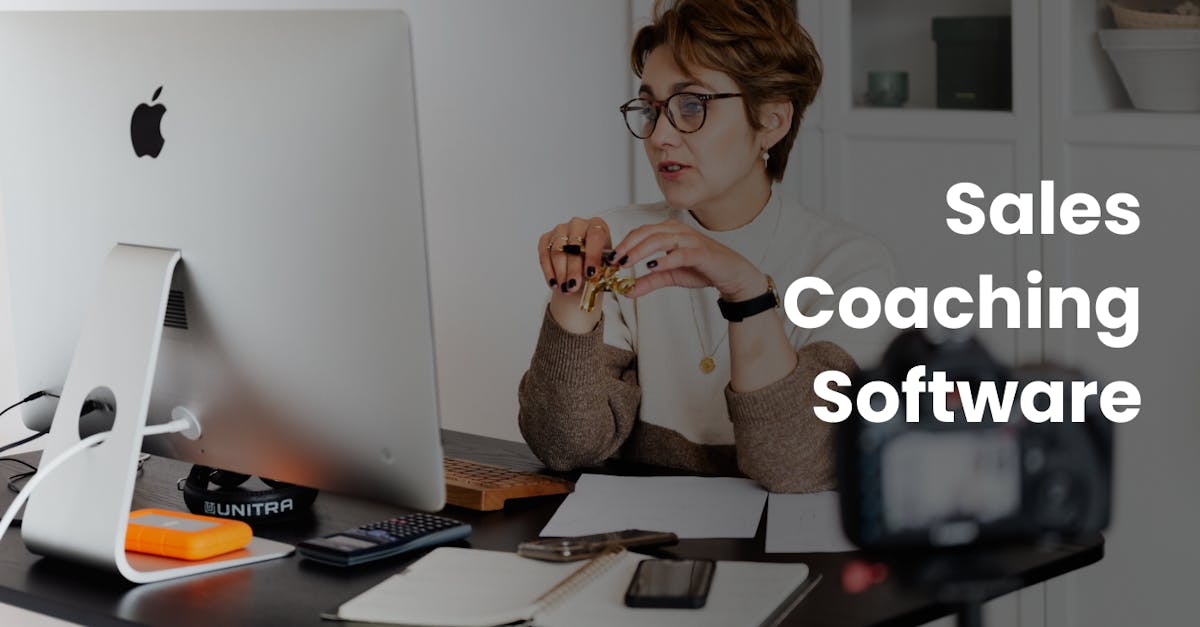 Boost your sales team's performance effortlessly with the latest sales coaching software solutions. Say goodbye to costly and time-consuming training sessions that disrupt your reps' busy schedules. Now, they can enhance their sales skills anytime, anywhere, even while on the move.
With the power of a great sales coaching software, your team will enjoy the following advantages:
Enhanced Sales Skills

Convenient and Flexible Learning

Personalized Coaching Experience

Real-Time Performance Tracking

Team Collaboration and Knowledge Sharing
In this article, we'll explore the top-notch sales coaching software options on the market, highlighting their key features and benefits. Discover the perfect solution to empower your team now and achieve exceptional results.
Common Features of a Sales Coaching Software
Sales coaching software offers a range of features designed to enhance sales training and performance. Here are the top features that a sales coaching software must have.
Learning Management System (LMS)
An LMS offers a centralized platform where sales reps can access training materials, track their progress, and complete assigned courses or modules. This also lets managers monitor and evaluate reps' learning activities.
Content Creation and Management
Sales coaching software allows users to create, organize, and manage training content, including videos, presentations, documents, and quizzes. This feature helps to make sure that relevant and up-to-date materials are readily available for sales reps.
Coaching and Feedback Tools
This involves features like commenting, annotation, and rating systems. The goal is to let managers or mentors provide specific feedback on recorded sales interactions or assessments.
Performance Tracking and Analytics
Sales reps' performance metrics must be tracked and analyzed to get insights and identify areas for improvement. This includes dashboards, reports, and analytics tools that help managers and reps assess individual and team performance.
Integration with CRM and Sales Tools
This is an invaluable feature of any sales software. It allows seamless data exchange between platforms, ensuring that training efforts align with sales processes. It also offers a holistic view of sales performance.
Best Online Sales Coaching Software – EdApp
Most industry experts and coaching managers will agree that EdApp is currently one of the best sales coaching software available today. This tool is packed with a range of powerful features that can help you coach your new hires and provide continuous training support for your existing salespeople without going through a stressful and time-consuming process and sales cycle. 
One of the most significant advantages of this software is that you will no longer have to produce all your coaching materials from scratch. EdApp features an expansive content library containing mobile-friendly sales training courses that you can deploy right away to your teams. There are microlearning courses for prospecting, improving your sales forecast, closing techniques, increasing sales, cold-calling, and so many more. And the good news is that these courses are free and fully editable. With the help of EdApp's built-in authoring tool, you can quickly and easily create personalized training programs for your team that is specifically tailored to your business' sales techniques and best practices. You can even use the feature to add your logo and branding, or even tweak the content to apply your own expertise.
To boost your coaching initiatives, you can also explore the Discussion and Assignments feature of this LMS software. This innovative feature delivers instant coaching and mentoring opportunities and also allows learners to collaborate and learn from their peers. Topics can be discussed in a conversation-like forum to express areas that may require extra clarification to master important bits of information. 
Cost: Free

Key features: Expansive content library with mobile-friendly and editable sales training courses, built-in authoring tool, discussion and assignments, peer learning
2. Skillshare
Another excellent coaching software we have on this list is Skillshare, which takes pride in its expansive collection of educational videos, live and pre-recorded by industry experts and professionals. Here, a sales rep can learn a range of different sales skills and techniques by attending video lectures that last anywhere from a few minutes to many hours. Among the sales coaching lessons that they offer include The Basics of Sourcing and Sales for Entrepreneurs, Sales Essentials for Sales Professionals, Creating High Converting Sales Funnel through Facebook Ads, and so much more.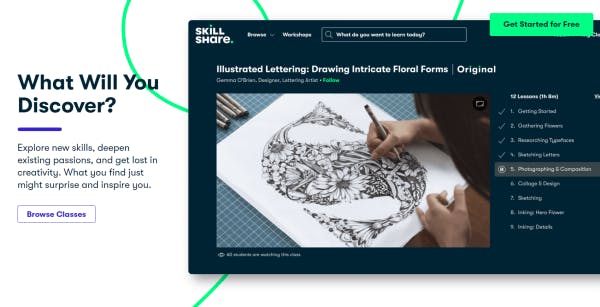 Take note, however, the Skillshare only works on a subscription basis, meaning you'll have to pay a monthly fee to gain access to their courses. 
3. uQualio
If you're looking for an all-in-one software where you can build and manage sales courses without the need to jump from one tool to another, uQualio is one of your premium choices. This tool acts as a centralized platform where you can create courses from scratch, upload and edit videos, manage course deployment and structure, and even communicate directly with your sales team. It also facilitates a sales training toolbox where you can outline and store your sales methods, sales process, and sales strategies that your team can follow to achieve maximum results. You can also edit all your resources in real-time, giving you peace of mind that your sales team is always up to date with the latest tools, trends, and strategies, as well as the changes to your department, organization, or product.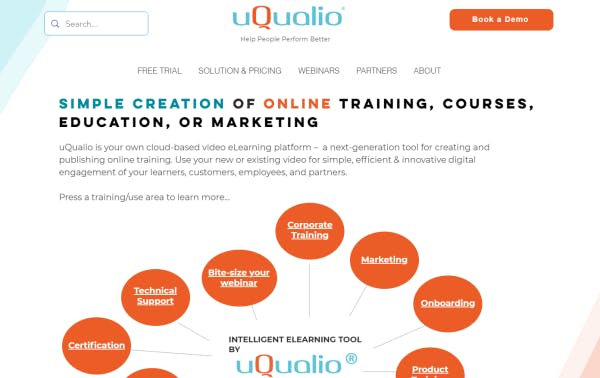 While uQualio has no free version, its pricing plans are relatively reasonable. For only 9 USD per month, you can already coach up to 50 team members with as many Admin users as you like.
Cost: Paid plans

Key features: Course creation, upload and edit video lessons, manage course deployment and structure, in-built communication system, sales training toolbox
4. MindTickle
MindTickle is primarily focused on providing sales training managers with a user-friendly space where they can seamlessly onboard and track their new hires, as well as train and manage their existing sales team. Here, you are equipped with the right coaching tools and rubrics that can help you connect and engage effectively with your workforces and close the gaps in their knowledge, skills, and field execution for higher quota attainment. You can improve their selling and communication skills through online coaching, virtual role-plays, simulated sales scenarios, or even AI-based feedback, making sure that they are fully skilled and knowledgeable for any sales situation.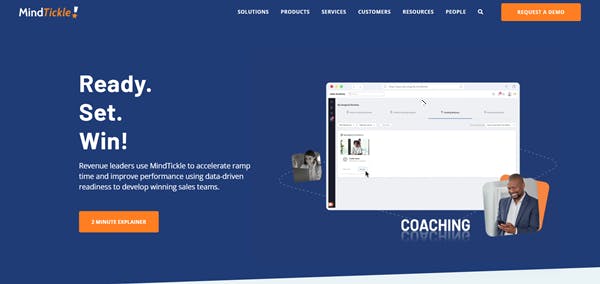 Additionally, MindTickle offers personalized training programs to help sales managers and sales representatives meet their quotas and close more deals. If you don't have enough resources on hand, you can also jump-start your sales coaching with their downloadable Quick Start Kits. They offer instructional guides on Field Communications, Remote Coaching, Sales Onboarding, and Virtual Sales Kickoff. 
Cost: Paid plans

Key features: Engagement tools and rubrics, online coaching, virtual role-plays, simulated sales scenarios, AI-based feedback, Quick Start Kits 
5. Chorus
Another go-to-market sales coaching software in this list is none other than Chorus.ai. It serves as a conversation intelligence platform that analyzes the sales performance of your sales reps from their meeting and delivers data-driven results that will show you the winning strategies and methods that your team should embrace. You can use these insights to hone the content of your sales training and coaching initiatives to boost your team's win rates and increase sales.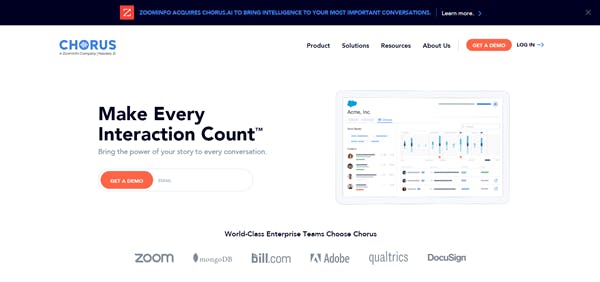 The only downside with this tool is that it lacks other features that can help level up your sales training, like authoring tools or course management. Plus, Chorus.ai has no free version, so you will have to pay a subscription fee to access its tools and features.
6. FutureLearn
FutureLearn has consistently received high levels of engagement from sales representatives looking for a coaching platform with high-quality online courses and programs that can advance their sales skills and help them win more deals. Their sales courses are proven to be effective and credible, as they are mostly put together by leading educational institutions and industry experts across the globe. Among their top sales courses include Customer Engagement for Sales, Master Digital Marketing, Understanding the Profit and Loss Statement, CRM Fundamentals and Practice, and more. 

FutureLearn supports asynchronous or self-paced learning, meaning learners can complete their sales courses as quickly or slowly as they like. Plus, they can also directly interact with other learners or join conversion by liking or replying to their comments, driving peer-to-peer learning and collaboration. 
Some FutureLearn courses are free, although learners will only have up to five weeks to finish them. To extend your access, you will have to pay an upgrade fee. You can also get unlimited access to hundreds of their online short courses with their Unlimited Plan, which costs 79.99 USD a year.
Cost: Free and paid plans

Key features: Sales courses by leading educational institutions and industry experts, asynchronous or self-paced learning, peer-to-peer learning
7. Alison
Over the years, Alison has managed to maintain partnerships with universities, foundations, and industry-leading companies and experts to bring thousands of online courses that are free, flexible, and fun. Some of the most recommended sales coaching courses they offer include Sales Territories and Distribution Management, Fundamentals of Sales Management, Competitive Sales Techniques and Strategies, and Fundamentals of the Sales Funnels, which are all structured into manageable chunks for higher retention rates. And the best part? They can be accessed and completed anytime and anywhere using almost any device, including desktops, laptops, tablets, and smartphones.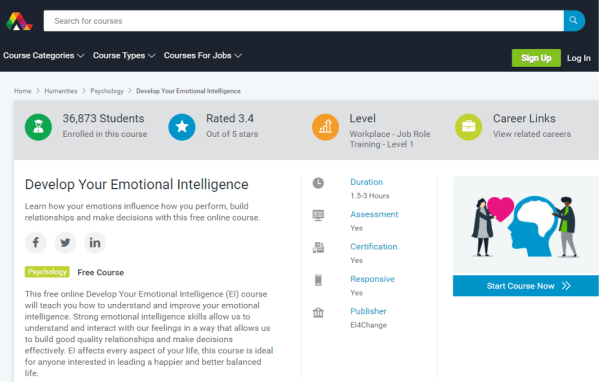 Alison also offers personalized training programs that can be tailored to fit the specific needs of your business. Just a heads up that Alison courses frequently contain advertisements, which can be very distracting, especially if you are trying to focus on your learning. You can have them removed, however, by paying €7.99 per month.
Cost: Free and paid plans

Key features: Sales courses that are free, short, and manageable, mobile compatibility
8. ELearning Brothers
ELearning Brothers gained its popularity due to its powerful authoring tools. Not only can you create interactive sales coaching courses, but you can also implement VR training and embed some immersive real-life scenarios to improve their verbal and sales skills. This learning technique is helpful particularly for onboarding new hires, eliminating the need to ask another sales staff, which probably has deadlines to catch up to, to train with them.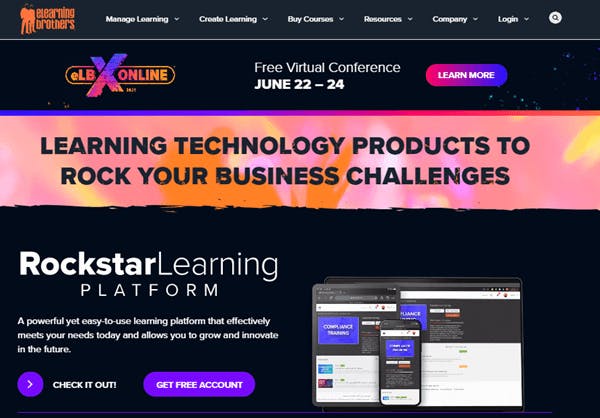 When you're short on time and resources, this learning software also offers a range of pre-built sales courses that are ready for immediate deployment. They cover broad topics essential to selling, like customer service, negotiation skills, closing sales, sales presentations, and more. 
9. Action Selling
Action Selling can help overcome a weak sales culture with its self-paced online sales courses, which are mostly focused on improving the three most critical factors that make up a winning sales team: product knowledge, sales strategy, selling techniques, and competitive mindset. Through this sales coaching platform, learning takes place through a series of video examples, eLearning modules and books, interactive quizzes, and certificate assessments. Most of these training materials are also designed with an exclusive open architecture, where you can add your unique selling situations, products, and custom settings. If needed, you may also approach them about co-branding their online courses to fit your company's goals.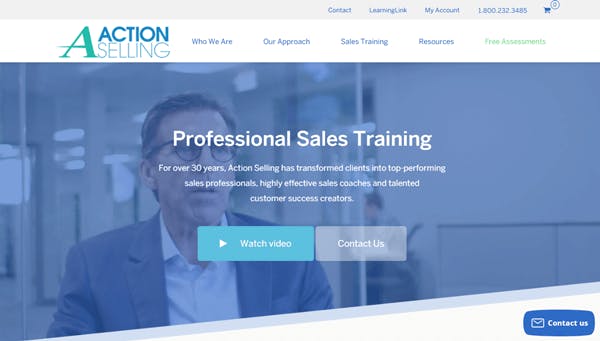 Cost: Paid plans

Key Features: Online sales training courses, video examples, eLearning modules and books, interactive quizzes, certificate assessment, customized training 
10. MTD Sales Training
MTD Sales Training is also a great place to receive quality and impactful sales coaching that will help drive better business results. Since 2001, this team has already coached sales teams from over 9,000 organizations from different sectors, which validates the competency and effectiveness of their sales training solutions. Their specialty includes online selling skills coaching, virtual sales training webinars, and elearning solutions, which you and your people can take anywhere, be it in the office or at home. They also host online sales training programs that are usually modular in nature and last a few months. 
They don't have an authoring tool to help you create bespoke sales training and coaching, but they do have a team that can assist you in designing the perfect program based on your requirements.
Cost: Paid plans

Key Features: Online selling skills courses, virtual sales training webinars, elearning solutions, modular sales training programs
You may also be interested in: