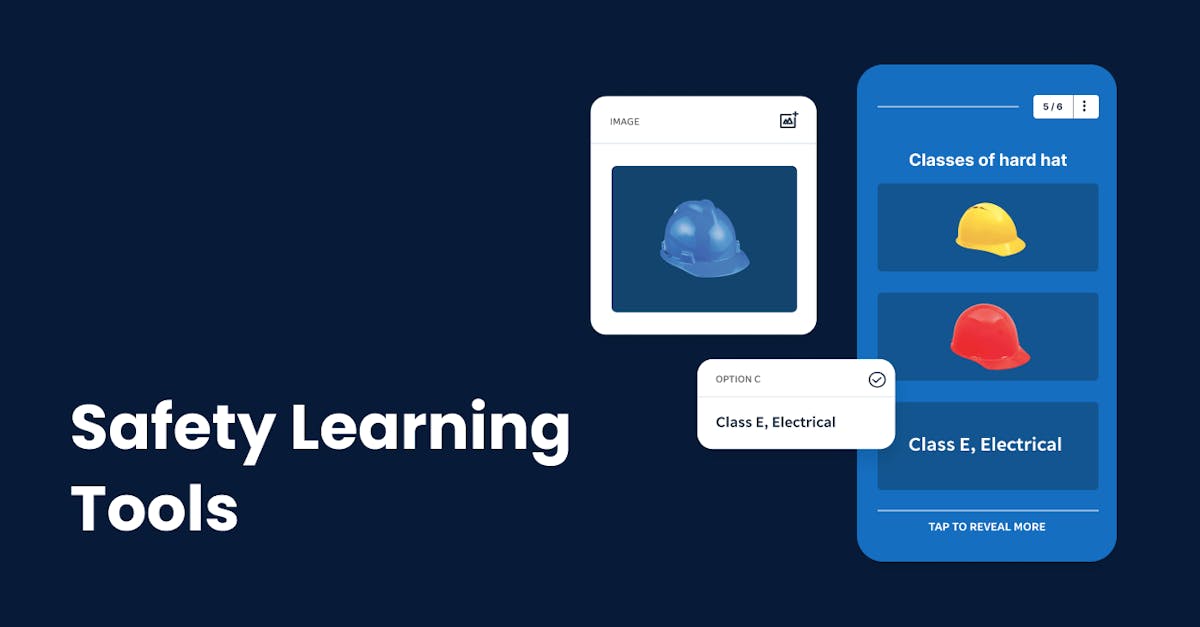 Safety training doesn't have to be difficult. There are a number of safety learning tools out there that can create, deliver, and help you manage training better for your team. Check this list we've created for the best learning tools on the market today!
Safety Learning Tool #1 – EdApp
EdApp is a leading safety learning tool that gives you free access to a variety of OSHA-compliant safety courses and more. It has everything from heavy equipment safety training to fire safety at the workplace.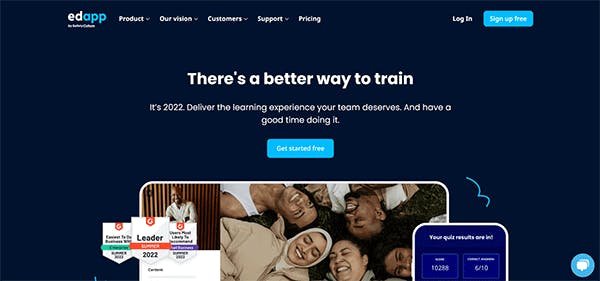 If you need courses with certificates, EdApp's got you covered too. What's even better is that all EdApp courses are editable and customizable through the creator tool. You can create your own courses from existing safety learning materials and even add your own branding. You don't need any special design skills to edit with the authoring tool.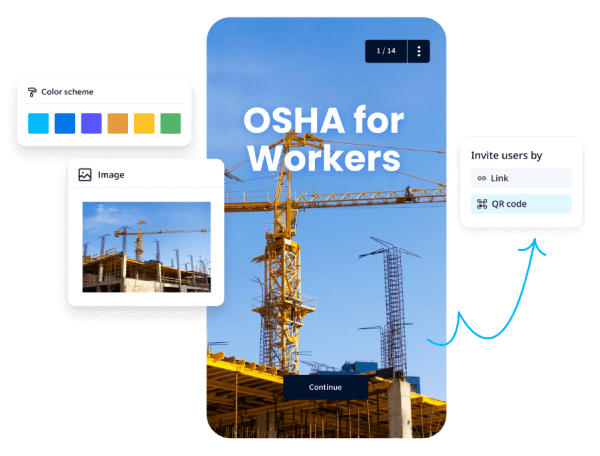 EdApp also has a built-in template library that makes your courses interactive and engaging to your learners. But, if you don't have time to create one, EdApp can create courses for you that will work for your team training. With a team of experienced instructional designers and customer success managers, EdApp will make sure you get the best safety training as soon as possible.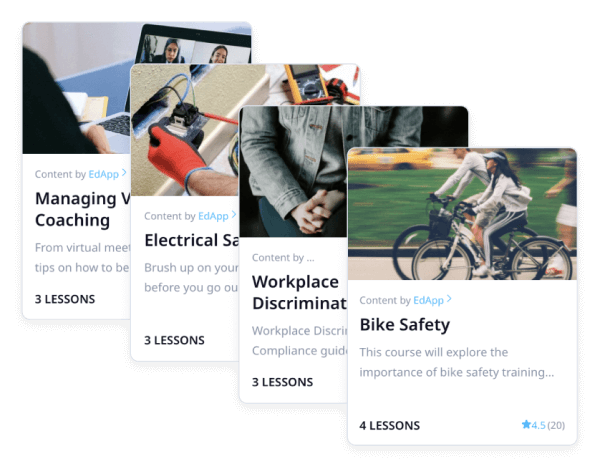 Once you're satisfied with your courses, sharing them  won't be a problem. Everything including reporting and analytics can be done through the app. Create your course, send it to your learners, and then manage their progress. It's as simple as that. You won't have to worry about safety compliance ever again.  
Cost: Free
Key features:
OSHA-compliant safety courses

Editable/Customizable safety courses

Beginner-friendly creator tool

Content creation services

Reporting and analytics
Join EdApp for free and start using a leading safety learning tool today!
Safety Learning Tool #2 – Coursera
If you're looking for world-class safety courses, Coursera is a good safety learning tool to consider . It offers over 4000 courses in different fields, authored by subject matter experts from renowned universities and institutions including Google, Stanford University, and IBM. Industry-recognized certificates are also available for an additional fee.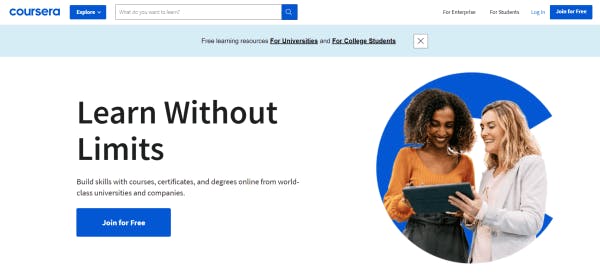 Coursera training materials are great if you're looking for self-paced learning courses for your team. Some courses can take less than a day to complete and at your learner's pace. The courses can also include quizzes and hands-on projects. Do note that these courses are longer and don't follow a microlearning format, which can be less effective for workplace safety learning.
Cost: Free with paid certificate
Key features:
4000+ courses from subject matter experts

Industry-recognized certificates

Self-paced learning

Quizzes/hands-on projects
Safety Learning Tool #3 – EHS Insight
EHS Insight is a safety learning tool that helps you manage compliance. Instead of spending days building your courses, simply take and adapt some of EHS Insight's courses from their online training content library. Their course library has mobile courses for COVID safety, safety basic training, and even hospital safety compliance programs.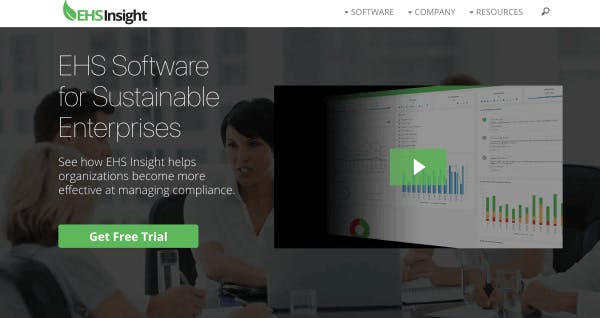 Keeping track of progress is essential to safety compliance. This training tool can run reports and even send out assessments for your learners. These reports will offer insight into knowledge gaps and important information you need to create better programs for your learners.
Cost: Request a quote
Key features:
Course library

Mobile learning

Reports and analytics
Safety Learning Tool #4 – SET Safety LMS
If you're looking for an enterprise-level solution for your safety training, SET Safety LMS may be the safety learning tool for you. SET Safety is a learning management system (LMS) which means it's an all-in-one training tool. You can create mobile-friendly online courseware, build surveys, send out certificates, and deliver your training to your teams. You can also upload company documents, observe virtual classrooms, and even send out push notifications.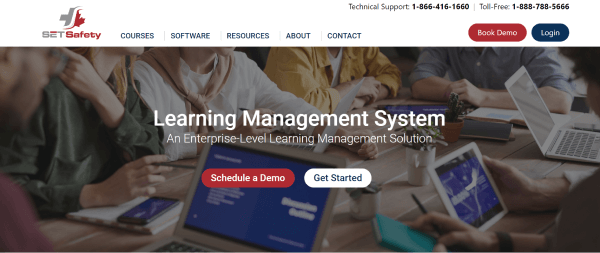 And if you're looking to create your own courses, they have an authoring tool as well. The downside to these courses is that they don't have interactive and game-like lesson templates that encourage knowledge retention.
Cost: Request a quote
Key features:
Learning management system (LMS)

Mobile-friendly

Course library/course creator

Send out certificates

Upload company documents
Safety Learning Tool #5 – EcoOnline
EcoOnline is a safety learning tool that can streamline your safety learning at the workplace. LMS safety training is the most efficient option as it has all the tools and features you need to create and deliver safety training. All the courses on EcoOnline are instructor-led and support mobile-friendly learning. Learning is encouraged and reinforced through gamification with leaderboards, badges, and rewards.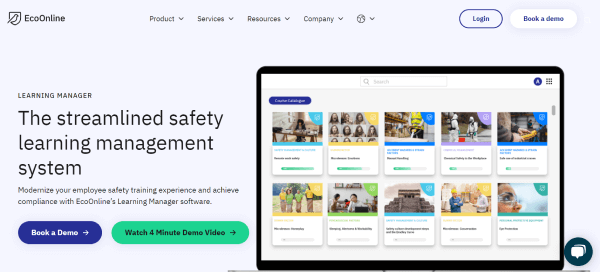 The big con for this tool though is that the learning content lacks assessments like quizzes or exams. It can be challenging to gauge if your learners understand the materials without proper assessment tools.
Cost: Request a quote
Key features:
Learning management system

Instructor-led mobile-friendly learning

Gamification
Safety Learning Tool #6 – Vector LMS
Vector LMS is a safety learning tool that creates high-quality ready-made courses for businesses of all sizes. If you're looking for courses on workplace safety that follow global standards and are based on experience and industry standards, this is the app for you. Because it's an LMS, you can easily deliver these courses to your employees and even track their progress.

A selling point of Vector is the 3D animation format for their video courses. This can be useful for immersive scenario-based lessons that need simulation like equipment operations. If you need lengthy but comprehensive training, this will work for you and your team.
Cost: Request a quote
Key features:
Ready-made courses that follow global standards

Course assignments and delivery

Reporting and tracking

3D animation videos
Safety Learning Tool #7 – Crowd Wisdom
Crowd Wisdom is a flexible safety learning tool that offers personalized and engaging online learning. You can design and deliver custom safety courses and manage your employees' learning progress through a centralized system. Crowd Wisdom also boasts a social aspect to their LMS, so you can engage in social learning with features like peer-to-peer feedback and community discussions.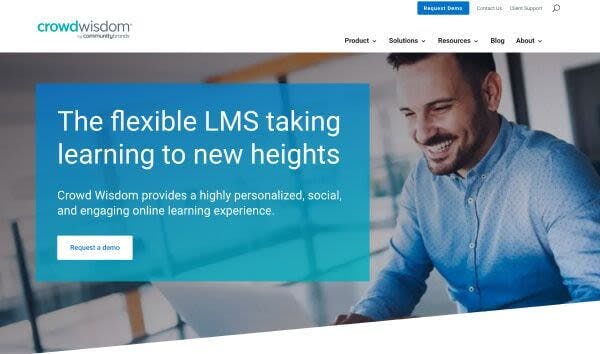 You can monitor your team's safety skills and find the right courses to assign to them. Credentials and certificates are also available to motivate your team members to take the safety courses. 
Cost: Paid plans
Key features:
Customize safety courses

Centralized learning management

Social learning (peer-to-peer feedback, community discussions, blogs)

Credentials and certificates
Safety Learning Tool #8 – ProProfs
If you're looking for a simple safety learning tool, ProProfs is a great choice. This smart tool is designed to make things like safety training compliance easy. You can quickly develop courses with their huge library of templates and media content that includes hundreds of different safety lessons and quizzes. Pre-made or off-the-shelf learning materials are also available for you to share with your team if you need the training now.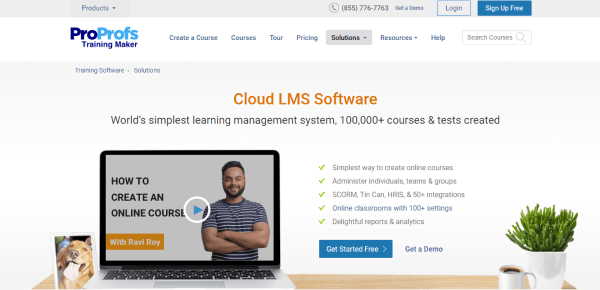 ProProfs also encourages collaborative learning through discussion forums and virtual classrooms. As a trainer, you can also assign and monitor projects or additional learning tasks.
Cost: Free, paid plans
Key features:
Content library

Template library

Pre-made learning materials/courses

Collaborative learning (virtual classrooms and discussion forums)
Safety Learning Tool #9 – Cority
Cority is another safety learning tool suited for medium-to-large enterprises in healthcare, pharmaceutical, and manufacturing. These industries have set standards that your company needs to comply with and you need training tools to address that need. You can create virtual safety training with Cority for a wide range of topics like COVID training, fire prevention, equipment handling, workplace safety, and even mental health.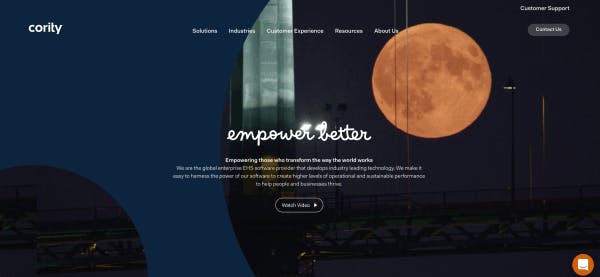 The virtual classrooms and webinars will be led by experts and consultants. Your learners will have access to articles, blogs, videos, and discussion forums for further learning. Some of the free safety courses come with certificate as well. Your learners can also access all the materials offline by downloading them. Offline functionality is great for flexible learning.
Cost: Request a quote
Key features:
Safety Learning Tool #10 – eSafety
Organization-wide safety training couldn't be easier with this safety learning tool. eSafety has customized support, user logins, and custom courses. Just like the other tools on this list, eSafety has a customizable course library that you can edit with their course developer or authoring tool. You can easily send your training out to your teams through the scheduling feature.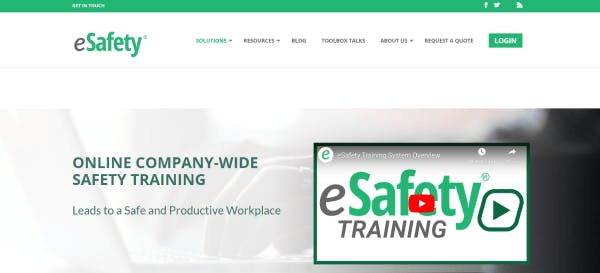 What eSafety does lack is responsive design or easy access on mobile devices. The tool is optimized for desktop use, which can make on-the-go learning harder for your learners. Take this into consideration when you want to integrate this tool into your training programs.
Cost: Request a quote
Key features:
Customized support

Custom courses

Course library

Authoring tool

Scheduling feature