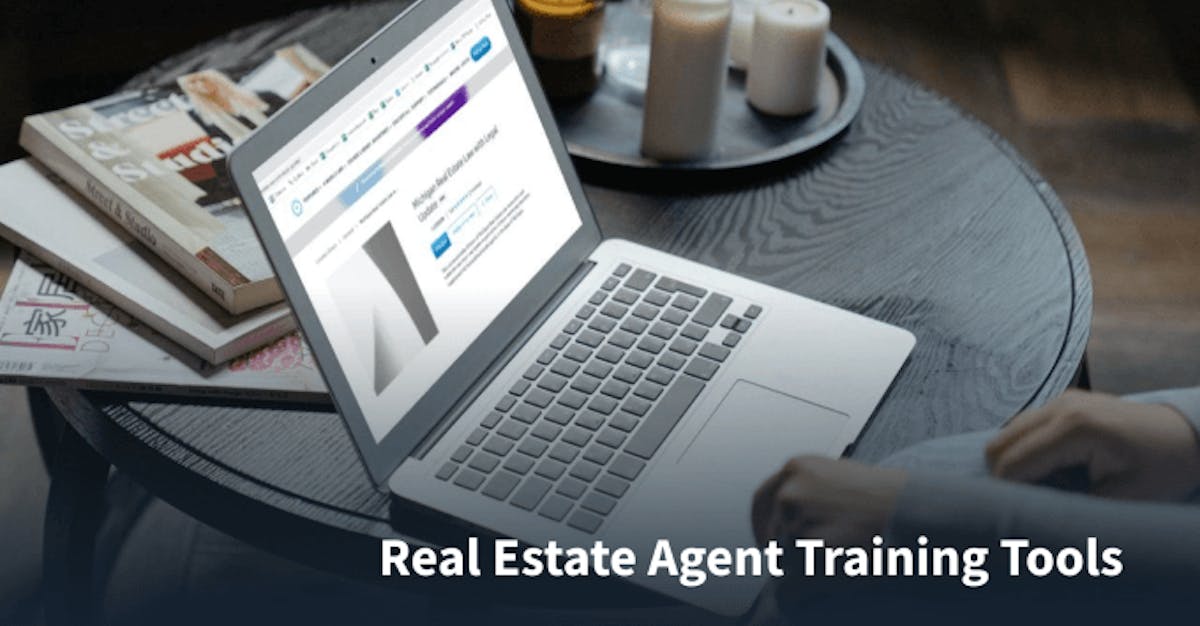 Real estate agent training tools have multiple uses, from helping prepare future realtors for exams, and providing the full home selling checklist, to upskilling current realtors with skills necessary to make them more productive for their firms and careers. It's important to utilize these tools to keep your team up to date and competitive, so profit margins are maintained and improved. Here are the 10 best Real Estate Agent Training Tools available today.
1. EdApp
Real Estate training is not often available online for teams. So a platform, such as EdApp, that offers exactly that is a breath of fresh air. EdApp is a mobile-friendly platform that allows users to take their lessons at any time on basically any device. The lessons are offered in bite-sized chunks so they are not time-consuming and overwhelming. There are many platforms on this list that offer one size fits all licensing courses but not many that will allow you and your organization to train employees in a manner tailored to your specific needs. Your team may need to work on boosting real estate sales, communicating effectively with team members and clients, advanced negotiation techniques, and more skills of a realtor.  You also need to keep your team up to date with the latest changes in the industry and a realtor sales training tool that helps you to easily author courses, deliver the content and keep track of the team's progress. EdApp is perfect for all of that and more.  You won't need to get multiple software and can just use this complete LCMS for free. The team at EdApp even gives you a head start with ready-made courses.
Price: Free
Key features: Editable content library, mobile LMS, Rapid Refresh, world-class authoring tool, gamification, spaced repetition
Start Using The Best Real Estate Agent Training Tool
2. Real Estate Express
Real Estate Express is a well-known platform in real estate circles. As realtors need to be licensed, this tool is one of the best to get you prepared with all your pre-licensing education. Courses will need to be taken from an approved licensing school and Real Estate Express is one of the few online options. Upon completion of your pre-licensing course, you will be provided with official transcripts or certificates of completion. These are important documents as they are required to complete your license application.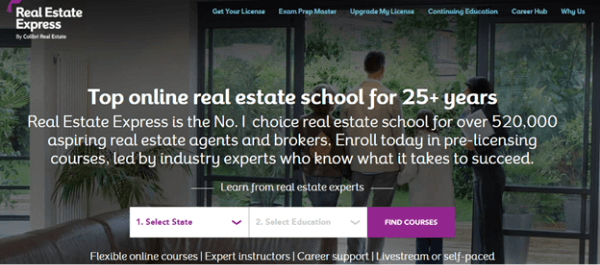 Real Estate Express comes complete with an exam prep program that will prepare you for your state licensing real estate exam. In addition to getting the necessary education required for your initial real estate course, Real Estate Express also provides courses for license upgrades and continuing education courses to keep you up to date with the industry. The advantages of this platform are that it has courses packed with the needed info, supportive instructors, industry insights, multiple ways to learn, and it provides you with help to launch a successful career. Unfortunately, the courses are not free and can be quite pricey for career starters or large groups.
Price: Depends on the course
Key features: Individual courses, packages, supportive instructors, license upgrades, Continuing education, exam prep master, and more
3. 360training
360training is a real estate agent training tool that has certified online courses that are suited for new realtors or those looking to upgrade their skills and qualifications. Experience in the industry is one thing that this platform does not lack in any way. With over 24 years in the biz, 360training's Agent Campus Real Estate school makes it less challenging for those looking to take and pass their realtor licensing exams. This real estate sales training online tool has been trusted by millions of learners for many reasons: the course content is simple to follow and is all online, so it can be accessed at any time from anywhere.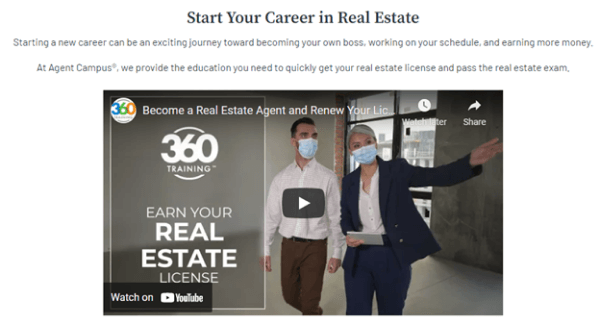 Speaking of course content, 360training offers four major types of courses. Starting with Real Estate Pre-License Courses for individuals who are just entering the business. These courses will set you up for the harder stuff to follow and give you great insights into the industry. Next on the list are the Real Estate License Exam Prep courses and these will provide the necessary material to pass your real estate exam the first time. Learning does not stop after the exam, and this is where the Real Estate Post-License Courses come into play. Last on the list are the Real Estate Continuing Education Courses designed to keep you up to date with industry standards.
Price: Varies per course
Key features: toll-free phone support 7 days a week, engaging course content, mobile-friendly, approved, and accredited.
4. Mbition
Mbition is an accredited, approved licensing school that can operate in every state and provides courses that use a Teach-to-the-Test approach. They claim that this approach makes it easier for learners to understand the material and then pass the exam. Realtor course requirements can vary from state to state and range from 75-130 hours and Mbition covers them all while focusing on key topics. This real estate agent training tool will also help you to schedule your state licensing exam after your real estate agent training course is completed.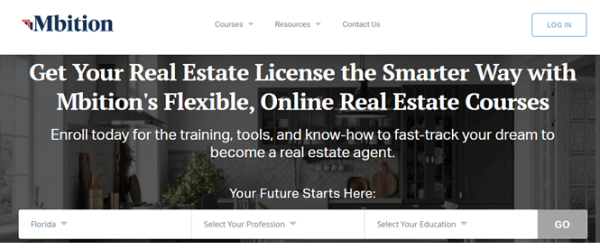 Speaking of exams, you have to properly prepare for these so you don't waste time and money on the process. With course features such as study tools and tailored practice tests, you're guaranteed to get ready for that state exam. After you pass your exam and start your career, you have the option to earn continuing education units and take professional development courses to help you maintain and grow your career. You can consider Mbition because it has pre-licensing courses taught by experts and meets all state licensing requirements. Remote exam proctoring is available as well. You can easily schedule your state exam to be done at home via PSI's remote proctoring platform.
Price: Depends on the course
Key features: Convenient exam prep, Remote exam proctoring, Pre-licensing Courses, Post-Licensing & Renewals, Continuing Education, License Upgrade & Professional Development, and more.
5. National Association of Realtors
The National Association of Realtors (NAR) currently offers SFR certificate courses along with a large catalog of other courses that offers a lot of value to new and current realtors. Their website is constantly offering promotions so that's something to look into. Some of the unique courses offered by this group are its Moving with Kids course and its Green Designation Course. More information on these is available on the website. In addition to providing courses for students, the National Association of Realtors currently has an option for qualified Real Estate course providers to offer online, high-quality, on-demand courses that earn them revenue. NAR offers 15% revenue on courses purchased by students via the instructor's link. Learning with NAR courses can provide realtors with the Accredited Buyer's Representative Designation. The ABR designation is one that can be considered as the creme de la creme in buyers' representation. Even international realtors can earn this designation when they study with NAR courses. The platform also offers an official certificate called the At Home With Diversity Certificate. The certificate class teaches realtors how to adapt and effectively work in a rapidly changing multicultural industry. The courses offered by the NAR are quite costly and can be very expensive especially with the add-ons.

Price: Varies per course
Key features: SRF Certificates, code of ethics Programs, Continuing education, and more.
6. Southeast Community College
Southeast Community College is located in the midwest in the state of Nebraska but its Real Estate courses are available both online and in classroom settings. The Pre-licensing course is designed to help potential realtors to develop the proper professional conduct and ethical practices. The course is said to be interactive to maximize focus and retention. Learners are required to actively participate in discussions and case studies related to ethical situations that may arise in the real world. Southeast Community College also offers Post-Licensing. That section of the course is 12 hours and must be completed within 180 days of accomplishing your real estate license test. The post-license course has four sections to study, however, you cannot do them separately. One key course offered by Southeast is the Principles and Practices course. Lessons in this course are geared toward getting future and current agents the necessary information on how to lead their clients through the real estate transaction process. Learners are also trained on how to make the best business decisions. Keep in mind though that the courses are suited for the real estate market in Nebraska and won't be of great use if you are in a state with different laws and exam regulations.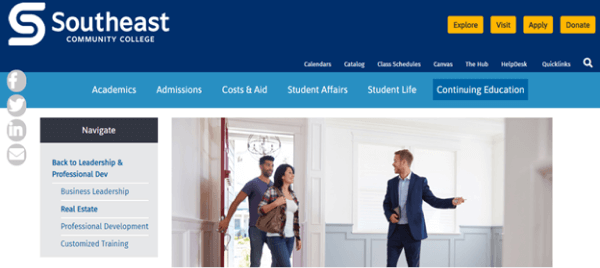 Price: Contact for info
Key features: Continuing education, online classes, advising and support, virtual support, internship program, and more.
7. eCornell
eCornell offers a commercial real estate certificate program that is accessible anywhere as it's offered online. The program consists of multiple courses covering topics that learners will need to understand and flourish in the real estate game. They'll be provided with a complete overview of necessary processes, such as the development of their clientele, financial decision-making, property valuation, project planning, real estate asset management, and many more. The overall goal of the course is to provide participants with the analytical tools and guidance to successfully develop and execute real estate projects to the end of enhancing their careers.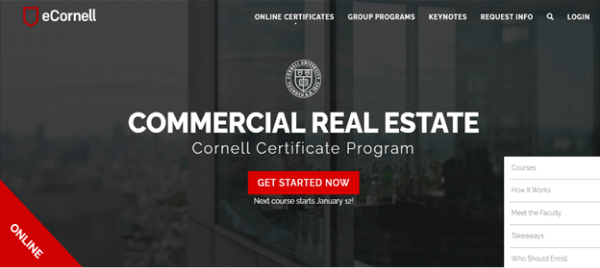 There are a total of 6 courses in the program, including Introduction to Commercial Real Estate Development, Managing Real Estate Development Projects, Real Estate Investment Decisions, Financing Real Estate Investments, Leading Successful Property Management Operations, and Optimizing Asset Management Strategies. These courses will give realtors the ability to plan feasible projects, create real estate development schedules, develop real estate development strategies, raise capital, manage resources and risks, maximize returns on investments, and maintain properties. However, take note that their program length is quite long and takes 3 months to complete.
Price: 520
Key features: Under 30 students per class, instructor-led, certificate program, and more.
8. The Real Estate Trainer
This program from The Real Estate Trainer is tailored for real estate companies, teams, and organizations. The Real Estate Trainer can create customized programs for teams that need to increase sales production, transact management processes, recruit, onboard and retain employees. All products created by the real estate trainer come complete with training video modules (branding and logo options available). The video modules go with the written materials that have action steps to facilitate engagement and retention. Instructor manuals are also provided with each product. The manuals cover the proper ways for managers to correct, instruct and review each topic with employees. To complete your tailor-made training materials, a complete analysis of your organization's specific needs is done through professional consultation with specialists from The Real Estate Trainer. After your team receives the material,  one-on-one post-production consulting is available to ensure that the material is fully understood. It would be great if The Real Estate Trainer also had a platform that could fully support the dissemination of the material to the learners. It's also beneficial to note that advancements in real estate software development are continually offering new avenues for realtors to streamline their operations and offer enhanced services to clients.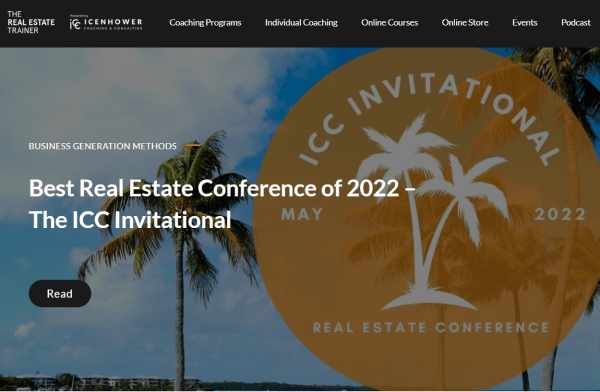 Price:  Contact for details
Key features: Depth analysis, consultation, all materials are yours after production, payment plans, and financing options.
9. Center for Real Estate Education
The Center for Real Estate Education is a real estate agent training tool that provides Real Estate licensing and certificate courses approved by the NYS Department (unless otherwise specified) meeting the educational requirements under Sections 176.3 and 176.4. Seminars for Real Estate career exploration are also available from this platform. Multiple options for courses are available including Real Estate Licensing and Certificate Courses, Salesperson exam prep, Real estate property management courses, Commercial and Investment Real Estate Certificate (CIREC), Property Management and Construction courses, Real Estate Investments classes, Appraisal Principles, and Procedural courses. However, some of these courses may not be useful for individuals who are looking to work in other states.

Price: Varies per course
Key features: Multiple courses for multiple levels and needs available, seminars, academic support
10. Kaplan Professional
Kaplan Professional's courses help thousands of students to prepare for their initial real estate exams and also keep their existing licenses current via top-notch licensing, career development, continuing education, and exam preparation. The instructors from Kaplan are focused on helping you to pass your exam on the first attempt by exposing them to real-world experiences as part of their prep process. Affiliate partners are also able to earn revenue by driving enrollment to Kaplan Real Estate Courses. The courses in question consist of timely, state-approved content. Their distinct education delivery format makes learning the materials easier for students. Other advantages of using Kaplan Professional include flexible schedules for a wide selection of courses. While they offer a comprehensive list of courses, the pricing for these courses may be a bit steeper than usual for those on a tight budget.

Price: Varies per course
Key features: Dearborn wholesale real estate, Kaplan real estate education courses + affiliate partnerships, appraisal licensing & CE, contractor licensing & CE, home inspection training
11. McKissock Learning
McKissock Learning is a leading learning real estate platform for real estate professionals, offering a comprehensive range of state-specific courses, including pre-licensing, continuing education, and professional development programs.
With a user-friendly platform and courses led by industry experts, McKissock ensures real estate agents have access to up-to-date and relevant content. The platform's commitment to compliance with state licensing requirements makes it a trusted choice for real estate agents seeking flexible and quality training tailored to their specific state regulations.
12. AgentEDU
AgentEDU is an online video training platform designed to make it easy for agents learning real estate. The platform typically offers a variety of courses covering different aspects of the real estate industry, including sales techniques, marketing strategies, and other skills essential for success in the field.
AgentEDU aims to provide a flexible and accessible learning experience for real estate professionals, allowing them to enhance their knowledge and skills at their own pace.