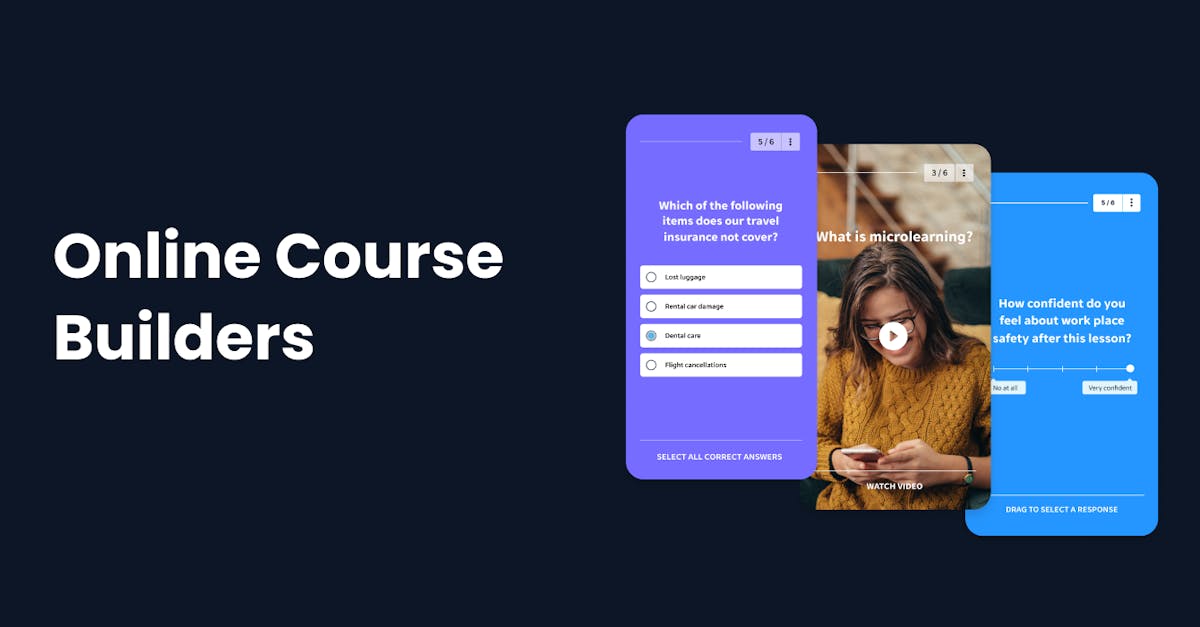 Not all online course builders are built the same. Many offer a wide range of features to help trainers and L&D people give their teams the best training possible. We've listed some of the best learning platforms available along with their features to help you find the best fit for your training needs.
1. EdApp
EdApp is a free online course builder that makes course creation and deployment easy. Its authoring tool is intuitive and user-friendly, and no complicated coding or design skills are needed. It's as easy as picking a template and adding your content. The content templates are designed by elearning experts so whatever content you decide to add, it'll always end up looking great. You can even upload your PowerPoint or PDFs and instantly transform them into beautiful bite-sized lessons.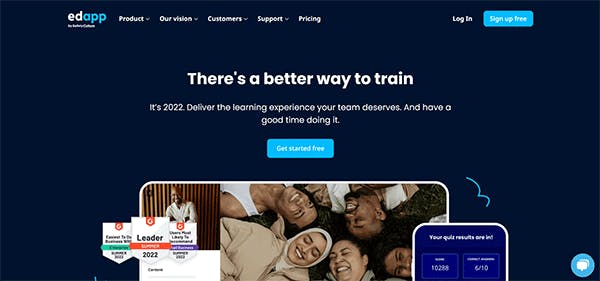 But, EdApp can do so much more than just create learning content. After you've built your course, you can manage your team's learning progress with the practical assessments tool. This is game-changing for blended learning. When you're on the job or having an in-person session, you simply need to scan your team's QR codes and track their progress. No more need for paper checklists and spreadsheets.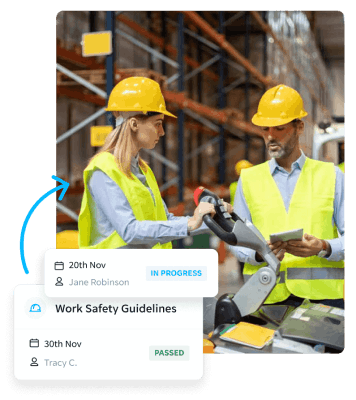 And if you're pressed for time, EdApp also offers course creation services. Just let EdApp know what you need, and they'll assign you a team of experienced instructional designers to create unique learning content that you'll love. You can try it for free to see your content in action.
Cost: Free
Key features:
User-friendly authoring tool

Extensive template library

Powerpoint or PDF conversion

Practical assessment

Course creation services
EdApp's online course builder is free forever. Sign up today!
2. Chameleon Creator
Chameleon Creator is a fully-responsive online course builder. This just means that all the content you create on the software will be accessible and easily viewable on any device. No more janky zooming and scrolling. Its authoring tool is also designed simply and intuitively. It already has a built-in asset library and each customizable element interacts dynamically so it's basically designed for you.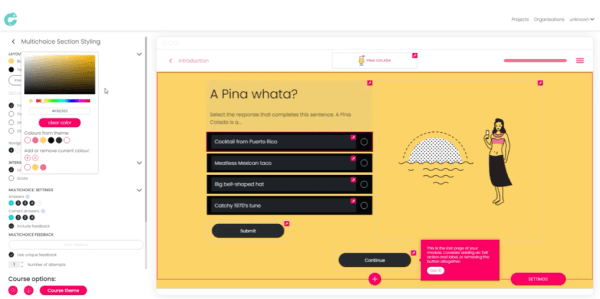 The lessons you've built on Chameleon Creator can also be easily transferred to other SCORM-compliant learning management systems (LMS) if you're delivering your training on different platforms.
Cost: Starts at 75 USD/month
Key features:
Simple UI

Fully responsive design

Asset library

SCORM-compatible
3. Tovuti
Tovuti is a cloud-based online course builder where you can quickly and easily create microlearning lessons. Just drag and drop content on the course creation tool, making it easy to design your content based on your branding and existing learning materials. You can add interactive elements to your course as well to make it even more interesting.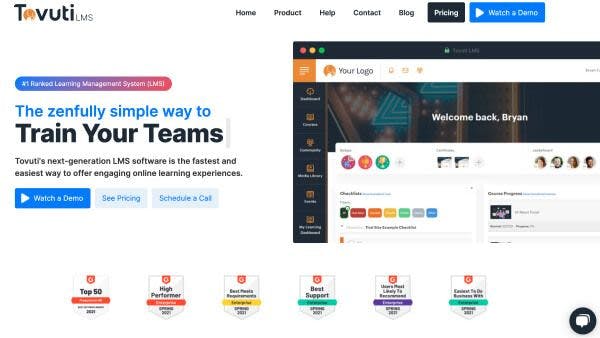 You can directly assign the courses you've built to your learners too. And if you need more training programs to add to your own, Tovuti offers a content library of over 7000 courses on different professional and industry topics. The catch is, you'll have to pay extra for those courses, and they're not editable.
Cost: Request a quote
Key features:
Microlessons

Drag and drop content

Content library
4. AdaptiveU
AdaptiveU is a simple online course builder if you need a tool to get you started. You can create simple lessons by copying and pasting content like links, images, videos, and even relevant articles. The slide colors are easily customizable as well to match your branding. And just like the other online course software on this list, AdaptiveU also has reporting capabilities.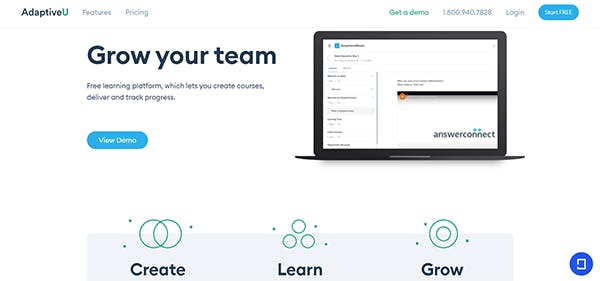 The tool is very limited though. For example, only 1 GB of storage is available and there's a lack of templates to help you populate your content.  
Cost: Free, paid plans
Key features:
Copy and paste content

Customizable lessons

Reports and analytics
5. EduMe
The mobile-friendly EduMe is an online course builder that focuses on using images and video over text-based lessons. Its authoring tool minimizes text to highlight other visual-based elements for more impact. Aside from images, you can add scenario videos to your courses to simulate real-life examples of your topics or lessons.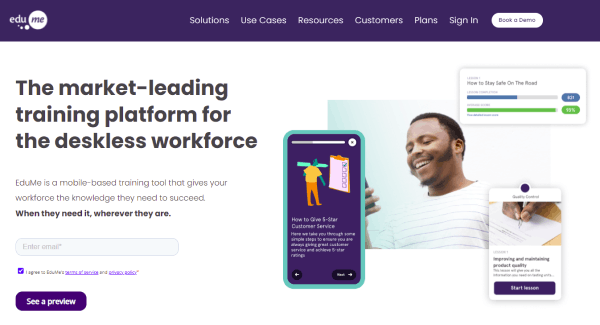 EduMe also has a lot of integrations for course delivery including Microsoft Teams, Speakap, Beekeeper, and more. These integrations are great if seamlessly add the courses you've created to your existing training.
Cost: Paid plans
Key features:
6. Thinkific
Thinkific is a multimedia online course builder that needs no technical expertise. It's got a bunch of ready-made course templates and themes so you don't have to start from scratch. The template and themes are all customizable. You can bulk import all your media and learning materials and easily manage them once they're uploaded. Rearranging and building your course content is also pretty easy because everything is drag-and-drop.
Thinkific is one of the online learning platforms where you can professionally share and sell the courses you've built. Because of that, the pricing on the app may be a bit more pricey than other course-building software. 
Cost: Available upon request
Key features:
Course templates

Drag-and-drop

Bulk importer
7. Coassemble
Coassemble is another course builder you can use to create interactive elearning content. Its course editing tool is dynamic and easily adjusts to users who don't have design experience. Colors and branding elements can also be customized with one click. The 35 content templates that the tool comes with are also lifesavers if you're feeling stuck.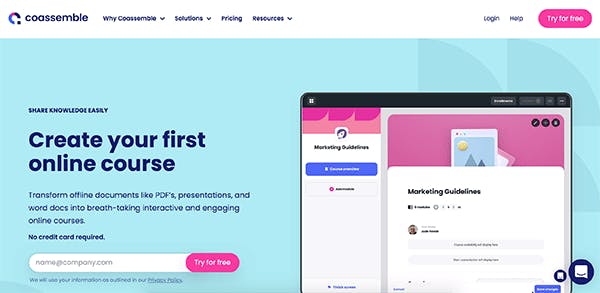 Coassemble also offers around-the-clock support and even a content design service if you're in need of professionally designed lessons.
Cost: Starts at 49 USD/month
Key features:
Course templates

Dynamic authoring tool

Content design services
8. Adapt
Courses built on Adapt are quite different from most of the online course builders on this list. Lessons built on its authoring tool use the Adapt Framework or an HTML5-based framework that can be delivered on a web server or any SCORM-compliant learning management system. This also means that the courses you can create navigate more linearly. The courses scroll vertically rather than flip horizontally.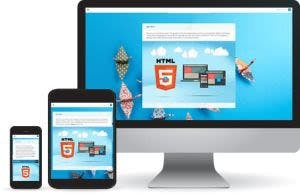 If you're looking for simple course designs, this is the tool for you. But if you want to add a little more spice to your courses, you can install additional Adapt plug-ins for more customization options.
Cost: Free
Key features:
Web Page UX

SCORM compatibility

Additional plug-ins
9. GLOmakers
GLOMaker is an open-source online course builder that lets you create rich and interactive learning resources. The content creation process with the tool is more structured because it's divided into planning and designing. The planner tool helps with instructional design tips alongside tutorials on how to create effective interactive lessons with a storyline learning design.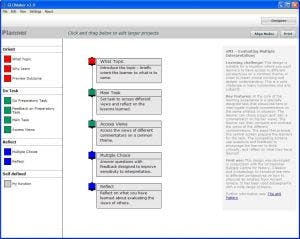 The designing tool is where you develop lesson slides. There are a bunch of responsive learning templates you can use plus quizzes and audio/video players. The tool doesn't have the same sleek design as other modern authoring tools though so it might take a while to get used to.
Cost: Free
Key features:
Open-source

Structured content creation process

Storyline learning design
10. Proprofs
Proprofs is a learning management system that specializes in quiz makers and online course builders. You can choose from over a hundred ready-made templates to kickstart your learning content creation. Just add your images, text, videos, and other necessary files.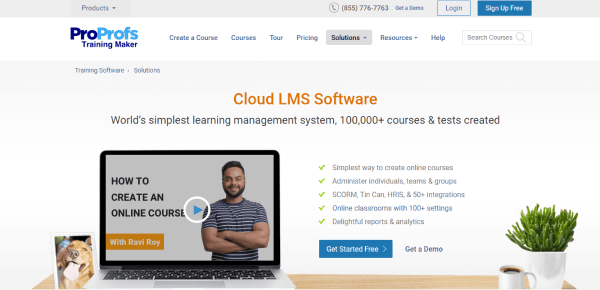 You can encourage collaboration through the tool's many social learning features like Q&A forums, centralized FAQs knowledge base, how-to-manuals, and many others. 
Cost: Starts at 3.5 USD
Key features: