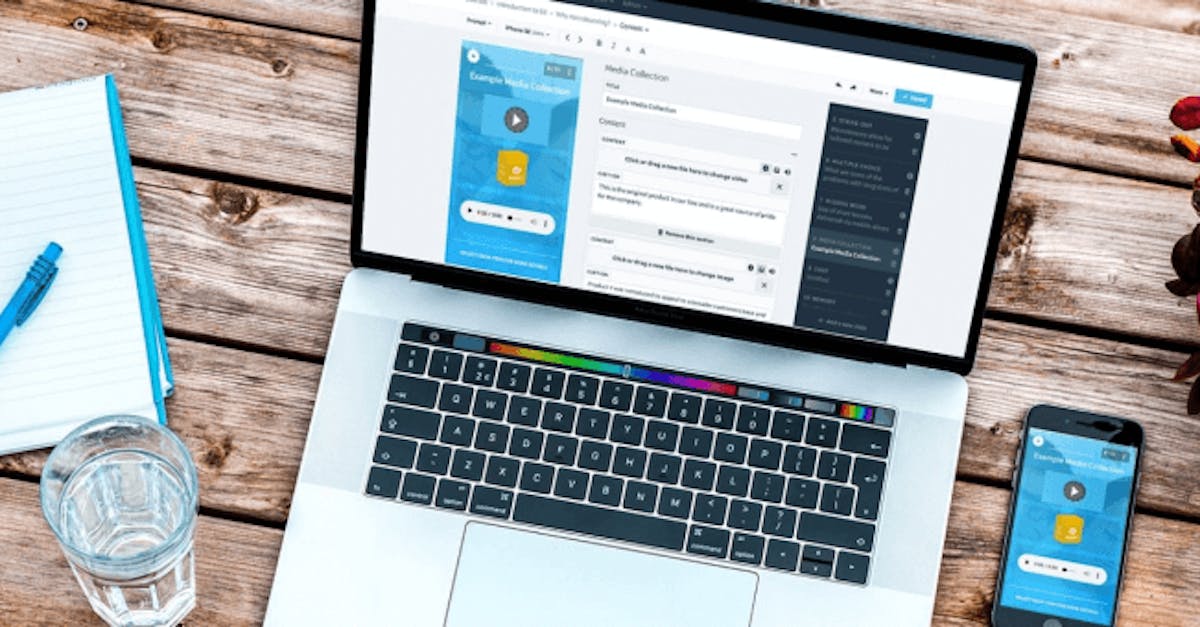 On demand training allows learners to gain access to materials and resources at any given time. This is especially helpful for learners who can't fit in training in their busy schedules but need working knowledge as the situation requires. A popular on demand training technique is through on the job training where a learner receives information in real-time through a mentor or colleague. However, since traditional face to face training is no longer a viable option due to the pandemic, this method has been widely adopted in digital formats to ensure that learners' informational needs are still met.
In this article, we'll discover 10 on demand training tools that you can leverage in order for learners to access relevant training materials at their point of need.
1. EdApp
EdApp is an award-winning microlearning LMS that's perfect for your on demand training needs. It's a mobile-first platform which means that learners can access training materials anytime and anywhere. By using a microlearning design model, information is turned into easily digestible chunks of information coupled with gamification elements. As a result, it boosts learning outcomes and increases learner engagement and knowledge retention. Due to the compact nature of microlessons, they're also easier to create, update, and distribute than traditional formats. This ensures that learners have up-to-date information at their fingertips in the shortest time possible whenever needed.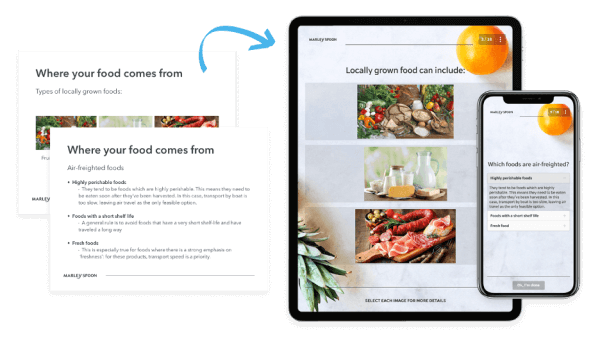 EdApp also comes equipped with a drag-and-drop authoring tool that enables you to easily create your own microlessons using over 80 intuitively designed templates. You don't even have to start from scratch as you'll also get access to its content library of 100+ courses that are fully editable and customizable. The course library covers a wide array of topics, such as retail, construction, leadership, self-improvement, and many more. Here, you'll find in-depth construction training programs, hospitality training courses, new manager training courses, and the like. Whatever industry you're in, EdApp has got you covered.
Key features:
Mobile-first – Lessons run seamlessly on both iOS and Android devices. They are also fully responsive and perfectly formatted for any web browser of your choice.

Editable microlearning content library – EdApp has partnered with the best in the business to develop a growing course library filled with expertly designed lessons. They're yours to personalize and rebrand as you see fit.

Drag-and-drop authoring tool – You can preview the lessons you create on different devices and see changes on the fly to know exactly what learners will see on their end. The Canva integration feature allows you to add visually appealing imagery without straight from the authoring tool.
Pros:
Learners can access lessons on any mobile device and download them for offline learning

Short, bite-sized lessons to absorb and digest information better

Easily create lessons without any coding knowledge or instructional design background

Choose from over 100 microlearning courses that can be deployed right out of the box

Create SCORM-compliant courses straight from the authoring tool without the need for any developer resources
Cost: Free
Sign up for Free and Use The Best On Demand Training Tool
2. Cloudera
Cloudera offers specialized, self-paced courses through its on-demand training library. It leverages video on-demand learning presented by experts in the business and provides learners with cloud-based, ready-to-use lab environments where they can put what they've learned into practice. It also includes quizzes in every course and discussion forums for learners to participate in.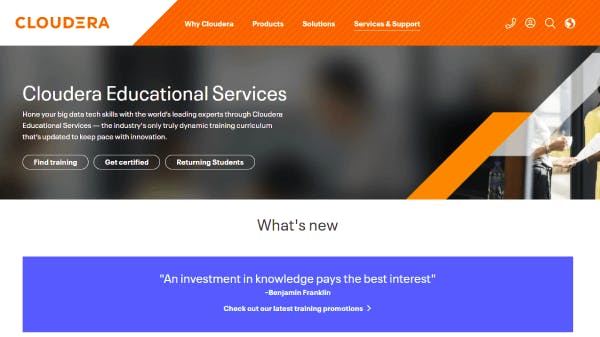 Additionally, learners can earn completion certificates if they attain a grade of at least 75% quiz found at the end of each course.
Key features:
On-demand library – Courses include exclusive content not found on any other platform

Browser compatibility – On-demand courses can be accessed in any modern browser, such as Chrome, Firefox, Safari, or Internet Explorer 11+

High quality, cloud-hosted lab environment – Promotes hands-on work and activities
Pros:
Courses are self-paced so they can be completed based on a learner's availability

There's no need to install any application as courses and lab environments can be accessed on a standard web browser

Learners can put what they've learned into practice through various hands-on tasks
Cost: $ 4495 USD/year
3. ProProfs
ProProfs is an on demand training tool that you can use to simplify the training creation process. You can import content from other LMS, customize ProProfs' ready-to-use courses, or easily create fresh courses online. Trainees can be managed via its virtual classroom feature where they can then enroll themselves in the courses they need.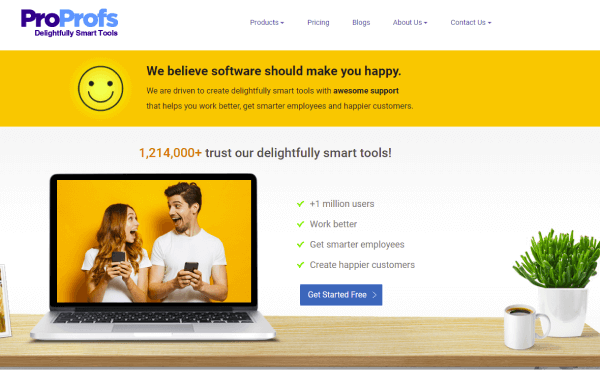 With ProProfs, you can import content from other LMS as it's SCORM & Tin Can API compliant. This allows courses to be integrated with your preferred platform or any third-party system.
Key features:
Platform independent – Works on Android, iOS, Windows, and Mac.

Premium course library – Save time on course development with 100+ ready-to-use courses

Custom reports – Track learning progress as they happen with in-depth reports that can be exported to CSV or Excel files
Pros:
Free trial on all plans with a 15-day moneyback guarantee upon signup

Customize courses using multiple formats, such as images, videos, docs, PowerPoint & SCORM files

Enable self-registration for learners to access training material without any admin permission needed

Deliver training on any device both on mobile and PC
Cost: Starts at USD/learner/month
4. EduMe
With EduMe, learners can access training anytime through its mobile-friendly, microlearning format through the standalone EduMe mobile app. It also includes a content creation tool where you can quickly create courses that capitalize on images and videos rather than long texts. It offers two lesson types: Conversational for activities and Slideshow for slides.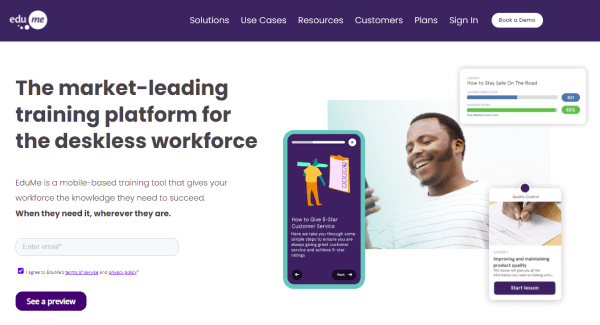 On top of that, EduMe offers the services of their in-house learning design team bringing in years of experience and expertise. This collaboration ensures that the courses your learners will take are professionally designed to give them an effective learning experience.
Key features:
Standalone mobile app – This allows you to access your training material and receive up-to-date information from your organization. It's available to download on the App Store and Google Play

Professional content creation – EduMe can create bespoke training content suited to your organization's needs

Easy-to-use creation tool – Easily import videos, images, quizzes in your lessons with its user-friendly content creation tool
Pros:
It offers a free trial after checking their guided demo

Deliver training whenever needed through the mobile app

Communicate with your teams through the app and pin key messages
Cost: Available upon request
5. Coassemble
With Coassemble, you can easily convert offline documents into engaging online courses. Courses can be created in just a few minutes by simply choosing from one of the interactive templates in their course builder. You'll also have the option to create a training hub to share courseware with your team so everything they need is all in one place. 
This on demand training tool also offers app integrations so you can seamlessly integrate your training with platforms that you already use, such as Google Slides, HubSpot, and Slack.
Key features:
Screen templates – Choose from 30+ templates containing media content, mini-challenges, pop quizzes, and other interactive elements

Training hub – Your training hub can be customized to included your company's branding, logo, colors, and themes. It can be shared with learners through an enrollment link

Certificate of completion – Award learners for completing courses through personalized certificates
Pros:
It offers two free trial methods where you can start on your own or enlist the help of a training specialist

Includes quizzes and assignments throughout the course to test learners' knowledge

Fits on any screen size and appears as an app functioning within the browser
Cost: Starts at 9 USD/month
6. Auzmor Learn
Auzmor Learn's simple user interface was designed to help you easily develop online training courses and deploy learning content even without any technical expertise. With their customized course builder, you can import courses, create new training content, or edit courses from their vast lesson library. You can also track employee training progress and identify learning trends through Auzmor Learn's real-time analytics dashboard and robust reporting.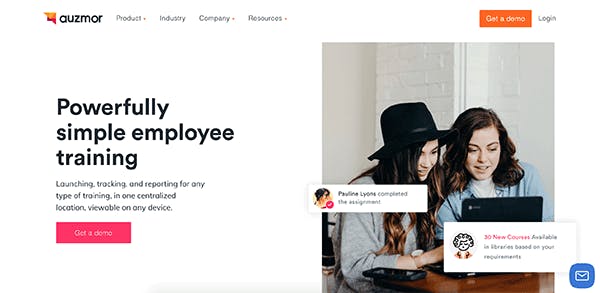 Auzmor Learn works on screens of all sizes and is optimized for taking and completing training on the go. 
Key features:
Lesson library – Have access to Auzmor's partner-created content

Reporting dashboard – Monitor learner progress and identify trends across teams

Mobile-friendly – Learners can take lessons thanks to its responsive design that works on any screen size
Pros:
Simple user-friendly interface

Lesson library supports the addition of third-party courses that allow learners to customize their learning experience

See real-time results and insights through customized analytics
Cost: Available upon request
7. GoSkills
GoSkills is another online on demand training tool that's packed with features to create training courses with ease. It boasts a wide selection of bite-sized courses featuring sought-after skills, such as business writing, data analysis, and web development. Courses on GoSkills are mobile-friendly and cloud-based so they can be taken anywhere. It also features gamification examples by including daily streak and time-tracking goals.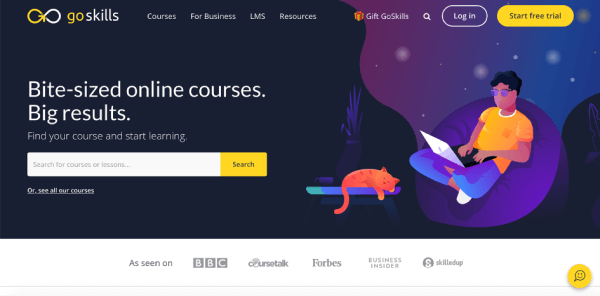 Learners can also obtain verified certificates that they can add to their resumé and share on their LinkedIn profile. In addition, they can also earn Continuing Education Units (CEUs) or Professional Development Units (PDUs).
Key features:
Extensive course library – Get unlimited access to 80+ courses including over 2,000 bite-sized lessons and 200 hours of expert-led video content

Game-based learning – Recognize learners for completing courses and create your own personalized reward system

Mobile learning – Access training on laptops, tablets and mobile devices
Pros:
Free 7-day trial

Earn an accredited Certificate of Training for every course you complete

Learn from hand picked award-winning instructors

Import courses via SCORM, xAPI, AICC or CMI5
Cost: Starts at .99 USD/learner/month
8. Learn on Demand Systems
Learn on Demand Systems allows you to create custom courses complete with videos, labs, and assessments. It offers white labeling so you can customize your training material based on your company's branding. Learners can choose from numerous self-paced courses and even create blended learning paths.
Compared to other learn on demand systems, this on-demand training tool also allows API integrations so you can easily push and pull data to your training content from other software.
Key features:
White labeling – Customize training material and place your company's logo, create a custom URL, and enable single sign-on (SSO)

Challenge and hands-on labs – Explore a variety of labs with scenario-based activities to enhance and assess your learners' skills.

Custom courses – Build SCORM and LIT-compliant custom courses
Pros:
Operates on a pay-as-you-go model

Learn from world-class content partners, such as Microsoft, EC-Council, and VMWare

Add labs and courses to other learning platforms
Cost: Available upon request
9. Raptivity
Raptivity enables you to design engaging and visually stimulating online learning experiences. The tool features a growing library of pre-made responsive interactions that include parallax displays, panning slides, and 360 interactions. Anyone can customize interactive quizzes, games, simulations, flashcards, and brainteasers through the tool's user-friendly interface. Whether you're a teacher or an instructional designer, you can maximize Raptivity's many capabilities to keep your learners engaged and motivated throughout their learning journey.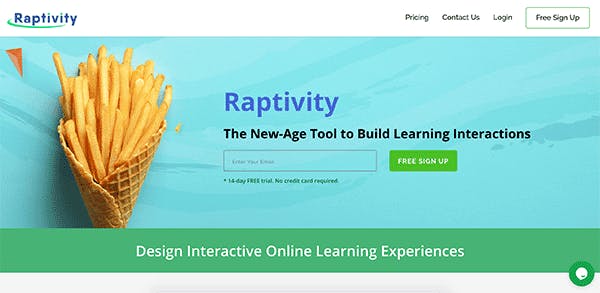 Raptivity is a cloud-based tool which means that it works from desktops, laptops, and iPad with Firefox, Chrome, IE Edge, and Safari browsers. No need to check for device compatibility.
Key features:
Interaction showcase – Use modern interaction templates in your courses to create visually stimulating learning experiences

SCORM and xAPI compliant – Track activities and publish content outside of Raptivity with a click of a button

Rapid customization – Customize templates without any programming knowledge or triggers
Pros:
Free trial for 14 days

Works on a wide range of devices so there's no need to customize based on a learner's device

Assess learners' knowledge through gamified quizzes
Cost: Starts at 0 USD/month
10. Vowel LMS
Vowel LMS is an on demand training tool that has powerful content management and social learning features. Like other tools, it uses a drag-and-drop course builder to easily create a course in no time. You can also upload existing SCORM or TinCan compliant content so there's no need to worry about converting existing content to make them compliant. Furthermore, you can include quizzes, assignments, and exercises in your training material to determine a learner's next steps.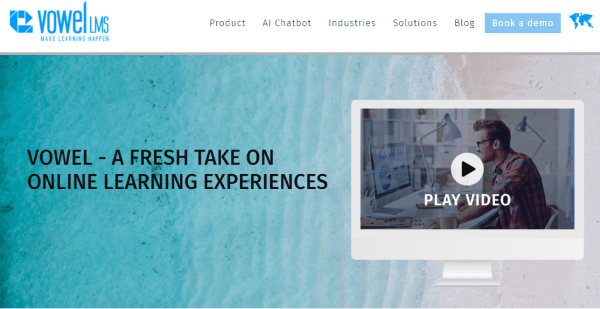 To discover more learning content, Vowel LMS features an AI Chatbot that learners can converse with so they can include suitable courses and content in their learning path. Learners can also get peer recommendations and gain insights that cultivate learner engagement.
Key features:
Drag-and-drop HTML5 course builder – Create courses without any technical know-how

AI-Based Personalized Learning – Get skill-based recommendations to fill learning gaps with the Vowel Learning bot

Media-rich courses – create visually aesthetic courses using videos, audio tracks, and web sources
Pros:
Reuse uploaded learning materials to build new courses

Easy-to-use, in-built course builder to create courses within minutes

Custom plans and optional add-on products and services to fit your needs 
Cost: Available upon request