Mobile learning allows learners to access learning materials across multiple devices, especially on smartphones. To assist you in planning your training strategy, we've created a list of mobile learning examples that you can use as a guide. Read on to learn more.
1. Mobile learning with microlearning
Microlearning is an ideal way to make mobile learning more engaging and effective. It's an approach where bulks of overwhelming information are transformed into bite-sized modules that focus only on key elements of any subject. This form of training allows you to embed information into the long-term memory of your employees while also empowering them to have control over their learning process. The convenience of mobile microlearning also results in increased knowledge retention and higher completion rates among your learners. 
To seamlessly deliver mobile microlearning, it's best to leverage Learning Management Systems (LMS) like EdApp. This LMS features a built-in authoring tool that enables you to easily create your own microlessons using available interactive templates. But, you don't have to always start from scratch – its free editable course library offers hundreds of courses that you can tailor with your own expertise or standards specific to your company. With this  LMS, you have full control over course management, and your employees can access training materials conveniently in one platform.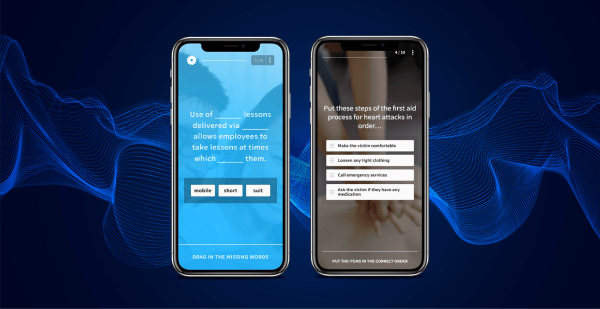 2. Gamified microlessons
Gamification is the process of turning mobile learning materials into casual or competitive games. It uses gaming elements like drag-and-drop, sequencing, matching, and many more to make the learning experience interactive and engaging for your learners. It works best with a mobile microlearning approach as it makes training feel like simply playing smartphone games instead of doing another work task. Combined with a scoring system, leaderboards, and real prizes, it encourages friendly competition among individuals or teams across your organization. It's an effective way to combat the lack of motivation and boredom associated with learning work-related information. When learning doesn't feel like another mundane task, learners are more engaged and knowledge retention is increased. This mobile learning example is proven to result in 90% (or higher) completion rates compared to typical eLearning courses, 
To make the creation of gamified lessons easier, EdApp also provides gamification templates in its authoring tool. Some of the gamification examples include true or false, image/word match, and letter jumble, to name a few. This LMS also provides a gamification-based reward system through stars that they can use to redeem real rewards (like Amazon gift cards or discount coupons). It also includes a leaderboard ranking where learners are motivated to improve their performance to move up the rank and stay on top of their game. On the other hand, leaderboards can also be used to track the performance of your learners.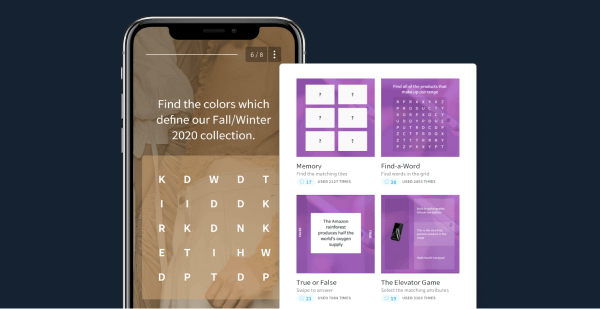 3. Spaced repetition through quizzes
Spaced Repetition is a method of repeating key learning concepts to enhance long-term memory retention and combat the forgetting curve. Using this approach, quizzes are delivered at regular intervals until knowledge is fully embedded in the long-term memory of your employees to promote better learning outcomes and foster knowledge competence.
To help you enhance spaced repetition strategy in your mobile learning, a system-automated quiz called Brain Boost is offered in EdApp's learner app. This feature automatically pulls questions from your lessons and creates personalized quizzes for each learner to test which information they've retained. The more answers they get right, the less frequent they are tested on a particular lesson.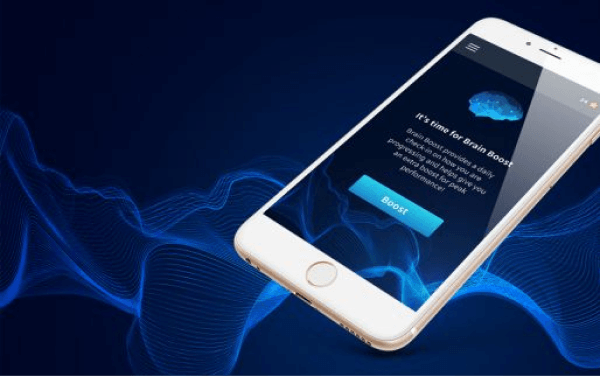 4. Social learning on mobile learning
Social learning allows your employees to learn from mentors or colleagues. It encourages employees to share each other's learning, expertise, and best practices through forums or discussions. This mobile learning example becomes even more convenient for your employees when collaborative lessons are readily accessible on their mobile devices. 
EdApp promotes social learning through its Discussions and Assignment features that support instant coaching and mentoring. The Discussions feature is designed to provide a dynamic and interactive learning experience through forum-like discussions. Coaches can even step in to provide insight into key responses. Meanwhile, the Assignments feature allows learners to submit responses that can be easily reviewed and graded. By fostering a collaborative environment on mobile learning, you're able to create an interactive learning experience among teams and peers even without physical interaction.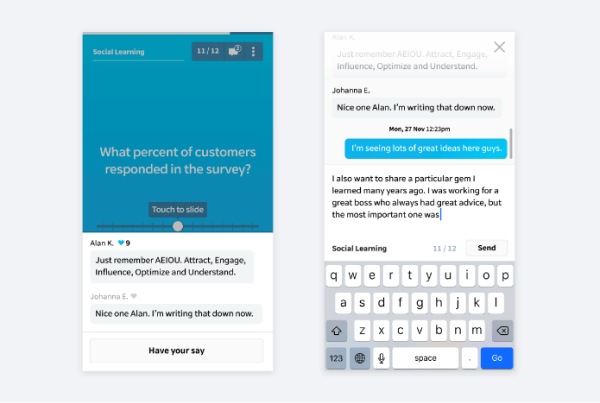 5. Personalized training through mobile learning
With a mobile learning strategy, you're able to create a personalized learning experience for your employees. It also allows you to assess the needs and measure the learning progress of each individual through an efficient process. Compared to traditional training sessions that focus on delivering overwhelming information among groups,  personalized training is instead delivered according to the learner's expertise and needs. With personalized mobile learning, the employees are given more flexibility for their learning experience. Custom notifications are also made available on some learning apps to remind them of necessary actions to take upon deploying courses (such as managerial training programs) or quizzes. 
LMS like EdApp allows you to streamline this process of creating custom courses and quizzes. Its built-in administration suite gives you full control over user and course management through its analytics dashboard, actionable reports, and push notifications. An AI translation tool is also available to deploy courses and reminders in multiple languages.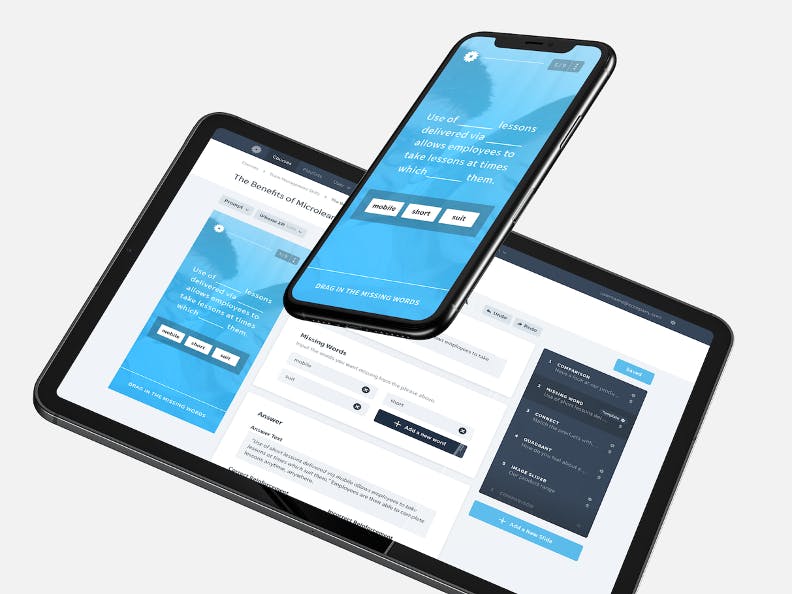 6. Onboarding training on mobile learning
Applying a mobile learning strategy to your onboarding training enables you to foster a comprehensive learning experience in providing foundational knowledge among your new hires. This is an efficient way to train and onboard a group of new hires at scale within a short period of time – no matter what size or location –  as training materials are easily accessible on their mobile devices. 
Marley Spoon, one of EdApp's clients in the food service industry, has demonstrated how this mobile learning example helped them amidst the unprecedented challenges brought by COVID-19. Mobile Learning, with the support of EdApp LMS, allowed Marley Spoon to onboard hundreds of new employees and provide vital information such as food hygiene training and procedures in just a short period of time. It serves as the best modern learning solution at a time where face-to-face training isn't possible due to the pandemic. Whether the employees are on-site, at production centers, out delivering products, or at the office, they can easily complete their microlessons within just a couple of minutes.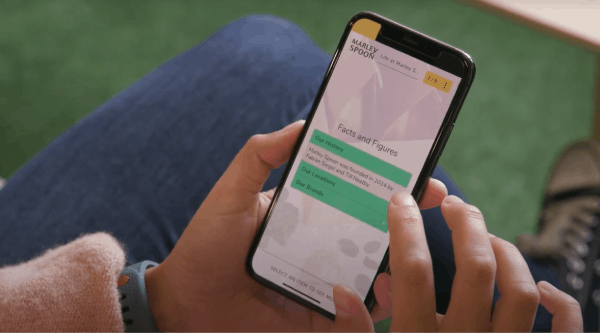 7. Product training on mobile learning
In fast-paced industries such as sales and retail, it's crucial for employees to keep their product knowledge up-to-date with product training. As employees don't have immediate access to desktops and barely have enough time to spare for long training sessions, mobile learning empowers them with accurate information at their fingertips. This becomes equally convenient for training consultants in deploying training materials and ensuring their teams have the competence in representing their brands.
This mobile learning example is leveraged by Mizuno, one of EdApp's clients in the retail industry. Through microlearning delivered on mobile with EdApp, Mizuno is able to train their internal teams and external retail partners on the constantly updating and expanding products — including footwear ranges, which are updated every six months. Having a mobile-first platform helps Mizuno's training managers reach and train various groups of employees at scale to keep them aligned in driving success for the company.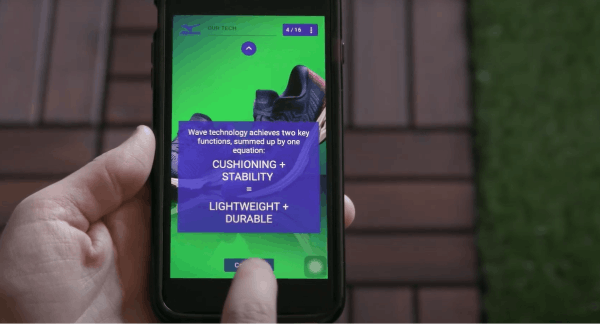 8. Skills development training through mobile learning
Skills development training is essential for any organization to unleash the fullest potential of each employee and drive desired business results. But due to the work responsibilities, deadlines, and personal endeavors of your employees, it can be a challenge to ensure they are fully engaged in their training sessions. 
By deploying skills training programs through mobile learning, you're able to utilize engagement features on your courses to make their learning experience fun and interactive. This mobile learning example is a way to build and reinforce skill sets among your employees without making them feel like they have to extend their working hours for learning and development. Instead, they learn at their own pace, anytime and anywhere!
EdApp offers a free course library that contains skills development courses such as customer service skills, communication skills, sales skills, and many more. These courses are designed by thought leaders and industry experts, available for free, and are readily deployable for your teams – no need to start from scratch!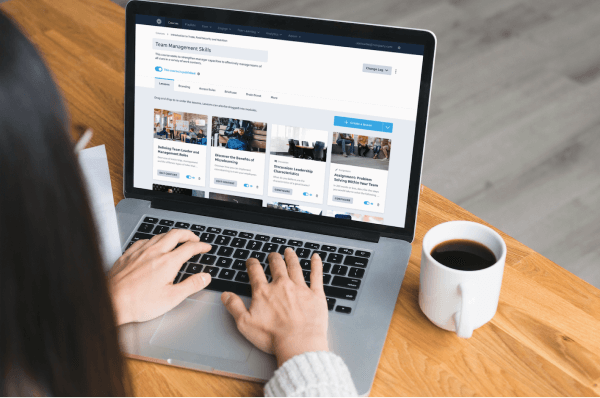 9. Compliance training on mobile learning
Compliance training guides your employees with the right knowledge and proper conduct that ensure that they are abiding by certain regulations and policies specific to your organization or mandated by the government. Through a mobile learning strategy, you're able to leverage features such as microlearning, gamification, and spaced repetition which are proven to result in higher course completion rates and knowledge retention. This mobile learning example helps you in keeping your teams up-to-date with protocols and in reinforcing standards to avoid unwanted incidents or violations in the workplace. 
Aside from skills and personal development courses, EdApp also provides a compliance course library that includes topics such as safety, quality & risk management, HIPAA training, GDPR training, IT & security, and more. These courses are completely customizable so you can edit them according to the standards of your organization.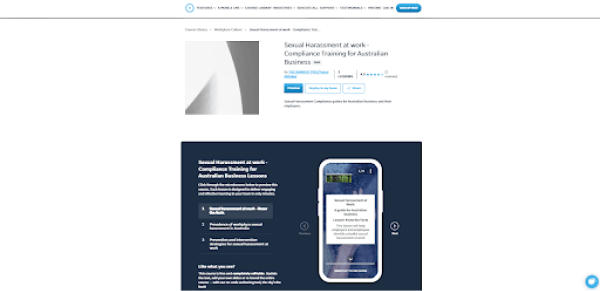 10. Mobile learning assessment
Skills assessment is a vital part of understanding the employees' scope and level of knowledge and expertise so you can better address their learning needs. It also allows you to evaluate the learning progress of the learners, determine the knowledge gaps, and obtain feedback to improve training programs. This is done by administering surveys or quizzes. By leveraging supplemental tools like quiz software, you can easily create mobile-friendly quizzes and surveys that can conveniently reach your teams. 
EdApp makes the creation of assessments much easier for you through its friendly online quiz maker called Rapid Refresh. This software serves as a convenient tool in conducting pre-tests, assessing knowledge gaps, and reinforcing key information through quizzes. With this, you can efficiently create quizzes by uploading a bulk of questions with the corresponding answers through an Excel spreadsheet. From there, EdApp's technology will transform these questions into interactive quizzes deployed to your employees according to your preferred scheduling – whether all at once, daily, or weekly. As quizzes are delivered to their learner app, you can leverage push notifications to remind your employees and ensure that they complete these quizzes.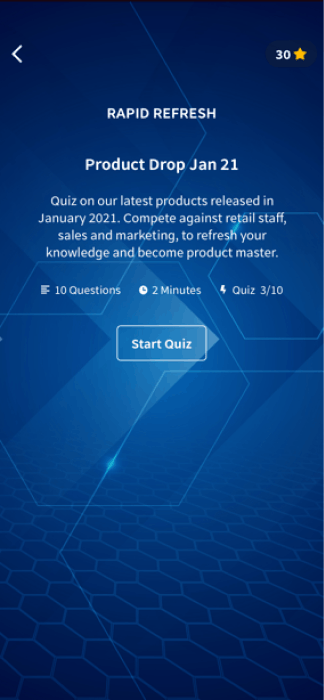 Conclusion
Self-paced learning is a method that allows you to train your employees as individuals and not just as teams during live training sessions – whether in-person or online. But, it's not easy to shift traditional training programs into this learning style, especially for organizations with a remote workforce and agile work nature. This is a challenge even for corporate organizations with employees focused on extensive tasks and deadlines. 
In this technological age, mobile learning serves as the best solution in keeping up with the learning trends and adapting to the hectic schedules of your employees. It doesn't just allow your employees to learn at their own convenience, but it also enables you to track the learning progress of each employee. 
In this article, we've explored a list of mobile learning examples that you can use as a guide. Aside from general ideas, we've also included how mobile learning can help in your specific training like onboarding training, product training, skills development, and compliance training.