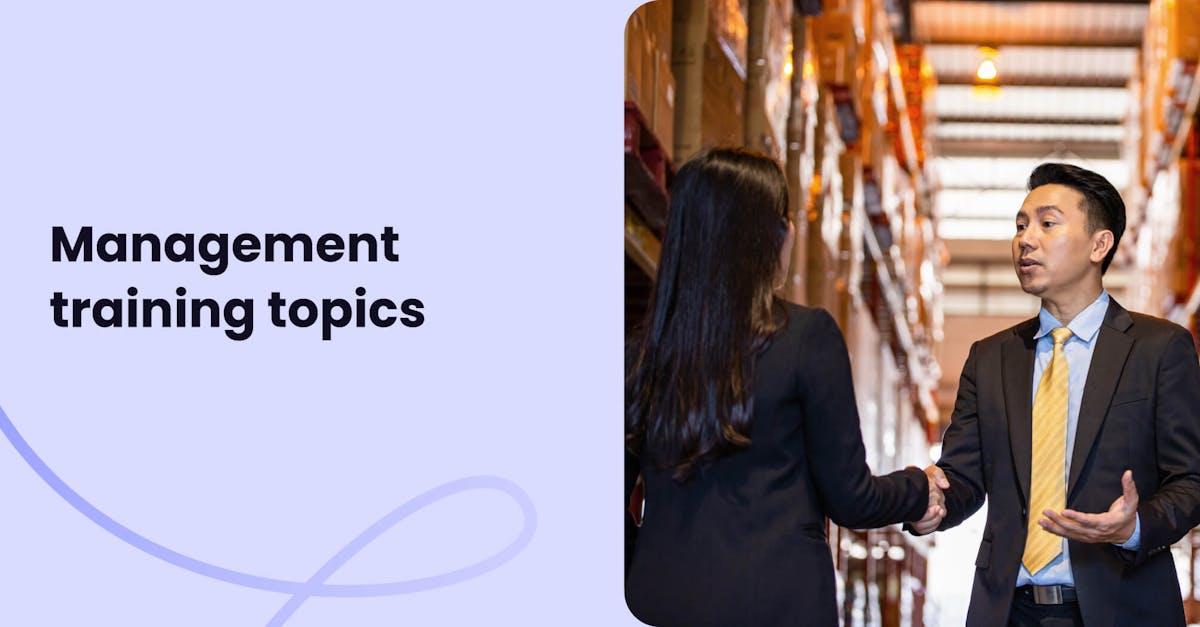 Management training topics are crucial in developing effective leaders and guaranteeing the success of an organization. They cover a range of areas such as leadership skills, personal skills, industry and market analysis, operations planning, human resource management, sales strategies, and financial foundations.
Management training topics are important for developing the necessary skills and knowledge required for effective leadership and decision-making in an organization. In this article, we've listed some management training topics that are crucial for the success of individuals in managerial roles.
What skills are important for managers to have?
Managers play a crucial role in organizations, and they require a diverse set of skills to effectively lead teams, make strategic decisions, and drive success. Here are some important skills for managers:
Communication: Strong communication skills are essential for conveying ideas, giving clear instructions, sharing feedback, and fostering a positive work environment. Managers need to communicate with various stakeholders, including team members, higher-ups, and clients.
Leadership: Effective managers inspire and motivate their teams. They set a positive example, provide guidance, and create a vision that aligns with the organization's goals. Leadership involves fostering collaboration, promoting teamwork, and encouraging growth.
Problem-Solving: Managers encounter challenges and obstacles regularly. Being able to analyze problems, identify root causes, and develop innovative solutions is crucial for maintaining productivity and overcoming setbacks.
Decision-Making: New managers are responsible for making both routine and strategic decisions. The ability to gather relevant information, evaluate options, and make timely and informed choices is a key skill.
Time Management: Your team managers often juggle multiple tasks and responsibilities. Effective time management guarantees that priorities are met, deadlines are achieved, and resources are allocated efficiently.
Adaptability: The business landscape is constantly evolving. Managers must be adaptable to change, whether it's technological advancements, market shifts, or organizational restructuring.
1. Leadership development
Not everyone is born with leadership skills, but anyone can be a great leader through leadership training programs. Leadership is an essential skill for all levels of employees in an organization. By developing the potential of your employees, you can produce leaders with effective and relevant leadership and change management styles for your teams. When leaders and employees alike are trained with leadership knowledge and skills, they're able to improve strategies, enhance communication skills, and foster better relationships with colleagues and clients.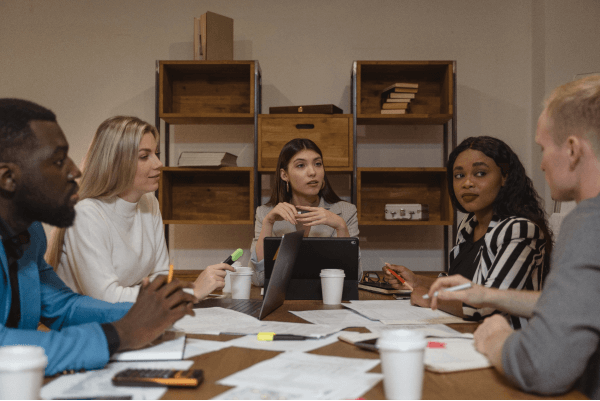 Leadership and Coaching/Management Styles is EdApp's free leadership management course is meant to help managers or coaches strengthen their leadership philosophies and gain the requisite skill sets. It covers topics such as leadership styles, developing yourself as a manager, and best practices when onboarding new employees. By having your leaders take this course, they can develop their own approach and become more effective leaders.
Sign Up for Free with EdApp to implement management training topics effectively using its incredible features!
2. Hospitality management
Hospitality management is a management training topic specific to businesses like travel and tourism establishments, restaurants, and more. Managing different teams in this industry means you need to have precise knowledge of the fundamentals and key concepts of success in every aspect of the business.
Just like any employee, hospitality managers also need hospitality management training programs to reinforce standards in providing excellent service for the guests while successfully managing people and communicating with customers. Even normal employees can benefit from hospitality management training programs as it allows them to develop the necessary soft skills to step up and hone their hospitality.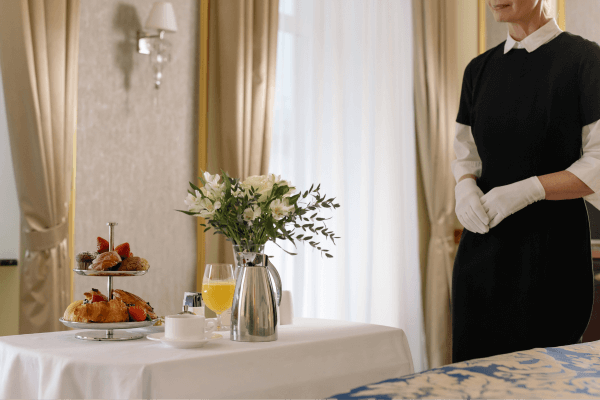 Guest Service in Hospitality and Tourism is a management training course to help management deliver excellent customer service in the hospitality sector. It covers topics such as customer service skills, greeting guests, and responding to complaints which are important to get and retain clients. Taking this course on EdApp means it's accessible on any device. Whether it be a computer, tablet, or phone, you'll have access to your training anytime and anywhere.
3. Facility management
Facility management covers the supervision, operation, and maintenance of an organization's services and facilities. This management training topic ensures that existing and potential managers have the knowledge to keep facilities functional, safe, and efficient for the operation and usage of the employees. Training programs on facility management can cover the physical component of the workplace or the organization of the people. Information from these training topics can help all employees of any level from any department maximize their performance and productivity.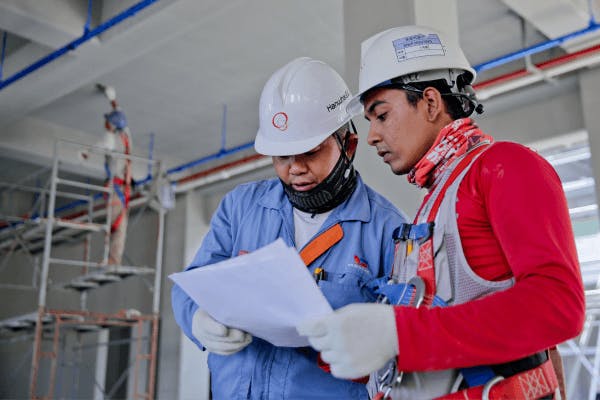 Warehouse Traffic Management is EdApp's free editable course that you can deliver to your teams to develop a safe traffic management plan for your warehouse. It includes topics such as vehicle operation, controlling traffic risks, and more. Upon finishing this course, you'll have a an efficient warehouse plan where everyone can do their jobs confidently and comfortably.
4. Restaurant management
It's not enough to serve the best-tasting food in town, but you also need to secure the best customer experience and ensure return visits. Proper restaurant management skills are highly essential to maintaining business stability and growth. In this management training topic, you'll reinforce concepts and strategies to improve the service of your teams, as well as increase the profitability of your restaurant. In a fast-paced industry such as food service, it can be challenging to spare time for synchronous employee training sessions.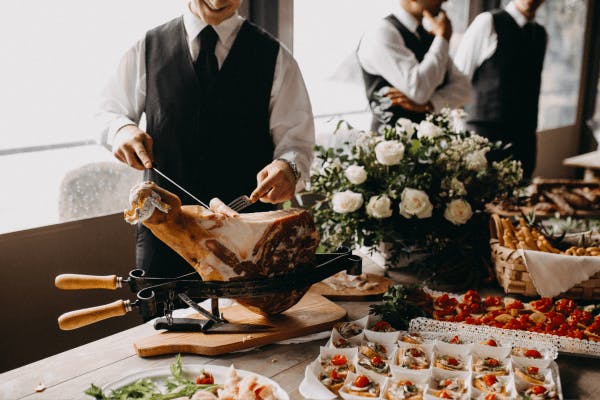 Serving Food is EdApp's course to help you manage your restaurant and deliver the best possible dining experience. This course covers topics like table maintenance, sequence of service, and selling strategies. Once your teams finish this course, you'll have well-equipped restaurant managers who will help your restaurant gain customers, increase revenue, and ultimately succeed.
5. Hotel management 
To provide your customers with stellar accommodations and experience in your hotel, you need great teamwork and seamless operations from all your hotel functions. As a hotel manager, you must ensure that every employee is able to keep up with the standards. Through hotel management training, you'll be able to improve your management skills and discover new strategies and practices in housekeeping, guest services, and more. This topic will help you and your staff deliver consistent and high-quality service that will keep your guests coming back.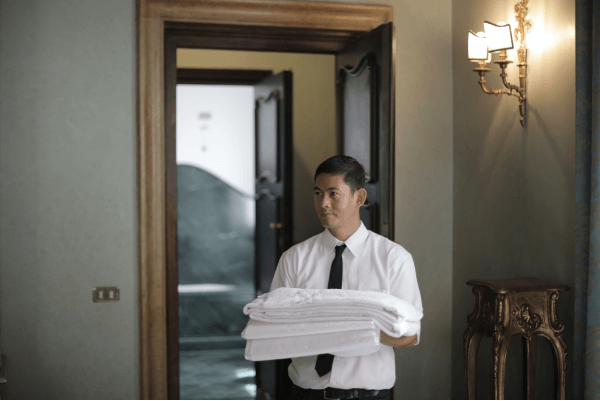 EdApp's Guest Experiences is a great course to consider for hotel management training. It includes topics such as great guest experiences, managing issues, and more. This is an important course to take as being able to give great guest experiences means you'll have returning customers and those that can potentially bring in other guests. This course can be downloaded for offline use so learning never stops even without an internet connection.
6. Diversity training
An aspect of effective management is making sure that the organization fosters a collaborative and positive culture among teams. With diversity training, you can reduce discrimination, break unconscious bias, and promote equality among your employees.
But in any organization, each employee carries different life experiences and viewpoints from varying backgrounds, cultures, gender, sexual orientation, beliefs, behaviors, and attitudes. So, it can be a challenge to build a holistic diverse culture in your workplace, as their differences can bring out misunderstandings and result in poor teamwork.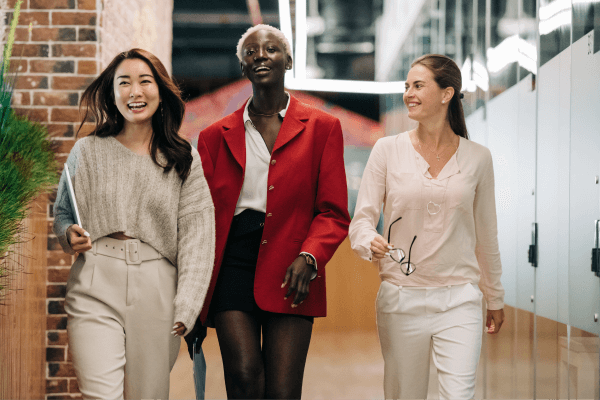 The best course to take to better understand the ideas of diversity and inclusion is EdApp's Diversity and inclusion. It covers diversity and inclusion issues like how to speak inclusively, understanding unconscious bias, and creating an inclusive workplace. Delivering this training to your workers is crucial since a diverse and inclusive workplace may benefit the firm. Learners will adopt mindsets that embrace diversity and play to its advantages. There will be greater room for growth and success when your crew feels secure and at ease.
7. Productivity & stress management
Productivity and stress management is a personal management training topic that focuses on the well-being of employees. Fatigue and stress have been common and unfortunately normalized problems, especially in fast-paced industries with urgent deadlines and high client demands. This is true even for industries that demand extended hours of duty.
If not immediately addressed, they can impair cognitive and bodily functioning, sometimes even resulting in permanent impairment, and long-term mental problems, like anxiety and depression. Aside from managing their workload accordingly to reduce stress, deploying courses on stress management can help them develop positive coping strategies and some relaxation techniques.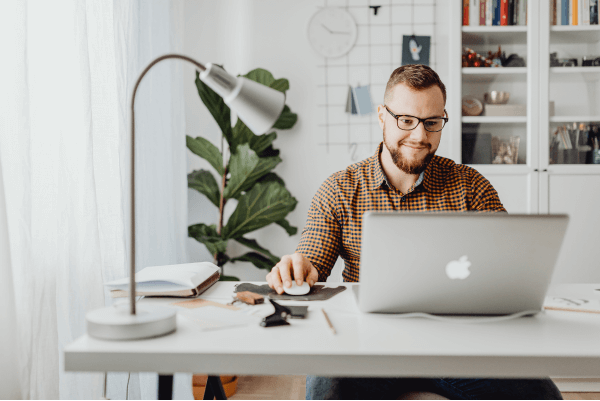 Your team will learn time management and attention-to-detail techniques with EdApp's The Ultimate Guide to Personal Productivity. Topics include time management, how to get things done, and attention to detail. This course aims to improve already-acquired abilities while also introducing new ones. One of the course's goals is to give participants practical knowledge and skills they can apply on the job.
8. Talent Management
Talent management involves a constant process of attracting top-notch employees, increasing their knowledge, technical skills, and soft skills through training, and inspiring them to improve their performance. When handled strategically, these processes can make your employees feel empowered, helping the company achieve its vision and goals.
By including talent management programs in your human resources training, you'll be able to recruit the best talent, retain your employees, and facilitate their continuous training and employee development.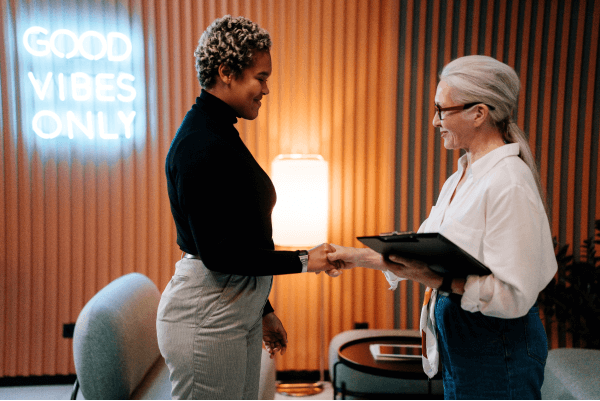 One talent management course you can add to your training program roster is EdApp's Performance management. It focuses on useful techniques for defining roles, providing and receiving criticism, effectively digesting it, and retaining impartiality when managing underperformance. Taking this EdApp course means that you're able to edit and customize it to make it your own. EdApp's Creator Tool, along with its template library, makes everything easy without coding or design experience.
9. Compliance training
Compliance training is not only necessary but also mandatory regardless of your organization's line of business. Every employee shares responsibility for abiding by certain regulations or policies mandated by the government, standards practiced in specific industries, or implemented by the company. When employees lack knowledge of proper compliance procedures, they can put themselves or the company at risk with violations or unwanted incidents, which can result in heavy fines or even criminal offenses. This strengthens the importance of this topic in your management training.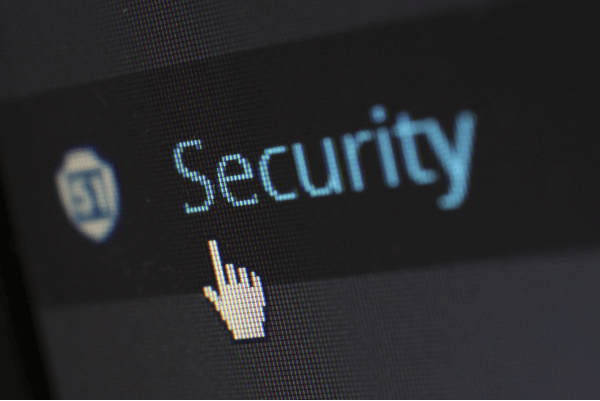 While the information in these types of training is crucial, employees may find them unnecessary and boring which causes disinterest and lack of attentiveness. This defeats the purpose of rolling out these training sessions since information isn't understood and retained. That's why you need to invest in learning materials that are designed for high-impact learning and engagement in corporate training.
Good thing you can take advantage of EdApp's free compliance training resources in its course library. These courses focus on key messages for better understanding. They also incorporate gamification elements in the microlessons. One example of a compliance training resource you could use is EdApp's Privacy Policy.
In EdApp's Privacy Policy, learners will discover the essential components of a privacy policy. Topics include who is collecting the information, why it is being gathered, and the legal justification for the collection. Based on the privacy regulations of each nation, it also specifies the criteria for the US, UK, and Australia by area. It's important to take this course to make employees aware and to avoid any repercussions due to non-compliance.
10. Project management
A project management process is the planning, forecasting, and controlling of the strategy and execution of the life cycle of a project. The responsibilities of a project manager include managing the project plan from its early design to its final release. Project managers study the project scope and requirements and develop plans and systems to achieve project goals within specified parameters, including time frame and budget. All employees, regardless of skill level or seniority, can benefit from learning project management skills.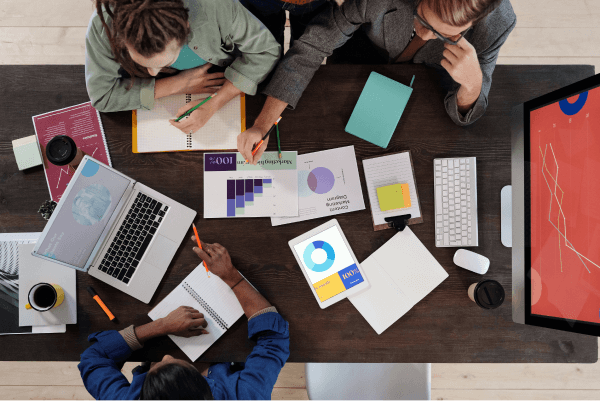 However, it's not enough to provide them with learning materials through training. It's equally important that information is remembered. To combat the forgetting curve in the learning process of your employees, you can apply a spaced repetition strategy to your training program. Using this technique, key learning concepts are repeated at regular intervals until knowledge is fully embedded in the long-term memory of your employees. The more frequent information is reinforced, the more effective learners absorb knowledge.
A course that incorporates this well and teaches them about project management is EdApp's Communication in Project Management. One of EdApp's organization training courses, Communication in Project Management covers subjects including teamwork, delegation, and most crucially, communication.
Delegation is a talent that must be mastered if you want to do tasks quickly and effectively. Learners who complete this course will be better equipped and more self-assured to assign tasks, and communicate with team members for the project's overall success.