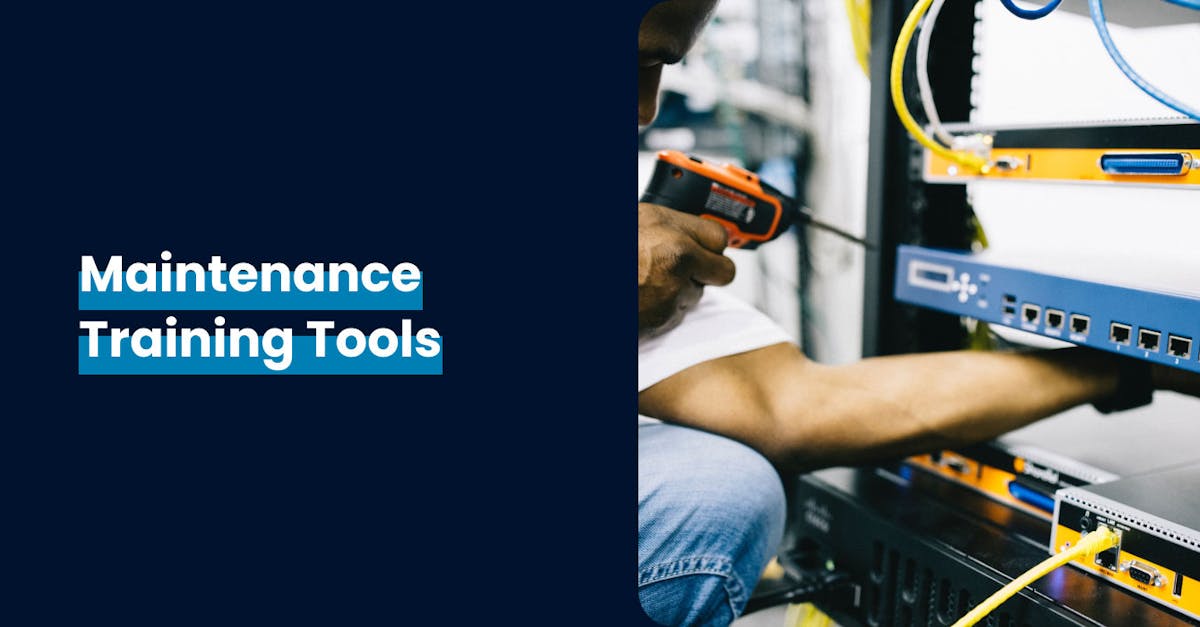 Maintenance training tools provide information and expertise on the operation, maintenance, safety, and troubleshooting information for equipment and infrastructure. These tools are important to your company because they help to protect resources, save money, and boost productivity.
1. EdApp
EdApp is a Learning Management System (LMS) that is perfect for corporate & retail training. The platform is a cut above the rest when it comes on to making learning more engaging and efficient through features like gamification and spaced repetition that improve retention and make the learning environment engaging. The platform is very user-friendly, has an integrated SCORM authoring tool, comes packed with digital rewards & analytics, and is mobile-first. You can deliver bite-sized lessons to your learners that can be accessed at any time from anywhere in a myriad of languages. The cloud-based authoring tool we mentioned earlier can be used to create any custom elearning maintenance course you need, plus you will have access to proven templates to make the whole course development and instructional design process more convenient for your learning and development teams. Did I mention that you get access to all of this at no charge?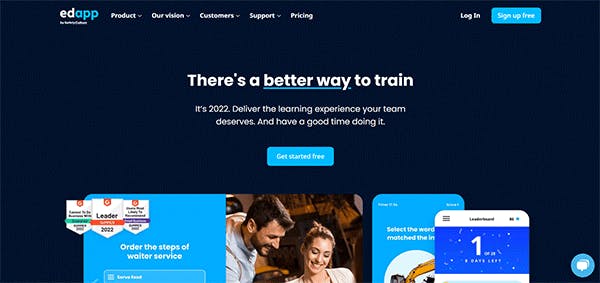 Price: Free
Features:  LMS, Authoring Tool, Editable Content Library, Spaced Repetition, Mobile Learning, Microlearning, Rapid refresh, Elearning Gamification, Active Learning, PowerPoint Conversion, and more.
2. TPC
TPC is a platform that has courses for various workers in many industries. This tool also has courses tailored to enhance the capabilities of Facilities Maintenance Technicians. Some courses are online while others are instructor-led. Along with providing courses to train your maintenance team and others, the platform also provides solutions that will improve the overall performance of your team. Custom courses and skill tests to test understanding are also available. Some of the maintenance training courses available include courses on Fundamental, Energy conservation, Industrial Hazard Control, Electrical Systems, Machine Shop Practices, Material Handling Systems, Mechanical Maintenance Applications, Air-Conditioning & Refrigeration Systems, Power Plant Operations, and a lot more. Even though custom courses can be ordered, it would be great if you could create your own from available templates.

Price: Upwards of 000
Features: In-person instructor-led training, virtual instructor-led training, Monthly Subscriptions, and more.
3. SkillCat
Skillcat is a learning platform that offers a maintenance training elearning course for free. The platform will teach you and your team important tips that will help to prevent repairs that would cost your company a fortune in the future. One of the incredible features of this maintenance tool is that it offers accessibility to mobile training courses and simulations that can be done anywhere. The simulations are in 3D so the learner's chance of understanding the material is increased. In addition to the training material available, students can test their understanding of the material by taking quizzes that offer professional certifications. Unfortunately, if your company already has training material that you would want to import to the platform, SkillCat does not offer that option.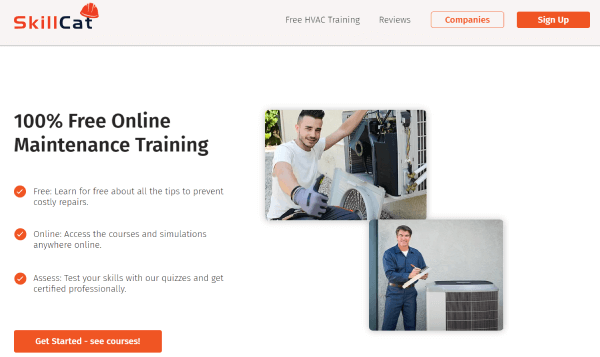 Price: Free
Features: Science Fundamentals, Mechanical Skills, Electrical Skills, Electrician Training, Maintenance Skills, and more.
4. Vector Solutions
Vector Solutions's platform offers its users the opportunity to deliver essential training, track incidents, and identify skill gaps in the industrial maintenance sector. There are numerous industrial maintenance training courses available and they are delivered in immersive 3D graphics and animations. These features will provide your learners with life-like scenarios while keeping their attention. This solution will give your learners access to foundational training on common facility systems, and machine maintenance safety basics on motors, drives, conveyors, sensors. Vector Solution has a state-of-the-art course player that provides a consistent learning experience on over 3000 courses, all of which are translated to over 40 languages. Vector solutions can get quite pricy, especially for larger groups.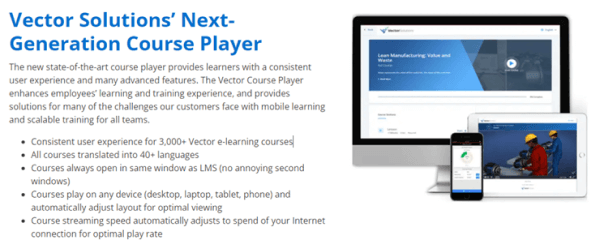 Price: Tailored
Features: LMS, Next-generation course player, mobile support, Vector Assessment, Vector EHS Management, and more.
5. Bevill State Community College Industrial Maintenance Program
Bevill State Community College is headquartered in Jasper, Alabama, however, there are 5 different physical locations from which the courses can be done (4 Campuses and 1 Educational Site). These five locations cover a seven-county area. Industrial Maintenance Technician Online Refresher Training is one of the programs offered by this community college. The training has five-course components and can be done individually based on the need or as an entire program. Here are the five courses: Basic Electric for Industrial Maintenance Technicians, Advanced Electric for Industrial Maintenance Technicians, Fluid Power for Industrial Maintenance Technicians, Mechanical for Industrial Maintenance Technicians, and Tool & Die for Industrial Maintenance Technicians. Unfortunately, the courses aren't adopted for online learning.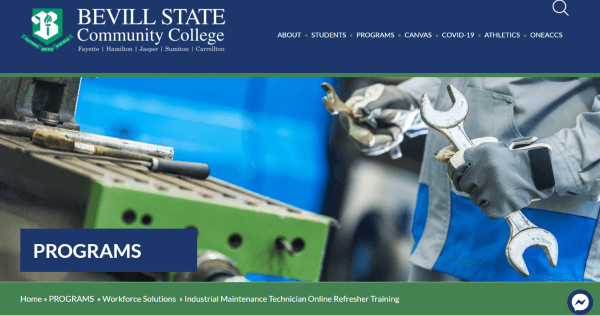 Price: 00/course
Features: Accreditation, STARS Program, WebSmart Info Centers, Student Email, and more.
6. DuPont Sustainable Solutions
Dupont offers a Maintenance and Reliability Training solution that will help your company create a multi-skilled workforce that will enable your organization to thrive with its maintenance and reliability training curriculum. The Dupont platform has over 300 compelling and cutting-edge industrial training courses that were specifically designed to improve your employees' job-specific, core, and industry-specific competencies. In addition to those perks, learning with this maintenance training tool will improve profitability and enhance your team's operational efficiency. DSS subject matter experts are used by Dupont to make sure that all courses are compliant with safety, healthy, ethical, environmental, and operational standards.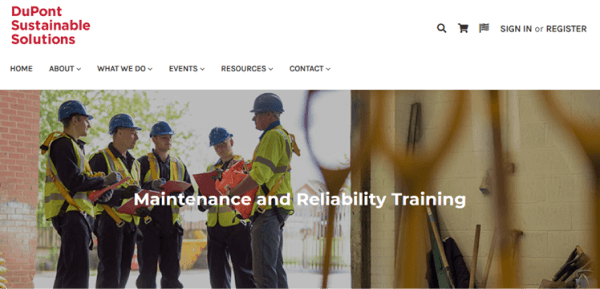 Price: Pricing provided by Dupont
Features: Built-in Course Authoring, Built-in LMS, Interactive Content, Quizzes, Storyboarding, Template Management, DSS eLearning Suite, CoastalFlix Streaming Video, Employee Training, Microlearning
7. RedVector
RedVector offers multiple courses for a myriad of solutions that your teams can use to improve. Among those is their Industrial Maintenance Training solution. With this training, you can deliver essential training for a wide range of systems to in turn maintain the integrity and safe operation of your plant. The training is quite extensive, ranging from common systems to the safety protocols for machine maintenance. The program is offered in a subscription model that gives access to unlimited training resources designed to boost productivity, maintenance, and skills. Training with the RedVector platform is mobile capable so employees can learn on the go. Even though the tool is quite comprehensive, it would be even better if it offered micro-lessons to its learners.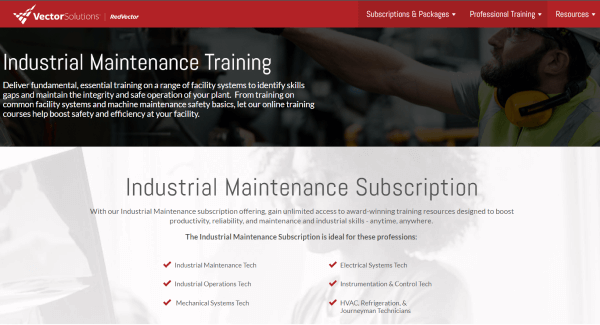 Price: 199/yr
Features: Unlimited Access To 450+ Courses, 5s & Lean Manufacturing, Cgmp, Total Productive Maintenance, Machine, Mechanical & Electrical Maintenance, Safety Basics On Motors, Drivers, Conveyors & Sensors, Electrical, Hydraulic & Pneumatic Components, Asset Condition Management, And Common Facility Systems
8. ToolingU
ToolingU offers a level 1 Industrial Maintenance Course in PLC Fundamentals. The PLC or Programmable Logic Controller is a rugged industrialized computer that controls various manufacturing processes from assembly lines to robots. This particular course from ToolingU covers how these controllers work and offers students practical information that they will need in order to properly maintain these systems. This tool can help to enhance any on-the-job training that you already have in place. ToolingU offers a variety of ways that you can choose to have the courses delivered to your workforce. Over five hundred courses are available online. You can also opt to get instructor-led courses, custom classes, or enroll your team in apprenticeship programs.
Price: Upwards of 00
Features:  Online Classes, Instructor-Led, CustomClasses, Assessments, Certifications, Apprenticeship Programs, Turnkey Training, U/LINC® Curriculum, and more.
9. 360 Training
360Training offers in-class industrial maintenance training. They have been in operation for over 15 years and the training offered is approved by regulatory bodies. One good thing to note about this platform is that it has a live chat or phone option available for 7days/week contact. The courses offered are usually user-friendly and have a small learning curve. Some courses are mobile-friendly, making them conveniently available to busy students. One drawback worth noting regarding the industrial maintenance courses is that even though the platform has some courses online, this particular set of courses are only available offline.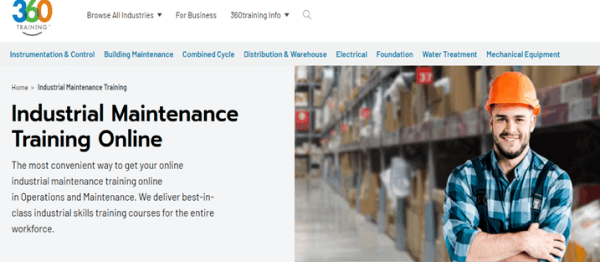 Price: 95
Features:  Supported, User-Friendly, Convenient, Regulatory Compliant
10. IFMA
The IFMA platform has an online training catalog with self-paced courses. This is a convenient way for busy professionals to learn while on the go. There are various courses available to teach new skills or brush up on new ones. One important unique factor about this maintenance training tool is its continuing educational units. To add to that, it is an accredited platform. The training provided by this tool is proven with powerful results. The credibility of IFMA courses will give learners an edge on their resumes after completion. This platform offers digital badges and certificates of completion. If you need to create tailored courses for your team, unfortunately, you won't be able to do that with this platform.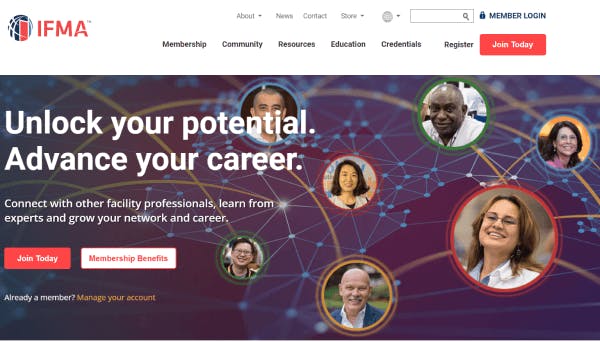 Price:  19 upwards
Features: Digital badges, certificates of completion, E-Learning Opportunities, Video Courses, Continuing Education Units (CEUs), ANSI/IACET Accredited, 55+ COURSES, 178+ HOURS OF CONTENT, 7k+ STUDENTS, 18+ T​OPIC
Conclusion
The best tool on this list is without a doubt EdApp at number one. The fact that it is the only tool that allows you to create your own custom maintenance training program is a huge plus. Not to mention it is available free of charge.