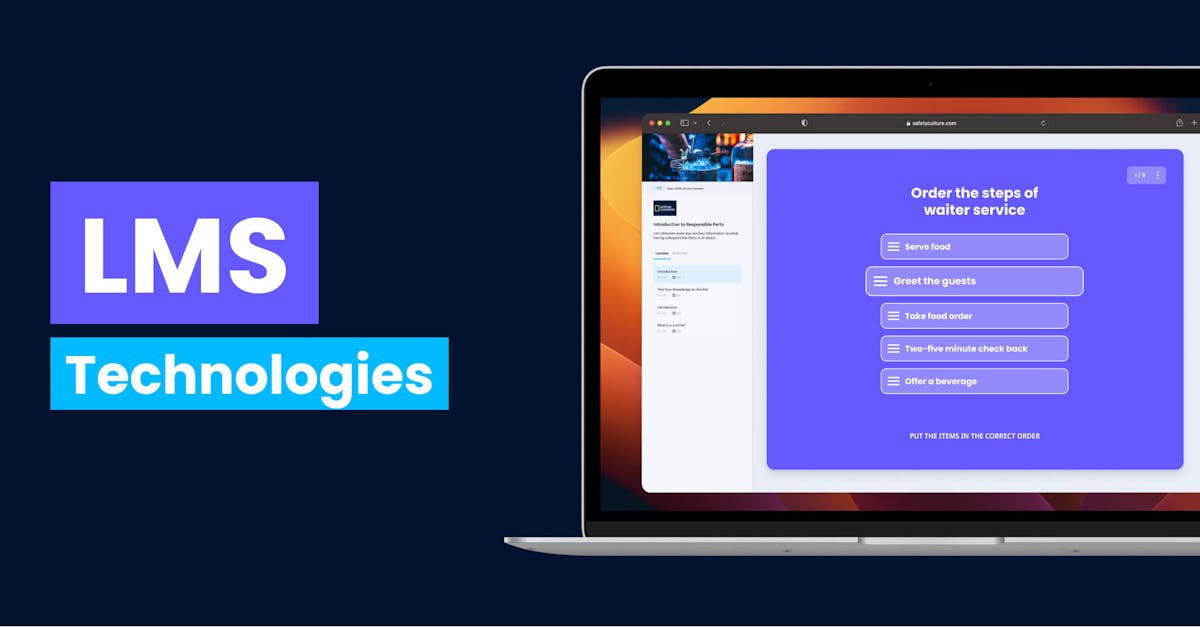 LMS technologies help organizations streamline their entire training and development processes. This is why there has been a rise in the use of these tools over the last decade. In this article, we'll explore the best LMS technologies available and delve into their key features and benefits.
Best LMS Technology – EdApp
EdApp is a versatile LMS technology designed to help you develop and manage online training programs for your employees. It's packed with amazing features such as a built-in course authoring tool, course library, and analytics suite. Combined, these tools give you the flexibility to create fully optimized online learning programs.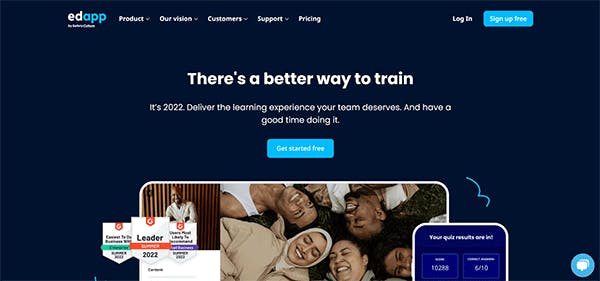 One of its best features is its cloud-based creator tool, which allows you to build aesthetically pleasing and interactive courses even without any coding or design expertise. Using the tool is intuitive as all you have to do is choose from pre-made templates and add your content. Incorporating gamification elements like sequencing or drag and drop is easy with their game and quiz templates. 
Through the creator tool, you can also opt to import and customize a course directly from the editable course library. This way, you'll be able to save time and resources that otherwise would have been spent on developing training materials from scratch. And if you're even more pressed for time, EdApp also offers course creation services. They'll connect you with a team of amazing instructional designers and customer success managers that'll create courses with you. Just let them know your training needs, and they'll take care of the rest.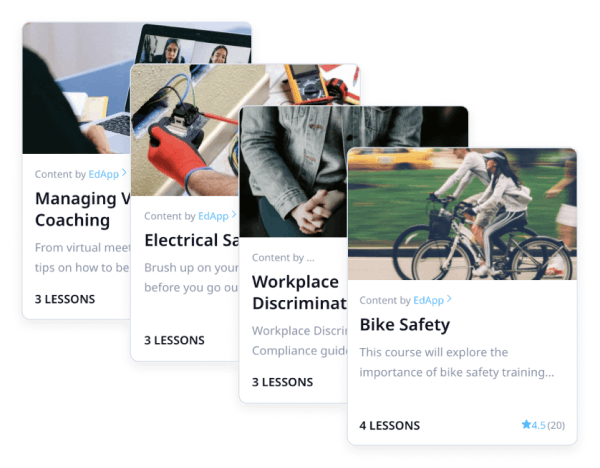 On the other hand, its analytics suite will allow you to track each employee's course completion rates and assessment results. All this data will give you a better idea of their training progress and help you address knowledge gaps. You can also easily re-engage learners with lower performance through the platform's built-in push notification system. 
The best part? You can motivate employees to complete their training by incorporating other EdApp features like completion certificates, custom achievements, or real rewards.
Join EdApp for free and streamline your training process with the best LMS technology!
1. DexLab
Another big trend in technology that is sweeping through LMSs is data analyst training courses for big data use and analysis in elearning. Big data is the accumulation of a large amount of data that inundates an organization on a day-to-day basis. On its own, this data may be hard to comprehend. But with the right analysis tools, the data can be analyzed and made sense of.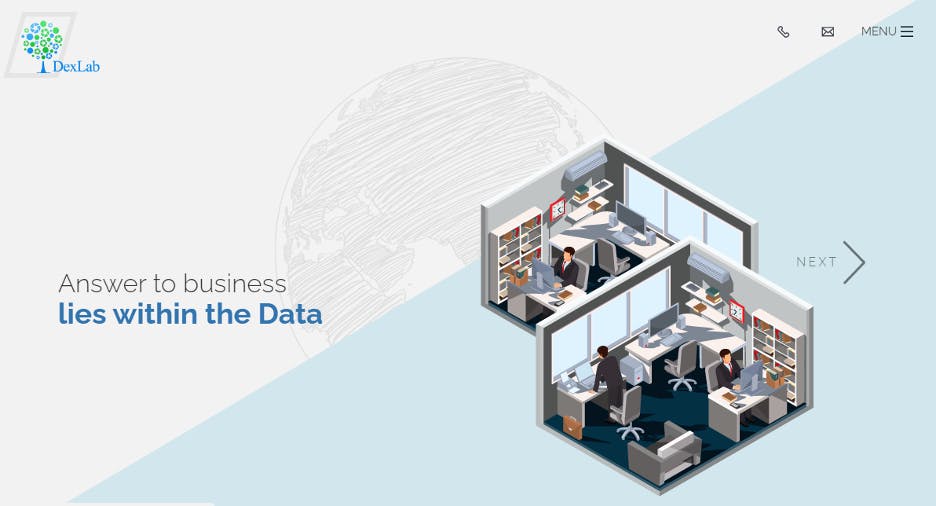 For an LMS, some types of big data include completion rates, student grades, learner surveys and feedback, and completion rates. Getting a better understanding of any of these vectors can help you improve your learning environment.
Unlike most elearning solutions, Dexlab Analytics can help you learn about big data. Their courses cover all sorts of useful things you can do with big data, including risk analysis and modeling. Any data you export from an LMS can then be analyzed on your own terms.
2. CreateLMS
Virtual Reality (VR) is another top technology in LMSs when it comes to digital learning. VR uses special goggles to immerse students in a learning environment. It can allow learners to experience their instructional content in one person.
This type of instruction can have great benefits for corporate training, especially for hands-on learning such as in the medical field or for front-line workers. Other fields like architecture can benefit as learners can experience what their designs will be like.
An LMS platform that has been experimenting with VR for online training is Create LMS. They intend to stream VR instruction to learners equipped with VR headsets to transform learning into a fully multi-sensory experience.
3. Learning Pool
Learning technology has allowed for ways to have personalized training programs. A good example of this is an LXP, which lets learners choose their own path to learning and gaining competency. It works well in corporate environments where learning and development can be less structured.
An example of a corporate LMS that uses LXPs is Learning Pool. It can string together learning components to give a seamless learning experience that the trainee can control through their own actions.
4. Abara LMS
As people have become used to using their mobile devices for consuming content, so too have they been using them for e-learning. An online learning management system can no longer think of how its platform looks on mobile devices as an afterthought.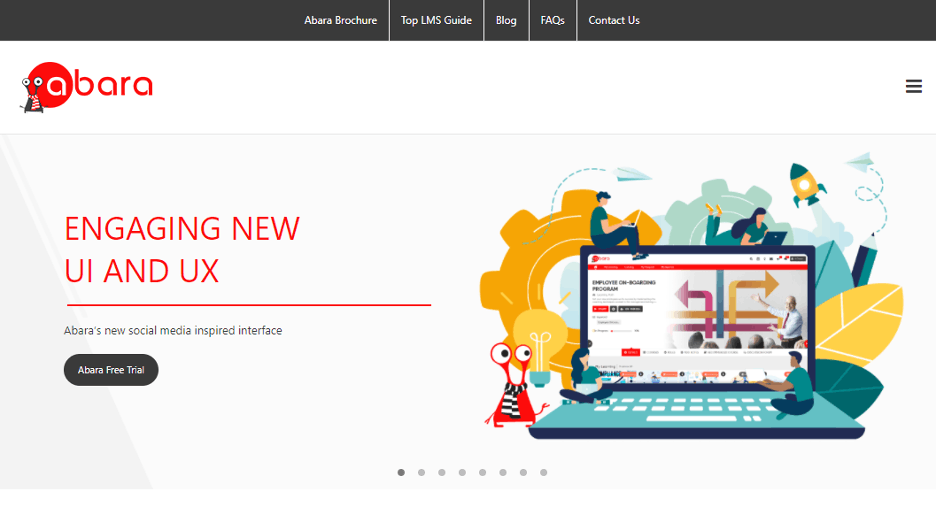 As an instructional designer, you'll need to have an LMS with a responsive design that automatically renders the best possible display of data when switching between screens of various sizes. An example of this would be Abara, which focuses on anytime/anywhere access to its content through mlearning and course management system. It knows that if students can access their learning materials at their own convenience, it will result in higher completion and retention rates. This is also perfect to use for blended learning.
5. Skilljar
Another top LMS technology is AI. AI has numerous benefits including the rise of personalized learning. AI can monitor how a student is performing and subsequently recommend the next best courseware, modules, learning activities, or quizzes that will benefit the student. It can also keep track of what students have difficulties with so that those concepts can be reviewed repeatedly.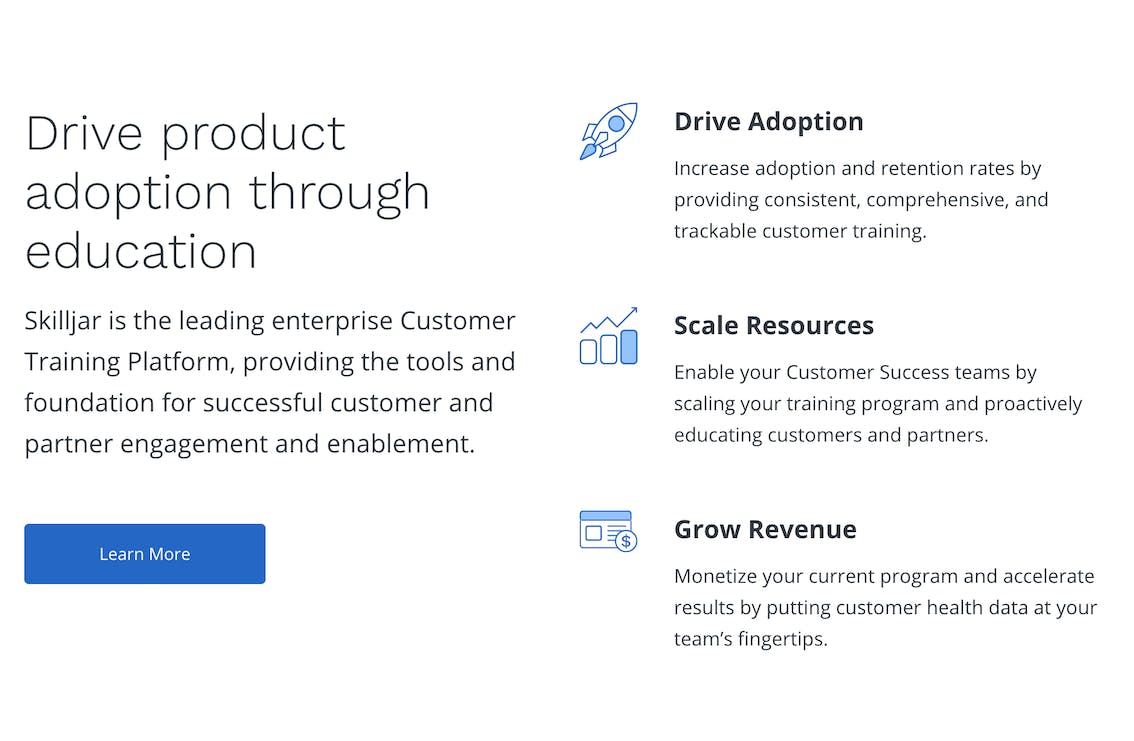 One learning platform that is making good use of AI is Skilljar. This elearning software uses AI to make a custom learning experience for each user and can connect its data to other third-party tools for further evaluation.
6. SMART
The world of technology is constantly evolving, and one new trend that is gaining popularity is the Internet of Things (IoT). IoT devices are everyday objects that are connected to the internet, allowing for improved functionality and communication. One company that is leading the way in experimenting with IoT in learning is SMART.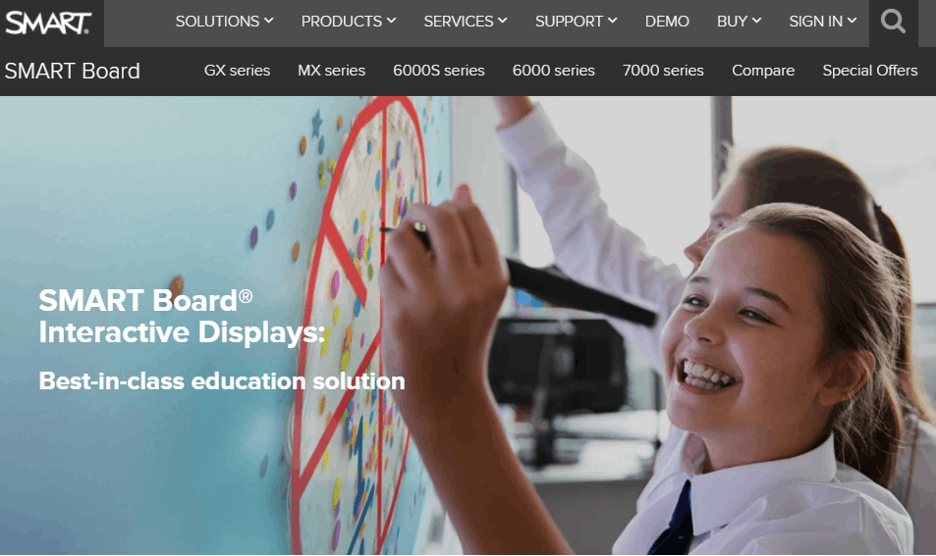 By utilizing IoT technology, SMART has transformed digital whiteboards into innovative devices that connect learners from all over the world. This allows for a more collaborative and interactive learning experience that transcends physical boundaries. With the ever-expanding possibilities of IoT, it is exciting to imagine the ways in which it will continue to revolutionize the way we learn, work, and live. While LMS technologies are transforming the way we learn, IoT engineering services are revolutionizing how devices communicate and interact in various industries.
7. ItsLearning
One LMS that has established a reputation for prioritizing data privacy is ItsLearning LMS. ItsLearning has a strong foundation of data governance and has been adopted by numerous school districts that make data privacy a top priority. The platform provides secure storage and transmission of data, ensuring that student information is kept confidential and protected from potential threats.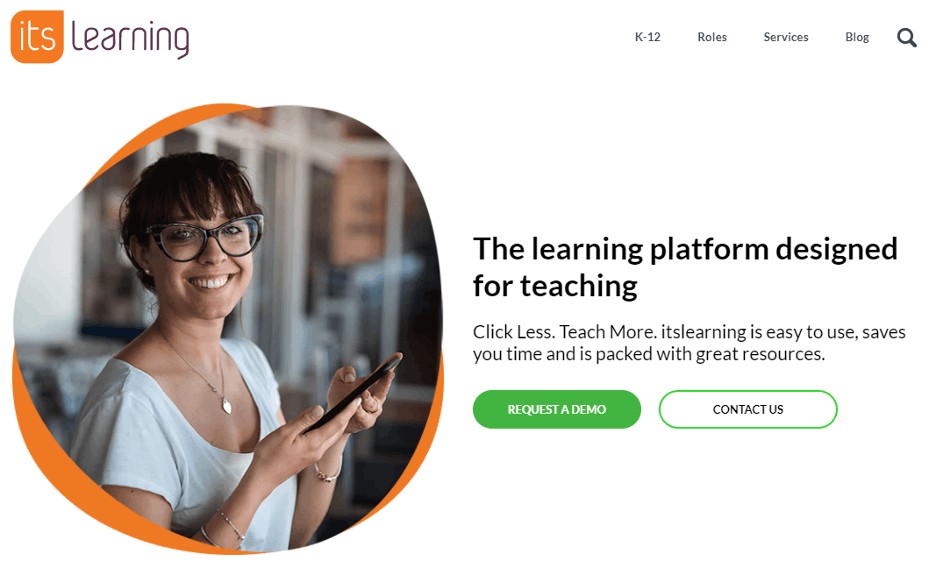 With ItsLearning LMS leading the way in data privacy, it is essential for educational technology companies to follow suit and make data privacy a key component of their offerings. By doing so, they can help ensure that students' personal information is safe and secure, allowing them to focus on their learning without having to worry about the security of their data.
8. CloudShare
CloudShare is a company that offers virtual team training courses and virtual lab solutions. They provide virtual IT labs that allow learners to practice and experiment in a simulated environment anytime and anywhere, without the need for physical equipment.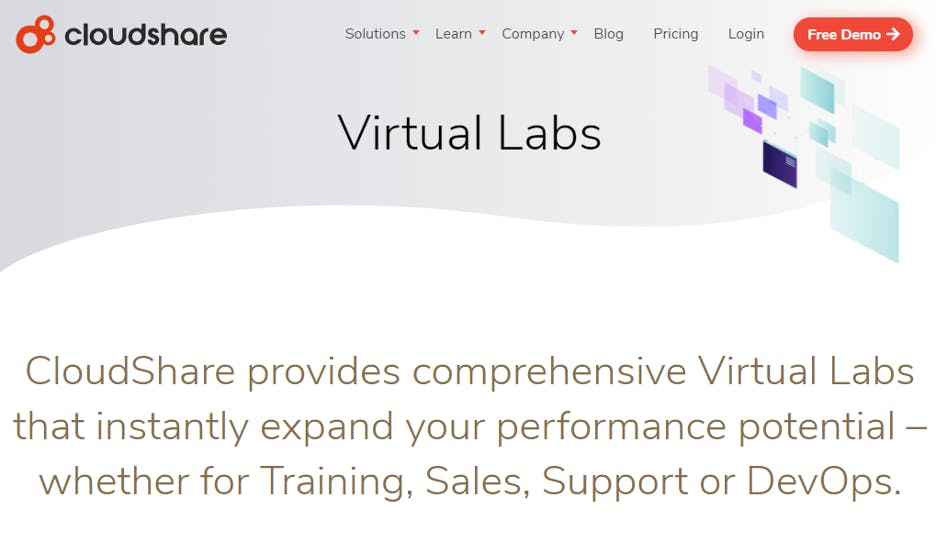 These virtual labs provide an immersive and engaging learning experience that allows learners to explore complex concepts and gain hands-on experience in a risk-free environment. With the help of these labs, learners can access high-quality educational resources and develop critical skills that are essential in today's ever-evolving job market.
9. 3Dp
3Dp LMS offers a custom curriculum that teaches learners how to effectively use and understand 3D printing. With their innovative approach, learners can gain hands-on experience with this technology, which can be invaluable in developing skills that are in high demand in today's workforce.
With the growing popularity of 3D printing, it is exciting to imagine the new possibilities that will emerge as this technology continues to evolve. By incorporating 3D printing into their LMS, 3Dp is helping to prepare learners for the future by giving them the skills and knowledge they need to succeed in the 21st-century job market.