There are dozens of LMS software on the market, but there are only a select few that truly stand apart from the rest, based on the ease of use along with effectiveness. Your LMS software should fuel simpler, smarter learning and enhance your training procedures while reducing Learning & Development (L&D) costs and maximizing learning outcomes. To help narrow down the best tools for you and your teams, discover our picks for the top 10 LMS software below.
LMS Software #1 – EdApp
EdApp has rightfully earned the top spot as the top LMS software. This mobile-first training solution is used by leading organizations around the globe and includes a plethora of unique features from a free editable course library, which enables you to pick and choose world-class ready-made content to edit, brand, and deploy to your teams within minutes.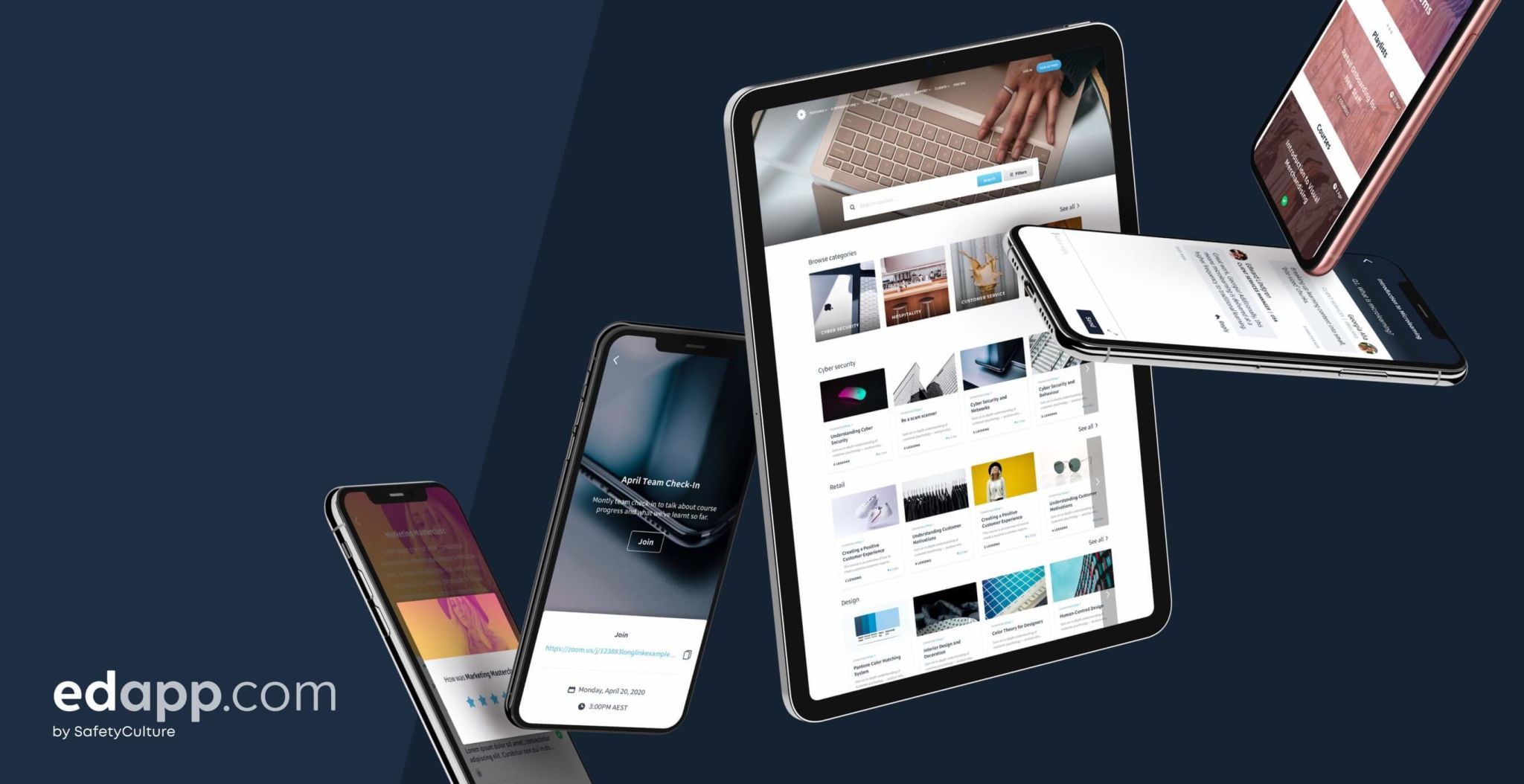 The award-winning platform also hosts a collection of templates, should you wish to create custom content from scratch. The user-friendly authoring tool (no coding knowledge necessary!) and templates help you to seamlessly create results-driven courses which save time and increases the likelihood of course completion and knowledge retention. With mobile-first capabilities, learners have the freedom to complete their coursework from their personal smartphones from wherever they are. Did we mention that it is free?
If you are seeking highly interactive, results-driven microlearning, EdApp learning ecosystem is right for you. A variety of assessments are also available to verify understanding via multiple-choice questions, elements of gamification, conceptual formats, surveys, video, narration, and more. Did we mention that EdApp is the only online course software to include Canva integration? Enjoy these features and more – all for free to seamlessly train your teams with an unlimited amount of courses.
LMS Software #2 – Auzmor
This cloud-based learning management system aids businesses and organizations in managing, tracking, and delivering training to employees or associates. There are course-authoring capabilities within the LMS software, as well as centralized data storage. As an HR or L&D specialist, you have access to a dashboard that shows learner progress. It should be noted that this platform is limited in customization capabilities and lacks features to help achieve the best learning experience for you and your teams.
Training courses are available to use, however, the library is limited in terms of variety and volume. Through open enrollment functionality, learners can add to or refine existing skills all within a mobile learning environment. Alternatively, access to training materials is available through desktop. There is also the ability to build teams and assign courses specifically to people who need those training. The platform can be a bit tricky to get up and running but they do offer support.
Prosperity software systems is part of the Ziiva's suite that was designed to aid businesses in managing employee training programs. This end-to-end learning management solution is limited in its training capabilities, namely catering Corporate HR and training departments. The platform also comes at a cost and requires you to purchase basic features like storing your content in the cloud and having access to basic features. A monthly subscription is on offer should you wish to access the full platform but it's difficult to confirm its effectiveness with a lack of reviews (there aren't any on G2).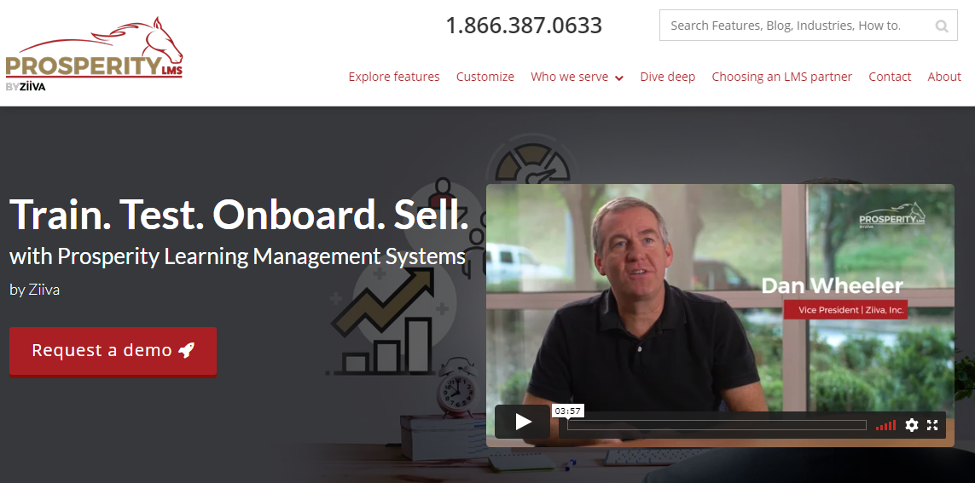 Prosperity is a SCORM compliant content authoring tool and hosts an authoring tool for you to create content from scratch. A course library is also accessible and provides free training modules on a small number of topics including OSHA safety regulations, computer skills, leadership, and teamwork courses.
Edvance360 is a provider of eLearning software and services to academic-oriented institutions, so it's not ideal for professional-level training, but rather academia ranging from K-12 to higher education. Online lesson management, progress tracking, online certificate creation, and an in-house social network are some of Edvance's most notable features.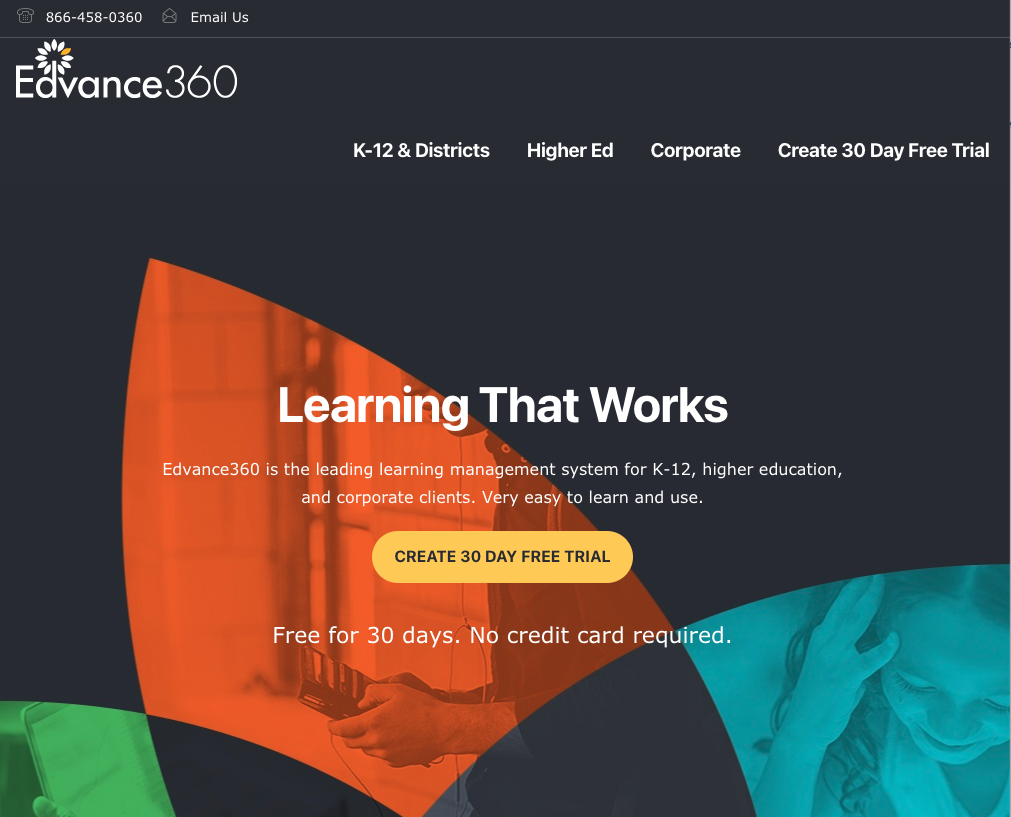 This platform also offers personalization to customize your content and basic progress tracking is also available. Edvance360 includes a content builder which allows you to interact, create, and update testing materials for students. These changes are made in real-time which is time-effective as well as the platform's automated reminders, which can be enabled to remind your students to complete course for you. Edvance360 is both Mac and PC compatible (like most platforms) and anyone with WiFi access can work on training assigned through this LMS.
LMS Software #5 – iTacit
While iTacit is noted to be a workforce app, its focus is solely on simplifying communication while improving engagement between employers and teams. Suited for a variety of organizations, including healthcare, government, banking, and manufacturing, this LMS can support your basic communication needs.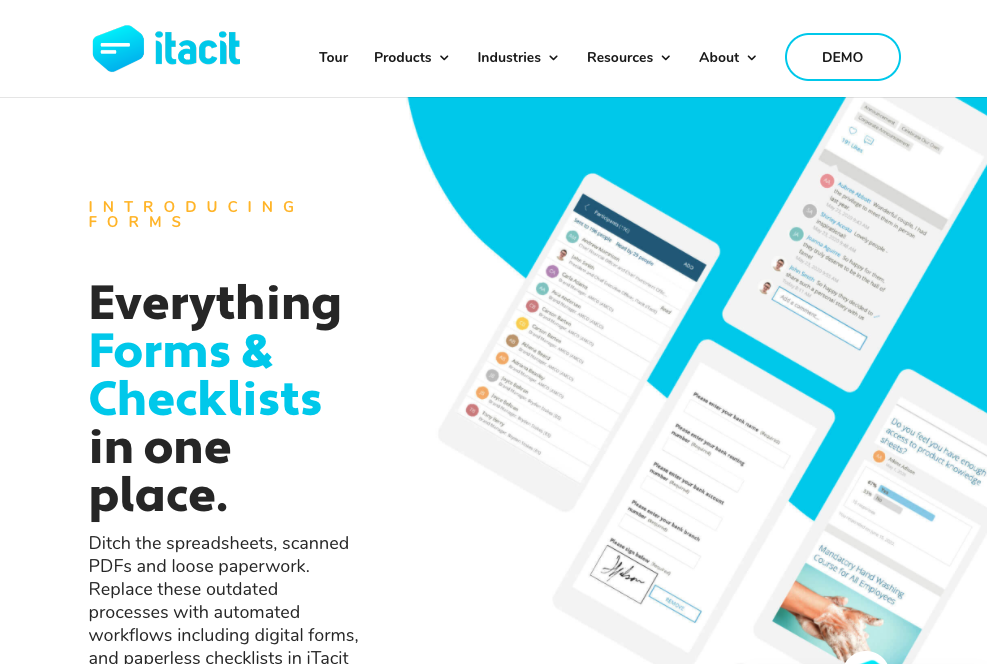 HR teams can use this LMS to provide critical updates, messages, and new training to remote and in-office employees. iTacit is compatible with Windows, Mac, iOS, and Android devices, getting training for employees in a way they can access should be easy. The downside is it lacks basic features like instant sharing of files, making it a clunky and underdeveloped platform. Pricing is also on a monthly subscription basis.
From VAIRKKO, as the title suggests, eLearning Cloud is a cloud-based LMS. Creating new training courses, conducting new employee orientations, or updating corporate policies are some of the possibilities available via this LMS.
Multimedia resources can also be uploaded to support learning and there are post-course assessment options to provide employees with practical applications to gauge what they learned. While the eLearning Cloud advertizes many built-in features, they do not include a course library (editable or otherwise) which means you must create all of your content from scratch. Users have said that the platform doesn't offer enough variety to cater to different industries and only a free trial is available for a limited time so the use of this platform will cost you.
NextThought is a learning management platform that focuses on team engagement. Through customer, employee, and partner training, teams work together to complete upskilling and reskilling within teams.
With consistent learning outcomes and course creation tools, NextThought supports social learning, although creating the content and facilitating community learning is up to you. The platform also lacks built-in features to easily manage your teams, with no forums or discussions. With NextThouhgt, you have the option of designing courses or embedding additional learning within existing course materials. Integration with some third-party software applications is also a feature – although this is limited. While the platform offers a free trial, the monthly plan will cost you anywhere between $99 to $299.
BrainCert is a basic platform that delivers training online with real-time tracking for your training results. This white-label solution enables you to customize at a basic level, like inserting your company's logo, theme, and colors into your course content.
The platform's embedded communication tools allow for on-board engagement and collaboration, which helps in retaining customers through role-based access controls. And while BrainCert positions itself as being modern and extensive to support you and your teams, keep in mind that the most notable feature is a virtual classroom, which doesn't integrate with all your standardized platforms like Zoom. There are four platforms within BrainCert that separate most needs, making it somewhat difficult to provide a seamless learning experience for your employees. Users have also found it difficult to get a hang of the platform, crediting disorganization and an overwhelming amount of information in the platform.
Streamlining content creation, compliance, as well as audio/video employee training are all doable via CoreAchieve. Developing professional coaching materials and managing online training courses are two major purposes of this cloud-based LMS and if you're looking for basic content, it can be tracked down by using filters, titles, categorization, tags, and descriptions.
CoreAchieve is limited in terms of how many users you have per month, so if you have a medium to large and/or growing organization, this might not be the platform for you. The LMS does, however, host basic content like audio and video and integration with a limited amount of third-party systems is doable. Pricing ranges from $2.44 per user per month, capped at 500 users, and if you have less (around 100), you're looking at $5 per month, per active user.
While Bridge Software is less of a standalone LMS and more of an integration service, the platform bridges partners with SaaS companies to build APIs for their software. Similarly, Bridge Software offers API integration and middleware development and maintenance services.
Unfortunately, there is no free trial with Bridge Software, making it impossible to test the tool out. Once you purchase a licence, the platform promises to configure, customize, and deploy for you. This means that real-time edits and management is not available and will take time to curate and ensure your bespoke content has the opportunity to reach your teams.