Keeping your team informed and compliant with Health Insurance Portability and Accountability Act's (HIPAA) sets of security policies, rules, and standards is no easy feat. Designing and administering a regular compliance training program to comply with HIPAA consumes a significant amount of time and resources, especially without the proper tools on hand. This is why working with reliable HIPAA compliance software has become an absolute necessity for compliance officers. These tools can help manage regulatory compliance more efficiently, eliminating the burden of dealing with grunt work while also cutting costs on traditional compliance training. 
In this article, we'll take a look at some of the best HIPAA compliance software tools on the market, as well as analyze their key features and benefits to provide you with a quick comparison of each software product. Read on to learn more. 
1. EdApp
EdApp is a versatile compliance software with a range of advanced and powerful features that you can use to keep your team up to date on HIPAA compliance requirements. Here, you can create your own HIPAA compliance training courses, or import ready-made and customizable learning materials from their comprehensive library of beautiful courseware.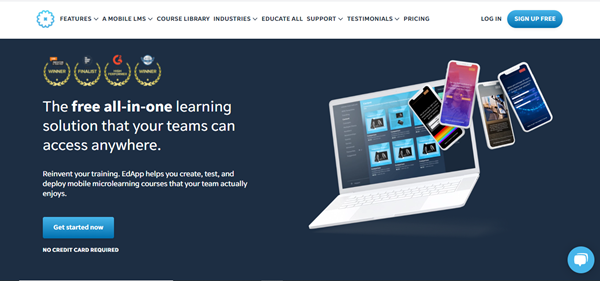 Take EdApp's HIPAA Compliance Training, for example, a course developed to educate authorized individuals on HIPAA compliance best practices, threats, and solutions. Fully editable, this course can be rebranded and personalized to your healthcare provider's specific requirements. In case of any HIPAA policy change, you can revise it with ease as well.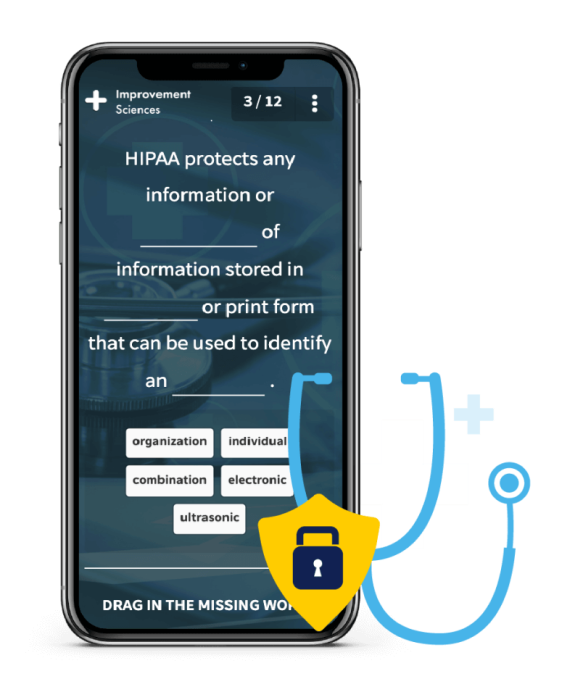 This LMS software also takes pride in its intuitive analytics & learning suite, which can help you check who has and hasn't received their obligatory HIPAA compliance training. To remind those who have yet to unlock or complete their compliance courses, there is a custom push notification feature that will do the hard work for you as it sends out gentle reminders. If needed, you can also use it to alert them of any course updates and changes without the need for third-party media (such as email).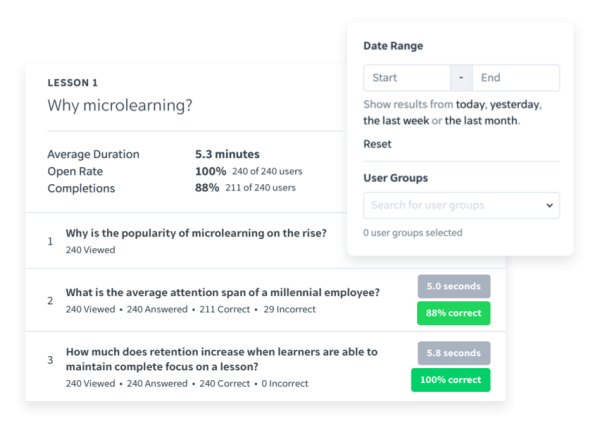 Cost

: Free

Key features

: Ready-made and editable compliance courses, intuitive analytics tool, custom push notification
2. Accountable
Accountable is a trusted compliance software designed and built by HIPAA Experts. Among its greatest features is its total compliance dashboard, which can provide your team with a real-time compliance check, ensuring that your organization never loses sight of violations. This software also offers employee training and onboarding courses that you can use to refresh your team and comply with the fundamentals of HIPAA. The lessons are delivered in video format to increase the engagement rate of the learners. Questions and quizzes are also available at the end of their course to check their knowledge retention.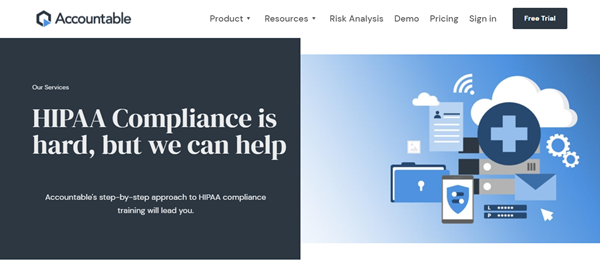 But that's not all. Monitoring your team is also not a problem with Accountable. Through its progress monitoring tool, it's easy to check whether everyone is on track and in compliance with HIPAA's requirements. 
Cost

: Paid plans

Key features:

Total compliance dashboard, online training courses, compliance progress monitoring
3. HIPAA E-Tool®
If you are looking for a compliance software that will provide you and your team with pretty much every training course and program on HIPAA, then you may want to explore HIPAA E-Tool®. There's no need to spend extra hours planning and designing your training materials. From policies and procedures, and risks to penalties, their comprehensive library has all these HIPAA courses ready to be deployed to your team.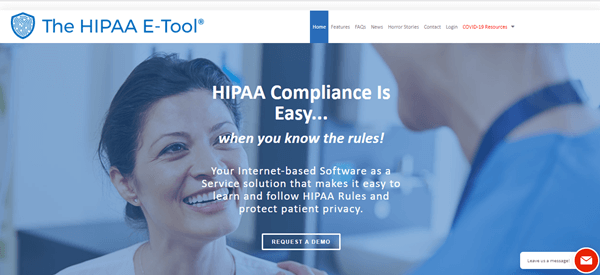 Another key feature to highlight is its very easy-to-use interface. There are step-by-step instructions for first-time users, ensuring that it will be up and running as efficiently as possible. They've also built an exclusive search box so your team can immediately get access to all these HIPAA topics. 
Cost

: Paid plans

Key features:

Comprehensive library of HIPAA courses, easy-to-use interface, exclusive search box
4. Compliancy Group HIPAA Software
HIPAA compliance can also be achieved with Compliancy Group's HIPAA Software. This platform is known for its intuitive training solution that goes beyond just your static PowerPoint. Not only does it help you educate your employees on the updated HIPAA compliance, but it can also help you track their learning progress and course completion. This way, you can enjoy peace of mind knowing that everyone in the team has received the compliance training they need.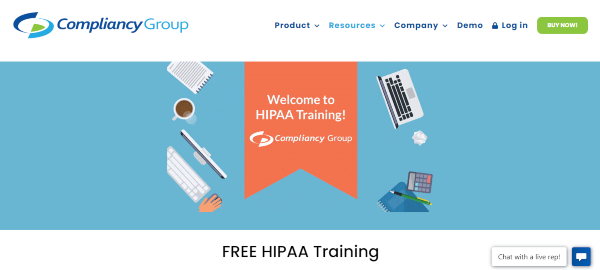 What's more is that this software can provide an official HIPAA Seal of Compliance Verification, which you can proudly show on your website to show your dedication to this federal regulation. 
Cost

: Paid plans

Key features:

Intuitive training solution, training tracker, HIPAA Seal of Compliance Verification
5. Netwrix
Another good solution for your HIPAA compliance program is Netwrix. This HIPAA compliance software is equipped with high-end security features that allow your organization to conduct HIPAA training and risk assessments and identify any inconsistency within the team through a breach notification. This way, they can immediately act on them before they cause greater harm to your business services. The tool also provides competitive compliance reports tailored to the specific requirements of HIPAA. Meaning, less time and effort for the L&D leaders and compliance officers to get through the entire compliance preparation process.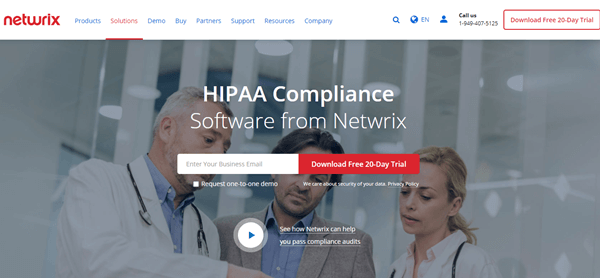 For the highest security protection, this HIPAA compliance software can be integrated with a continuous IT risk assessment using Netwrix Auditor. With this tool, you can reduce risks in account management, security permissions, and data governance. 
Cost

: Paid plans

Key features:

High-end security features, competitive compliance reports, integration with Netwrix Auditor
6. MedTrainer
MedTrainer is proud to offer an all-in-one solution to ensure your organization remains compliant and educated with HIPAA security rules and regulations. You can trust this cloud-based platform to digitize all the required processes, securely handle all your files from document and policy management to incident reports, and provide your staff with immediate digital access to all these documents. This approach eliminates all the hassle of organizing and storing a large amount of paperwork and the risks of misplacing it later on.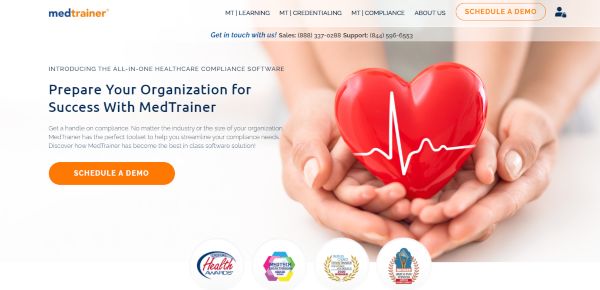 You can also use MedTrainer to repair the compliance records in case of any updates or changes in the regulations and notify responsible parties immediately whenever needed. Not only does it save a significant amount of time and effort as compared to manual controls, but it also reduces the likelihood of compliance fines and breaches. 
Cost

: Paid plans

Key features:

Automated and digitized reporting and management, safe and secure storage, staff access to documents
7. HIPAA One
Keeping your team compliant with HIPAA regulations and prepared with regular compliance audits will no longer be a problem with HIPAA One. Subscribing to this SaaS-based compliance tool will give you unlimited access to their HIPAA-related elearning modules, which your team can take anywhere at their most available time, with a computer or smartphone. Providing them easy access to these crucial training courses will equip them with the right skills and knowledge to confidently face any potential security threats and address HIPAA requirements.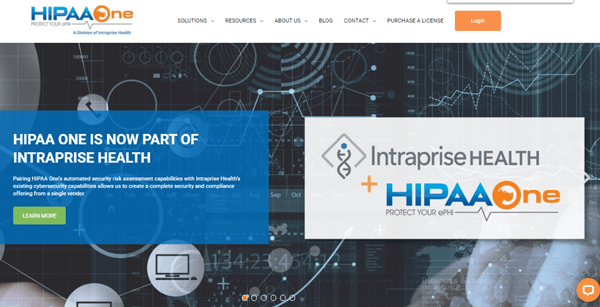 HIPAA One also prides itself on its comprehensive risk analysis solutions that can help with the simplification of the entire compliance process. They can help detect early signs of risks that can result in compromised personal health information, address security incidents in an unfortunate incident of a data breach, and provide documentation for due diligence. 
Cost

: Paid plans

Key features:

Unlimited access to HIPAA training courses, computer and mobile-friendly modules, risk analysis solutions
8. ComplyAssistant
Healthcare enterprises can use ComplyAssistant to manage HIPAA compliance processes and operations, identify potential privacy and security risks, and assign mitigation measures to combat them. It is also the perfect place to create, publish, store, and safeguard all your compliance documents like policies, incident reports, and internal assessments, so you no longer have to jump from one tool to another to do all these tasks. For any updates and changes on these files, real-time email notifications can be activated.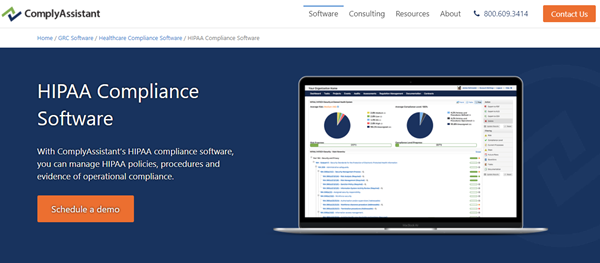 This platform has an innovative, elegant, and easy-to-use interface, which makes it easier to utilize its services without any software or coding expertise. Another feature that contributes to the ease of use of this software is its centralized dashboard, which provides all the valuable insights you need in a single location, like pending tasks, charts, and compliance levels. 
Cost

: Paid plans

Key features:

All-in-one software where you can create, publish and store compliance documents, innovative and easy to use interface, centralized dashboard, real-time email notifications
9. OfficeSafe
You can also achieve a greater level of confidence in HIPAA compliance with none other OfficeSafe by PCIHIPAA. Its easy-to-use compliance portal serves as a secure place where any health care provider and other covered entity can customize and maintain all the required HIPAA policies and keep everything across to their teams. Their data backup solution is backed with 256-bit encryption and SQL database restoration capabilities, which guarantees secured storage, confidentiality, and adequate data recovery, strongly upholding the HIPAA security rule, should there be a ransomware attack or any unwanted incidents.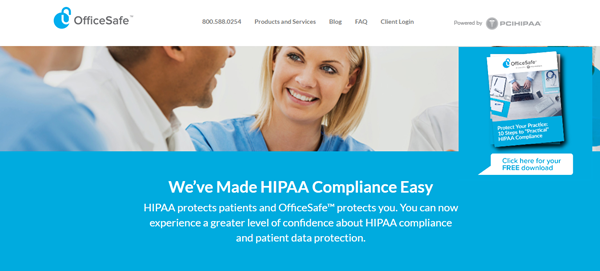 If you want to hold compliance training, you can also depend on this platform to deploy videos, key links, and quizzes to strengthen your team's knowledge of HIPAA requirements. The team will also not charge extra for any new users to be added to this program. For OfficeSafe, it's all about keeping all your employees informed and educated without the need to overspend. 
Cost

: Paid plans

Key features:

Easy-to-use compliance portal, data backup solution backed with 256-bit encryption and SQL database restoration capabilities, training management
10. HIPAA Ready
One more tool to consider is HIPAA Ready, a robust cloud-based HIPAA compliance software by CloudApper mobile app. Say goodbye to the complexities of managing your HIPAA compliance. With this one-stop software app, you can now easily add, edit, or remove new HIPAA privacy policies, procedures, and compliance information and notify all concerned employees about any regulation updates or changes by the department of health or any other government entity. If you are thinking about deploying compliance courses to your team, it also doubles as a training software where you can easily assign lessons, set a training schedule, and check non compliance, and track their learning progress.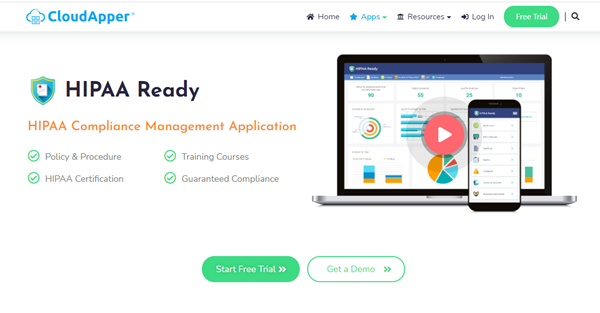 Cost

: Paid plans 

Key features:

Streamlined HIPAA compliance process, training management, learning tracker
You may also be interested in: