Conducting tests is a great way to help gauge learning and check for the effectiveness of training. However, taking tests is another story as it can be a dreadful part of the learning process for some people. As an educator, trainer, or member of the L&D team, it's your job to create tests that not only evaluate learners but also interest them and provide them with learning. This is where using a test maker software comes in handy as it can help create tests with ease so you can focus more on the content and the many ways to make them engaging.
To help with your search, we've selected 10 free test maker software to help you become a pro in creating fun, challenging, and engaging tests. Scroll down below to learn more.
1. EdApp
EdApp is the top test maker software for ensuring that your teams make the most out of their training. EdApp's LMS has a feature called Rapid Refresh that is solely dedicated to test-making and will help with gauging learner retention and comprehension. It's designed to make online test creation easier, faster, and more efficient for busy educators and instructors. With its easy-to-complete spreadsheet, all you need to do is transfer your questions and it will be transformed into a visually appealing test, ready to be rolled out with a click of a button. With EdApp, there's no need to badger employees to take assessments as you can schedule push notifications and emails that will automatically take care of sending out reminders. All you need to do is sit back and relax while waiting for results to pour in. Make sure to keep an eye out from time to time as Rapid Refresh is guaranteed to deliver faster and higher completion rates.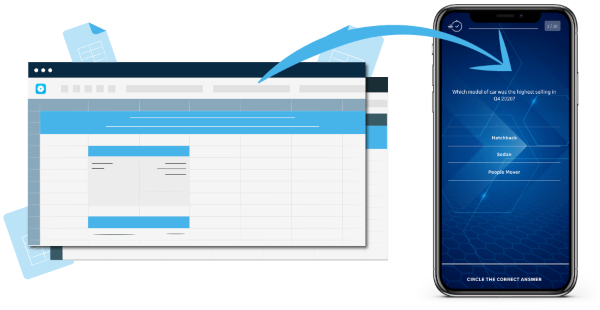 Cost: Free
Key features: Easy-to-complete spreadsheet, custom notifications, leaderboards
2. PaperShala
PaperShala is a powerful test maker software that will allow you to create tests, reuse questions, and check results immediately. There's no need to worry about any power interruptions or connectivity issues when your learners take their tests as answers are saved immediately and can be resumed anytime. It also has a question bank that houses all your test questions. Aside from this, it also gives visibility to more details, such as total attempts and total correct & incorrect answers. PaperShala also has a dedicated student dashboard where learners can check the exams they need to take, their current progress, and their overall performance.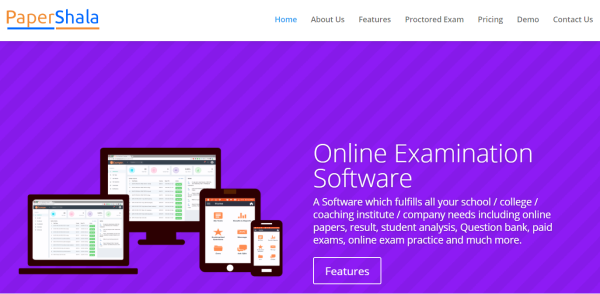 Cost: Free and paid plans
Key features: Multifunctional question bank, student dashboard, Resume Exam feature
3. Quizlet
Quizlet is a free test maker software that is popular for its signature flashcard format. Using flashcards for testing is the perfect medium for visual learners as facts and key concepts are shown through images for better context and recall. Users continually contribute to the public library of this software, so several study sets for different topics are accessible. Aside from using flashcards, Quizlet also offers timed games, adaptive questions, and practice tests for variation. While it's mostly used in schools, Quizlet is an engaging way to test for understanding and retention with your teams in the workplace.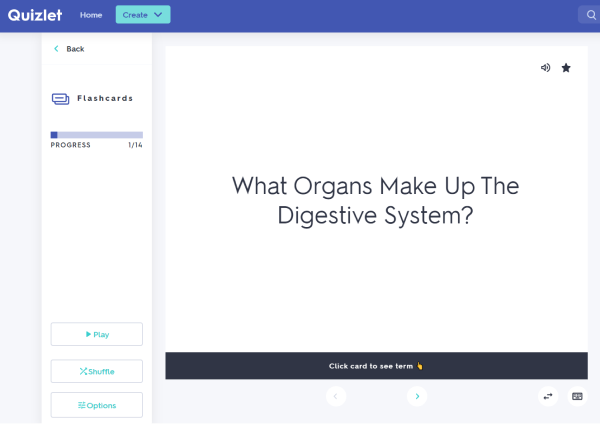 Cost: Free
Key features: Flashcard format, study sets, multiple question types
4. SpeedExam
SpeedExam is a unique test maker software geared towards assisting learners with self-study. It offers 10 types of questions to provide diverse types of challenges to your learners. Your training team can create a question bank and tests can be created by learners from your pool of questions. You can also create tests that can be taken at the same time, either on the same location or even in different regions, perfect for organizations that operate globally. You can even monitor your learners while they take their tests with SpeedExams' exam monitor. With its free version, you'll get 25 exam attempts per month with up to 5000 questions.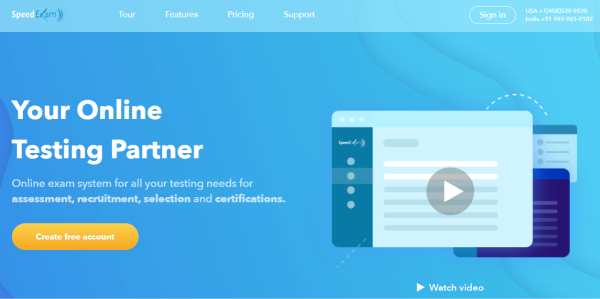 Cost: Free and paid plans
Key features: Question bank, concurrent tests, automated proctoring
5. Typeform
With Typeform, creating clean and professional tests is as easy as dragging and dropping content. Just choose your preferred question types, input your questions and answers, modify & customize them to your heart's content, and finally publish and share them with your team. If you're unsure where and how to start, Typeform also offers 400+ visually appealing templates that won't disappoint your learners. For the free version, it allows 10 questions per typeform, with 10 responses per month. Reports can only be exported using an Excel file, which is very limiting when reviewing results.
Cost: Free and paid plans
Key features: Drag-and-drop quiz builder tool, 400+ visually appealing templates, shareable reports & analytics
6. Google Forms
If you've been around the digital world for quite a while now, then most likely you've already come across Google Forms to answer surveys, fill out order forms, or request a time off. But apart from these basic uses, this tool is also great for creating straightforward tests with multiple choice, checkbox, and dropdown question formats. The summary report of the responses is instantly provided after each successful test completion, saving you an incredible amount of time for computation and assessment.  As compared to other software, Google Forms tend to be static due to its limited customization options. The available templates are also very basic, so you'll most likely find yourself just creating your quizzes from scratch.
Cost: Free
Key features: Straightforward quiz building, instant data result & analysis
7. Quiz Maker
If you're looking to create attractive tests with just a few clicks, Quiz Maker is a great option for you. You can copy and edit the existing quizzes they have or create one from scratch on their straightforward editor with its simple point and click feature. Quiz Maker has 38 question types that you can mix and match or you can also import questions you've already made. The free version is ad-supported so this means that you'll also see ads on your tests. Also, bear in mind that you're limited to only 1 quiz with 25 responses.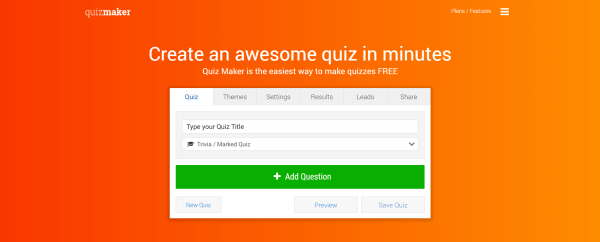 Cost: Free and paid plans
Key features: Point and click quiz editor, 38 questions types, customizable themes
8. QuestionPro
QuestionPro is mostly used to create surveys but it's also a great tool for creating tests as they have over 25 standard question types available on the free version. It also provides you with unlimited surveys and responses which is great considering the very small number that other free tools provide. QuestionPro helps establish your brand by allowing you to add your company's logo to your survey and change the survey colors to match it. You can even customize the 'thank you' page of your respondents when they've completed a test to give them a personalized experience. While QuestionPro's free version undeniably includes the essentials, it still lacks intuitive features that can be found on other free tools, such as scheduled email reminders & push notifications and cross-app integrations.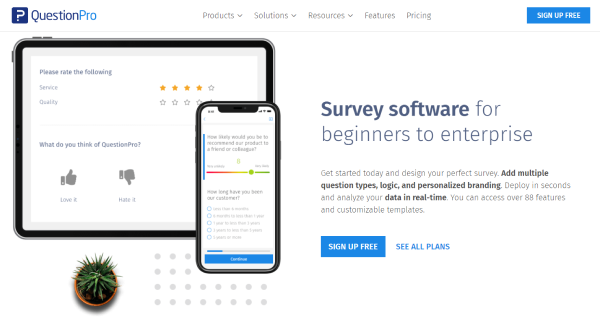 Cost: Free and paid plans
Key features: 25+ question types, survey customization, shareable dashboard reports
9. Testmoz
Testmoz is a simpler test maker software compared to most but it makes sure that you have all the features you need. You can choose from the different question types they have available and also create question banks/pools. You can also import questions through their provided Excel file which contains a set of easy-to-follow instructions. Tests are autosaved during creation so you don't have to worry about losing your work during sudden power interruptions or technical issues. With their free version, you're limited to 50 questions and 100 results per test. Also, uploading your own images isn't possible and you can only use images available online.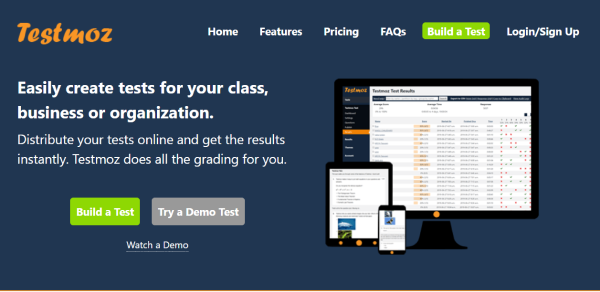 Cost: Free and paid plans
Key features: Question bank, autosave, import questions
10. Slido
Slido aims to make learning interactive and dynamic with its live quizzes that are perfect to conduct after a training session. Participants can join in using their mobile devices through a link or QR code with no sign-up needed. To make it more fun and engaging, you can set time limits for each question and also display a leaderboard showing the scores and topnotchers at the end. You can even reveal the most difficult questions and show who answered them correctly. With Slido's free version, you can host an unlimited number of quizzes with a 100-person limit. You'll be able to view, share, and analyze results for each event. One thing to take note of is that it can only run multiple-choice quizzes.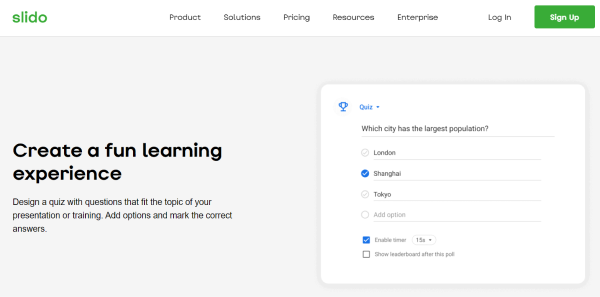 Cost: Free and paid plans
Key features: Leaderboards, timer, event analytics