Investing in employee engagement is a worthwhile venture that most organizations tend to overlook. But why invest at all? It's because engaged employees are more committed, satisfied, and productive. Over the years, employees are now looking for more than just an attractive paycheck. They want their 9-5 job to be somewhere they can learn, grow, and contribute. 
So, where does one begin? Let's look into 10 employee engagement tools that you can use to kickstart your employee engagement journey.
1. EdApp
EdApp is the top employee engagement tool that you can use to improve engagement and learning retention in the workplace. It's a SAAS and learning management systems (LMS) made with mobile in mind which means it can be accessed anywhere anytime and gives you total flexibility when it comes to training delivery. EdApp uses a microlearning design model that ensures higher engagement rates through bite-sized chunks of information that's easy to digest and comprehend. This is because employees are not bombarded with information and the focus is placed on key concepts that are delivered in short bursts.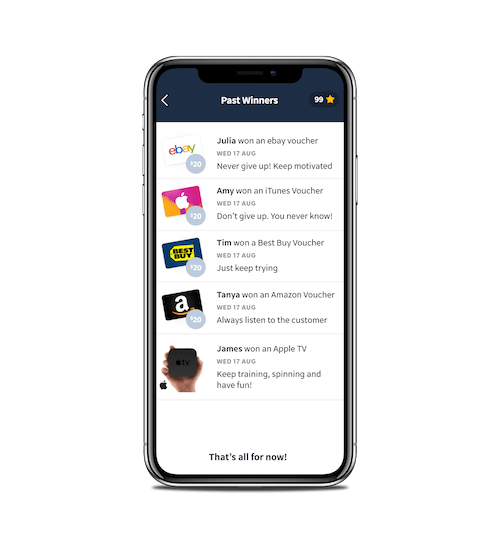 This tool also uses gamification examples and turns mundane tasks into a gaming experience. Game design elements and principles, such as leaderboards, rewards, and scoring, are applied in lessons to enhance the learning experience. EdApp has different game templates that you can use such as a memory game, letter jumble, and jeopardy game. To further push motivation and achieve your business needs, you can also incentivize employees with real-world prizes, like coffee or food vouchers.
Additionally, EdApp's Custom Achievements is a reward system to help level up your engagement game by recognizing and incentivizing superb learning habits. It allows learners to earn achievements that can be customized based on your criteria of good learning behavior. Some can be as simple as opening the app for the first time or completing an entire elearning course with flying colors. It's all up to you to determine the ingredients of each achievement and customize it as you wish to set up a "recipe" for success based on your intended learning process.
Price: Free
Key features: Gamification, leaderboards, prizing
Train your teams using the best employee engagement tool
2. Learn Amp
Learn Amp is an all-in-one people and leadership employee development platform combining Learning Experience features with their LMS tools. It allows you to create pathways and playlists of learning that will lead your employees to compliance training and development courses that's most relevant to them. To gather feedback, Learn Amp includes polls and surveys, which you can also use to gauge employee engagement. Employees can also create their social profiles where they can display their interests and expertise and connect with their peers. To use this web-based training platform though, you'll need to pay for a subscription, which comes in three tiers.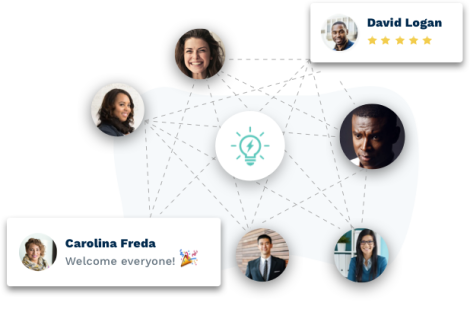 Price: Contact Learn Amp
Key features: Learning playlists, social profiles, surveys
3. Google Classroom
Google Classroom is a free employee engagement tool that enhances workplace learning with the use of a virtual classroom. You can create a classroom where your employees can participate in different employee training activities or lectures with modules assigned to them. With the help of the resources and tools created by Google, you can equip employees with different creative projects and hands-on learning to keep them engaged. It also allows integrations with your favorite third-party apps making sharing files and documents seamless. Since it's created by Google, this means it can easily be used with Google Meet, Google Docs, and the like for a more streamlined experience. While this is free of charge, it lacks the bells and whistles that come with other tools that allow for more customization to make it visually appealing.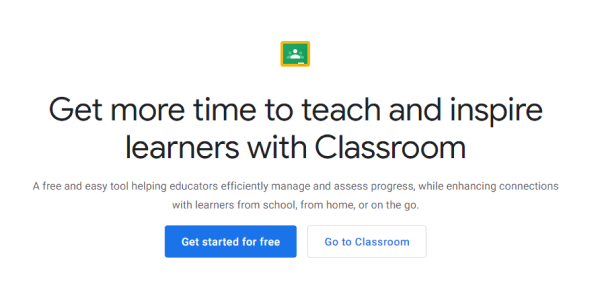 Price: Free
Key features: Virtual classroom, apps and integrations, assignments, G Suite
4. BambooHR
BambooHR is an all-in-one online HR software that caters to small and medium businesses. This easy-to-use management system makes sure you have all your old and new employees' information in one place. It allows your HR department to do a multitude of tasks from hiring to onboarding, employee performance management, managing payroll, and time off. Using BambooHR empowers top talent and employees as they can utilize different features, such as updating their information, requesting time off, viewing their training and goals. This platform also makes it easier to manage employee turnover It also has features such as creating boards showing employees' birthdays and anniversaries or activity feeds for welcoming new hires.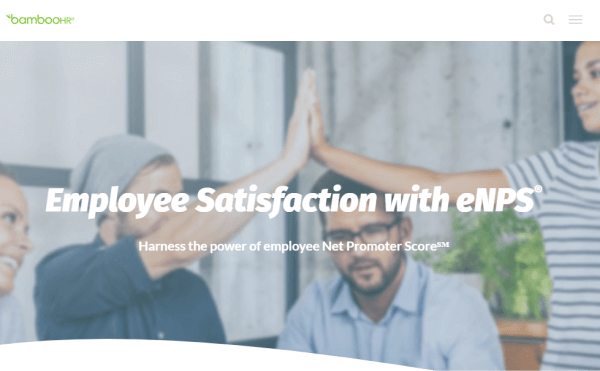 Price: Contact BambooHR
Key features: Employee database, activity/news feed, calendar management
5. Officevibe
Officevibe is a great employee engagement tool for gathering feedback from your employees. You can send out weekly, anonymous surveys, which are automatically deployed to them. It uses pulse surveys to measure employee engagement using different formats such as numerical scales, text boxes, and custom polls. Managers can respond to employee feedback and continue an anonymous correspondence, or even set a 1-on-1 for further discussion. It boosts employee engagement as employees can let management know any challenges or issues that wouldn't normally be addressed in a typical conversation, so they can be fixed or improved upon. Officevibe offers a free basic plan but to get better features, a paid subscription is recommended.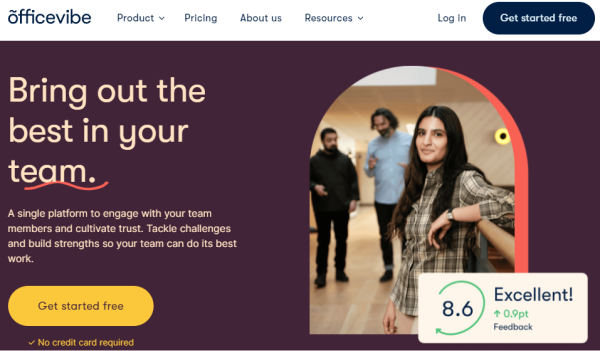 Price: Free, US $4/user
Key features: Automated pulse engagement surveys, talent management, performance review, anonymous feedback, 1-on-1
6. Quantum Workplace
Another tool to boost employee satisfaction and engagement is Quantum Workplace. It has many features such as employee surveys in various formats such as pulse, lifecycle, and annual, for a glimpse of the employee experience. This is also helpful in discovering possible engagement opportunities. Quantum Workplace also has a social media-like news feed where employees can communicate with each other and send messages, motivate others, and congratulate others on their achievements. Goals can also be set with their recognition software so that milestones can be celebrated later on
Price: Contact Quantum Workplace
Key features: Employee surveys, social recognition, employee dashboard
7. Kazoo
Kazoo is an employee experience platform geared towards employee engagement. To close the engagement gap, they have different features that can be used, such as goals & OKRs, feedback, recognition, incentives, and conversations. It is also easier to set department and company goals so that employees are aware of the importance of their work. On the other hand, continuous conversations and feedback make certain that everyone has a voice. Points can be given for rewards and incentives that are fully customizable. Like Google Classroom, you can also connect external apps to Kazoo so there's no back and forth needed when sharing your existing files.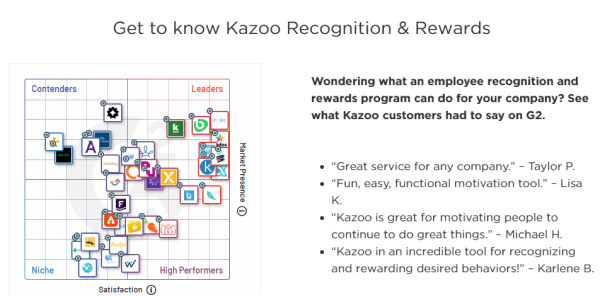 Price: Starts at US $4.50/month per employee
Key features: Activity feed, surveys, rewards engine, pulse surveys
8. Slack
Slack is a tool that provides real-time communication in the workplace. You can create different channels for specific teams, topics, or projects for better organization. It's also great for creating social channels, such as a millennials age groups channel, and music or pet channel, so employees can collaborate, engage, and get to know each other better. Using Slack keeps employees updated without having to sort out numerous emails or set up a meeting. It also includes file sharing so employees can easily send out photos, videos, and documents using different apps and integrations. One-on-one conversations are also made easier through direct messaging or video calls.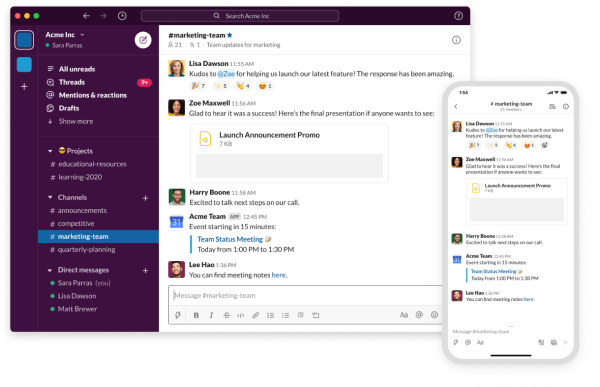 Price: Starts at US $6.67/month per user
Key features: Channels, apps and integrations, file sharing
9. Kahoot!
Kahoot! is an employee engagement tool that is colorful and visually appealing that will surely engage your employees. As an online quiz creator, the idea is to create "kahoots," which are template-based quizzes, polls, puzzles, and presentations. These kahoots can be presented on a shared screen or remotely on employees' own devices through any video conference platform. Team spaces can also be created to foster collaboration within a specific department. Kahoot! provides reporting so that knowledge gaps can be spotted and feedback can be provided to spark discussions.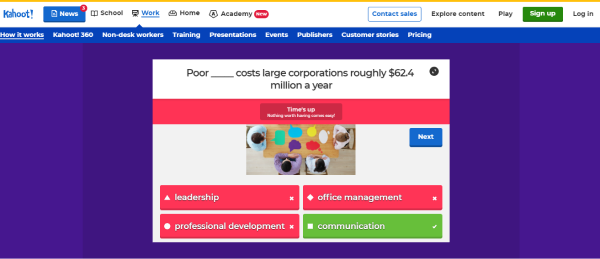 Price: Starts at US $17/month per host
Key features: Colorful visuals and attractive interface, interactive game-based format, multiple game templates
10. HR Cloud
HR Cloud includes a recognition and rewards software, which is a great feature for an employee engagement tool. It also has a kudos feature that lets employees give a digital high five and compliments others for their efforts and achievements. Employees can convert those kudos into points to claim real rewards that your company can set up. This human resources cloud-based tool can also send out pulse surveys, which are perfect for getting to know the employees.
Price: Contact HR Cloud for pricing
Key features: Kudos and rewards, centralized newsfeed, surveys and polls
10 Employee Engagement Tools
| Tool | Description |
| --- | --- |
| Employee Engagement Tool # 2 – Learn Amp | Learn Amp is an all-in-one people development platform combining Learning Experience features with their LMS tools |
| Google Classroom | Google Classroom is a free employee engagement tool that enhances workplace learning with the use of a virtual classroom |
| BambooHR | BambooHR is an all-in-one online HR software that caters to small and medium businesses |
| Officevibe | Officevibe is a great employee engagement tool for gathering feedback from your employees |
| Quantum Workplace | Another tool to boost employee engagement is Quantum Workplace |
| Kazoo | Kazoo is an employee experience platform geared towards employee engagement |
| Slack | Slack is a tool that provides real-time communication in the workplace |
| Kahoot! | Kahoot! is an employee engagement tool that is colorful and visually appealing that will surely engage your employees |
| engagement | HR Cloud includes a recognition and rewards software, which is a great feature for an employee engagement tool |