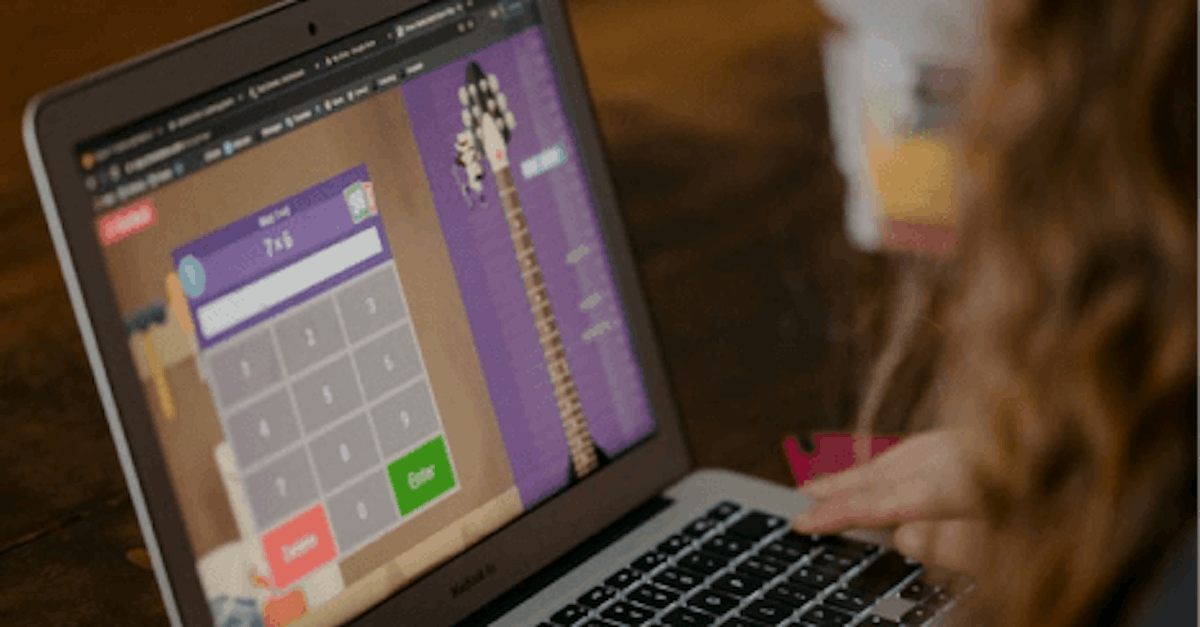 One of the great advantages of eLearning is that there is such a wide variety of activities that can be used with it. Since eLearning involves access to modern learning technologies and educational apps, all sorts of different types of interactivity can be introduced to the learning environment that would not be possible with just offline learning or social learning.
In this article, we will take a look at different eLearning examples that you can use to improve the competency of your team. These examples will all come from the sophisticated learning management system (LMS) EdApp. Because this learning management software has so many different built-in online-learning activities and instructional designer elements within its elearning software, it lets us easily enroll in courses and import virtually any type of activity through its drag-and-drop course creator interface.
Now, let's start looking at some examples of eLearning!
1. Scratch to Reveal
One interactive technique that is perhaps one of the best eLearning examples is the scratch to reveal activity. This can be seen in EdApp's course Utility Knives Safety course, where it is used to make students take agency in their learning.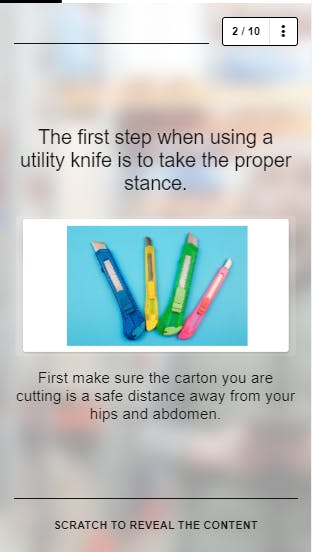 This type of activity can be used as great learning object because of its tactile nature. Having learners scratch away the image to reveal the content underneath will make for a more memorable experience, especially when it is done on mobile.
2. Drag to Reveal
Another great interactive elearning example is the drag to reveal activity. This can be seen in action with the use of the Comparison template in EdApp's Spirits, Beer, and Wine course, which is a must-have course for anyone training bar staff. Compared to other SCORM authoring tools and cloud-based learning technology, the platform's interactive templates make it easier for learners to engage with the training material.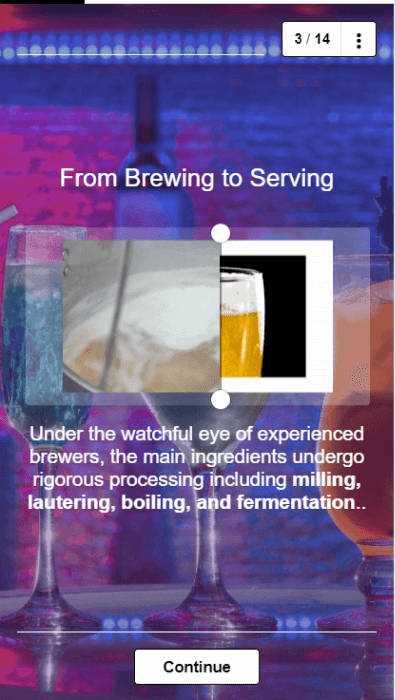 This is another great digital learning activity for helping learners remember the content that they are exposed to. This is because it makes a memorable impression when they have to manually drag a slider across to reveal the content.
3. Drag to the Correct Category
We can see an example of an corporate learning activity that involves dragging items to the correct category in the course Waste Management Safety which uses EdApp's Drag to Match template. This is just one of the many safety courses on the EdApp safety training software.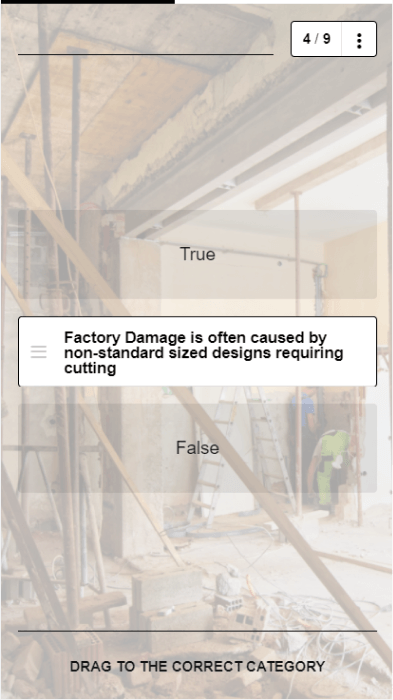 It can also be considered a gamification eLearning example as this type of activity helps a learner create connections, which further cements what they have learned into their long-term memory. It is an important technique for the type of safety courses on EdApp that require a learner to completely master a topic for their well-being.
4. Drag the Missing Words
We can see another interesting type of activity in the EdApp SCORM=compliant course 5 Minute Desk Exercises. This type is the drag in the missing words activity which uses the Missing Word template.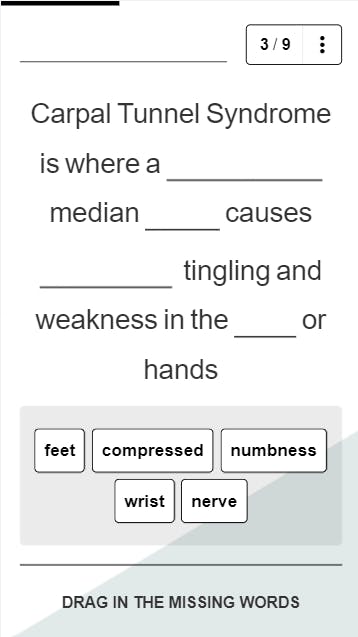 This activity involves putting words into the right context to finish a paragraph or sentence. Adding this activity to your learning programs because it makes sure that learners can apply their knowledge in the correct place.
5. Ordering
One of the best eLearning examples is the activity of putting items in the correct order. We can see this interactive blended-learning activity in the EdApp course Creating a Positive Customer Experience, which is an essential learning material for training retail workers.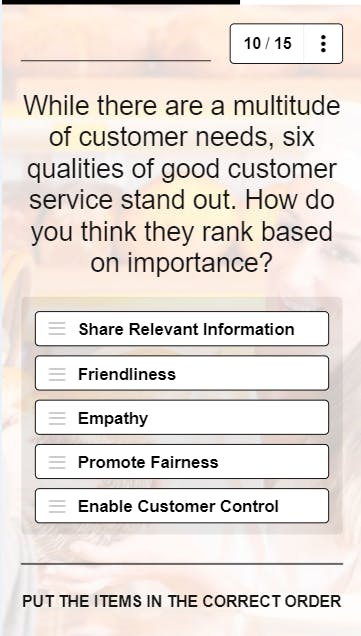 This type of activity is important because it makes sure that students have not only learned the content but that they understand it well enough to remember it in the correct sequence. 
6. Sliders
Another great example of an eLearning activity that can be used in many different contexts, including the gamification of eLearning, is the slider. We can see a slider in action in the EdApp course called Sustainability and the Circular Economy.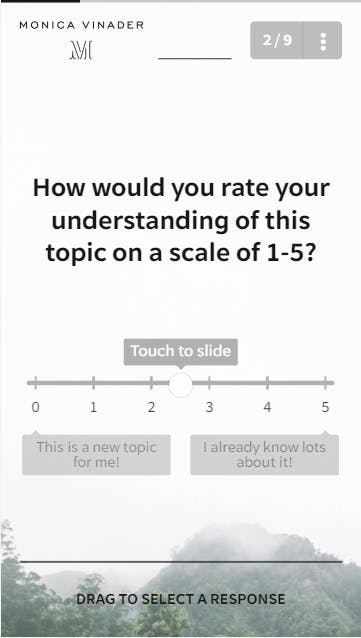 This type of activity is useful because it allows the learner to evaluate something on a scale, rather than just picking between right and wrong answers. It can also be used to measure students' opinions or feelings at the end of a course.
7. Clicking for Details
Clicking for details is another useful eLearning activity that can be used in many different ways, including for games or for memorizing. We can see a gamification for m Learning example in the course Warehouse Traffic Management, which is another excellent EdApp course for employee training. This type of activity makes sure that your employees receive a great personalized learning experience.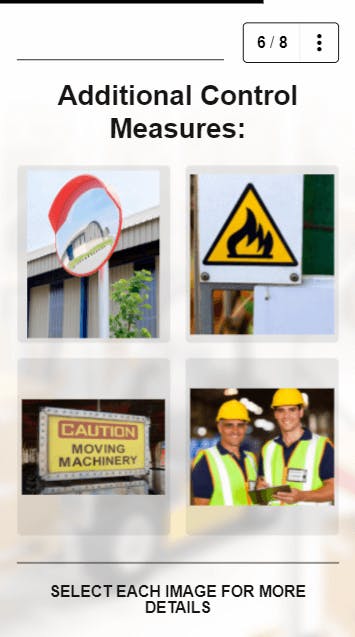 This type of activity is especially useful on mobile devices, as the responsiveness of seeing the text pop up after clicking an image can make for a more memorable experience. It also makes good use of limited screen real estate on mobile devices.
8. Making Connections
We can see another example of an eLearning archetype in the draw a line activity in EdApp's learning platform. In particular, a good example of this is in the course Social Media and Electronic Communication. The course is ideal for improving your team's the level of knowledge and skills in digital marketing.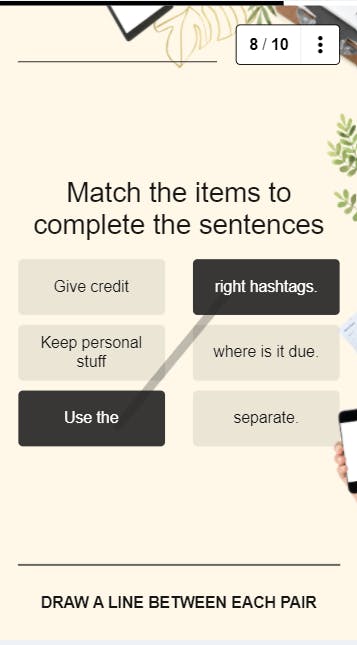 This type of activity is good for having learners make connections. It allows them also to differentiate between different but related topics as they must compare their answers to all other possible combinations.
9. Fill in the Missing Words
Another interactive eLearning example is the activity that involves filling in the missing words. We can see an example of this in the EdApp course Warehouse Traffic Management.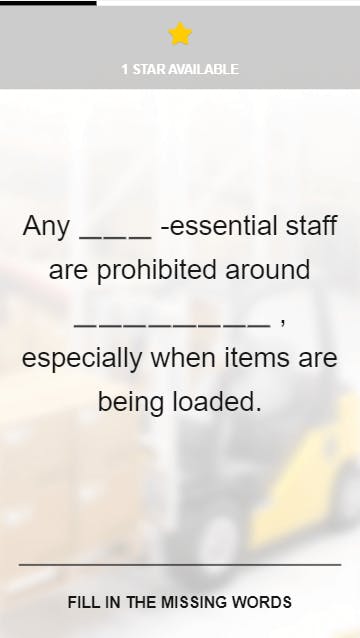 While this type of quizzes is easily done even without an eLearning component, doing this activity digitally has its advantages. That is because it can hook into a learning management platform instantly so that a course instructor can see how their learners are performing and give instant feedback remotely.
10. Drag Image to Label
One last example of eLearning in an online course that can be done with mobile learning capabilities is the drag image to label type of activity. A great example of this can be seen in the subject-matter Cyber Security Awareness on EdApp.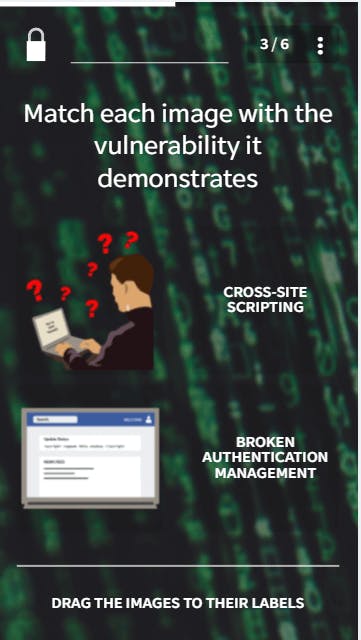 We can use this type of activity to improve the overall learning experience by having students take a match a visual element with text. This helps them get an impression of the teaching and learning material in their head, which they can refer to later when they need to recall their learnings.