The use of distance computer learning software is now gaining popularity in this digital age, especially in the time of COVID-19. Taking your training online makes it available for remote employees and easy for managers to arrange and deploy courses anywhere. We've narrowed down 10 distance learning software that you can use to train your teams.
Distance Learning Software #1 – EdApp
EdApp is the leading mobile-first distance learning software on the market. It's known for its comprehensive yet user-friendly learning management system, which makes it easier for trainers and managers to create or implement custom-designed courses and distribute them to assigned learners.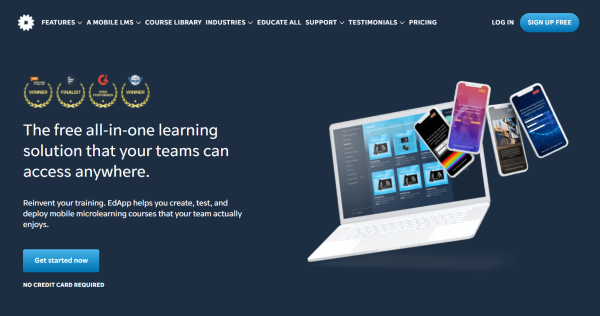 One of its most useful features is its built-in authoring tool, which allows anyone to quickly create interactive microlearning courses. You may get started right away with their user-friendly authoring and gamification templates, which don't require any technical experience and make it simple to arrange everything. The authoring tool has a variety of features that allow L&D professionals to include videos, audio, and photographs in their courses. Users can also import courses for free into their EdApp accounts for readily available instruction. EdApp features an 800+ pre-made course collection from their very own instructional designers.
EdApp's spaced repetition feature, which improves memory through repeated learning, ensures that learners retain information from their course materials. This strategy is presented through Brain Boost, a system-automated daily quiz maker tool that checks their knowledge regularly. Tests can be delivered daily or weekly – all you have to do is set it to your preferred interval and let the app do the rest. 
Lastly, it's completely mobile-friendly and is accessible on different devices such as smartphones, tablets, laptops, and desktops. It's perfect for distance learning as users can learn at their own pace.
Features:
Editable course library

Authoring tool

800+ high-quality courses

80+ highly customizable authoring templates (no coding required)

Gamification quiz templates

Spaced Repetition

Compatible with most devices with optimized display scaling
Cost: Free
Distance Learning Software #2 – Qstream
Qstream is dedicated to delivering distance learning through microlearning programs that help combat the forgetting curve and improve knowledge retention among remote employees. This distance learning software reinforces knowledge, develops skills, and enhances productivity through a mobile-first approach.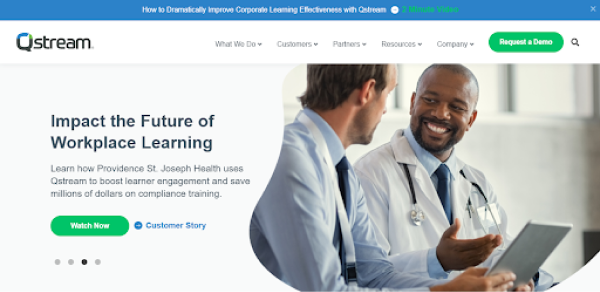 Its Content Hub feature enables training managers to create content using its template library and set of guide questions found on its online training website. It can also facilitate real-time practice through videos submitted by your learners, as well as track learning progress through an analytics dashboard and proficiency heatmaps.
Features:
Microlearning programs

Content hub

Analytics dashboard
Cost: Paid plans
Distance Learning Software #3 – Yarno
Yarno is an eLearning mobile app designed to effectively train your employees wherever they're located. It features a learning library where your training teams and learners can store all your training content for easy access.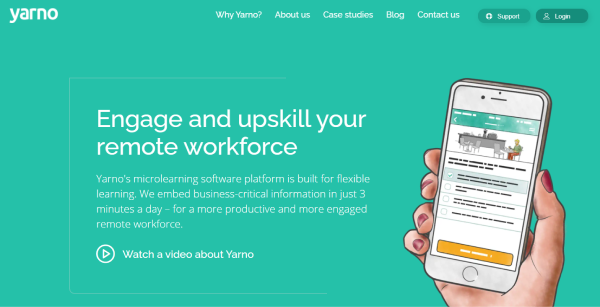 It also includes a quiz maker feature called Embed that allows you to identify knowledge gaps and reinforce information through the use of interactive questions. Answers are supported with informative explanations where they can receive feedback from their answers. You can also work with a team at Yarno to help you create custom-made videos to level up your training.
Features:
Mobile-ready platform

Question-explanation format

Custom-made videos
Cost: Paid plans
Distance Learning Software #4 – Looop
Looop, as an advanced distance training platform, helps you generate online learning resources and automate staff training operations. With their uncomplicated yet visually striking UX design, you can build interesting learning materials, access tools like campaigns, as well as automate the delivery of learning content through networks like Slack, Teams, and even SMS.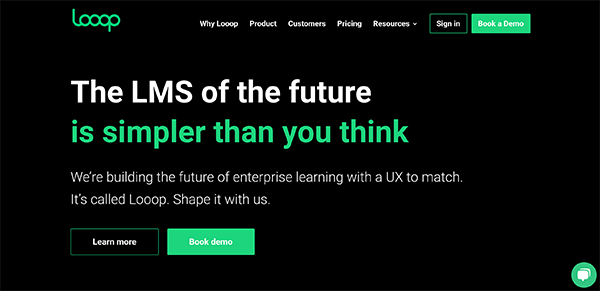 User insights and analytics dashboards can provide you with visibility into your teams' completion rates, learning gaps, and overall performance. Thanks to these reporting options, you'll be able to assess the efficacy of your training and address your employees' learning issues. 
Features:
Course builder

Cross-app integrations

Automated operations

User insights & analytics
Cost: Starts at US $299/month
Distance Learning Software #5 – Connecteam
Connecteam is a go-to employee distance training software that focuses on effectively training your dispersed workforce. This distance learning software offers a user-friendly mobile app that houses a knowledge hub for all training resources. It also allows employees to track the courses they have taken and their progress. Through the app, employees can easily pick up from where they left off anytime and need not worry about missing out on their training.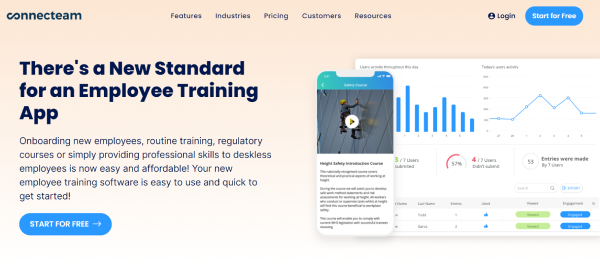 With Connecteam, you can also build courses from scratch or use your existing training materials, such as PDF files and other media. You can even include content from your company website or external web sources like YouTube, Dropbox, and Google Drive.
Features:
Mobile-friendly

Knowledge hub

Course builder
Cost: Starts at US $39/month (for the first 50 users)
Distance Learning Software #6 – Hurix Digital
Hurix Digital is a full-service distance training software that integrates different content development and delivery solutions for modern learning. A customizable mobile-ready LMS is one of their key features, allowing firms to deliver training content via eLearning, classroom training, and blended learning across many devices.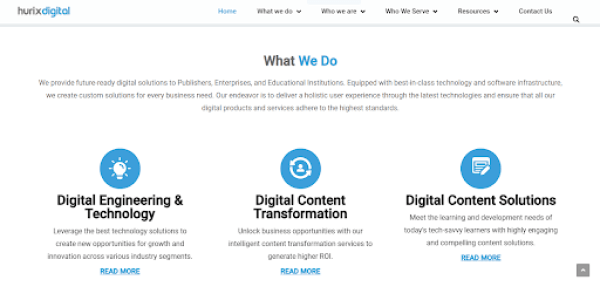 Hurix allows you to tailor your LMS needs to your organization's structured learning workflow. They can also help create personalized learning modules focused on your business and training targets, including onboarding, sales enablement, compliance, and process training.
Features:
Custom LMS

Mobile-first approach

Personalized training modules using engaging videos, gamification, simulations, and scenario-based learning
Cost: Paid plans
Distance Learning Software #7 – WizIQ
WizIQ is a distance learning software that provides a virtual classroom and LMS, all in one place. Through its virtual classroom, learners can attend live classes on the go through the WizIQ app available on iOS and Android, making it very convenient for remote teams. Aside from that, you can deliver various training materials through a multimodal learning strategy where you have the option to use real-time audio, video, and textual communication for your training.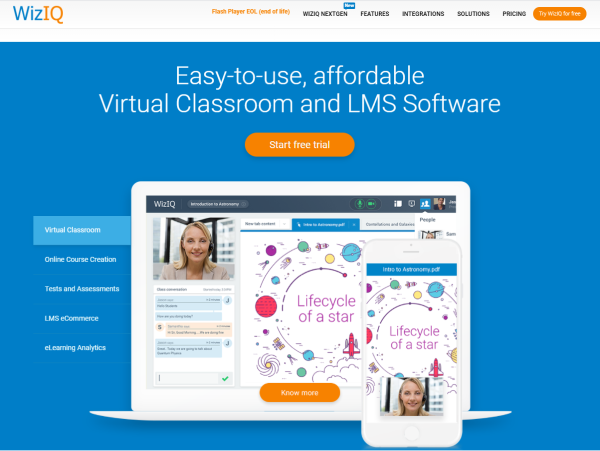 It also provides engagement features, such as polls, quizzes, and interactive whiteboards. This tool makes it easy to deploy training as all you have to do is set up your customizable learning portal and upload your training material using any format. 
Features:
Virtual classroom

Mobile app

Customizable learning portal
Cost: Starts at US $25/monthly
Distance Learning Software #8 – Arist
Wouldn't it be fantastic if we could use text messages to not just communicate, but also to learn from them? This is undoubtedly achievable with Arist, a cutting-edge employee distance training software that deploys training via text-based learning. Creating a text course with Arist is as easy as sending a text message. Text message courses typically consist of an image, a 1,200-character explanation of a key subject, and an interactive evaluation sent out every day for many weeks.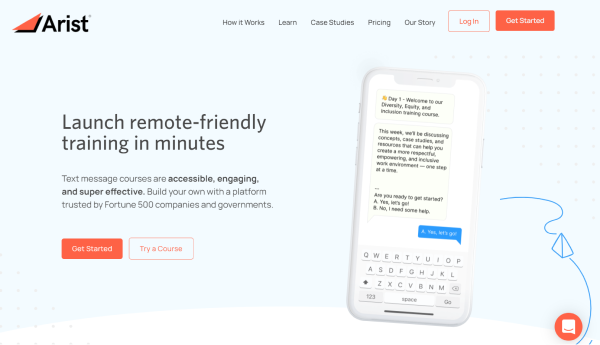 While this is a terrific way to overcome learning barriers, it may be fairly restrictive because it only allows for a certain number of characters per text message. It also lacks formatting options for aesthetically appealing and interesting material.
Features:
Text-based learning

Easy-to-use course builder

Mobile-friendly
Cost: Free, paid plans
Distance Learning Software #9 – Gyrus
Gyrus is a cloud-based distance training software designed with AI-driven intuitive features, helping you bring world-class training and development programs for your employees. This LMS serves as a distance training software that allows you to develop training materials and deliver them through various digital formats. Some of these formats include e-learning videos, webinars and documents, and virtual classrooms, which can provide support in traditional onboarding and training activities.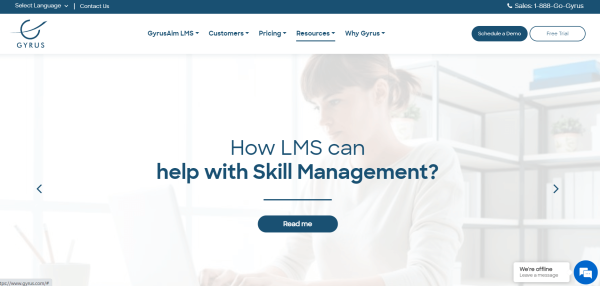 Its smart learning features are optimized for building customized learning programs for various groups of employees and streamlining organizational compliance. Gyrus is accessible across any device.
Features:
Various eLearning options: Online, instructor-led, webinars, and file-based courses

AI-driven features

Smart learning

Accessible across any device
Cost: Starts at US $300 USD/month
Distance Learning Software #10 – Schoox
Schoox is a cloud-based employee computer learning software that focuses on learning and talent development. It has a course library that includes a wide range of topics, such as safety, security, human resources, and many more. With Schoox, you can create courses in any format with its drag and drop authoring tool.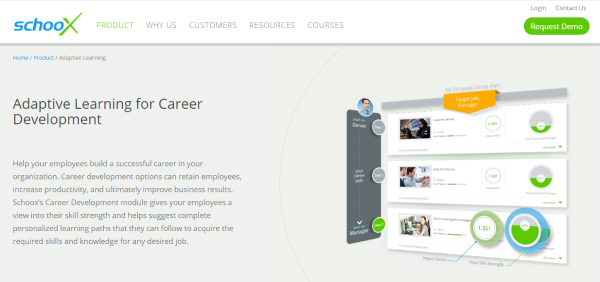 To test your team's knowledge retention, you can automate assessments to be sent out to employees based on their performance. It also has a feature called Impact Factor which considers aspects like the employee's job responsibilities, their skills performance, and skills strength, to better assign personalized courses.
Features: 
Course library

Drag & drop content authoring

Personalized course assignment
Cost: Paid plans