It is no secret that eLearning is a viable way to save money and promote greater success.  Some companies found that every dollar spent on eLearning is multiplied by thirty in terms of productivity. For example, IBM recently reported saving $200 million after switching to e-learning. With the e-learning market size expected to be worth over $50 billion by 2026, finding the best computer based training tools to train for your business makes sense.
1. EdApp
EdApp is a dynamic, multidimensional free microlearning LMS website that provides online training solution options for small, medium, and large teams. This way, they will no longer have to overspend for face to face and instructor-led training. Multinational companies around the globe are using this cloud-based training tool that supports your translation needs. It supports over 105 languages and is currently being used in over 90 countries. More and more companies are choosing EdApp because of its many features and the ease it offers in putting resources in employees' hands.
As an HR or L&D professional, you want to provide the best learning and development materials for your employees in the most efficient way possible.  EdApp makes that possible. There is an editable course library that has a unique authoring tool. No prior experience is needed to create an organized and aesthetically appealing course. Nonetheless, if you are looking to save time, there are hundreds of ready-made courses available that may be ready to disseminate to your teams today.  Push notifications make it possible to notify or remind teams of new courseware.
EdApp goes beyond merely getting the training into the hands of employees. With interactive and engaging features including gamification, assessments no longer make employees feel like they are back in school.  Instead, they are able to complete the training in a fun, but effective format that includes spaced repetition to promote long-term memory retention.  Its unique approach to generating curiosity while maximizing learning is further illustrated through innovative instructional design.
EdApp's ecosystem at a glance is previewed in the image above; nonetheless, it is hard to truly capture the nature of this award-winning mobile training solution without having experienced it for yourself.  Its many features make it an easy choice for the #1 spot on this list of top 10 computer based training tools.  It stands out from other LMS websites with its smarter approach to workplace learning. 
2. Tovuti
 Are you looking for a computer based training tool that allows you to build your own training site?  If so, Tovuti may be the choice for you.  A dynamic instructional design system makes creating diverse training activities and assignments a breeze.
Varied assessment tools are customizable within your custom built e-courses.  If you already have videos, PowerPoints, PDFs, SCORM files, or other training tools, these can be added into your training.  With so much customization, there is a lot to like about this tool, but the hefty price tag notches it down to our #2 spot.
3. EduBrite
EduBrite is a free learning management software for businesses and educational entities alike.  Their LMS features include courses from subject matter experts, assessments, and surveys.  Importing existing presentations is very doable.  These presentations can include videos, Word documents, SCORM, and AICC courses.
There is also an Open Learning Package available for purchase. Upon purchase, any designated customers, partners, or employees can get free access to corporate learning materials, as well as supportive communities.  HR and instructional designers will appreciate the ease of creating assessments and scaffolding certification programs that are accessible virtually anywhere via a browser or the iPad/Android apps.  With dynamic reporting, the system delivers detailed tracking.  Some reservations about this online training system include the absence of intuitive software and the limited interface.
4. LearningStone
LearningStone earns the fourth spot on the list of top 10 computer based virtual training platforms.  With an easy-to-use course editor, a social wall, calendar features, and storage, there is plenty to appreciate.  Training professionals refer to it as an instant platform for training and coaching. The built in authoring tool makes it possible to create surveys, timelines, texts, assignments, calendars, videos, documents, and more.
Progress tracking and self grading assessments assist in generating advanced environments.  These features are meant to save time while adding value.  The price and the lack of integration with other platforms does make this online training software less attractive than some of the other options.
5. SyberWorks Training Center (STC)
Managing and tracking all training types is doable with SyberWorks Training Center.  STC is an LMS and personnel training software that offers the choice between face-to-face training and self-paced courses.  Built in assessment options include electronic quizzes.  Signing documents is a breeze with electronic signature access and verification.  The integrated document management system provides ease in distributing training tasks to specific individuals.
A well-organized dashboard shows monitoring lists. Furthermore, the searchable course catalog makes it easier to find materials, glossaries, and other necessary information. With a complicated configuration and multiple layers, STC earns the #5 spot on this top 10 list of computer based e learning tools.
6. WizIQ
Offering a comprehensive set of features to allow for synchronous collaborative learning online or asynchronous self-paced training, WizIQ is a diverse computer based training tool.  Video conferencing, automated server-side recording and a digital interactive whiteboard are proof that this online training platform exceeds standard LMS features.
Various learning materials can be uploaded or authored to create custom courses.  There is also online testing software on the platform.  Blended learning opportunities make this platform appealing to corporate and business entities alike; nonetheless, it does lack SCORM compliance.  Furthermore, there is no gamification option.
7. EthosCE
EthosCE is a full-featured training software.  There is an authoring tool that allows for the creation of multimedia courses complete with online quizzes that learners can access throughout the course.  Administering pre-and post-test assessments are additional features. In addition, there are social media features for your CE enterprise.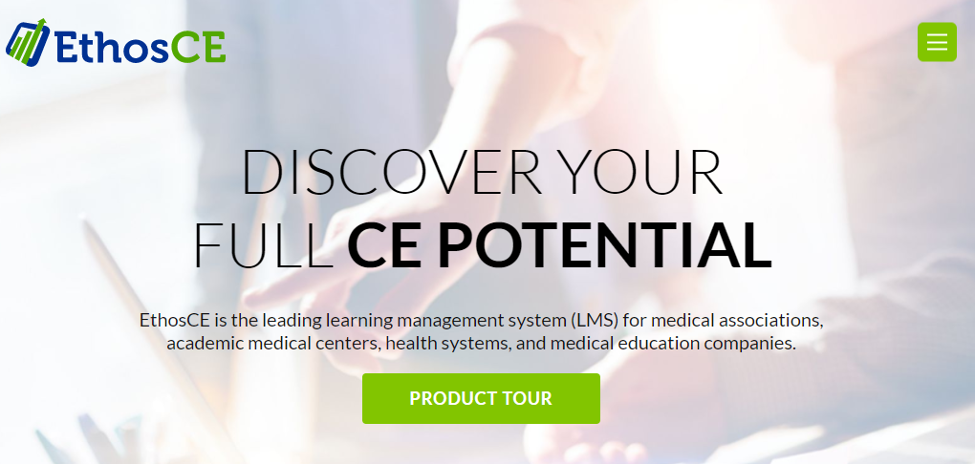 This open-source learning experience platform makes it possible for your employees to earn Continuing Education credit in the comfort of their home.  Unfortunately, this option is primarily designed for training within the medical community which makes it not a viable LMS option for many corporate entities.
8. Trainual
Automating employee onboarding and training is attainable via Trainual, an essential LMS platform that provides customization performance, and dashboards. While this digital training management system does not support SCORM or other eLearning formats, there is the option of embedding images, videos, and multiple choice questions longreads.
The library option makes it easier to curate all useful documents in one place. Users can access files they need in the library which will prompt an administrator to approve or deny access to the requested materials.  Some users noted the tool to be a bit clunky in terms of performance.  It also is not free which could be a deterrent for many HR and L&D professionals.
9. Coassemble
Coassemble is an easy-to-use platform that combines authoring tools with an LMS.  There are over 40 interactive templates that can be customized to create e-courses.  Integrating multimedia elements is very doable with Coassemble. As an HR or L&D professional, you will appreciate the ability to add assessments. Mobile-responsiveness makes it easier for users to complete training on their schedule.
Importing SCORM files is another noteworthy feature.  Two cons include limited formatting options that make it hard to format the appearance of content and images.  There are also limited translation features.
10. Velpic
Simplifying and streamlining corporate training is possible with Velpic, a cloud-hosted training management system.  This tool uses a video-based approach that includes user-friendly software with mobile accessibility.  HR or L&D professionals wanting to create interactive training videos can do just that with Velpic.
There are various assessment tools that include quizzes and random questions.  It is also possible to upload existing PDFs, PowerPoints, Word documents, and SCORM lessons.  With two pricing options, businesses can choose the option that best matches their needs but even the cheaper option is a bit pricey.  This LMS does lack gamification options and does not appear to have Canva integration.
Why Use a Computer Based Training Software? 
Do you need new ideas to transform the way your employees learn? Perhaps, having them sit in classroom-type settings is making scheduling difficult or time away from their job is decreasing productivity. Computer-based training is a viable learning solution that comes in many different shapes and formats. With access to multimedia-enhanced resources, tutorials, gamification, and even micro-world simulations, employees will be excited to take their learning to the next level. Employees and employers alike agree that finding the best computer based training tool can make all the difference in increasing productivity, retaining information, and achieving desired results, so let's dive in to learn about the best 10 computer based training tools.