One of the most rewarding careers can be bartending. However, it isn't an easy task that can be without practice. Luckily, there are many who develop online bar training courses as part of the numerous options for learning about bartending and running a bar on the internet, to help support your staff in performing at their highest potential.
In this article, we will take a look at ten of the best training courses available. These courses don't just cover how to make various types of drinks, but also look into other issues you may face when working at a bar. This can include customer service tips on how to deal with unruly patrons, as well as the best ways to present drinks.
1. The Bar World of Tomorrow (EdApp)
A top course for bartenders, The Bar World of Tomorrow, can be found on the EdApp platform. If you haven't used EdApp before, it's one of the top learning management systems (LMS) available. With EdApp, you can easily import courses or create your own from scratch using its intuitive drag-and-drop authoring environment.
This bartending course focuses on sustainability. It looks at using fresh ingredients as well as responsibly serving alcohol and dealing with waste management. It's based on four pillars: ingredients, service, bar, and staff.
By using this course from EdApp, you can take advantage of some great features that the LMS offers, such as microlearning. Microlearning allows you to present the content in bite-sized chunks that are optimal for learners on a busy schedule. Your trainees can be delivered these lessons at any time, and spaced repetition keeps the knowledge fresh in their minds.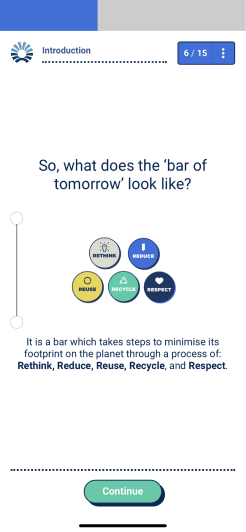 2. Serving Alcohol Safely (EdApp)
Another top training course that comes to us courtesy of EdApp is Serving Alcohol Safely. This course is appropriate for bartenders, waiters, and sommeliers. It teaches workers about the responsibilities of serving alcohol, including cleaning, sanitizing, and dealing with difficult customers. It also teaches about various liquor laws in different states and countries.
By using EdApp to deliver this content, you can make the most of mobile-first learning through this mobile teaching application. Chances are your staff is highly mobile and attached to their various devices. With EdApp, training materials are formatted natively to any device because of its responsive design. 
In other words, your learners will not be inconvenienced by having to set up a special learning station on a PC. Instead, they can get all the training they need delivered right to their favorite devices to be completed anytime and anywhere.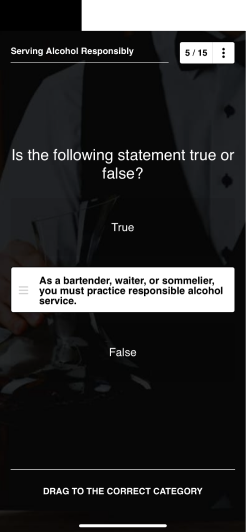 3. Bar Maintenance (EdApp)
Bar Maintenance is another essential bar training course. It goes beyond just learning how to make drinks; it gets into the details that you need in order to keep a bar in great shape. It covers everything you need to know for before service, during service, and after service, while also teaching about how to work with kegs.
By taking this course on EdApp, you can take advantage of the types of gamification examples that the platform offers. For example, you can play a game that helps you identify the various parts and accessories of a keg. This type of engaging activity helps learners retain the information they've learned. 
4. Lynnette Marrero & Ryan Chetiyawardana Teach Mixology (MasterClass)
In Lynnette Marrero & Ryan Chetiyawardana Teach Mixology from MasterClass, you will learn all about making various types of alcoholic drinks. These are two experts in the industry and their course is full of helpful tips and techniques.
The lessons consist of 4.5 hours of lectures. However, unlike the EdApp courses mentioned above, this course is not free. It currently costs $15 per month.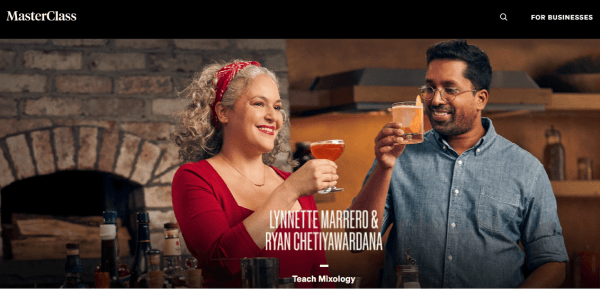 5. BarSmarts
Another option is BarSmarts. This site has several different courses that you can choose from. You can even receive a certification for bartending.
The courses include on-demand videos and an exam at the end of each. Registering for the courses involves a small fee, though, of $29 at the time of this writing.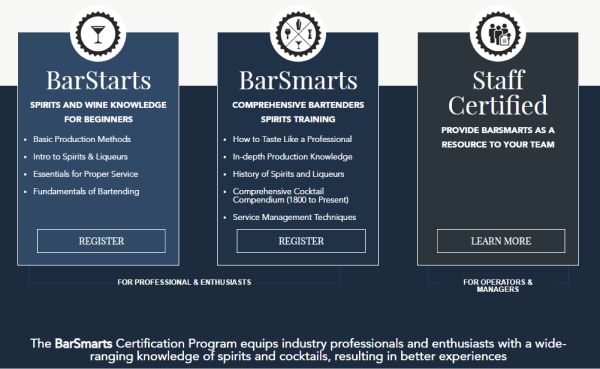 6. The Essentials of Bartending (European Bartender School)
Another option is The Essentials of Bartending by the European Bartender School. It includes 3.5 hours of videos, 34 bartending lessons, and 27 cocktail recipes.
You also receive a certificate upon passing their exam. Although there is a registration fee, it is only $39.99 and lasts for a lifetime.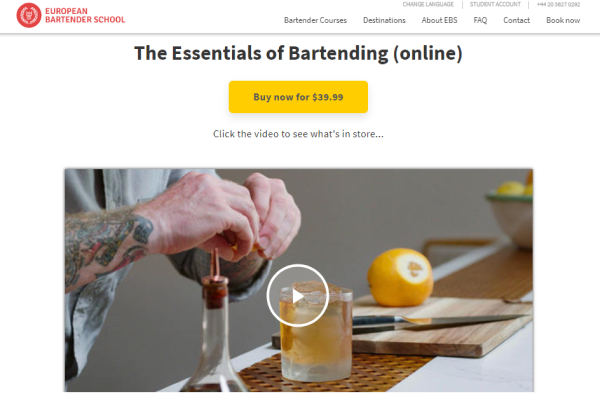 7. Spirits, Beer, and Wine (EdApp)
Another great course is Spirits, Beer, and Wine. This course will teach you about the differences between many of the most popular types of alcoholic beverages as well as proper serving techniques. For example, you will see what types of beer match which types of glasses.
By being hosted on EdApp, you can take advantage of the platform's comprehensive assessment options. A cumulative quiz has all sorts of different question types, from true/false questions to matching pair questions, among others.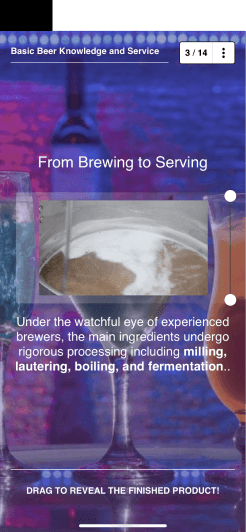 8. Making Your Signature Drink (Skillshare)
In Making Your Signature Drink, bartender Ivy Mix teaches you how to make your own special cocktail. It does so by teaching the fundamentals and letting you explore from there. The class includes a 30-minute video and class projects
This course also requires a registration fee to participate. However, it is possible to try the platform for 14 days to see if you like it first.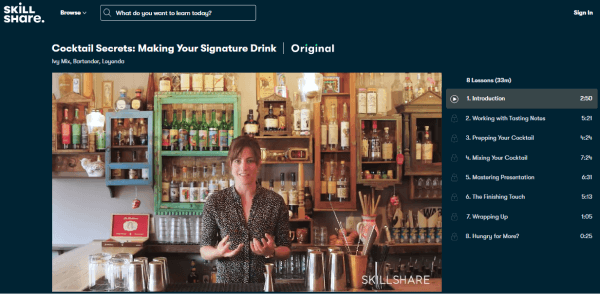 9. Online Bartending Course (Local Bartending School)
You can also learn about bartending from the Local Bartending School. This program focuses on getting licenses in several different states.
The foundations course includes 10 video modules and will take about 20 hours to complete. Once finished, you can earn a certification for most states.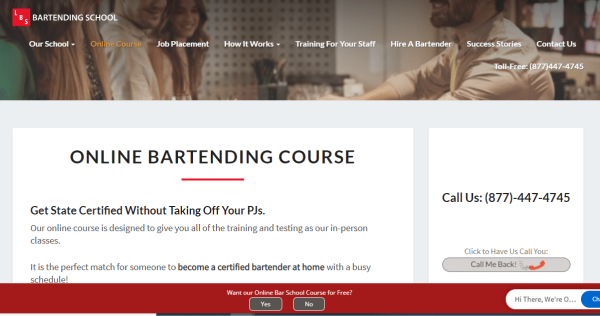 10. Dealing with Difficult Customers (EdApp)
Another essential course is EdApp's Dealing with Difficult Customers. This course will teach you and your staff what they need to do when customers are disagreeable.
Because it is hosted on EdApp, you can take what is in the course and customize it to your own needs easily. As a course administrator, you just import the course, and from the course creator dashboard, you can make any changes you need. That can mean adding new slides, questions, and media, or deleting parts you don't want to be included.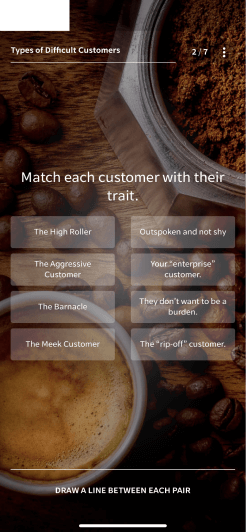 In this article, we've looked at many different online courses for bars. We've seen that there are several good options, including free ones which utilize the features of EdApp. Which type of course are you most interested in?
You may also want to check out these courses:
Learn About Alcohol and Responsible Drinking